2020
Activity report
Project-Team
FACTAS
Team name:
Functional Analysis for ConcepTion and Assessment of Systems
Domain
Applied Mathematics, Computation and Simulation
Theme
Optimization and control of dynamic systems
Creation of the Project-Team: 2018 January 01
Keywords
A6.1.1.

Continuous Modeling (PDE, ODE)

A6.2.1.

Numerical analysis of PDE and ODE

A6.2.5.

Numerical Linear Algebra

A6.2.6.

Optimization

A6.3.1.

Inverse problems

A6.3.4.

Model reduction

A6.4.3.

Observability and Controlability

A6.4.4.

Stability and Stabilization

A6.4.5.

Control of distributed parameter systems

A6.5.4.

Waves

A8.2.

Optimization

A8.3.

Geometry, Topology

A8.4.

Computer Algebra
B1.2.3.

Computational neurosciences

B2.6.1.

Brain imaging

B3.3.

Geosciences

B4.5.

Energy consumption

B6.2.2.

Radio technology

B6.2.3.

Satellite technology
1
Team members, visitors, external collaborators
Research Scientists
Fabien

Seyfert

[

Team leader

,

Inria

,

Researcher

,

HDR

]

Laurent

Baratchart

[

Inria

,

Senior Researcher

,

HDR

]

Sylvain

Chevillard

[

Inria

,

Researcher

]

Juliette

Leblond

[

Inria

,

Senior Researcher

,

HDR

]

Martine

Olivi

[

Inria

,

Researcher

,

HDR

]
Post-Doctoral Fellow
Vanna Lisa

Coli

[

Univ Côte d'Azur

,

until Apr 2020

]
PhD Students
Paul

Asensio

[

Inria

]

Gibin

Bose

[

Inria

]

Sébastien

Fueyo

[

Univ Côte d'Azur

,

until Oct 2020

]

Konstantinos

Mavreas

[

Univ Côte d'Azur

,

until Feb 2020

]

Masimba

Nemaire

[

Univ de Bordeaux

]
Interns and Apprentices
Kassem

Dia

[

Univ Savoie Mont-Blanc

,

from Feb 2020 until Aug 2020

]
Administrative Assistant
Marie-Line

Meirinho

[

Inria

]
Visiting Scientist
Yan

Zhang

[

Univ. Chinoise de Hong-Kong

,

until Apr 2020

]
External Collaborators
Vanna Lisa

Coli

[

Univ. Côte d'Azur, CNRS, CEPAM, Nice

,

from Apr 2020

]

Adam

Cooman

[

Ampleon, Nijmegen, Pays Bas

]

Jean-Paul

Marmorat

[

École Nationale Supérieure des Mines de Paris

]

David

Martinez Martinez

[

Huawei, Stockholm

]
2
Overall objectives
2.1
Research Themes
The team develops constructive, function-theoretic approaches to inverse problems arising in modeling and design, in particular for electro-magnetic systems as well as in the analysis of certain classes of signals.
Data typically consist of measurements or desired behaviors. The general thread is to approximate them by families of solutions to the equations governing the underlying system. This leads us to consider various interpolation and approximation problems in classes of rational and meromorphic functions, harmonic gradients, or solutions to more general elliptic partial differential equations (PDE), in connection with inverse potential problems. A recurring difficulty is to control the singularities of the approximants.
The mathematical tools pertain to complex and harmonic analysis, approximation theory, potential theory, system theory, differential topology, optimization and computer algebra. Targeted applications include:
identification and synthesis of analog microwave devices (filters, amplifiers),
non-destructive control from field measurements in medical engineering (source recovery in magneto/electro encephalography), and paleomagnetism (determining the magnetization of rock samples).
In each case, the endeavor is to develop algorithms resulting in dedicated software.
5
Social and environmental responsibility
5.1
Footprint of research activities
In coordination with Céline Serrano, who is in charge of "Sustainable development" at the national level, Sylvain Chevillard and Martine Olivi participated with a few volunteers from other Inria research centers to an effort of establishing the carbon footprint of their team. The goals were manifolds:
Identify the data necessary to collect, and more generally, spot the difficulties of this exercise.
Subsequently propose a methodology and, possibly, automated tools to compute the carbon footprint of an Inria team, in view of generalizing this computation to as many teams as possible.
Get an overview of the share of the different sources of emission in the overall carbon footprint of the team, so as to spot what sources would be the easiest to reduce.
Get a first footprint that would serve as a reference for the subsequent years, in order to be able to quantify the effects of a reduction policy that the team would adopt.
The carbon footprint has been evaluated for year 2019 since the data for the complete year were available. The team was then composed of 5 permanent researchers, 7 PhD students and post-docs (some of them starting during the year) and one assistant (shared with another team). Of a total of roughly 21 tons of , the figures are the following:
1/3 comes from the commutes between home and travel place2;
a bit less than 1/3 comes from the mission travels;
1/6 comes from the meals taken at the cafeteria;
the remaining part (a bit more than 1/6) comes half from the gray energy of the equipment (the energy used to construct them and handle their end of life) and half from the energy used in the offices (heating/cooling/light/powering of computers).
A report is currently being written to explain the methodology used and give the precise figures.
The outcome of this effort is also a prototype of tool to collect in a fairly automated way the information regarding the missions and the equipment. Also a survey has been designed for gathering the information about the commute travels and eating habits of the members of a team. This survey can be reused by other teams in the future.
The pandemic crisis prevented us from discussing collectively these results in detail and think of strategies of reduction. It must be noted however that 2020, because of the generalization of teleworking and the absence of missions, is a radical example of what can be done to significantly reduce the carbon footprint of the team.
7
Bilateral contracts and grants with industry
7.1
Bilateral Contracts with Industry
Contract Inria-Inoveos
We have have an ongoing contract with the SMB company Inoveos in order to build a prototypical robot dedicated to the automatic tuning of microwave devices. In addition to Inria, this project includes the university of Limoges Xlim and the engineering center Cisteme https://cisteme.net.
8
Partnerships and cooperations
8.1
International Initiatives
8.1.1
Inria International Partners
Informal International Partners
Following two Inria Associate teams (2013-2018) and a MIT-France seed funding (2014-2018), the team has a strong and regular collaboration with the Earth and Planetary Sciences department at Massachusetts Institute of Technology (Cambridge, MA, USA) and with the Mathematics department of Vanderbilt University (Nashville, TN, USA) on inverse problems for magnetic microscopy applied to the analysis of ancient rock magnetism.
A collaboration has been started with the Chinese University of Hong-Kong and the team of Professor Ke-Li Wu a well known expert in microwave filters and antennas.
8.2
International Research Visitors
8.2.1
Visits of International Scientists
We hosted for three months (2019-2020) the PhD student Yan Zhang: her stay was originally planed for 5 months but was shortened by the pandemic crisis. The collaboration with Hong-Kong remained however vivid and continued online, see section 6.3.
8.3
European Initiatives
8.3.1
Collaborations with Major European Organizations
Factas is part of the European Research Network on System Identification (ERNSI) since 1992. System identification deals with the derivation, estimation and validation of mathematical models of dynamical phenomena from experimental data.
8.4
National Initiatives
ANR Repka
ANR-18-CE40-0035, "REProducing Kernels in Analysis and beyond" (2019–2023).
Led by Aix-Marseille Univ. (IMM), involving Factas team, together with Bordeaux (IMB), Paris-Est, Toulouse Universities.
The project consists of several interrelated tasks dealing with topical problems in modern complex analysis, operator theory and their important applications to other fields of mathematics including approximation theory, probability, and control theory. The project is centered around the notion of the so-called reproducing kernel of a Hilbert space of holomorphic functions. Reproducing kernels are very powerful objects playing an important role in numerous domains such as determinantal point processes, signal theory, Sturm-Liouville and Schrödinger equations.
This project supports the PhD of M. Nemaire within Factas, co-advised by IMB partners.
8.5
Regional Initiatives
ToMaT
The team participates in the project ToMaT, "Multiscale Tomography: imaging and modeling ancient materials, technical traditions and transfers", funded by the Idex  ("programme structurant Matière, Lumière, Interactions"). This project brings together researchers in archaeological, physical, and mathematical sciences, with the purpose of modeling and detecting low level signals in 3-D images of ancient potteries. The other concerned scientists are from CEPAM-CNRS-UCA (project coordinator: Didier Binder), Nice (https://www.cepam.cnrs.fr), the team Morpheme, CNRS-I3S-Inria (https://www.inria.fr/equipes/morpheme), and IPANEMA, CNRS, Ministère de la Culture et de la Communication, Université Versailles Saint Quentin (https://ipanema.cnrs.fr/). Since March 2018, they co-advise together the post-doctoral research of Vanna Lisa Coli, and this year the internship training of K. Dia, see Section 6.7.
Arch-AI-Story
The collaborative project Arch-AI-Story funded by the Idex  started this year, between archaeologists in CEPAM (CNRS), Inria, LEAT, and other institutions, as a sequel of the above project ToMaT. It concerns the use of applied mathematics and AI for archaeology and history, and supports the sequel of the post-doc. of V. L. Coli.
8.6
List of international and industrial partners
Figure 13 sums up who are our main collaborators, users and competitors.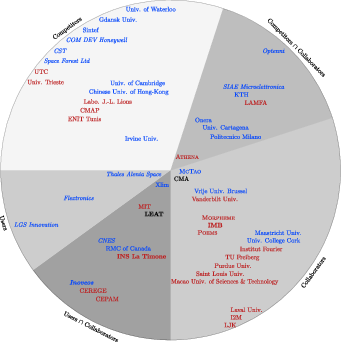 9
Dissemination
9.1
Promoting Scientific Activities
9.1.1
Scientific Events: Selection
Member of the Conference Program Committees
L. Baratchart sits on the program committee of MTNS 2021 (delayed from 2020) and SYSID 2021.
Reviewer
J. Leblond, M. Olivi and F. Seyfert were reviewers for MTNS 2020.
9.1.2
Journal
Member of the Editorial Boards
L. Baratchart is on the editorial board of the journals "Computational Methods and Function Theory" and "Complex Analysis and Operator Theory".
Reviewer - Reviewing Activities
J. Leblond was a reviewer for Inverse Problems. F. Seyfert is a frequent reviewer of IEEE Journal of Microwave Theory and Techniques.
9.1.3
Invited Talks
L. Baratchart was a plenary speaker at QIPA 2020 (Quasi-linear Inverse Problems and Applications) held virtually at Moscow and an invited speaker at the "Journées du GDR AFHP" (Functional and Harmonic Analysis, and Probability theory) held virtually at the CIRM in Marseille.
9.1.4
Research Administration
J. Leblond is a member of the "Conseil Scientifique" and of the "Commission Administrative Paritaire" of Inria.
M. Olivi is a member of the CLDD (Commission Locale de Développement Durable) and in charge, with P. Bourgeois, of coordination.
9.2
Teaching - Supervision - Juries
9.2.1
Teaching
Colles

: S. Chevillard has given "Colles" (oral examination preparing undergraduate students for the competitive examination to enter French Engineering Schools) at Centre International de Valbonne (CIV) (1 hour per week) since September 2020.
9.2.2
Supervision
PhD: K. Mavreas,

Inverse source problems in planetary sciences: dipole localization in Moon rocks from sparse magnetic data

, since October 2015, defended January 31, 2020, advisors: S. Chevillard, J. Leblond.
PhD: G. Bose,

Méthodologies et outils de synthèse pour des fonctions de filtrage chargées par des impédances complexes

, since December 2016, defended January 8, 2021, advisors: F. Ferrero (LEAT), F. Seyfert and M. Olivi.
PhD: S. Fueyo,

Cycles limites et stabilité dans les circuits

, since October 2016, defended October 30, 2020, advisors: L. Baratchart and J.-B. Pomet (Inria Sophia, McTao).
PhD in progress: P. Asensio,

Inverse source estimation problems in EEG and MEG

, since November 2019, advisors: L. Baratchart, J. Leblond.
PhD in progress: M. Nemaire,

Inverse potential problems with application to quasi-static electromagnetics

, since October 2019, advisors: L. Baratchart, J. Leblond, S. Kupin (IMB, Univ. Bordeaux).
Post-doc.: V. L. Coli,

Multiscale Tomography: imaging and modeling ancient materials

, since March 2018, advisors: J. Leblond, L. Blanc-Féraud (project-team Morpheme, I3S-CNRS/Inria Sophia/iBV), D. Binder (CEPAM-CNRS, Nice).
9.2.3
Juries
J. Leblond was a reviewer of the PhD theses of Bastien Hamlat (Univ. Rennes 1, September 22) and Arriane Velasco (Univ. Picardie–Jules Verne, October 21).
F. Seyfert was a member of the PhD committee of Celia Gomez Molina (Univ. Carthagena, November 7).
9.3
Popularization
9.3.1
Internal or external Inria responsibilities
M. Olivi was a member of the Committee MASTIC (Commission d'Animation et de Médiation Scientifique).
9.3.2
Articles and contents
M. Olivi wrote two articles for the platform Pixees (Ressources pour les sciences du numérique):
9.3.3
Interventions
M. Olivi participated to the following events:
Fête de la science: Mouans-Sartoux fête les sciences du quotidien (October 08-10): animated a workshop "Géométries de l'invisible: Son géométrique ou comment rendre visible un son" with V. Doya (INFYNI) and she participated to the "café scientifique ... au féminin". She also animated a half-day workshop session "Origami, maths d'hier et d'aujourd'hui" at the "collège Les Bréguières" (6èmes), Cagnes-sur-Mer.
La fête des Maths de l'INSPE Nice-Liégeard" (March 3): M. Olivi animated a half-day workshop sessions "jouons avec des expériences scientifiques" for primary school students.
9.3.4
Creation of media or tools for science outreach
M. Olivi co-supervised (conception, feedback) the creation by SNJ AZUR of new scientific objects, illustrating the resonnance phenomenon (funds from APOCS region).
10
Scientific production
10.1
Major publications
1

article

Theory of Coupled Resonator Microwave Bandpass Filters of Arbitrary Bandwidth

Microwave Theory and Techniques, IEEE Transactions on

58

8

August 2010

,

2188--2203

2

article

Bounded extremal and Cauchy-Laplace problems on the sphere and shell

J. Fourier Anal. Appl.

16

2

Published online Nov. 2009

2010

,

177--203

URL: http://dx.doi.org/10.1007/s00041-009-9110-0

3

unpublished

Linearized Active Circuits: Transfer Functions and Stability

December 2018

,

working paper or preprint

4

article

Minimax principle and lower bounds in -rational approximation'

Journal of Approximation Theory

206

2015

,

17--47

5

article

Hardy spaces of the conjugate Beltrami equation

Journal of Functional Analysis

259

2

2010

,

384-427

URL: http://dx.doi.org/10.1016/j.jfa.2010.04.004

6

article

Boundary nevanlinna-pick interpolation with prescribed peak points. Application to impedance matching

SIAM Journal on Mathematical Analysis

2017

7

article

Weighted Extremal Domains and Best Rational Approximation

Advances in Mathematics

229

2012

,

357-407

URL: http://hal.inria.fr/hal-00665834

8

article

Inverse Potential Problems for Divergence of Measures with Total Variation Regularization

Foundations of Computational Mathematics

November 2019

9

article

Source localization using rational approximation on plane sections

Inverse Problems

28

5

May 2012

,

24

URL: http://hal.inria.fr/inria-00613644

10

inproceedings

Estimating unstable poles in simulations of microwave circuits

IMS 2018

Philadelphia, United States

June 2018

11

article

Model-Free Closed-Loop Stability Analysis: A Linear Functional Approach

IEEE Transactions on Microwave Theory and Techniques

https://arxiv.org/abs/1610.03235

2017

12

article

Identification of microwave filters by analytic and rational H2 approximation

Automatica

49

2

January 2013

,

317-325

URL: http://hal.inria.fr/hal-00753824

13

article

General Synthesis Method for Dispersively Coupled Resonator Filters With Cascaded Topologies

IEEE Transactions on Microwave Theory and Techniques

December 2020

,

15
10.2
Publications of the year
International journals
14 article LaurentL. Baratchart, SébastienS. Fueyo, GillesG. Lebeau and Jean-BaptisteJ.-B. Pomet. Sufficient Stability Conditions for Time-varying Networks of Telegrapher's Equations or Difference Delay Equations SIAM Journal on Mathematical Analysis 2021
15 article Briceyda BB. Delgado and JulietteJ. Leblond. Bounded Extremal Problems in Bergman and Bergman-Vekua spaces Complex Variables and Elliptic Equations 2020
16 article JulietteJ. Leblond and ElodieE. Pozzi. Solutions to inverse moment estimation problems in dimension 2, using best constrained approximation Journal of Approximation Theory 2020
17 articleYanY. Zhang, FabienF. Seyfert, SmainS. Amari, MartinM. Olivi and KE-LiK.-L. Wu. General Synthesis Method for Dispersively Coupled Resonator Filters With Cascaded TopologiesIEEE Transactions on Microwave Theory and TechniquesDecember 2020, 15
International peer-reviewed conferences
18 inproceedingsYasminaY. Zaky, NicolasN. Fortino, Jean-YvesJ.-Y. Dauvignac, FabienF. Seyfert, MartineM. Olivi and LaurentL. Baratchart. Comparison of SEM Methods for Poles Estimation from Scattered Field by Canonical ObjectsRenaissance meets advancing technologyFlorence, Italyhttps://www.radarconf20.org/September 2020, 6
Conferences without proceedings
19 inproceedings DavidD. Martinez Martinez, AdamA. Cooman, FabienF. Seyfert, MartineM. Olivi and StéphaneS. Bila. Optimal bounds and matching networks of fixed degree for frequency varying impedances EuCAP 2020 - European Conference on Antennas and Propagation Copenhague / Online, Denmark March 2020
Doctoral dissertations and habilitation theses
20 thesis SébastienS. Fueyo. Time-varying delay systems and 1-D hyperbolic equations, Harmonic transfer function and nonlinear electric circuits Université Cote d'Azur October 2020
21 thesis KonstantinosK. Mavreas. An inverse source problem in planetary sciences. Dipole localization in Moon rocks from sparse magnetic data Université Côte d'Azur January 2020
Reports & preprints
22 misc LaurentL. Baratchart, ChristianC. Gerhards and AlexanderA. Kegeles. Decomposition of L2-vector fields on Lipschitz surfaces: characterization via null-spaces of the scalar potential December 2020
23 misc LaurentL. Baratchart, DangD. Pei and TaoT. Qian. Hardy-Hodge decomposition of vector fields on compact Lipschitz hypersurfaces September 2020
24 misc LaurentL. Baratchart, CristobalC. Villalobos Guillén and DougD. Hardin. Divergence-Free Measures in the Plane and Inverse Potential Problems in Divergence Form June 2020
10.3
Cited publications
25

book

Elements of the Theory of Elliptic Functions

AMS

1990

26

article

On the Differential Structure of Matrix-Valued Rational Inner Functions

Operator Theory~: Advances and Applications

73

1994

,

30--66

27

inproceedings

Notes on Bandpass Filters Whose Inter-Resonator Coupling Coefficients Are Linear Functions of Frequency

2008 IEEE MTT-S International Microwave Symposium Digest

June 2008

,

1207-1210

28

article

Theory of Coupled Resonator Microwave Bandpass Filters of Arbitrary Bandwidth

IEEE Transactions on Microwave Theory and Techniques

58

8

2010

,

2188 -2203

29

book

Interpolation of rational matrix functions

Birkhäuser

1990

30

article

A remark on uniqueness of best rational approximants of degree 1 in of the circle'

Elec. Trans.on Numerical Anal.

25

2006

,

54--66

31

article

Pseudo-holomorphic functions at the critical exponent

Journal of the European Mathematical Society

18

9

2016

32

article

Uniqueness results for inverse Robin problems with bounded coefficient

Journal of Functional Analysis

2016

33

article

Identification and rational approximation: a gradient algorithm'

Automatica

27

1991

,

413--418

34

article

A Grobman-Hartman theorem for control systems

J. Dyn. Differential Eqs.

19

2007

,

75-107

35

article

Dirichlet/Neumann problems and Hardy classes for the planar conductivity equation

Complex Variables and Elliptic Equations

2014

,

41

36

inproceedings

Orthogonal rational functions and nonstationary stochastic processes: a Szegő theory

Proc. 19th Symposium on Mathematical Theory of Networks and Systems

Budapest

2010

37

article

Characterizing kernels of operators related to thin-plate magnetizations via generalizations of Hodge decompositions

Inverse Problems

29

1

2013

, URL: https://hal.inria.fr/hal-00919261

38

article

Zero distributions via orthogonality

Annales de l'Institut Fourier

55

5

2005

,

1455--1499

39

article

Multipoint Schur algorithm and orthogonal rational functions: convergence properties, I

Journal d'Analyse

112

2011

,

207-255

URL: https://arxiv.org/abs/0812.2050v3

40

article

Hardy approximation to functions on subsets of the circle with '

Constructive Approximation

14

1998

,

41--56

41

article

How can meromorphic approximation help to solve some 2D inverse problems for the Laplacian?

Inverse Problems

15

1

1999

,

79--90

URL: https://dx.doi.org/10.1088/0266-5611/15/1/012

42

article

Sources identification in 3D balls using meromorphic approximation in 2D disks

Electronic Transactions on Numerical Analysis (ETNA)

25

2006

,

41--53

43

article

Hardy approximation to functions on subsets of the circle'

Constructive Approximation

12

1996

,

423--435

44

article

Constrained extremal problems in H2 and Carleman's formulas

Matematicheskii Sbornik

209

7

2018

,

36

45

article

2D inverse problems for the Laplacian: a meromorphic approximation approach

Journal de Math. Pures et Appliquées

86

2008

,

1-41

46

article

Critical points and error rank in best matrix rational approximation of fixed McMillan degree'

Constructive Approximation

14

1998

,

273--300

47

article

Index of critical points in -approximation'

System and Control Letters

10

1988

,

167--174

48

inproceedings

On the Rational Approximation of Markov Matrix-Valued Functions'

Proc. 17th Symposium on Mathematical Theory of Networks and Systems (MTNS)

Kyoto, Japon

2006

,

180--182

49

article

A criterion for uniqueness of a critical point in rational approximation'

Journal d'Analyse

70

1996

,

225--266

50

article

An analog to AAK theory for '

Journal of Functional Analysis

191

1

2002

,

52--122

51

article

Asymptotic uniqueness of best rational approximants of given degree to Markov functions in of the circle'

Constr. Approx.

17

1

2001

,

103--138

52

incollection

Asymptotic uniqueness of best rational approximants to complex Cauchy transforms in of the circle'

Recent trends in orthogonal polynomials and approximation theory

507

Contemp. Math.

Providence, RI

Amer. Math. Soc.

2010

,

87--111

53

article

Convergent Interpolation to Cauchy Integrals over Analytic Arcs with Jacobi-Type Weights

International Mathematics Research Notices

2010

22

2010

,

4211--4275

URL: https://hal.inria.fr/hal-00508314

54

article

Convergent interpolation to Cauchy integrals over analytic arcs

Found. Comp. Math.

9

6

2009

,

675--715

55

article

Meromorphic approximants for complex Cauchy transforms with polar singularities

Mat. Sbornik

200

9

2009

,

3-40

56

article

Sources recovery from boundary data: a model related to electroencephalography

Mathematical and Computer Modelling

49

11--12

2009

,

2213--2223

URL: https://dx.doi.org/10.1016/j.mcm.2008.07.016

57

article

Exhaustive approach to the coupling matrix synthesis problem and application to the design of high degree asymmetric filters

International Journal of RF and Microwave Computer-Aided Engineering

17

1

2007

,

4--12

URL: https://hal.inria.fr/hal-00663777

58

article

Synthesis of advanced microwave filters without diagonal cross-couplings

IEEE Transactions on Microwave Theory and Techniques

50

12

dec 2002

,

2862--2872

URL: https://dx.doi.org/10.1109/TMTT.2002.805141

59

article

Logarithmic stability estimates for a Robin coefficient in 2D Laplace inverse problems

Inverse Problems

20

1

2004

,

49--57

URL: https://dx.doi.org/10.1088/0266-5611/20/1/003

60

phdthesis

Analyse complexe et problèmes de Dirichlet dans le plan : équation de Weinstein et autres conductivités non bornées

Mathématiques et Informatique de Marseille

2013

61

article

Factorization theorems for Hardy spaces in several variables

Ann. Math.

103

1976

,

611--635

62

phdthesis

Approximation des des classes de fonctions analytiques généralisées et résolution de problèmes inverses pour les tokamaks

Univ. Nice Sophia Antipolis

2011

, URL: https://tel.archives-ouvertes.fr/tel-00643239/

63

article

Determining cracks by boundary measurements

Indiana Univ. Math. J.

38

3

1989

,

527--556

64

article

Matrix rational -approximation: a gradient algorithm based on Schur analysis'

SIAM J. on Control & Optim.

36

1998

,

2103--2127

65

book

Bounded analytic functions

Academic Press

1981

66

article

A topological approach to Nevanlinna-Pick interpolation

SIAM J. Math. Anal.

18

5

1987

,

1248--1260

67

article

Balanced realizations of discrete-time stable all-pass systems and the tangential Schur algorithm

Linear Algebra and its Applications

418

2006

,

793-820

URL: https://dx.doi.org/10.1016/j.laa.2006.09.029

68

article

Frequency domain analysis and analytic selections

Indiana Univ. Math. J.

39

1

1990

,

157--184

69

book

Geometric function theory and non-linear analysis

Oxford Univ. Press

2001

70

book

Foundations of modern potential theory

Springer-Verlag

1972

71

book

Some Improperly Posed Problems of Mathematical Physics

Springer

1967

72

article

Certified Computation of Optimal Multiband Filtering Functions

IEEE Transactions on Microwave Theory and Techniques

56

1

2008

,

105-112

URL: https://dx.doi.org/10.1109/TMTT.2007.912234

73

article

Nudelman Interpolation, Parametrization of Lossless Functions and balanced realizations

Automatica

43

2007

,

1329--1338

URL: https://dx.doi.org/10.1016/j.automatica.2007.01.020

74

article

Filter Design Using Transformed Variables

IEEE Transactions on Circuit Theory

15

4

dec 1968

,

385--408

URL: https://dx.doi.org/10.1109/TCT.1968.1082870

75

book

Hankel Operators and their Applications

Springer

2003

76

article

Constrained Hardy space approximation

J. Approx. Theory

8

2010

,

1466--1483

77

article

Über Potenzreihen die im innern des einheitskreises beschränkt sind

J. Reine Angew. Math.

147

1917

,

205--232

78

inproceedings

Extraction of coupling parameters for microwave filters: determinati on of a stable rational model from scattering data

2003 IEEE MTT-S International Microwave Symposium Digest

1

Philadelphie, États-Unis

IEEE

2003

,

25--28

URL: https://hal.inria.fr/hal-00663504

79

article

Decomposition of solenoidal vector charges into elementary solenoids and the structure of normal one-dimensional currents

Algebra i Analiz

4

Transl. St Petersburg Math. Journal, n. 4, pp. 841--867, 1994

1993

,

206-238

80

book

Harmonic Analysis

Princeton University Press

1993

81

book

Stability analysis of nonlinear microwave circuits

Artech House

2003

82

inproceedings

Counterexamples with harmonic gradients in '

Essays on Fourier analysis in honor of Elias M. Stein

42

Math. Ser.

Princeton Univ. Press

1995

,

321--384