2020
Activity report
Team
NECS
Inria teams are typically groups of researchers working on the definition of a common project, and objectives, with the goal to arrive at the creation of a project-team. Such project-teams may include other partners (universities or research institutions).
Team name:
Networked Controlled Systems
Domain
Applied Mathematics, Computation and Simulation
Theme
Optimization and control of dynamic systems
Creation of the Team: 2019 January 01
Keywords
A1.

Architectures, systems and networks

A1.2.

Networks

A1.2.6.

Sensor networks

A1.2.7.

Cyber-physical systems

A1.2.9.

Social Networks

A1.5.

Complex systems

A3.

Data and knowledge

A3.1.

Data

A6.

Modeling, simulation and control

A6.1.

Methods in mathematical modeling

A6.2.

Scientific computing, Numerical Analysis & Optimization

A6.4.

Automatic control
B7.

Transport and logistics

B7.1.

Traffic management

B7.2.

Smart travel
1
Team members, visitors, external collaborators
Research Scientists
Carlos

Canudas de Wit

[

Team leader

,

CNRS

,

Senior Researcher

]

Maria-Laura

Delle Monache

[

Inria

,

Researcher

]

Paolo

Frasca

[

CNRS

,

Researcher

]

Federica

Garin

[

Inria

,

Researcher

]
Faculty Members
Hassen

Fourati

[

Univ Grenoble Alpes

,

Associate Professor

]

Alain

Kibangou

[

Univ Grenoble Alpes

,

Associate Professor

]
Post-Doctoral Fellow
Fadoua

Taia-Alaoui

[

Univ Grenoble Alpes

]
PhD Students
Maria

Castaldo

[

CNRS

]

Tarso

Kraemer Sarzi Sartori

[

UGA

]

Muhammad Umar B

Niazi

[

CNRS

]

Denis

Nikitin

[

CNRS

]

Bassel

Othman

[

IFPEN

]

Ujjwal

Pratap

[

CNRS

]

Martin

Rodriguez

[

CNRS

]

Nigina

Toktassynova

[

KazNRTU

]

Liudmila

Tumash

[

CNRS

]

Renato

Vizuete Haro

[

Univ Paris-Saclay

]

Makia

Zmitri

[

CNRS

]
Technical Staff
Vadim

Bertrand

[

CNRS

,

Engineer

]
Interns and Apprentices
Gwen

Adolphe

[

CNRS

,

from May 2020 until Jul 2020

]

Xavier

Dambricourt

[

CNRS

,

from Feb 2020 until Mar 2020

]

Dhannai

Sepulveda Gonzalez

[

Inria

,

until Apr 2020

]
External Collaborator
Stéphane

Mollier

[

CNRS

,

until Jan 2020

]
2
Overall objectives
2.1
Context and overall goal of the project
NeCS is a joint Inria/Gipsa-Lab team, bi-located at the Inria-Rhône-Alpes Center in Montbonnot and at Gipsa-Lab (http://www.gipsa-lab.grenoble-inp.fr) in the Saint-Martin-d'Hères campus, both locations being in the Grenoble area. NeCS team's research is focused on Networked Controlled Systems.
The research field of Networked Controlled Systems deals with feedback systems controlled over networks, but also concerns systems that naturally exhibit a network structure (e.g., traffic, electrical networks, etc.).
The first system category results from the arrival of new control problems posed by the consideration of several factors, such as: new technological components (e.g., wireless, RF, communications, local networks, etc.), increase of systems complexity (e.g., increase in vehicle components), the distributed location of sensor and actuator, and computation constraints imposed by their embedded nature. In this class of systems, the way that the information is transferred and processed (information constraints), and the manner in which the computation resources are used (resources management), have a substantial impact in the resulting stability and performance properties of the feedback controlled systems. One main challenge here is the co-design of control together with one or more other components of different nature. The NeCS team has tackled co-design problems concerning:
Control under communications and network constraints;
Control under resources constraints.
The second category of systems is motivated by the natural network structure in which the original systems are built. Examples are biologic networks, traffic networks, and electrical networks. The complex nature of such systems makes the classical centralized view of the control design obsolete. New distributed and/or collaborative control and estimation algorithms need to be devised as a response to this complexity. Even if the dynamic behavior of each individual system is still important, the aggregated behavior (at some macroscopic level), and its interconnection graph properties become of dominant importance. To build up this research domain, the team has put a strong focus on traffic (vehicular) networks, and in some associated research topics capturing problems that are specific to these complex network systems (distributed estimation, graph-discovering, etc).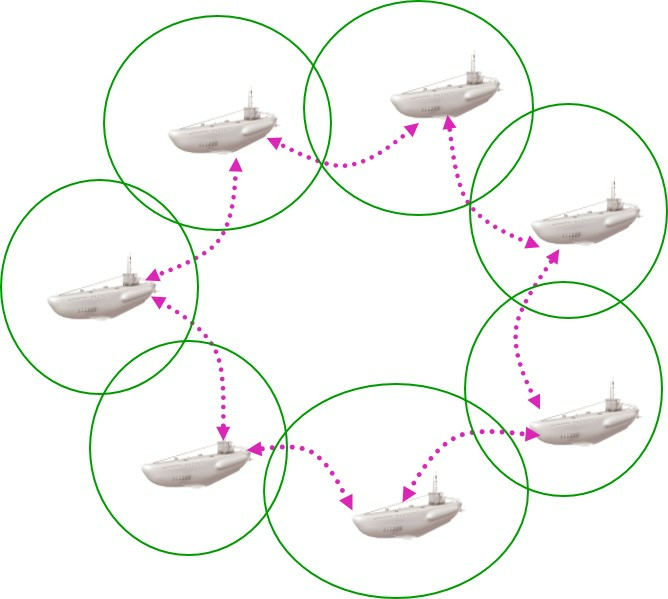 3
Research program
3.1
Introduction
NeCS team deals with Networked Control Systems. Since its foundation in 2007, the team has been addressing issues of control under imperfections and constraints deriving from the network (limited computation resources of the embedded systems, delays and errors due to communication, limited energy resources), proposing co-design strategies. The team has recently moved its focus towards general problems on control of network systems, which involve the analysis and control of dynamical systems with a network structure or whose operation is supported by networks. This is a research domain with substantial growth and is now recognized as a priority sector by the IEEE Control Systems Society: IEEE has started a new journal, IEEE Transactions on Control of Network Systems, whose first issue appeared in 2014.
More in detail, the research program of NeCS team is along lines described in the following sections.
3.2
Distributed estimation and data fusion in network systems
This research topic concerns distributed data combination from multiple sources (sensors) and related information fusion, to achieve more specific inference than could be achieved by using a single source (sensor). It plays an essential role in many networked applications, such as communication, networked control, monitoring, navigation and surveillance. Distributed estimation has already been considered in the team. We wish to capitalize and strengthen these activities by focusing on integration of heterogeneous, multidimensional, and large data sets:
Heterogeneity and large data sets. This issue constitutes a clearly identified challenge for the future. Indeed, heterogeneity comes from the fact that data are given in many forms, refer to different scales, and carry different information. Therefore, data fusion and integration will be achieved by developing new multi-perception mathematical models that can allow tracking continuous (macroscopic) and discrete (microscopic) dynamics under a unified framework while making different scales interact with each other. More precisely, many scales are considered at the same time, and they evolve following a unique fully-integrated dynamics generated by the interactions of the scales. The new multi-perception models will be integrated to forecast, estimate and broadcast useful system states in a distributed way. Targeted applications include traffic networks and navigation.
Multidimensionality. This issue concerns the analysis and the processing of multidimensional data, organized in multiway array, in a distributed way. Robustness of previously-developed algorithms will be studied. In particular, the issue of missing data will be taken into account. In addition, since the considered multidimensional data are generated by dynamic systems, dynamic analysis of multiway array (or tensors) will be considered. The targeted applications concern distributed detection in complex networks and distributed signal processing for collaborative networks. This topic is developed in strong collaboration with UFC (Brazil).
3.3
Network systems and graph analysis
This is a research topic at the boundaries between graph theory and dynamical systems theory.
A first main line of research will be to study complex systems whose interactions are modeled with graphs, and to unveil the effect of the graph topology on system-theoretic properties such as observability or controllability. In particular, on-going work concerns observability of graph-based systems: after preliminary results concerning consensus systems over distance-regular graphs, the aim is to extend results to more general networks. A special focus will be on the notion of `generic properties', namely properties which depend only on the underlying graph describing the sparsity pattern, and hold true almost surely with a random choice of the non-zero coefficients. Further work will be to explore situations in which there is the need for new notions different from the classical observability or controllability. For example, in opinion-forming in social networks or in formation of birds flocks, the potential leader might have a goal different from classical controllability. On the one hand, his goal might be much less ambitious than the classical one of driving the system to any possible state (e.g., he might want to drive everybody near its own opinion, only, and not to any combination of different individual opinions), and on the other hand he might have much weaker tools to construct his control input (e.g., he might not know the whole system's dynamics, but only some local partial information). Another example is the question of detectability of an unknown input under the assumption that such an input has a sparsity constraint, a question arising from the fact that a cyber-physical attack might be modeled as an input aiming at controlling the system's state, and that limitations in the capabilities of the attacker might be modeled as a sparsity constraint on the input.
A second line of research will concern graph discovery, namely algorithms aiming at reconstructing some properties of the graph (such as the number of vertices, the diameter, the degree distribution, or spectral properties such as the eigenvalues of the graph Laplacian), using some measurements of quantities related to a dynamical system associated with the graph. It will be particularly challenging to consider directed graphs, and to impose that the algorithm is anonymous, i.e., that it does not makes use of labels identifying the different agents associated with vertices.
3.4
Collaborative and distributed network control
This research line deals with the problem of designing controllers with a limited use of the network information (i.e. with restricted feedback), and with the aim to reach a pre-specified global behavior. This is in contrast to centralized controllers that use the whole system information and compute the control law at some central node. Collaborative control has already been explored in the team in connection with the underwater robot fleet, and to some extent with the source seeking problem. It remains however a certain number of challenging problems that the team wishes to address:
Design of control with limited information, able to lead to desired global behaviors. Here the graph structure is imposed by the problem, and we aim to design the "best" possible control under such a graph constraint 1. The team would like to explore further this research line, targeting a better understanding of possible metrics to be used as a target for optimal control design. In particular, and in connection with the traffic application, the long-standing open problem of ramp metering control under minimum information will be addressed.
Clustering control for large networks. For large and complex systems composed of several sub-networks, feedback design is usually treated at the sub-network level, and most of the times without taking into account natural interconnections between sub-networks. The team is exploring new control strategies, exploiting the emergent behaviors resulting from new interconnections between the network components. This requires first to build network models operating in aggregated clusters, and then to re-formulate problems where the control can be designed using the cluster boundaries rather than individual control loops inside of each network. Examples can be found in the transportation application domain, where a significant challenge will be to obtain dynamic partitioning and clustering of heterogeneous networks in homogeneous sub-networks, and then to control the perimeter flows of the clusters to optimize the network operation. This topic is at the core of the Advanced ERC project Scale-FreeBack.
3.5
Transportation networks
This is currently the main application domain of the NeCS team. Several interesting problems in this area capture many of the generic networks problems identified before (e.g., decentralized/collaborative traffic optimal control, density balancing using consensus concepts, data fusion, distributed estimation, etc.). Several specific actions have been continued/launched to this purpose: improvement and finalization of the Grenoble Traffic Lab (GTL), EU projects (SPEEDD, ERC-AdG Scale-FreeBack). Further research goals are envisioned, such as:
Modeling of large scale traffic systems. We aim at reducing the complexity of traffic systems modeling by engaging novel modeling techniques that make use of clustering for traffic networks while relying on its specific characteristics. Traffic networks will be aggregate into clusters and the main traffic quantities will be extrapolated by making use of this aggregation. Moreover, we are developing an extension of the Grenoble Traffic Lab (GTL) for downtown Grenoble which will make use of GPS and probe data to collect traffic data in the city center.
Modeling and control of intelligent transportation systems. We aim at developing a complete micro-macro modeling approach to describe and model the new traffic dynamics that is developing thanks to mixed (simple, connected and automated) vehicles in the roads. This will require cutting edge mathematical theory and field experiments.
4
Application domains
4.1
A large variety of application domains
Sensor and actuator networks are ubiquitous in modern world, thanks to the advent of cheap small devices endowed with communication and computation capabilities. Potential application domains for research in networked control and in distributed estimation are extremely various, and include the following examples.
Intelligent buildings, where sensor information on concentration, temperature, room occupancy, etc. can be used to control the heating, ventilation and air conditioning (HVAC) system under multi-objective considerations of comfort, air quality, and energy consumption.
Smart grids: the operation of electrical networks is changing from a centralized optimization framework towards more distributed and adaptive protocols, due to the high number of small local energy producers (e.g., solar panels on house roofs) that now interact with the classic large power-plants.
Disaster relief operations, where data collected by sensor networks can be used to guide the actions of human operators and/or to operate automated rescue equipment.
Inertial navigation, where sensor information can be used to locate the pedestrians to accomplish his mission.
Environmental monitoring and exploration using self-organized fleets of Autonomous Underwater Vehicles (AUVs), collaborating in order to reach a goal such as finding a pollutant source or tracing a seabed map.
Infrastructure security and protection using smart camera networks, where the images collected are shared among the cameras and used to control the cameras themselves (pan-tilt-zoom) and ensure tracking of potential threats.
Collaborative indoor and outdoor navigation of pedestrians.
Transportation mode classification and detection based on inertial and pressure sensors.
In particular, NeCS team is currently focusing in the areas described in detail below.
4.2
Intelligent transportation systems
Throughout the world, roadways are notorious for their congestion, from dense urban network to large freeway systems. This situation tends to get worse over time due to the continuous increase of transportation demand whereas public investments are decreasing and space is lacking to build new infrastructures. The most obvious impact of traffic congestion for citizens is the increase of travel times and fuel consumption. Another critical effect is that infrastructures are not operated at their capacity during congestion, implying that fewer vehicles are served than the amount they were designed for. Using macroscopic fluid-like models, the NeCS team has initiated new researches to develop innovative traffic management policies able to improve the infrastructure operations. The research activity is on two main challenges: (1) modeling and forecasting, so as to provide accurate information to users, e.g., travel times; and (2) control, via ramp-metering and/or variable speed limits. The Grenoble Traffic Lab (see http://necs.inrialpes.fr/pages/grenoble-traffic-lab.php) is an experimental platform, collecting traffic infrastructure information in real time from Grenoble South Ring, together with innovative software e.g. for travel-time prediciton, and a show-case where to graphically illustrate results to the end-user. This activity is done in close collaboration with local traffic authorities (DIR-CE, CG38, La Metro), and with the company Karrus (http://www.karrus-its.com/)
4.3
Inertial navigation
The team is exploring techniques and approaches from estimation, filtering and machine learning, in order to use inertial sensor units in pedestrian navigation, attitude estimation, transportation modes and human activities recognition. These units are composed of accelerometers, magnetometers, gyroscopes and barometer, sensors that we find usually in smartphones, tablets and smartwatches. This area of research in the team will evolve towards multimodal navigation, cooperative and collaborative navigation in indoor and outdoor environments.
5
Highlights of the year
This will be the last year of NECS. The team members are initiating the new team DANCE.
5.1
Awards
M. L. Delle Monache was awarded the best Transportation Research Part C paper award for 2020.
6
New software and platforms
6.1
New software
6.1.1
GTL
Name:

Grenoble Traffic Lab

Functional Description:

The Grenoble Traffic Lab (GTL) initiative, led by the NeCS team, is a real-time traffic data Center (platform) that collects traffic road infrastructure information in real-time with minimum latency and fast sampling periods. The main elements of the GTL are: a real-time data-base, a show room, and a calibrated micro-simulator of the Grenoble South Ring. Sensed information comes from a dense wireless sensor network deployed on Grenoble South Ring, providing macroscopic traffic signals such as flows, velocities, densities, and magnetic signatures. This sensor network was set in place in collaboration with Inria spin-off Karrus-ITS, local traffic authorities (DIR-CE, CG38, La Metro), and specialized traffic research centers. In addition to real data, the project also uses simulated data, in order to validate models and to test the ramp-metering, the micro-simulator is a commercial software (developed by TSS AIMSUN ©). More details at http://necs.inrialpes.fr/pages/grenoble-traffic-lab.php

Contact:

Carlos Canudas-de-Wit

Participants:

Alain Kibangou, Andres Alberto Ladino Lopez, Anton Andreev, Carlos Canudas-de-Wit, Dominik Pisarski, Enrico Lovisari, Fabio Morbidi, Federica Garin, Hassen Fourati, Iker Bellicot, Maria Laura Delle Monache, Paolo Frasca, Pascal Bellemain, Pietro Grandinetti, Remi Piotaix, Rohit Singhal, Vadim Bertrand
6.1.2
GTL-Ville
Name:

Grenoble Traffic Lab - City

Keyword:

Traffic data

Functional Description:

The GTL-Ville platform is developed within the framework of the ERC Scale-FreeBack project (http://scale-freeback.eu/). Its functions are divided into three axes: 1- Collect traffic data in real time via different sources. We are currently working with three suppliers: TomTom (company) for speed data from Floating Car Data (FCD), La Métro for counting data from existing loops and Karrus (company) to complete the counting data from La Métro via radars deployed since last fall. 2- Estimate traffic indicators with the lowest possible latency using collected data and historical data applied to models developed by PhD students of the ERC project. 3- Visualize raw data and calculated indicators via a web interface (http://gtlville.inrialpes.fr/).

Contact:

Carlos Canudas-de-Wit
8
Bilateral contracts and grants with industry
8.1
Bilateral contracts with industry
TMI-V (Tachymètre Magnéto-Inertiel couplé Vision). Co-PI: H. Fourati (2018-2022)
The objective of the TMI-V project is the indoor localization without infrastructure, by developing an autonomous, precise, robust solution with no prior knowledge of the environment integrated in equipment worn on the upper body to be used in virtual reality and augmented reality applications. An array of magnetometers and inertial sensors will be used. The project is ongoing, in collaboration with SysNav company.
9
Partnerships and cooperations
9.1
International initiatives
9.1.1
Inria associate team not involved in an IIL
MEMENTO
Title:

Modeling autonomous vehicles in traffic flow

Duration:

2018 -

2020

Coordinator:

Maria Laura Delle Monache

Partners:

Department of Environmental and Civil engineering, Université Vanderbilt, Nashville (United States)

Inria contact:

Maria Laura Delle Monache

Summary:

In recent years, the strategic priorities of automotive and transportation systems focus on research, development and adoption of automation-related technologies as they emerge. As these technology developments are introduced in the traffic stream, an open question is how the mathematical models that are at the heart of transportation planning and operations will need to be advanced to accommodate these changes. The goal of the NeCS-Vanderbilt, MEMENTO, associate team is to create a multidisciplinary environment to model autonomous vehicles (AV) in human traffic flow. Specifically, our goal is to develop a unified micro-macro approach for traffic management, involving human drivers and autonomous vehicles by providing analytical and numerical tools for traffic modeling, estimation and control. We will work towards field operational tests, by using instrumented cars to collect data on AVs trajectories and their interaction with the traffic flow with human drivers.
9.1.2
Participation in other international programs
Rutgers Global Grant - International collaborative research grant
Title:

Mean field game models for traffic application

Duration:

2019 - 2020

Coordinator:

Maria Laura Delle Monache

Partners:

Department of mathematical sciences

, Rutgers University - Camden (United States)

Inria contact:

Maria Laura Delle Monache

Summary:

This project focuses on the theoretical tools for traffic systems to mitigate traffic events that adversely affect. Specifically, the project will build algorithms to mitigate

phantom traffic jams

, which are instabilities caused by human driving behavior, lane changes, and other disturbances. This project is premised on the concept that connected and autonomous vehicles (CAVs) can act as instability pacifiers and enable a new era of freeway traffic management in which CAVs themselves are part of the traffic control system. The stabilizing Lagrangian (i.e., mobile) control signal will be fed directly to the vehicles, which will adjust their speed and lanes to match the requirements of the control.
9.2
International research visitors
No visitors due to the ongoing pandemics.
9.3
European initiatives
9.3.1
FP7 & H2020 Projects
Scale-FreeBack
Type:

ERC Advanced Grant

Duration:

Sep. 2016 to Aug. 2021

Coordinator:

C. Canudas de Wit

Inria contact:

C. Canudas de Wit

Abstract:

The overall aim of Scale-FreeBack is to develop holistic scale-free control methods of controlling complex network systems in the widest sense, and to set the foundations for a new control theory dealing with complex physical networks with an arbitrary size. Scale-FreeBack envisions devising a complete, coherent design approach ensuring the scalability of the whole chain (modelling, observation, and control). It is also expected to find specific breakthrough solutions to the problems involved in managing and monitoring large-scale road traffic networks. Field tests and other realistic simulations to validate the theory will be performed using the equipment available at the Grenoble Traffic Lab center (see GTL), and a microscopic traffic simulator replicating the full complexity of the Grenoble urban network.

See also: http://scale-freeback.eu
9.3.2
Collaborations in European programs, except FP7 and H2020
COST Action
Title:

Mathematical models for interacting dynamics on networks

Duration:

2019 - 2023

Coordinator:

Marjeta Kramar Fijavz

Inria contact:

Maria Laura Delle Monache

Summary:

Many physical, biological, chemical, financial or even social phenomena can be described by dynamical systems. It is quite common that the dynamics arises as a compound effect of the interaction between sub-systems in which case we speak about coupled systems. This Action shall study such interactions in particular cases from three points of view: (i) the abstract approach to the theory behind these systems, (ii) applications of the abstract theory to coupled structures like networks, neighbouring domains divided by permeable membranes, possibly non-homogeneous simplicial complexes, etc., (iii) modelling real-life situations within this framework. The purpose of this Action is to bring together leading groups in Europe working on a range of issues connected with modelling and analysing mathematical models for dynamical systems on networks. It aims to develop a semigroup approach to various (non-)linear dynamical systems on networks as well as numerical methods based on modern variational methods and applying them to road traffic, biological systems, and further real-life models. The Action also explores the possibility of estimating solutions and long time behaviour of these systems by collecting basic combinatorial information about underlying networks.
9.4
National initiatives
DOOM (Systems-theory for the Disorders Of Online Media). 80 PRIME from CNRS MITI (2019–2022). PI: P. Frasca
Online social media have a key role in contemporary society and the debates that take place on them are known to shape political and societal trends. For this reason, pathological phenomena like the formation of "filter bubbles" and the viral propagation of "fake news" are observed with concern. The scientific assumption of this proposal is that these information disorders are direct consequences of the inherent nature of these communication media, and more specifically of the collective dynamics of attention thereby. In order to capture these dynamics, this proposal advocates the mathematical modelling of the interplay between the medium (algorithmic component) and the users (human component). The resulting dynamics shall be explored by a system-theoretic approach, using notions such as feedback and stability. This quantitative and rigorous approach will not only unlock fundamental insights but also deliver suggestions on suitable policies to manage the media.
HANDY (Hybrid and Networked Dynamical Systems). ANR PRC (2019-2022). Co-PI: P. Frasca
Networked dynamical systems are ubiquitous in current and emerging technologies. From energy grids, fleets of connected autonomous vehicles to online social networks, the same scenario arises in each case: dynamical units interact locally to achieve a global behavior. When considering a networked system as a whole, very often continuous-time dynamics are affected by instantaneous changes, called jumps, leading to so-called hybrid dynamical systems. Hybrid phenomena thus play an essential role in these control applications, and call upon the development of novel adapted tools for stability and performance analysis and control design. In this context, the aim of HANDY project is to provide methodological control-oriented tools for realistic networked models, which account for hybrid phenomena. The project brings together researchers from LAAS in Toulouse, CRAN in Nancy, GIPSA in Grenoble and LSS in Gif-sur-Yvette, with expertise in various domains of automatic control, ranging from geometric control and optimization, switched systems, hybrid dynamics, nonlinear control, and multi-agent systems. See also: http://projects.laas.fr/handy
AgileWorld-MRSEI. PI: A. Kibangou
AgileWorld is an ANR-MRSEI project (2018-2020), which aims at building an European network for an innovative training on road transportation systems in a connected world. The funding will help to prepare and then submit a proposal for the MSCA-ITN 2019 call. For this purpose a workshop was organized in November 2019 with the partners of the project in Grenoble.
10
Dissemination
10.1
Promoting scientific activities
10.1.1
Scientific events: organisation
Member of the organizing committees
M. L. Delle Monache serves on the organizing committee of the 2021 CPS-IoT week as Workshop Chair.
10.1.2
Scientific events: selection
Member of the conference program committees
F. Garin is Associate Editor in the IEEE Control System Society Conference Editorial Board (this year, she served for CDC 2020, ACC 2021) and Associate Editor in the European Control Association (EUCA) Conference Editorial Board (this year, she served for ECC 2021). She has also been a member of the Program Committee for Complex Networks 2020.
M. L. Delle Monache is Associate Editor in the European Control Association (EUCA) Conference Editorial Board (this year, she served for ECC 2021) and Associated Editor in the IEEE Intelligent Transportation System Conference (ITSC) Editorial Board (this year, she served for ITSC 2021).
P. Frasca is member of the International Program Committee of the 2021 IFAC Symposium on Robust Control Design (ROCOND 2021).
H. Fourati is member of the International Conference on Indoor Positioning and Indoor Navigation (IPIN), Beijng, China, Sep. 2020; the International Conference on Control, Decision and Information Technologies (CoDIT), Prague, République Tchèque, Jul. 2020; Euro Working Group on Transportation Meeting (EWGT), Paphos, Chypre, Sept. 2020; International Symposium on Advanced Electrical and Communication Technologies (ISAECT), Marrakech, Maroc, Nov. 2020.
Reviewer
Team members have been reviewers for several conferences, including the most prestigious ones in their research area: IFAC World Congress 2020, CDC2020, ACC 2021
10.1.3
Journal
Member of the editorial boards
C. Canudas de Wit is Senior Editor of IEEE Transactions on Control of Network Systems and Editor of the Asian Journal of Control.
P. Frasca is Associate Editor of the Asian Journal of Control and of the IEEE Control Systems Letters.
H. Fourati is Associate Editor of the Asian Journal of Control.
Reviewer - reviewing activities
Team members have been reviewers for several journals, including the most prestigious ones in their research area: Automatica, IEEE Transactions on Automatic Control, IEEE Transactions on Control of Network Systems, IEEE Transactions on Network Science and Engineering, IEEE Control Systems Letters, Asian Journal of Control, SIAM Journal of Applied Mathematics, Transportation Research Part B and Part C, IEEE Transactions on Intelligent Transportation Systems, IEEE Transaction on Vehicular Technology, Physica A.
10.1.4
Invited talks
M. L. Delle Monache gave the following invited talks during 2020:
Modeling for mixed autonomy traffic: a control-based approach, Workshop on large scale autonomy: connectivity and mobility networks, IPAM (UCLA), USA, November 2020
Coupled PDE-ODE systems: applications to traffic flow modeling, estimation and control, 42nd workshop of research center for complex systems and network sciences, Southeastearn university, China, September 2020
Coupled PDE-ODE systems: applications to traffic flow modeling, estimation and control, Journée de l'équipe EMS, Université d'Orléans, France, February 2020
A. Kibangou gave a talk at GDR MACS for COVID Initiative on July 7, 2020.
M. U. B. Niazi gave the following invited talk
Modeling and Control of COVID-19 Epidemic through Testing Policies, the International e-Seminar on Control and Systems Theory, TU Kaiserslautern, Germany, November 2020.
P. Frasca gave the following invited talks during 2020:
"Traffic Flow on a Ring with a Single Autonomous Vehicle: An Interconnected Stability Perspective", Southeast University, Nanjing, China, September 4, 2020
"The closed loop between opinion formation and personalised recommendations", Peking University, Beijing, China, July 21, 2020
10.1.5
Leadership within the scientific community
Team members participate to the following technical committees of IEEE Control Systems Society and of the International Federation of Automatic Control:
IEEE-CSS Technical Committee "Networks and Communications Systems" (P. Frasca and F. Garin);
IFAC Technical Committee 1.5 on Networked Systems (P. Frasca and C. Canudas de Wit);
IFAC Technical Committee 2.5 on Robust Control (P. Frasca);
IFAC Technical Committee 9.2 on Human Impact of Automation (P. Frasca);
IFAC Technical Committee 7.1 Automotive Control (C. Canudas de Wit);
IFAC Technical Committee 7.4 Transportation systems (C. Canudas de Wit).
P. Frasca is a member of the steering committee of the GdR MACS (body coordinating national activities in Automatic Control in France), 2019–2023, and C. Canudas de Wit is member of the board of SAGIP (Société d'Automatique, de Génie Industriel et de Productique).
10.1.6
Scientific expertise
F. Garin was a member of the recruiting committee for researchers at Inria Grenoble–Rhône-Alpes.
10.1.7
Research administration
F. Garin is `responsable du pôle automatique et diagnostic' at GIPSA-lab, since Jan 2020 and `Présidente du CES (Comité des Emplois Scientifiques) du Centre Inria Grenoble–Rhône-Alpes', since July 2019. She is also `co-responsable de l'axe CPS (Cyber-Physical Systems)' of Persyval2, since Nov. 2019.
C. Canudas de Wit is a member of the COST-Inria-RA (Conseil d'Orientation Scientifique et Technologique, Inria Rhône-Alpes), since 2017, and an elected member of the `Commission d'Évaluation Inria' since 2020.
M.L. Delle Monache is member of two local committees at Inria Grenoble Rhône-Alpes: Commission de développement technologique (research engineers) and Comité des Études Doctorales (PhD grants CORDI-S).
H. Fourati is an elected member of CNU61 (Conseil National des Universités, Génie informatique, Automatique et Traitement du Signal).
A. Kibangou is an elected member of "Conseil du pôle MSTIC" at Univ. Grenoble Alpes.
10.2
Teaching - Supervision - Juries
10.2.1
Teaching
Master: F. Garin, Distributed Algorithms and Network Systems, 13.5h, M2, Univ. Grenoble Alpes, France.
Licence: H. Fourati, Mathématiques, 30h, L2, IUT1 (GEII1), Univ. Grenoble Alpes, France.
Licence: H. Fourati, Informatique Industrielle, 111h, L1, IUT 1 (GEII), Univ. Grenoble Alpes, France.
Licence: H. Fourati, Réseaux locaux industriels, 34h, L2, IUT1 (GEII), Univ. Grenoble Alpes, France.
Licence: H. Fourati, Automatique, 39h, L3, UFR physique, Univ. Grenoble Alpes, France.
Licence: H. Fourati, Automatique continue et discrete, 27h, L2, IUT1 (GEII), Univ. Grenoble Alpes, France.
Master: H. Fourati, Perception and states estimation for mobile robotics, 14h, M2, Grenoble-INP ENSE3.
Licence: A. Kibangou, Automatique, 75h, L2, IUT1(GEII), Univ. Grenoble Alpes, France.
Licence: A. Kibangou, Mathématiques, 44h, L2, IUT1 (GEII), Univ. Grenoble Alpes, France.
Licence: A. Kibangou, Mathématiques, 126h, L1, IUT1 (GEII), Univ. Grenoble Alpes, France.
Master: A. Kibangou, Automatique-Préparation à l'aggrégation, 6h, M2, Ministère de l'education nationale-Académie de Grenoble, France.
10.2.2
Supervision
PhD: Nicolas Martin, Network partitioning algorithms with scale-free objective, Univ. Grenoble Alpes, Feb. 2020, co-advised by C. Canudas de Wit and P. Frasca.
PhD: Stéphane Mollier, Two-dimensional macroscopic models for large scale traffic networks, Univ. Grenoble Alpes, Feb. 2020, co-advised by C. Canudas de Wit, M. L. Delle Monache and B. Seibold.
PhD in progress: Tarso Kraemer Sarzi Sartori, Mitigation des effets du rayonnement cosmique dans les algorithmes d'estimation d'attitude de systèmes de navigation inertielle, from Oct. 2020, co-advised by R. Possamai Bastos and H. Fourati.
PhD in progress: Nigina Toktassynova, Simulation and research of industrial flow control systems of the enterprise based on MES systems, from Sep. 2016, co-advised by B. Suleimenov and H. Fourati.
PhD in progress: Martin Rodriguez-Vega, Traffic density, traveling time and vehicle emission estimation in large-scale traffic networks, from Oct. 2017, co-advised by C. Canudas de Wit and H. Fourati.
PhD in progress: Muhammad Umar B. Niazi, State-state estimation design and optimal sensor placement algorithms for large-scale evolutionary dynamical networks, from Dec. 2017, co-advised by C. Canudas de Wit and A. Kibangou.
PhD in progress: Thembani Moyo, Origin and destination modeling and estimation for smart mobility, from May 2018, co-advised by A. Kibangou and W. Musakwa (Univ. of Johannesburg).
PhD in progress: Denis Nikitin, Scalable large-scale control of network aggregates, from Sept. 2018, co-advised by C. Canudas de Wit and P. Frasca.
PhD in progress: Liudmila Tumash, Traffic control in large-scale urban networks, from Sept. 2018, co-advised by C. Canudas de Wit and M. L. Delle Monache.
PhD in progress: Bassel Othman, Dynamic optimization of road traffic in a large-scale urban network from Oct. 2018, co-advised by C. Canudas de Wit and G. De Nunzio.
PhD in progress: Makia Zmitri, Estimating the attitude by IMU, magnetic and vision measures: an automatic control approach, from Oct. 2018, co-advised by H. Fourati and C. Prieur.
PhD in progress: Ujjwal Pratap, Resilient control in scale-free networks, from Feb. 2019, co-advised by C. Canudas-de-Wit, F. Garin, and H. Sandberg (KTH Stockholm).
PhD in progress: Renato Vizuete, Open Multi-Agent Systems, from Sept. 2019, co-advised with Elena Panteley
PhD in progress: Maria Castaldo, Disorders of online media, from Nov. 2019, co-advised with Tommaso Venturini (Centre Internet et Société, CNRS)
PhD in progress: Nomfundo Cele, Perception of Quality of Service on public transportation in developing countries, from November 2020, co-advised by A. Kibangou and W. Musakwa (Univ. of Johannesburg).
10.2.3
Juries
P. Frasca was

external referee

for the Ph.D. defense of Francesco Sasso, University of Salento, Lecce, Italy (Ph.D. advisors: Giuseppe Notarstefano and Angelo Coluccia), 2020
11
Scientific production
11.1
Major publications
1

article

The Observability Radius of Networks

IEEE Transactions on Automatic Control

62

6

June 2017

,

3006-3013

2

article

Eco-Driving in Urban Traffic Networks Using Traffic Signals Information

International Journal of Robust and Nonlinear Control

26

2016

,

1307--1324

3

article

Distributed Source Seeking without Global Position Information

IEEE Transactions on Control of Network Systems

5

1

March 2018

,

228-238

4

book

Introduction to Averaging Dynamics over Networks

Springer

2017

5

book

Multisensor Data Fusion: From Algorithms and Architectural Design to Applications (Book)

Series: Devices, Circuits, and Systems, CRC Press, Taylor & Francis Group LLC

August 2015

,

663

6

article

Input and State Observability of Network Systems with Time-Varying Topology

IEEE transactions on control of network systems

2019

7

article

Observability in Connected Strongly Regular Graphs and Distance Regular Graphs

IEEE Transactions on Control of Network Systems

1

4

December 2014

,

360-369

8

article

Energy-aware Adaptive Attitude Estimation Under External Acceleration for Pedestrian Navigation

IEEE/ASME Transactions on Mechatronics

21

3

June 2016

,

1366-1375

9

article

Nash Game Based Distributed Control Design for Balancing of Traffic Density over Freeway Networks

IEEE Transactions on Control of Network Systems

3

2

2016

,

149-161

10

article

Dissipation of stop-and-go waves via control of autonomous vehicles: Field experiments

Transportation research. Part C, Emerging technologies

89

2018

,

205-221
11.2
Publications of the year
11.3
Cited publications
44

article

The rhythms of the night: increase in online night activity and emotional resilience during the spring 2020 Covid-19 lockdown

EPJ Data Science

10

1

February 2021

,

7

URL: https://doi.org/10.1140/epjds/s13688-021-00262-1

45

article

Dissipation of stop-and-go waves via control of autonomous vehicles: Field experiments

Transportation Research Part C: Emerging Technologies

89

2018

,

205--221

46

article

Traffic jams without bottlenecks—experimental evidence for the physical mechanism of the formation of a jam

New journal of physics

10

3

2008

,

033001