2020
Activity report
Project-Team
VALSE
In partnership with:
Ecole Centrale de Lille, Université de Lille
Team name:
Finite-time control and estimation for distributed systems
In collaboration with:
Centre de Recherche en Informatique, Signal et Automatique de Lille
Domain
Applied Mathematics, Computation and Simulation
Theme
Optimization and control of dynamic systems
Creation of the Project-Team: 2019 January 01
Keywords
A5.9.2.

Estimation, modeling

A6.4.1.

Deterministic control

A6.4.4.

Stability and Stabilization

A6.4.5.

Control of distributed parameter systems

A9.5.

Robotics
B1.1.8.

Mathematical biology

B2.1.

Well being

B5.6.

Robotic systems

B7.2.1.

Smart vehicles
1
Team members, visitors, external collaborators
Research Scientists
Denis

Efimov

[

Team leader

,

Inria

,

Researcher

,

HDR

]

Leonid

Fridman

[

Inria

,

Chair

,

until Jan 2022

,

HDR

]

Andrey

Polyakov

[

Inria

,

Researcher

,

HDR

]

Rosane

Ushirobira

[

Inria

,

Researcher

,

HDR

]
Faculty Member
Jean-Pierre

Richard

[

Centrale Lille

,

Professor

]
Post-Doctoral Fellow
Gabriele

Perozzi

[

Inria

,

from Jul 2020

]
PhD Students
Youness

Braidiz

[

Centrale Lille

,

until Oct 2020

]

Nelson

De Figueiredo Barroso

[

Inria

]

Deesh

Dileep

[

Centrale Lille

,

until Feb 2020

]

Alex

Dos Reis De Souza

[

Inria

]

Anatolii

Khalin

[

Inria

]

Wenjie

Mei

[

China Scholarship Council

]

Artem

Nekhoroshikh

[

Centrale Lille and ITMO University, Russia

]

Haik Jan

Silm

[

Centrale Lille and KULeuven , Belgium

,

until Jun 2020

]

Jijju

Thomas

[

Centrale Lille and TU Eindhoven, The Netherlands

]

Quentin

Voortman

[

Centrale Lille and TU Eindhoven, The Netherlands

]

Siyuan

Wang

[

China Scholarship Council

]

Yu

Zhou

[

China Scholarship Council

,

from Nov 2020

]
Technical Staff
Fiodar

Hancharou

[

Inria

,

Engineer

]
Administrative Assistants
Nathalie

Bonte

[

Inria

,

until Mar 2020

]

Amelie

Supervielle

[

Inria

,

from Mar 2020

]
Visiting Scientists
Rakesh

Kumar

[

Indo-French Centre for the Promotion of Advanced Research, India

,

from Mar 2020 until May 2020

]

Junfeng

Zhang

[

Hangzhou Dianzi University, China

,

until Aug 2020

]
External Collaborator
Gerald

Dherbomez

[

CNRS

,

Engineer

]
2
Overall objectives
Valse team studies the estimation and control problems arising in the analysis and the design of distributed, uncertain and interconnected dynamical systems:
Using the concepts of

finite-time

/

fixed-time

/

hyperexponential

convergence and stability, the main idea is to separate and hierarchize in time the control and estimation processes, which are distributed in space. This greatly simplifies their analysis and the design for large-scale solutions.
The main areas of investigation and application are

Internet of things

and

cyber-physical systems

.
The team aims to draw up algorithms for

decentralized

finite-time control and estimation. The methodology to be developed includes extensions of the theory of

homogeneous

systems and of finite-time/fixed-time/hyperexponential convergence and stability notions. A particular attention is given to applications in real-world scenarios.
It is a joint proposal with the CNRS CRIStAL UMR 9189 (Centrale Lille and Université de Lille).
3
Research program
Valse team works in the domains of control science: dynamical systems, stability analysis, estimation, and automatic control. Our developments are focused on the theoretical and applied aspects related to control and estimation of large-scale multi-sensor and multi-actuator systems based on the use of the theories of finite-time/fixed-time/hyperexponential convergence and homogeneous systems. The Lyapunov function method and other methods of analysis of dynamical systems form a basis for the studies in Valse team.
The key idea of the research program for the team is that a fast (non-asymptotic) convergence of the regulation and estimation errors increases the reliability of intelligent distributed actuators and sensors in complex scenarios, such as interconnected cyber-physical systems (CPSs).
The expertise of Valse's members in theoretical developments of control and estimation theory (finite-time control and estimation algorithms in centralized context 118, 104, 115, 114, 111, homogeneity framework for differential equations 119, 106, 105, 107, 109, 120, 116, time-delay systems 108, 110, 123, distributed systems 117 and algebraic-based methods for estimation 121, 122) is an essential ingredient to achieve our objective.
The generic chart of different goals and tasks included in the scientific work program of Valse, and interrelations between them are presented in Fig. 1. We have selected three main objectives to pursue with the related tasks to fulfill:
The first objective consists in design of control and estimation solutions for CPS and IoT, which is the principal aim of Valse, it will contain the main outcomes of our research.
The second objective is more theoretical, which is needed to make the basement for our design and analysis parts in the previous goal.
The third objective deals with applications, which will drive the team and motivate the theoretical studies and selected design performances.
All these objectives are interconnected: from a particular problem in an IoT application, it is planned to design a control or estimation algorithm, which leads to the development of theoretical tools; and vice versa, a new theoretical advance can provide a possibility for the development of novel tools, which can be used in applications.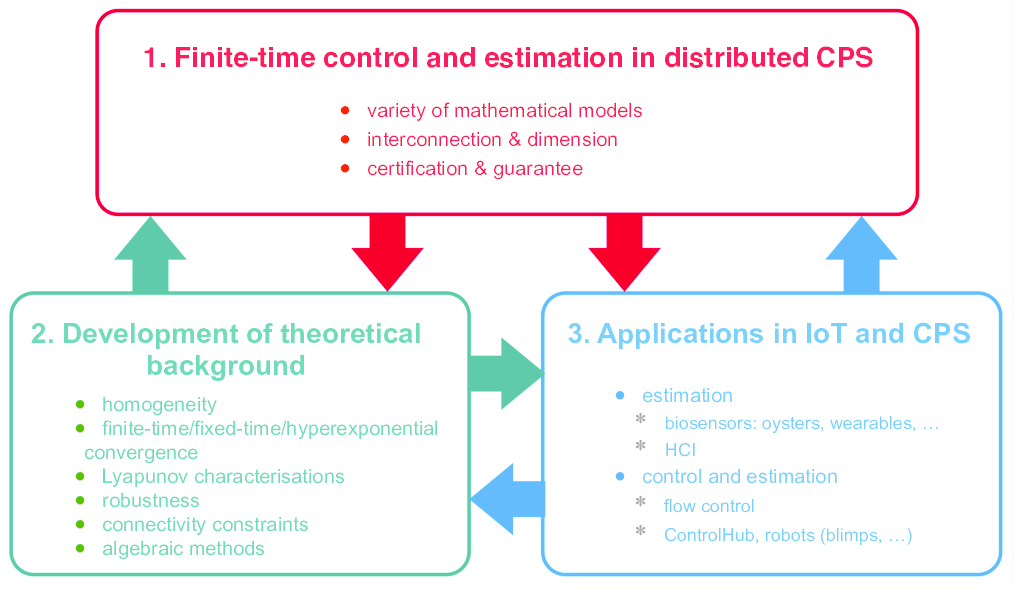 To explain our motivation: why to use finite-time? Applying any method for control/estimation has a price in terms of its advantages and disadvantages. There is no universal framework that is the best always and everywhere. Finite-time may appear as a luxurious property for a physical system, requiring the use of nonlinear tools. Of course, if an asymptotic convergence and a linear model are enough for solving a given problem, then there is no reason to develop something else. However, most of the present problems in CPS and IoT are nonlinear (i.e. they have various local behaviors that cannot be collected in only one linear model). Design and analysis of various local linearized models and solutions are luxurious, too. The theory of homogeneity can go beyond linearity offering many new features while not appearing as severe as other nonlinear tools and having almost all hints of the linear framework. Suppose that, thanks to the homogeneity theory, finite-time/fixed-time can be obtained with limited difficulty while adding the bonuses of stronger robustness and faster convergence compared to the linear case? We are convinced that the price of going beyond linear control and estimation can be strongly dropped down by maturing the theory of homogeneity and finite/fixed-time convergence. We are also convinced that it will be compensated in terms of robustness and speed, which can be demanded in the new areas of application as IoT, for example.
4
Application domains
An objective of the team is the application of the developed control and estimation algorithms for different scenarios in IoT or CPSs. The participation in various potential applications allows Valse team to better understand the features of CPSs and their required performances, and to formulate properly the control and estimation problems that have to be solved. Here is a list of ongoing and potential applications addressed in the team:
It is worth highlighting a widespread distribution of various scientific domains in the list of applications for the team given above. Such an interdisciplinarity for Valse is unsurprising, since the control theory is a science of systems whose interest today is, by nature, to interface with other disciplines and their fields of application. This is also well aligned with the domain of CPSs, which by its origin requires multidisciplinary competencies.
6
New software and platforms
6.1
New platforms
ControlHub is the platform for the rapid prototyping of control algorithms of cyber-physical systems. It allows the End-User to have remote access to real experimental setups and to validate mathematical control and estimation algorithms.
8
Partnerships and cooperations
9
Dissemination
9.1
Promoting scientific activities
9.1.1
Scientific events: selection
Member of the conference program committees
J.-P. Richard, EUCA-IEEE ECC 2020, Saint Petersburg, Russia (18th European Control Conference, 1st virtual ECC) June 12-15, 2020
Reviewer
The members of the team participate in reviewing for all major international conferences and journals in the domain of control theory: IEEE Transactions on Automatic Control, Automatica, European Journal of Control, International Journal of Control, International Journal on Robust and Nonlinear Control, Asian Journal of Control, SIAM Journal on Control and Optimization, etc.
9.1.2
Journal
Member of the editorial boards
R. Ushirobira, Guest editor, European Journal of Control
D. Efimov, Guest editor, International Journal of Control
D. Efimov, Guest editor, European Journal of Control
D. Efimov, Guest editor, International Journal on Robust and Nonlinear Control
D. Efimov, Associate editor, IFAC Journal on Nonlinear Analysis: Hybrid Systems
D. Efimov, Associate editor, Asian Journal of Control
D. Efimov, Associate editor, IEEE Transactions on Automatic Control
D. Efimov, Associate editor, Automatica
9.1.3
Research administration
J.-P. Richard, Director of the professional training "Researcher" for last year students at Centrale Lille
R. Ushirobira, a member of the executive board of CIMPA
D. Efimov, co-chair of International PhD Award in Systems & Control
9.2
Teaching - Supervision - Juries
9.2.1
Teaching
Master: J.-P. Richard, Dynamical systems, 10h, M2, Université de Lille
Licence: R. Ushirobira, Basic courses in Linear algebra and Calculus, 71h, L3, Polytech Lille
Master: D. Efimov, Dynamical systems, 17h, M2, Université de Lille
Licence: D. Efimov, Estimation for engineers, 24h, L3, Centrale Lille
9.2.2
Supervision
Defenses:
PhD: Haik Silm, 07/2020
PhD: Edouard Leurent, 10/2020
PhD: Nelson de Figueiredo Barroso, 12/2020
PhD: Youness Braidiz, 12/2020
PhD: Siyaun Wang, 12/2020
9.2.3
Juries
D. Efimov, CNAM, Paris
A. Polyakov, INSA Lyon
J.-P. Richard, Ecole Centrale de Nantes
R. Ushirobira, Université de Lille
9.3
Popularization
9.3.1
Internal or external Inria responsibilities
R. Ushirobira, president of the Recruitment research committee of Inria Lille (PhD, postdoc, secondments, visitors)
R. Ushirobira, officer in charge of scientific popularization of Inria Lille