2022
Activity report
Project-Team
AIO
Team name:
Dependable Networking, Low-Power Wireless and Micro-Robotics
Domain
Networks, Systems and Services, Distributed Computing
Theme
Networks and Telecommunications
Creation of the Project-Team: 2022 March 01
Keywords
A1.2.3.

Routing

A1.2.4.

QoS, performance evaluation

A1.2.5.

Internet of things

A1.2.6.

Sensor networks

A1.2.7.

Cyber-physical systems

A1.2.8.

Network security

A2.3.

Embedded and cyber-physical systems

A2.3.1.

Embedded systems

A2.3.2.

Cyber-physical systems

A2.3.3.

Real-time systems

A4.5.

Formal methods for security

A4.6.

Authentication

A4.7.

Access control

A5.10.1.

Design

A5.10.3.

Planning

A5.10.5.

Robot interaction (with the environment, humans, other robots)

A5.10.6.

Swarm robotics

A9.5.

Robotics

A9.9.

Distributed AI, Multi-agent
B3.3.1.

Earth and subsoil

B3.5.

Agronomy

B4.5.2.

Embedded sensors consumption

B5.1.

Factory of the future

B5.4.

Microelectronics

B5.6.

Robotic systems

B6.2.2.

Radio technology

B6.2.3.

Satellite technology

B6.4.

Internet of things

B6.6.

Embedded systems

B6.7.

Computer Industry (harware, equipments...)

B8.1.

Smart building/home

B8.1.2.

Sensor networks for smart buildings

B9.1.2.

Serious games
1
Team members, visitors, external collaborators
Research Scientists
Thomas

Watteyne

[

Team leader

,

INRIA

,

Senior Researcher

,

HDR

]

Filip

Maksimovic

[

INRIA

,

Starting Research Position

]

Paul

Mühlethaler

[

INRIA

,

Senior Researcher

,

HDR

]

Malisa

Vucinic

[

INRIA

,

Researcher

]
PhD Students
Razane

Abu-Aisheh

[

NOKIA

,

CIFRE

]

Said

Alvarado-Marin

[

Inria

,

from Apr 2022

]

Sara

Faour

[

Inria

,

from Oct 2022

]

Haouda

Ghamni

[

University of Gabes, Tunisia

,

from Sep 2022

]

Abdelhak

Hidouri

[

University of Gabes, Tunisia

,

from Sep 2022

]

Iman

Hmedoush

[

Inria

,

until May 2022

]

Tayssir

Ismail

[

University of Gabes, Tunisia

]

Felix

Marcoccia

[

Thales

,

CIFRE

,

from Apr 2022

]

Trifun

Savic

[

WATTSON ELEMENTS

]
Technical Staff
Said

Alvarado Marin

[

INRIA

,

Engineer

,

until Mar 2022

]

Romain

Facq

[

Inria

,

Engineer

,

from Oct 2022

]

Felix

Marcoccia

[

THALES

,

Engineer

,

until Feb 2022

]
Interns and Apprentices
Theo

Akbas

[

ENSEA

,

Intern

,

from May 2022 until Aug 2022

]

Kaouther

Benguessoum

[

ENSI

,

Intern

,

from Mar 2022 until Jul 2022

]

Cristobal

Huidobro-Marin

[

Universidad Técnica Federico Santa María

,

Intern

,

from Jun 2022

]

Charles

Thonier

[

ENSTA Paris

,

Intern

,

from Mar 2022 until Jul 2022

]
Visiting Scientists
Soumya

Banerjee

[

U. College Cork

,

from Nov 2022

]

Miguel

Gutiérrez Gaitán

[

U. Porto, Portugal

,

from Apr 2023 until Jul 2022

]

Leila

Saidane

[

ENSI Tunisia

,

from Nov 2022

]
External Collaborators
Leila

Azouz Saidane

[

ENSI TUNIS

,

from Mar 2022 until Mar 2022

]

Martina Maria

Balbi Antunes

[

IMT ATLANTIQUE

]

Soumya

Banerjee

[

UCC CORK

]

Selma

Boumerdassi

[

CNAM

]

Samia

Bouzefrane

[

CNAM

]

Mohamed

Elhadad

[

SYSTEMX

]

Éric

Renault

[

ESIEE

]

Leila

Saidane

[

ENSI

]
2
Overall objectives
The AIO team is a leading research team in low-power wireless communications. The team is designing Tomorrow's Internet of (Important) Things. It pushes the limits of low-power wireless mesh networking by applying them to critical applications such as robotics, industrial control loops, with harsh reliability, scalability, security and energy constraints. The AIO team co-chairs the IETF 6TiSCH and IETF LAKE standardization working group and co-leads Berkeley's OpenWSN project. It is heavily involved in real-world applications, and oversees over 1,000 sensors deployed on 3 continents for smart agriculture, smart city and environmental monitoring applications. The team's research program is organized around 5 pilars: Smart Dust, Low-Power Wireless Networking, Security in Constrained Systems, Swarm Robotics and Vehicle Area Networking. The team is associated with Prof. Pister's team at UC Berkeley, working on Smart Dust.
3
Research program
The team's research program is composed of five areas of research, which we number A1 through A5. Please note that the order of the areas does not represent any sort of order of importance, or dependence.
4
Application domains
4.1
Industrial Process Automation
Wireless networks are ubiquitous and are an integral part of our daily lives. These networks are present in many application domains; the most important are detailed in this section.
Networks in industrial process automation typically perform monitoring and control tasks. Wired industrial communication networks, such as HART, have been around for decades and, being wired, are highly reliable. Network administrators tempted to "go wireless" expect the same reliability. Reliable process automation networks – especially when used for control – often impose stringent latency requirements. Deterministic wireless networks can be used in critical systems such as control loops, however, the unreliable nature of the wireless medium, coupled with their large scale and "ad-hoc" nature raise some of the most important challenges for low-power wireless research over the next 5-10 years.
Through the involvement of team members in standardization activities, protocols and techniques are proposed for the standardization process with a view to becoming the de-facto standard for wireless industrial process automation. Besides producing top-level research publications and standardization activities, this activity fosters further collaborations with industrial partners.
4.2
Environmental Monitoring
Today, outdoor IoT networds are used to monitor vast rural or semi-rural areas and may be used to detect fires. Another example is detecting fires in outdoor fuel depots, where the delivery of alarm messages to a monitoring station in an upper-bounded time is of prime importance. Other applications consist in monitoring the snow-melt process in mountains, tracking the quality of water in cities, registering the height of water in pipes to foresee flooding, etc. These applications lead to a vast number of technical issues: deployment strategies to ensure suitable coverage and good network connectivity, energy efficiency, reliability and latency, etc.
We work on such applications through associate team "SWARM" with the Pister team at UC Berkeley.
4.3
The Internet of Things
The Internet of Things (IoT) is composed of small, often battery-powered objects that measure and interact with the physical world, and encompasses smart home applications, wearables, smart city and smart plant applications.
It is essential to (1) clearly understand the limits and capabilities of the IoT, and (2) develop technologies which enable user expectation to be met.
The AIO team is dedicated to understanding and contributing to the IoT. In particular, the team maintains a good understanding of the different technologies at play (Bluetooth, IEEE 802.15.4, WiFi, cellular), and their trade-offs. Through scientific publications and other contributions, AIO helps establish which technology best fits which application.
4.4
Military, Energy and Aerospace
EVA has developed cutting-edge expertise in using wireless networks for military, energy and aerospace applications. Wireless networks are a key enabling technology in these application domains, as they allow physical processes to be instrumented (e.g. the structural health of an airplane) at a granularity not achievable by its wired counterpart. Using wireless technology in these domains does however raise many technical challenges, including end-to-end latency, energy-efficiency, reliability and Quality of Service (QoS). Mobility is often an additional constraint in energy and military applications. Achieving scalability is of paramount importance for tactical military networks, and, albeit to a lesser degree, for power plants. AIO works in this domain.
Smart cities share the constraint of mobility (both pedestrian and vehicular) with tactical military networks. Vehicular Ad-hoc NETworks (VANETs) will play an important role in the development of smarter cities.
The coexistence of different networks operating in the same radio spectrum can cause interference that should be avoided. Cognitive radio provides secondary users with the frequency channels that are temporarily unused (or unassigned) by primary users. Such opportunistic behavior can also be applied to urban wireless sensor networks. Smart cities raise the problem of transmitting, gathering, processing and storing big data. Another issue is to provide the right information at the place where it is most needed.
4.5
Emergency Applications
In an "emergency" application, heterogeneous nodes of a wireless network cooperate to recover from a disruptive event in a timely fashion, thereby possibly saving human lives. These wireless networks can be rapidly deployed and are useful to assess damage and take initial decisions. Their primary goal is to maintain connectivity with the humans or mobile robots (possibly in a hostile environment) in charge of network deployment. The deployment should ensure the coverage of particular points or areas of interest.
The wireless network has to cope with pedestrian mobility and robot/vehicle mobility. The environment, initially unknown, is progressively discovered and may contain numerous obstacles that should be avoided. The nodes of the wireless network are usually battery-powered. Since they are placed by a robot or a human, their weight is very limited. The protocols supported by these nodes should be energy-efficient to maximize network lifetime. In such a challenging environment, sensor nodes should be replaced before their batteries are depleted. It is therefore important to be able to accurately determine the battery lifetime of these nodes, enabling predictive maintenance.
4.6
Types of Wireless Networks
The AIO team distinguishes between opportunistic communication (which takes advantage of a favorable state) and collaborative communication (several entities collaborate to reach a common objective). Furthermore, determinism can be required to schedule medium access and node activity, and to predict energy consumption.
In the AIO project, we propose self-adaptive wireless networks whose evolution is based on:
optimization to minimize a single or multiple objective functions under some constraints (e.g. interference, or energy consumption in the routing process).
machine learning to be able to predict a future state based on past states (e.g. link quality in a wireless sensor network) and to identify tendencies.
The types of wireless networks encountered in the application domains can be classified in the following categories.
4.7
Wireless Sensor and Mesh Networks
Standardization activities at the IETF have defined an "upper stack" allowing low-power mesh networks to seamlessly integrate into the Internet (6LoWPAN), form multi-hop topologies (RPL), and interact with other devices like regular web servers (CoAP).
Major research challenges in sensor networks are mostly related to (predictable) power conservation and efficient multi-hop routing. Applications such as monitoring of mobile targets, and the generalization of smart phone devices and wearables, have introduced the need for WSN communication protocols to cope with node mobility and intermittent connectivity.
Extending WSN technology to new application spaces (e.g. security, sports, hostile environments) could also assist communication by seamless exchanges of information between individuals, between individuals and machines, or between machines, leading to the Internet of Things.
4.8
Deterministic Low-Power Networks
Wired sensor networks have been used for decades to automate production processes in industrial applications, through standards such as HART. Because of the unreliable nature of the wireless medium, a wireless version of such industrial networks was long considered infeasible.
In 2016, the publication of the IEEE 802.15.4e standard triggered a revolutionary trend in low-power mesh networking: merging the performance of industrial networks, with the ease-of-integration of IP-enabled networks. This integration process was spearheaded by the IETF 6TiSCH working group, co-chaired by AIO. A 6TiSCH network implements the IEEE 802.15.4e TSCH protocol, as well as IETF standards such as 6LoWPAN, RPL and CoAP. A 6TiSCH network is synchronized, and a communication schedule orchestrates all communication in the network. Deployments of pre-6TiSCH networks have shown that they can achieve over 99.999% end-to-end reliability, and a decade of battery lifetime.
The communication schedule of a 6TiSCH network can be built and maintained using a centralized, distributed, or hybrid scheduling approach. While the mechanisms for managing that schedule are standardized by the IETF, which scheduling approach to use, and the associated limits in terms of reliability, throughput and power consumption remain entirely open research questions. Contributing to answering these questions is an important research direction for the AIO team.
4.9
MANETs and VANETs
In contrast to routing, other domains in Mobile Ad-hoc NETworks (MANETs) such as medium access, multi-carrier transmission, quality of service, and quality of experience have received less attention. The establishment of research contracts for AIO in the field of MANETs is expected to remain substantial. MANETs will remain a key application domain for EVA with users such as the military, firefighters, emergency services and NGOs.
Vehicular Ad hoc Networks (VANETs) are arguably one of the most promising applications for MANETs. These networks primarily aim at improving road safety. Radio spectrum has been ring-fenced for VANETs worldwide, especially for safety applications. International standardization bodies are working on building efficient standards to govern vehicle-to-vehicle or vehicle-to-infrastructure communication.
4.10
Cellular and Device-to-Device Networks
We propose to initially focus this activity on spectrum sensing. For efficient spectrum sensing, the first step is to discover the links (sub-carriers) on which nodes may initiate communications. In Device-to-Device (D2D) networks, one difficulty is scalability.
For link sensing, we study and design new random access schemes for D2D networks, starting from active signaling. This assumes the availability of a control channel devoted to D2D neighbor discovery. It is therefore naturally coupled with cognitive radio algorithms (allocating such resources): coordination of link discovery through eNode-B information exchanges can yield further spectrum usage optimization.
5
Social and environmental responsibility
We are accutely aware of the role Inria and our team plats in society and on the environment. While we are of course primarily focused on our purely scientific duties, we are actively trying to stay connected to society and to be aware of the environment.
As researchers, we have a fantastic tool at our disposal to make a deep change into society: education. We teach classes and short courses mainly to the engineering student and believe that embedded systems are the perfect teaching tool. They offer infinite opportunities to let student "see for themselves". And adding connectivity to them (low-power wireless for example) allows the students to build very complex chains of information. In the most complete case, information goes from a physical sensor to a micro-controller, through a low-power wireless mesh network, to a gateway, to a single-board computer, to a cloud-based back-end system, to a database, and to the student's browser. Being able to build up this entire chain fast and with relatively simple components is both incredibly motivating for the students ("The dial is moving on my phone!", "I can control my fan remotely!"), and offers the instructor infinite possibilities to dig into any topic, from SPI buses to RTOS priority inversion, embedded protocols or web interaction. Given that perspective, our first guiding principle when teaching is to "build real things".
One of the things we see when interviewing people is that students are often not exposed to the technology being used in real-world applications. They have often some experience with open-source projects, development boards and DYI hardware. And while these tools are perfectly valid, they don't convey to the student a clear picture of what the state of the art is. Given that perspective, our second guiding principle when teaching is to use technology that's really out there.
In 2022, we started developing two distinct platforms which can both he used for our research, as well as for education.
The first is the DotBot (www.dotbots.org), an open-source robotic platform. It consists of a printed circuit board and two motors installed on a laser-cut wooden chassis, also featuring an HTC VIVE lighthouse receiver for mm-accurate positions at 100 Hz. The DotBot's wireless System-on-Chip (SoC) allows different DotBots to communicate. We are building a 1,000 DotBot swarm for our research of swarm orchestration. As an open-source platform, DotBot is being designed for education and research well beyond the project. We envision educational and research kits targeting students at the primary school, high school and university levels, with a particular focus on female students. DotBot is a fantastic stepping stone for the community to embrace swarm communication, train the next generation of collaborative node experts and educate students, thereby training the next generation of smart system which incorporate decentralized orchestration, constrained AI and swarm programming.
The second is the AIOT Systems (www.aiotsystems.org), a one-stop shop for learning embedded low-power wireless. The AIOT Play board is a ready-to-learn-on platform, designed specifically to be both easy to learn with, and close to an production system. It features a prototyping area allowing a student to build little circuits directly on the board. They then write firmware directly on the fully programmable micro-controller to interact with the circuit, and hand the data to the true mesh networking module. The source code consists of Python code that runs on a computer, and C code that runs on a micro-controller. The source code is developed under an open-source license so students can really see how things are working, and use it beyond learning. We crafted the AIOT Systems Academy so it is a completely self-contained set of course material. The AIOT Systems Academy is a collection of dozens of short labs. For instructors, the material is ready to present.
Of course, there is no way we can argue the core technology we develop is good for the environment. Any electronic circuit is build from materials and through fabrication method which are harmful. Yet, unlike a cell phones or a tablet, we look for applications in which our sensors are used to prevent events which would have a very negative effect on the environment, and for which the environment cost of the technology is much smaller than the environmental benefit they allow. This is the reason why a lot of our applications are related to the environment. We have deployed sensors to detect early stage of wildfires to be able to put them out before they destroy entire ecosystems (see France 3 interview). We have deployed sensors in marinas to detect fires on board ships, and prevent boats from overconsuming electricity (through our Falco startup). We are working with architects in tropical climates to monitor their buildings to be able to reduce the use of air conditioning (through our collaboration with ESIROI). Besides these projects, we have deployed sensors to detect frost events in vineyards or in peach orchards, combat the invasion of the Asian Hornet that is several impacting an already fragile bee population, or monitoring the snowmelt process in regions prone to draughts. Through this focus on environmental responsibility, we are convinced that the technology we develop has an overall positive impact on our planet.
6
Highlights of the year
6.1
What a Year!
This is the first year of the AIO team. While AIO inherits a lot from the previous EVA team, its research program takes up a new dimension by embracing much more hardware and electronics, and using swarm robotics around which a lot of the research is build: hardware, localization, networking, security. This year was somewhat of a test to see whether we hadn't bitten off too much. Clearly, that was not the case and 2022 was a spectacular year in many aspects.
We started the year with our spin-off startup company, Falco, receiving the IoT Award of the Embedded Trophy run by the French Ministry of Economy. This was a good indication the technology the team has been generating (and which is licensed by Falco) is appretiate by the embedded community, including the big industrial players.
One of the investement with the longest returns in the team leading the Horizon Europe OpenSwarm proposal, and getting it accepted. The 40-month project starts 1-Jan-2023, and brings together the ideal set of partners to push a research agenda which matches pretty much perfectly the research program of the team. Getting OpenSwarm accepted is also, for our team, some sort of validation of the proposed research. We are convinced that OpenSwarm, mainly through the fantastic consortium it brings together, will serve as a fantastic accelerator for our research n 2023 and beyond.
6.2
Awards
Thomas

Watteyne

crossed 10,000 citations of his papers, according to Google Scholar

Thomas

Watteyne

in the top 2% researcher across all fields, top 0.6% in the "Networking & Telecommunications" field per Stanford's Prof. Ioannidis work "A Standardized Citation Metrics Author Database Annotated for Scientific Field".
Wattson Elements recipient of the IoT Award of the Embedded Trophy ("Trophés de l'Embarqué, catégorie "IoT Grand Public") on 14-Jan-2022, an annual innovation competition organized in partnership with the French Ministry of Economy, for their Falco product and the innovation roadmap driven by

Thomas

Watteyne

.
7
New software and platforms
7.1
New software
7.1.1
edhoc-rs
Name:

EDHOC Implementation in Rust / hacspec

Keywords:

Cybersecurity, Internet of things, EDHOC

Functional Description:

EDHOC is a lightweight authenticated key exchange protocol targeting constrained environments and Internet of Things use cases. This is a Rust / hacspec implementation of the protocol, adapted for use on microcontrollers.

URL:

Contact:

Malisa Vucinic
7.2
New platforms
7.2.1
DotBot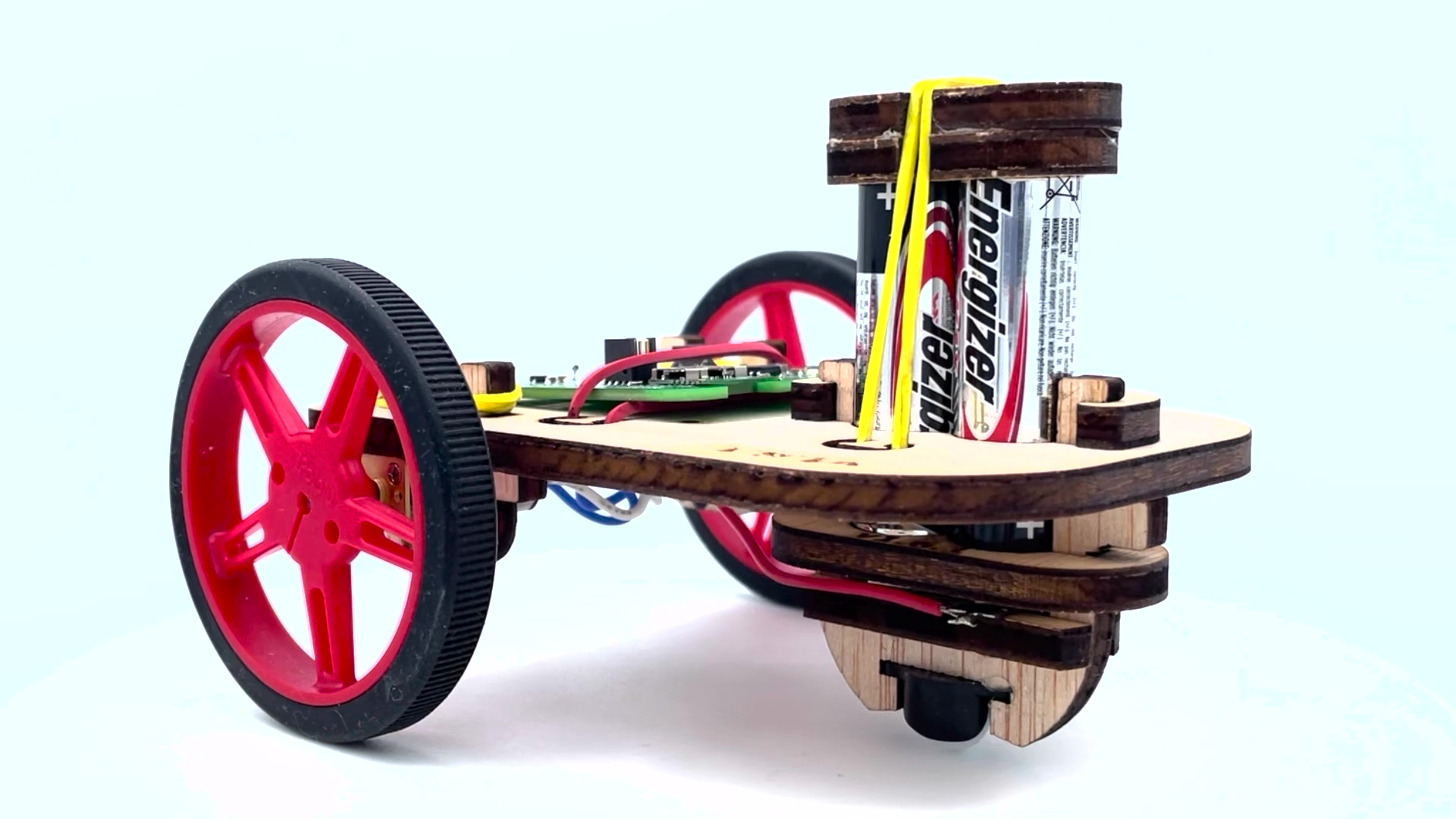 Large, coordinated "swarms" of small, resource constrained robots have the potential to complete complex tasks that single monolithic robots cannot. However, while there is ongoing research, little progress has been made in successfully deploying these swarms in the real world. To help further the field, we are building a research platform called DotBot, show in Fig. 3: a low-price, versatile laser cut robot that can inexpensively act as an agent in a swarm of robots. Each DotBot has two small motors for mobility, accurate localization using laser lighthouses, and can communicate using off-the-shelf radios in either time-synchronized channel-hopping mesh networks originally designed for reliable transmission in crowded IoT networks, or with BLE so that the robots can be programmed from a cell phone or other Bluetooth-enabled device. We see the DotBot platform as an ideal tool for introducing robotics and embedded programming in education. We target three levels. First, in primary school, DotBot serves as a basic introduction to robotics, using simple interaction and remote-control scenarios. In high school, DotBot is used as an introduction to embedded programming, with a focus on the interaction with the real world. Finally, in university, a DotBot swarm is used to introduce the concepts of distributed algorithms, task assignment as well as planning and scheduling.
We have been working hard on the DotBot in 2022. We started the year with a proof-of-concept design which could drive around, but could not self-localize. The work on hardware by Said Alvarado-Marin , on localization by Filip Maksimovic and on algorithms by Razanne Abu Aisheh has allows Alexandre Abadie to "put it all together". We now have small swarms of handful of DotBots moving around in the lab, self-locazing using the lighthouse. The DotBot features front and center in the Horizon Europe OpenSwarm project. This project, in particular through the very large partners it brings, will serve as a catalyst that will turn our small-scale testbed into a 1,000 DotBot in the next 18 months.
More information at www.dotbots.org.
7.2.2
AIOT Systems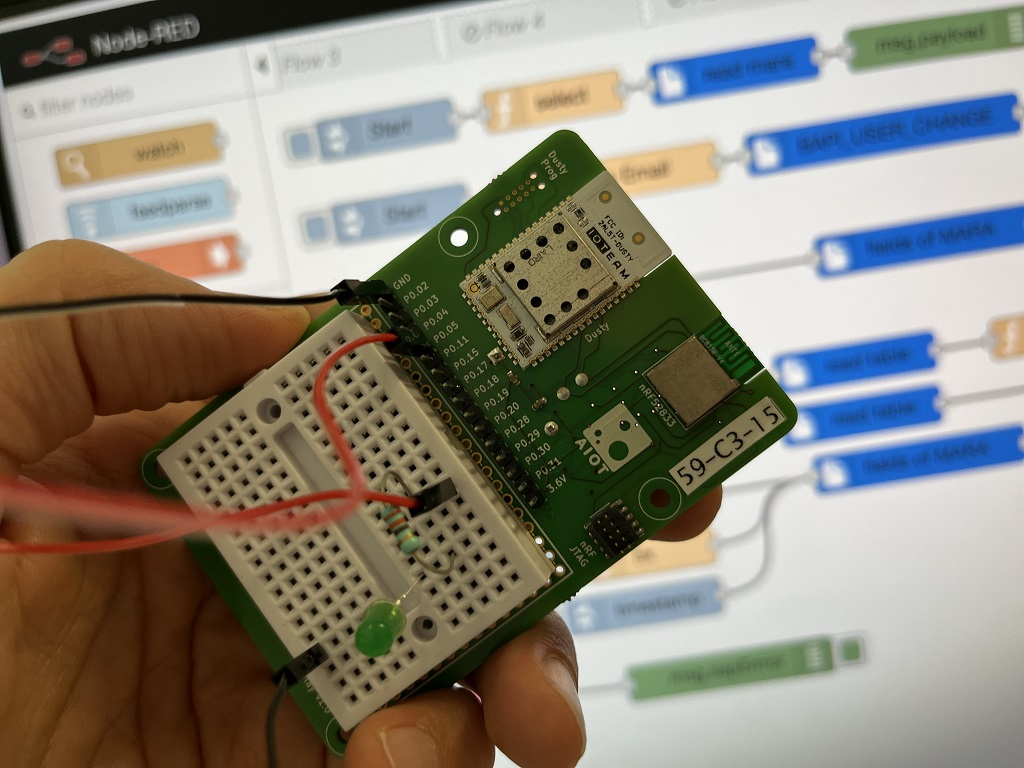 AIOT Systems is a one-stop shop for learning embedded low-power wireless. The AIOT Play board, shown in Fig. 4, is a ready-to-learn-on platform, designed specifically to be both easy to learn with, and close to an production system. It features a prototyping area allowing a student to build little circuits directly on the board. They then write firmware directly on the fully programmable micro-controller to interact with the circuit, and hand the data to the true mesh networking module. The source code consists of Python code that runs on a computer, and C code that runs on a micro-controller. The source code is developed under an open-source license so students can really see how things are working, and use it beyond learning. We crafted the AIOT Systems Academy so it is a completely self-contained set of course material. The AIOT Systems Academy is a collection of dozens of short labs. For instructors, the material is ready to present.
More information at www.aiotsystems.org.
8
New results
The team's research program, summarized in Section 3, is organized around five axes. We present the results of 2022 following the same organization.
8.1
Related to [A1] Smart Dust
We make some strong leaps in our "Smart Dust" research strand, thanks to very strong collaboration with the UC Berkeley team of Prof. Pister, a collboration which benefits hugely from the SWARM associate team which is in place. The SCuM chip we have been using is very interesting; it can "speak" both IEEE802.15.4 and Bluetooth without needing a crystal. That is, a device can be the size of a grain of rice, which opens up lots of potential applications. We have made a lot of progress in the calibration of the oscillators in that chip, to the point where we are now able to create small multi-hop mesh networks with SCuM chips.
8.1.1
A Temperature-Compensated BLE Beacon and 802.15.4-to-BLE Translator on a Crystal-Free Mote
Participants: