2022
Activity report
Project-Team
MIND
In partnership with:
Centre CEA-Saclay
Team name:
Models and Inference for Neuroimaging Data
In collaboration with:
CEA Neurospin
Domain
Digital Health, Biology and Earth
Theme
Computational Neuroscience and Medicine
Creation of the Project-Team: 2022 April 01
Keywords
A3.1.1.

Modeling, representation

A3.4.1.

Supervised learning

A3.4.2.

Unsupervised learning

A3.4.4.

Optimization and learning

A3.4.5.

Bayesian methods

A3.4.6.

Neural networks

A3.4.8.

Deep learning

A6.2.4.

Statistical methods

A6.2.6.

Optimization

A9.2.

Machine learning

A9.3.

Signal analysis

A9.7.

AI algorithmics
B1.2.

Neuroscience and cognitive science

B1.2.1.

Understanding and simulation of the brain and the nervous system

B1.2.2.

Cognitive science

B1.2.3.

Computational neurosciences

B2.6.1.

Brain imaging
1
Team members, visitors, external collaborators
Research Scientists
Philippe

Ciuciu

[

Team leader

,

CEA

,

Senior Researcher

,

HDR

]

Alexandre

Gramfort

[

INRIA

,

Senior Researcher

,

HDR

]

Thomas

Moreau

[

INRIA

,

Researcher

]

Bertrand

Thirion

[

INRIA

,

Senior Researcher

,

HDR

]

Demian

Wassermann

[

INRIA

,

Researcher

,

until Sep 2022

]

Demian

Wassermann

[

INRIA

,

Senior Researcher

,

from Oct 2022

,

HDR

]
Post-Doctoral Fellows
Antoine

Collas

[

INRIA

,

from Oct 2022

]

Richard

Hoechenberger

[

INRIA

,

until Aug 2022

]

Hugo

Richard

[

INRIA

,

until Mar 2022

]

Cedric

Rommel

[

INRIA

]

David

Sabbagh

[

INRIA

,

from Feb 2022

]

David

Sabbagh

[

INSERM

,

until Jan 2022

]

Sheng H

Wang

[

University of Helsinki

,

from Aug 2022

,

In delegation to CEA/NeuroSpin

]
PhD Students
Cedric

Allain

[

INRIA

]

Serge

Brosset

[

CEA

,

from Oct 2022

]

Charlotte

Caucheteux

[

FACEBOOK

]

Ahmad

Chamma

[

INRIA

]

Thomas

Chapalain

[

ENS PARIS-SACLAY

]

L'Emir Omar

Chehab

[

INRIA

]

Pierre-Antoine

Comby

[

ENS PARIS SACLAY

,

CEA/NeuroSpin

]

Mathieu

Dagreou

[

INRIA

]

Guillaume

Daval-Frerot

[

CEA

,

until Nov 2022

]

Merlin

Dumeur

[

UNIV PARIS SACLAY

,

PhD in cotutelle with Aalto University

]

Chaithya

Giliyar Radhkrishna

[

CEA

]

Theo

Gnassounou

[

ENS PARIS-SACLAY

,

from Oct 2022

]

Ambroise

Heurtebise

[

INRIA

,

from Oct 2022

]

Hubert

Jacob Banville

[

INTERAXON

,

until Jan 2022

]

Julia

Linhart

[

UNIV PARIS-SACLAY

]

Benoit

Malezieux

[

INRIA

]

Elsa

Manquat

[

AP/HP

,

from Feb 2022

]

Apolline

Mellot

[

INRIA

]

Raphael

Meudec

[

INRIA

]

Florent

Michel

[

UNIV PARIS SACLAY

,

from Apr 2022 until Sep 2022

]

Tuan Binh

Nguyen

[

INRIA

,

until Feb 2022

]

Alexandre

Pasquiou

[

INRIA

]

Zaccharie

Ramzi

[

CEA

,

until Feb 2022

]

Louis

Rouillard-Odera

[

INRIA

]

Alexis

Thual

[

CEA

]

Gaston

Zanitti

[

INRIA

]
Technical Staff
Majd

Abdallah

[

INRIA

,

Engineer

]

Himanshu

Aggarwal

[

INRIA

,

Engineer

]

Guillaume

Favelier

[

INRIA

,

Engineer

,

until Apr 2022

]

Yasmin

Mzayek

[

INRIA

,

Engineer

,

from Apr 2022

]

Agnes

Perez-Millan

[

Univ. Pompeo Fabra (Barcelona, Spain)

,

from Oct 2022

,

Visitor

]

Ana

Ponce Martinez

[

INRIA

,

Engineer

,

from May 2022

]

Kumari

Pooja

[

CEA

,

Engineer

]
Interns and Apprentices
Gabriela

Gomez Jimenez

[

INRIA

,

from Nov 2022

]

Alexandre

Le Bris

[

INRIA

,

from Sep 2022

]

Florent

Michel

[

UNIV PARIS SACLAY

,

from Nov 2022

]

Joseph

Paillard

[

INRIA

,

from Feb 2022 until Jul 2022

]
External Collaborators
Zaineb

Amor

[

CEA

,

PhD student at NeuroSpin, primarily assigned with BAOBAB.

]

Pierre

Bellec

[

CRIUGM

,

from Oct 2022

]

Julie

Boyle

[

CRIUGM

,

from Oct 2022

]

Jérôme-Alexis

Chevalier

[

EMERTON DATA

]

Samuel

Davenport

[

UNIV CALIFORNIE

,

until Feb 2022

]

Elizabeth

Dupre

[

UNIV STANFORD

,

from Jun 2022 until Jun 2022

]

Ana

Grilo Pinho

[

Western University, Canada

,

from Feb 2022 until Jul 2022

]

Yann

Harel

[

CRIUGM

,

from Oct 2022

]

Karim

Jerbi

[

UNIV MONTREAL

,

from Oct 2022

]

Gunnar

Konig

[

IBE-LMU

,

from Sep 2022

]

Matthieu

Kowalski

[

UNIV PARIS SACLAY

]

Tuan Binh

Nguyen

[

IMT

,

from Mar 2022

]

François

Paugam

[

CRIUGM

,

from Oct 2022

]

Hao-Ting

Wang

[

CRIUGM

,

from Sep 2022

]
2
Overall objectives
The Mind team, which finds its origin in the Parietal team, is uniquely equipped to impact the fields of statistical machine learning and artificial intelligence (AI) in service to the understanding of brain structure and function, in both healthy and pathological conditions.
AI with recent progress in statistical machine learning (ML) is currently aiming to revolutionize how experimental science is conducted by using data as the driver of new theoretical insights and scientific hypotheses. Supervised learning and predictive models are then used to assess predictability. We thus face challenging questions like Can cognitive operations be predicted from neural signals? or Can the use of anesthesia be a causal predictor of later cognitive decline or impairment?
To study brain structure and function, cognitive and clinical neuroscientists have access to various neuroimaging techniques. The Mind team specifically relies on non-invasive modalities, notably on one hand, magnetic resonance imaging (MRI) at ultra-high magnetic field to reach high spatial resolution and, on the other hand, electroencephalography (EEG) and magnetoencephalography (MEG), which allow the recording of electric and magnetic activity of neural populations, to follow brain activity in real time. Extracting new neuroscientific knowledge from such neuroimaging data however raises a number of methodological challenges, in particular in inverse problems, statistics and computer science. The Mindproject aims to develop the theory and software technology to study the brain from both cognitive to clinical endpoints using cutting-edge MRI (functional MRI, diffusion weighted MRI) and MEG/EEG data. To uncover the most valuable information from such data, we need to solve a large panoply of inverse problems using a hybrid approach in which machine or deep learning is used in combination with physics-informed constraints.
Once functional imaging data is collected the challenge of statistical analysis becomes apparent. Beyond the standard questions (Where, when and how can statistically significant neural activity be identified?), Mind is particularly interested in addressing driving effect or the cause of such activity in a given cortical region. Answering these basic questions with computer programs requires the development of methodologies built on the latest research on causality, knowledge bases and high-dimensional statistics.
The field of neuroscience is now embracing more open science standards and community efforts to address the referenced to as "replication crisis" as well as the growing complexity of the data analysis pipelines in neuroimaging. The Mindteam is ideally positioned to address these issues from both angles by providing reliable statistical inference schemes as well as open source software that are compliant with international standards.
The impact of Mindwill be driven by the data analysis challenges in neuroscience but also by the fundamental discoveries in neuroscience that presently inspire the development of novel AI algorithms. The Parietal team has proved in the past that this scientific positioning leads to impactful research. Hence, the newly created Mind team formed by computer scientists and statisticians with a deep understanding of the field of neuroscience, from data acquisition to clinical needs, offers a unique opportunity to expand and explore more fully uncharted territories.
3
Research program
The scientific project of Mind is organized around four core developments (machine learning for inverse problems, heterogeneous data & knowledge bases, statistics and causal inference in high dimension, and machine Learning on spatio-temporal signals).
4
Application domains
The four research axes we presented earlier have been thought of in tight interaction with four main applications (large-scale predictive modeling, mapping cognition & brain networks, modeling clinical endpoints, from brain images and bio-signals to quantitative biology and physics).
5
New software and platforms
5.1
New software
5.1.1
MNE
Name:

MNE-Python

Keywords:

Neurosciences, EEG, MEG, Signal processing, Machine learning

Functional Description:

Open-source Python software for exploring, visualizing, and analyzing human neurophysiological data: MEG, EEG, sEEG, ECoG, and more.

Release Contributions:

https://mne.tools/stable/whats_new.html

URL:

Contact:

Alexandre Gramfort

Partners:

HARVARD Medical School, New York University, University of Washington, CEA, Aalto university, Telecom Paris, Boston University, UC Berkeley, Macquarie University, University of Oregon, Aarhus University
5.1.2
NeuroLang
Name:

NeuroLang

Keywords:

Neurosciences, Probabilistic Programming, Logic programming

Functional Description:

NeuroLang is a probabilistic logic programming system specialised in the analysis of neuroimaging data, but not exclusively determined by it.

Release Contributions:

https://neurolang.github.io/

URL:

Contact:

Demian Wassermann
5.1.3
Nilearn
Name:

NeuroImaging with scikit learn

Keywords:

Health, Neuroimaging, Medical imaging

Functional Description:

NiLearn is the neuroimaging library that adapts the concepts and tools of scikit-learn to neuroimaging problems. As a pure Python library, it depends on scikit-learn and nibabel, the main Python library for neuroimaging I/O. It is an open-source project, available under BSD license. The two key components of NiLearn are i) the analysis of functional connectivity (spatial decompositions and covariance learning) and ii) the most common tools for multivariate pattern analysis. A great deal of efforts has been put on the efficiency of the procedures both in terms of memory cost and computation time.

Release Contributions:

HIGHLIGHTS - Updated docs with a new theme using furo. - permuted_ols and non_parametric_inference now support TFCE statistic. - permuted_ols and non_parametric_inference now support cluster-level Family-wise error correction. - save_glm_to_bids has been added, which writes model outputs to disk according to BIDS convention.

NEW - save_glm_to_bids has been added, which writes model outputs to disk according to BIDS convention. - permuted_ols and non_parametric_inference now support TFCE statistic. - permuted_ols and non_parametric_inference now support cluster-level Family-wise error correction. - Updated docs with a new theme using furo.

See all details in https://nilearn.github.io/stable/changes/whats_new.html

URL:

Contact:

Bertrand Thirion

Participants:

Alexandre Abraham, Alexandre Gramfort, Bertrand Thirion, Elvis Dohmatob, Fabian Pedregosa Izquierdo, Gael Varoquaux, Loic Esteve, Michael Eickenberg, Virgile Fritsch
5.1.4
Benchopt
Keywords:

Mathematical Optimization, Benchmarking, Reproducibility

Functional Description:

BenchOpt is a package to simplify, make more transparent and more reproducible the comparisons of optimization algorithms. It is written in Python but it is available with many programming languages. So far it has been tested with Python, R, Julia and compiled binaries written in C/C++ available via a terminal command. If it can be installed via conda, it should just work!

BenchOpt is used through a simple command line and ultimately running and replicating an optimization benchmark should be as easy a cloning a repo and launching the computation with a single command line. For now, BenchOpt features benchmarks for around 10 convex optimization problems and we are working on expanding this to feature more complex optimization problems. We are also developing a website to display the benchmark results easily.

Release Contributions:

https://github.com/benchopt/benchopt/releases/tag/1.3.0

Contact:

Thomas Moreau
5.1.5
Scikit-learn
Keywords:

Clustering, Classification, Regression, Machine learning

Scientific Description:

Scikit-learn is a Python module integrating classic machine learning algorithms in the tightly-knit scientific Python world. It aims to provide simple and efficient solutions to learning problems, accessible to everybody and reusable in various contexts: machine-learning as a versatile tool for science and engineering.

Functional Description:

Scikit-learn can be used as a middleware for prediction tasks. For example, many web startups adapt Scikitlearn to predict buying behavior of users, provide product recommendations, detect trends or abusive behavior (fraud, spam). Scikit-learn is used to extract the structure of complex data (text, images) and classify such data with techniques relevant to the state of the art.

Easy to use, efficient and accessible to non datascience experts, Scikit-learn is an increasingly popular machine learning library in Python. In a data exploration step, the user can enter a few lines on an interactive (but non-graphical) interface and immediately sees the results of his request. Scikitlearn is a prediction engine . Scikit-learn is developed in open source, and available under the BSD license.

URL:

Publications:

Contact:

Olivier Grisel

Participants:

Alexandre Gramfort, Bertrand Thirion, Gael Varoquaux, Loic Esteve, Olivier Grisel, Guillaume Lemaitre, Jeremie Du Boisberranger, Julien Jerphanion

Partners:

Boston Consulting Group - BCG, Microsoft, Axa, BNP Parisbas Cardif, Fujitsu, Dataiku, Assistance Publique - Hôpitaux de Paris, Nvidia
5.1.6
joblib
Keywords:

Parallel computing, Cache

Functional Description:

Facilitate parallel computing and caching in Python.

URL:

Contact:

Gael Varoquaux
6
New results
6.1
Accelerated acquisition in MRI
Participants: Chaithya Giliyar Radhakrishna, Guillaume Daval-Frérot, ZAineb Amor, Philippe Ciuciu.
Main External Collaborators: Alexandre Vignaud [CEA/NeuroSpin], Pierre Weiss [CNRS, IMT (UMR 5219), Toulouse], Aurélien Massire [Siemens-Healthineers, France].
MRI is a widely used neuroimaging technique used to probe brain tissues, their structure and provide diagnostic insights on the functional organization as well as the layout of brain vessels. However, MRI relies on an inherently slow imaging process. Reducing acquisition time has been a major challenge in high-resolution MRI and has been successfully addressed by Compressed Sensing (CS) theory. However, most of the Fourier encoding schemes under-sample existing k-space trajectories which unfortunately will never adequately encode all the information necessary. Recently, the Mind team has addressed this crucial issue by proposing the Spreading Projection Algorithm for Rapid K-space sampLING (SPARKLING) for 2D/3D non-Cartesian T2* and susceptibility weighted imaging (SWI) at 3 and 7Tesla (T) 115, 116, 4. These advancements have interesting applications in cognitive and clinical neuroscience as we already have adapted this approach to address high-resolution functional and metabolic (Sodium 23Na) MR imaging at 7T – a very challenging feat 38, 40. Fig. 1 illustrates the SPARKLING application to anatomical, functional and metabolic imaging. Additionally, we have shown that this SPARKLING under-sampling strategy can be used to internally estimate the static B0 field inhomogeneities a necessary component to avoid the need for additional scans prior to correcting off-resonance artifacts due to these inhomogeneities. This finding has been published in 16 and a patent application has been filed in the US (US Patent App. 63/124,911). Ongoing extensions such as Minimized Off Resonance SPARKLING or MORE-SPARKLING tend to avoid such long-lasting processing by introducing a more temporally coherent sampling pattern in the k-space and then correcting these off-resonance effects already during data acquisition 42.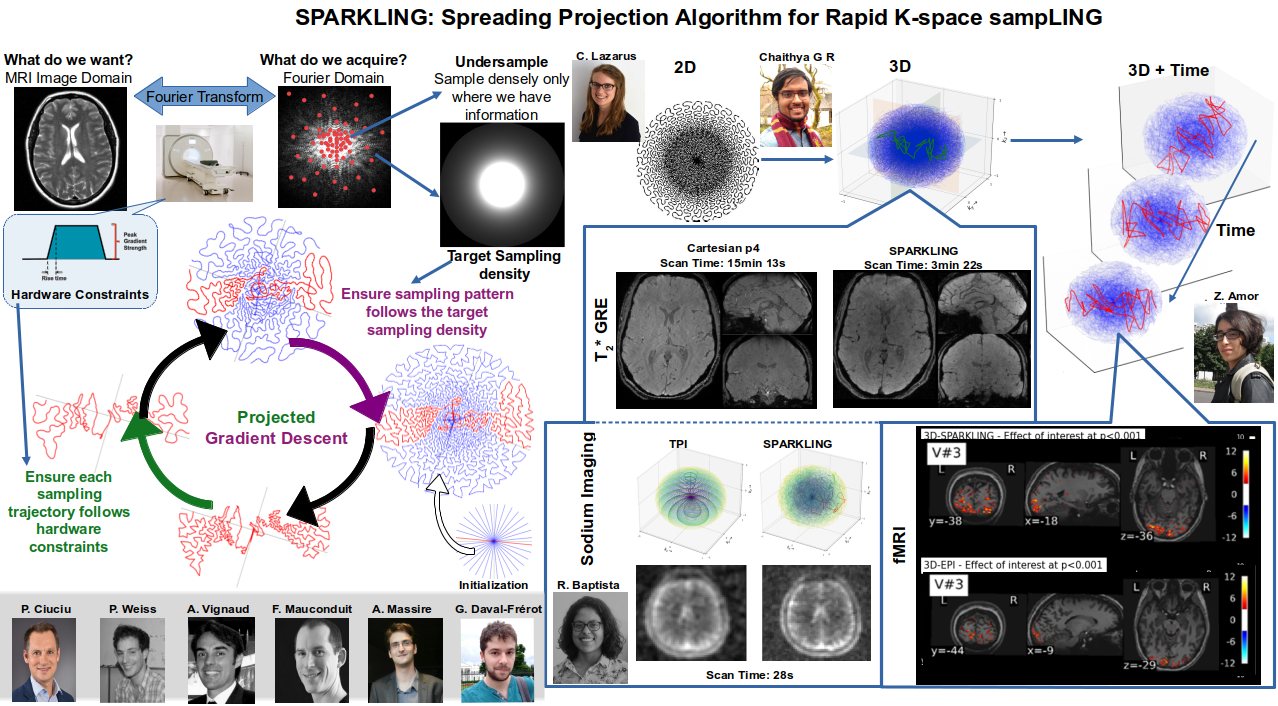 6.2
Deep learning for MR image reconstruction and artifact correction
Participants: Zaccharie Ramzi, Guillaume Daval-Frérot, Chaithya Giliyar Radhakrishna, Philippe Ciuciu.
Main External Collaborators: Jean-Luc Starck [CEA/DAp/CosmoStat], Mariappan Nadar [Siemens-Healthineers, USA], Boris Mailhé [Siemens-Healthineers, USA].
Although CS is used extensively, this approach suffers from a very slow image reconstruction process, which is detrimental to both patients and rapid diagnosis. To counteract this delay and improve image quality, as explained in Sec. 3.1 deep learning is used. In 2020 we secured the second spot in the 2020 brain fastMRI challenge (1.5 and 3T data)  131 with the XPDNet (Primal Dual Network where X plays the role of a magic card) deep learning architecture. Additionally, we assessed XPDNet's transfer learning capacity on 7T NeuroSpin T2 images. However this DL reconstruction process was limited to Cartesian encoding, thus incompatible with our SPARKLING related technological push. In 2022, we went therefore further by proposing the NCPD-Net deep learning architecture for non-Cartesian imaging. NCPD-Net stands for Non-Cartesian Primal Dual Network and is able to handle both 2D and 3D non-Cartesian k-space data such as those collected with the full 3D SPARKLING encoding scheme 6. This progress allowed us to make a significant leap in image quality when implementing high resolution imaging while maintaining a high acceleration rate (e.g. 8-fold scan time reduction). Fig. 2 shows how NC-PDNet outperforms its competitors through an ablation study in 2D spiral and radial imaging and some preliminary results in 3D anatomical -weighted imaging.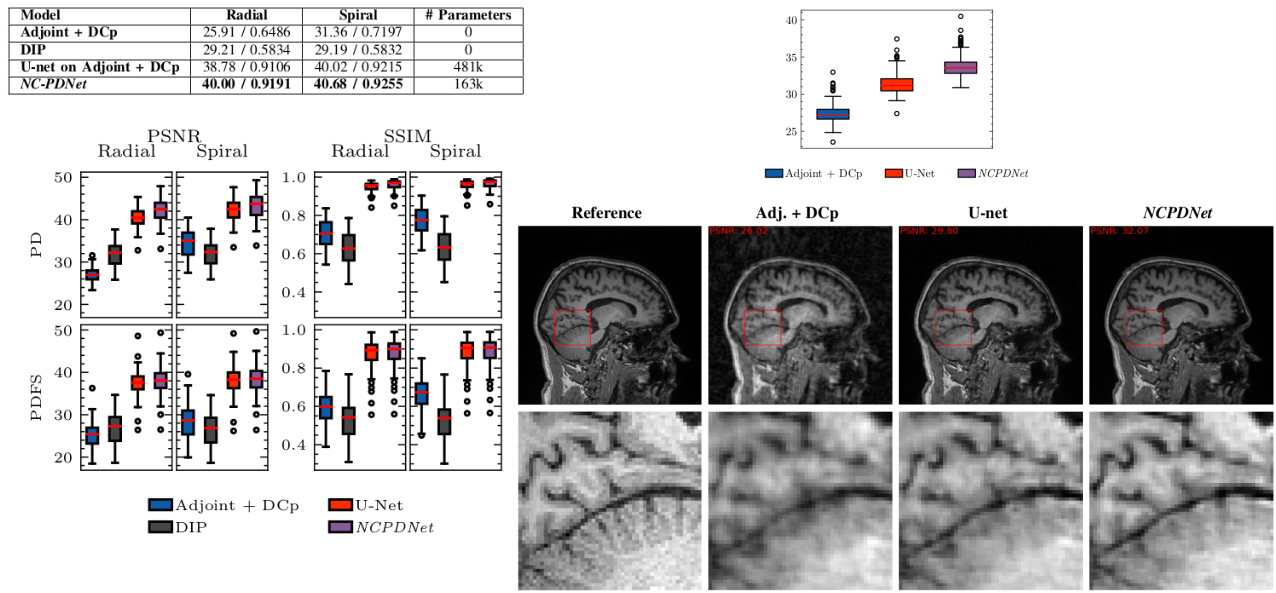 Once the NC-PDNet architecture has been validated for 3D MR image reconstruction, it has then been combined with physics-driven model to speed up the correction of off-resonance effects induced by the inhomogeneities of the static magnetic field  50. Fig. 3[left column] shows the signal void in the frontal region of the brain when not applying any correction. The CS correction yields a limited improvement when constraining its processing time to a little portion (actually 1/70) of the brute force correction shown in the top right column (Reference). Next, we show that the best correction of off-resonance artifacts is achieved by combining the NC-PDNet architecture (Network, 4th column in Fig. 3) with non Fourier encoding model in a 70-fold faster process compared to the reference correction (left column). In contrast, using a standard NC-PDNet architecture that is not physically informed by the degradation process causing these off-resonance artifacts leads to oversmoothed correction (cf. middle column in Fig. 3). Overall, this work has demonstrated how investigating into the combination of physics-informed deep learning architectures was instrumental in obtaining high image quality in clinically viable processing time.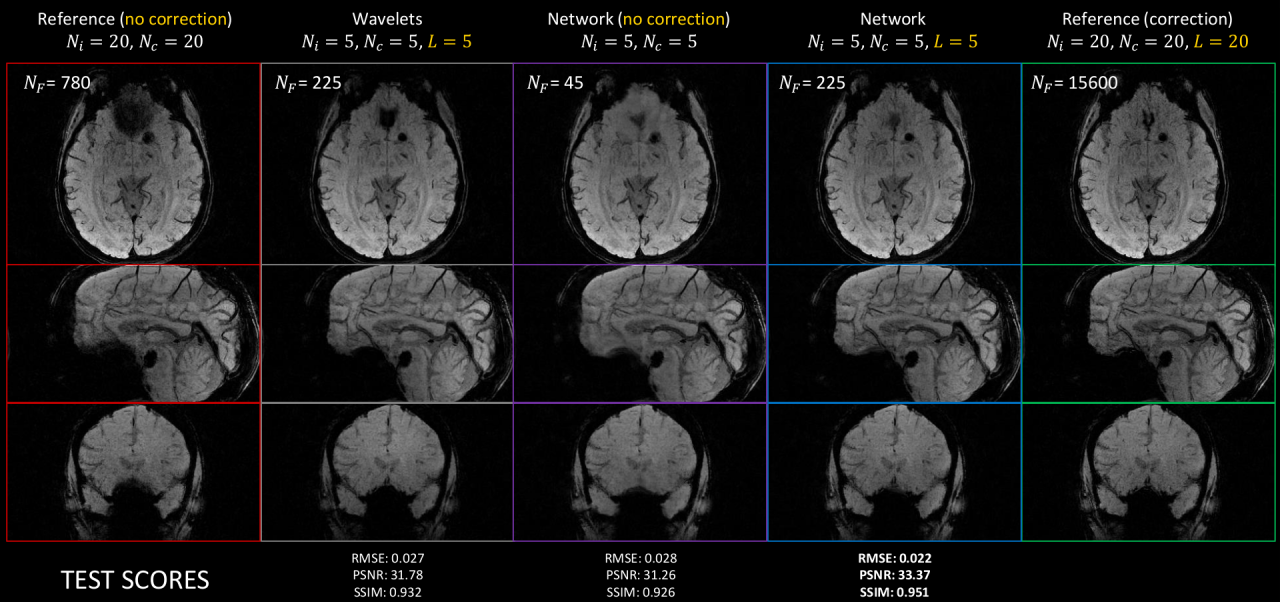 6.3
Neuroimaging Meta-analyses with NeuroLang: Harnessing the Power of Probabilistic Logic Languages
Participants: Demian Wassermann, Majd Abdallah, Gaston Zanitti.
Main External Collaborators: Vinod Menon [Stanford University, USA], Maria Vanina Martinez [Univ. de Buenos Aires, Argentina].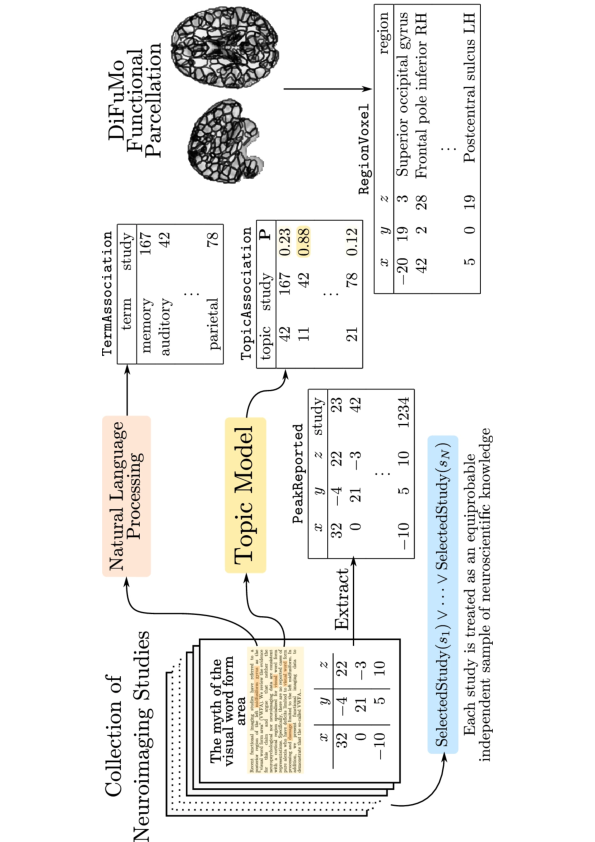 Inferring reliable brain-behavior associations requires synthesizing evidence from thousands of functional neuroimaging studies through meta-analysis. However, existing meta-analysis tools are limited to investigating simple neuroscience concepts and expressing a restricted range of questions. Here, we expand the scope of neuroimaging meta-analysis by designing NeuroLang: a domain-specific language to express and test hypotheses using probabilistic first-order logic programming. This new result is a developement of our main objective on Probabilistic Knowledge Representation, described in Subsec. 3.2.2. By leveraging formalisms found at the crossroads of artificial intelligence and knowledge representation, NeuroLang provides the expressivity to address a larger repertoire of hypotheses in a meta-analysis, while seamlessly modeling the uncertainty inherent to neuroimaging data. We demonstrate the language's capabilities in conducting comprehensive neuroimaging meta-analysis through use-case examples that address questions of structure-function associations. The schematic and results of this work can be seen in Fig. 4.
Specifically, we have produced three main advancements. First, we have formally defined and implemented a scalable query answering system which covers the functional requirements to address neuroimaging meta-analyses: NeuroLang. This system is described Zanitti et al. 29. Subsequently, we showed the capabilities of this language by performing a variety of neuroimaging meta-analyses which confirm and challenge current knowledge on the relationship between different regions and networks of the brain, and cognitive tasks 8. Finally, we have used NeuroLang to shed light onto the organization of the lateral prefrontal cortex 9, and, within the context of our project LargeSmallBrainNets (see 8.1.1) on the learning process for children with mathematical disabilities 13.
6.4
Efficient Bilevel optimization solvers
Participants: Mathieu Dagréou, Zaccharie Ramzi, Philippe Ciuciu, Thomas Moreau.
Main External Collaborators: Pierre Ablin [CNRS/Apple], Samuel Vaiter [CNRS].
In recent years, bi-level optimization – solving an optimization problem that depends on the results of another optimization problem – has raised much interest in the machine learning community and, particularly, for hyper-parameter tuning, meta-learning or dictionary learning. This problem is made particularly hard by the fact that computing the gradient of the problem can be computationally expensive, as it requires to solve the inner problem as well as some large linear system. In the recent years, several solvers have been proposed to mitigate such cost, in particular by proposing ways to efficiently approximate the gradient. This year, we proposed two approaches that advanced the state-of-the-art solvers for such problems. First, we proposed a solver that is able to share inverse hessian estimate for the resolution of both the inner problem and the linear system, efficiently leveraging the structure of the problem to reduce the computations. This result was presented in Ramzi et al. 36. Then we proposed a stochastic solver for bi-level problems with variance reduction (e.g. see SABA in Fig. 5), and showed that such algorithm had the same convergence rate as its single level counter part. This algorithm was presented in Dagréou et al. 3 and it received an Oral (AR < 5%). These results are prerequisites to scale the resolution of bi-level optimization problems to larger applications such as the one in neurosciences.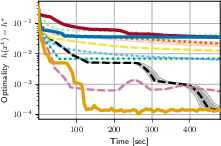 6.5
Benchopt: Reproducible, efficient and collaborative optimization benchmarks
Participants: Thomas Moreau, Mathieu Dagréou, Zaccharie Ramzi, Benoit Malézieux, En Lai, Alexandre Gramfort.
Main External Collaborators: Mathurin Massias [Inria, Dante], Joseph Salmon [Univ. Montpellier].
Numerical validation is at the core of machine learning research as it allows researchers in this field to assess the actual impact of new methods, and to confirm the agreement between theory and practice. Yet, the rapid development of the field poses several challenges: researchers are confronted with a profusion of methods to compare, limited transparency and consensus on best practices, as well as tedious re-implementation work. As a result, validation is often very partial, which can lead to wrong conclusions that slow down the progress of research. We proposed Benchopt, a collaborative framework to automate, reproduce and publish optimization benchmarks in machine learning across programming languages and hardware architectures (see Fig. 6). Benchopt simplifies benchmarking for the community by providing an off-the-shelf tool for running, sharing and extending experiments. To demonstrate its broad usability, we showcased benchmarks on many standard learning tasks including -regularized logistic regression, Lasso, and ResNet18 training for image classification. These benchmarks highlight key practical findings that give a more nuanced view of the state-of-the-art for these problems, showing that for practical evaluation, the devil is in the details. This library and the associated benchmarks were presented in Moreau et al. 5.

6.6
Comprehensive decoding mental processes from Web repositories of functional brain images
Participants: Bertrand Thirion, Raphael Meudec.
Main External Collaborators: Romuald Menuet [Owkin], Jérome Dockès [Univ. Mc Gill], Gael Varoquaux [Inria, Soda].
Associating brain systems with mental processes requires statistical analysis of brain activity across many cognitive processes. These analyses typically face a difficult compromise between scope—from domain-specific to system-level analysis—and accuracy. Using all the functional Magnetic Resonance Imaging (fMRI) statistical maps of the largest data repository available, we trained machine-learning models that decode the cognitive concepts probed in unseen studies. For this, we leveraged two comprehensive resources: NeuroVault — an open repository of fMRI statistical maps with unconstrained annotations — and Cognitive Atlas — an ontology of cognition. We labeled NeuroVault images with Cognitive Atlas concepts occurring in their associated metadata. We trained neural networks to predict these cognitive labels on tens of thousands of brain images. Overcoming the heterogeneity, imbalance and noise in the training data, we successfully decoded more than 50 classes of mental processes on a large test set. This success demonstrates that image-based meta-analyses can be undertaken at scale and with minimal manual data curation. It enables broad reverse inferences, that is, concluding on mental processes given the observed brain activity.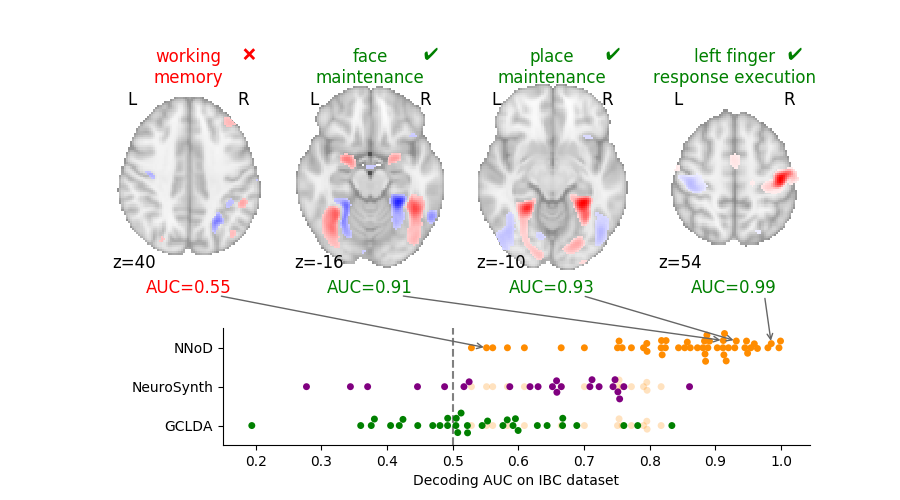 6.7
Notip: Non-parametric True Discovery Proportion control for brain imaging
Cluster-level inference procedures are widely used for brain mapping. These methods compare the size of clusters obtained by thresholding brain maps to an upper bound under the global null hypothesis, computed using Random Field Theory or permutations. However, the guarantees obtained by this type of inference-i.e. at least one voxel is truly activated in the cluster-are not informative with regards to the strength of the signal therein. There is thus a need for methods to assess the amount of signal within clusters; yet such methods have to take into account that clusters are defined based on the data, which creates circularity in the inference scheme. This has motivated the use of post hoc estimates that allow statistically valid estimation of the proportion of activated voxels in clusters. In the context of fMRI data, the All-Resolutions Inference framework introduced in 148 provides post hoc estimates of the proportion of activated voxels. However, this method relies on parametric threshold families, which results in conservative inference. In this paper, we leverage randomization methods to adapt to data characteristics and obtain tighter false discovery control. We obtain Notip: a powerful, non-parametric method that yields statistically valid estimation of the proportion of activated voxels in data-derived clusters. Numerical experiments demonstrate substantial power gains compared with state-of-the-art methods on 36 fMRI datasets. The conditions under which the proposed method brings benefits are also discussed.
Participants: Bertrand Thirion, Alexandre Blain.
Main External Collaborators: Pierre Neuvial [IMT, Univ. Toulouse].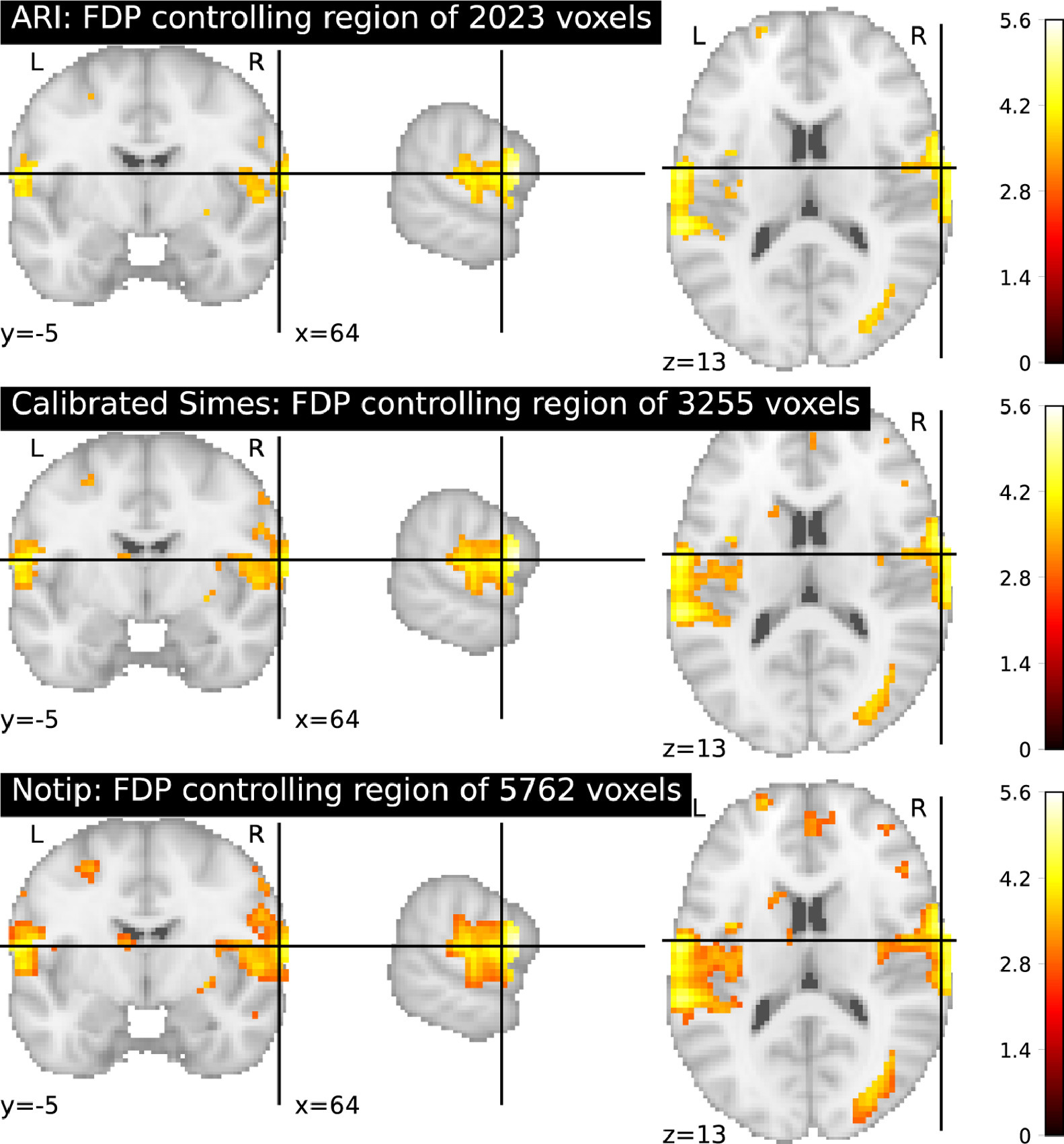 6.8
Data augmentation for machine learning on EEG
The use of deep learning for electroencephalography (EEG) classification tasks has been rapidly growing in the last years, yet its application has been limited by the relatively small size of EEG datasets. Data augmentation, which consists in artificially increasing the size of the dataset during training, can be employed to alleviate this problem. While a few augmentation transformations for EEG data have been proposed in the literature, their positive impact on performance is often evaluated on a single dataset and compared to one or two competing augmentation methods. In two works published in 2022 we have made progress towards there usage for EEG research. First in 28, we have evaluated 13 data augmentation approaches through a unified and exhaustive analysis in two applicative contexts (Sleep medicine and BCI systems). We have demonstrated that employing the adequate data augmentations can bring up to 45% accuracy improvements in low data regimes compared to the same model trained without any augmentation. Our experiments also show that there is no single best augmentation strategy, as the good augmentations differ on each task and dataset. This brings us towards our second major contribution in this topic. In 37, 45, we proposed two innovative approaches to automatically learn augmentation policies from data. The AugNet method published at NeurIPS 2022 is illustrated in 9. In this model the parameters of the augmentation policy are learnt end-to-end with a supervised task and back-propagation, and doing so reveal the invariance present in the data.
Participants: Alexandre Gramfort, Thomas Moreau, Cedric Rommel.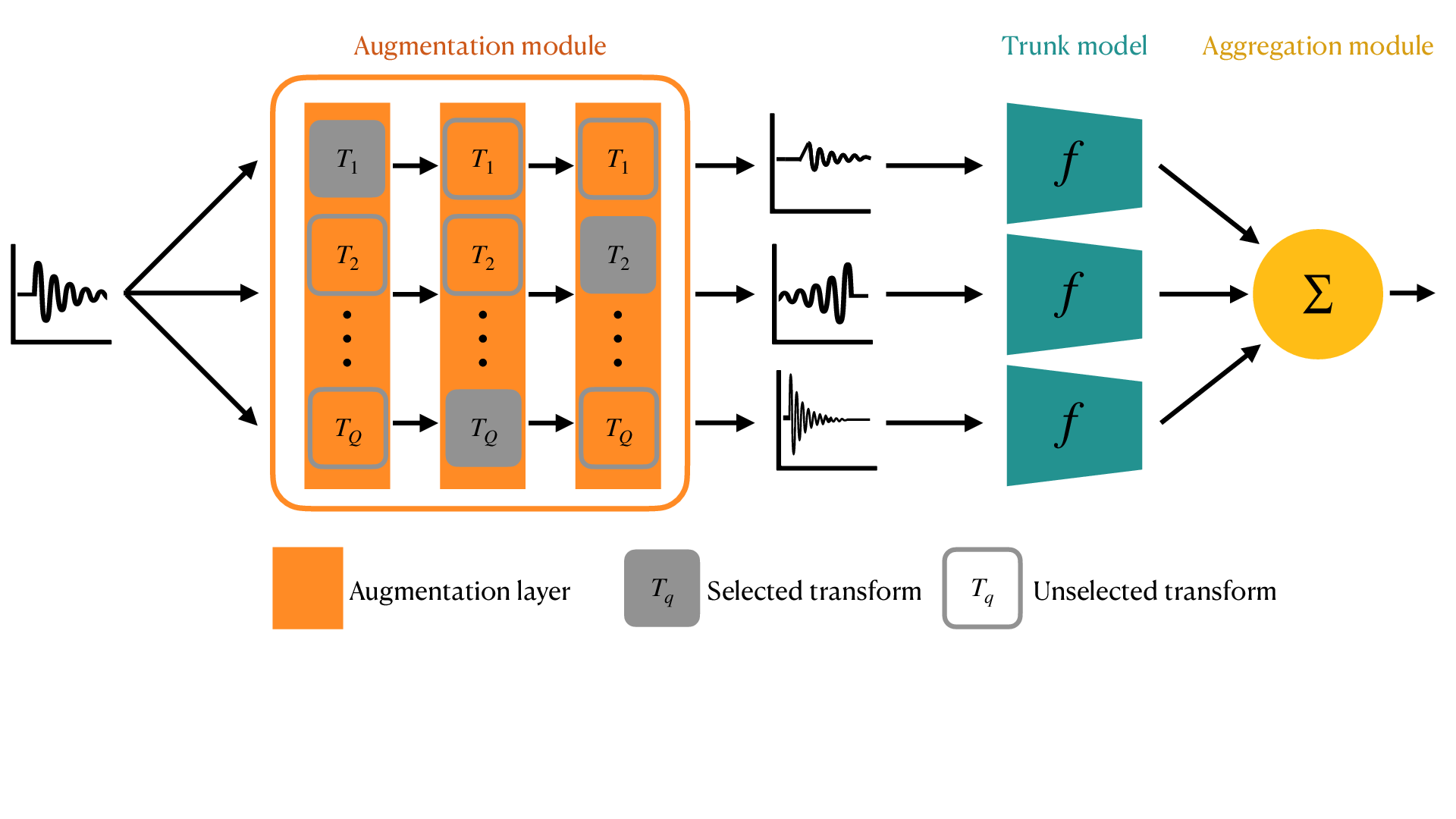 6.9
Language processing in deep neural networks and the human brain
Deep language algorithms, like GPT-2, have demonstrated remarkable abilities to process text, and now constitute the backbone of automatic translation, summarization and dialogue. However, whether and how these models operate in a way that is similar to the human brain remains controversial. In 12, we showed that the representations of GPT-2 not only map onto the brain responses to spoken stories, but they also predict the extent to which subjects understand the corresponding narratives. To this end, we analyzed 101 subjects recorded with functional Magnetic Resonance Imaging while listening to 70 min of short stories. We then fit a linear mapping model to predict brain activity from GPT-2's activations. Doing so, we showed that this mapping reliably correlates with subjects' comprehension scores as assessed for each story. Overall, this study illustrated in 10 shows how deep language models help clarify the brain computations underlying language comprehension.
While this latter work offers interesting insights in how the brain processes language, it does not address the question of how it learns it. Indeed, while several deep neural networks have been shown to generate activations similar to those of the brain in response to the same input, these algorithms remain largely implausible: they require (1) extraordinarily large amounts of data, (2) unobtainable supervised labels, (3) textual rather than raw sensory input, and / or (4) implausibly large memory (e.g. thousands of contextual words). Focusing on the issue of speech processing, in 32 we tested if self-supervised algorithms trained on the raw waveform constitute a promising candidate. Specifically, we compared a recent self-supervised architecture, Wav2Vec 2.0, to the brain activity of 412 English, French, and Mandarin individuals recorded with functional Magnetic Resonance Imaging (fMRI), while they listened to  1h of audio books. With this work, we showed that this algorithm learns brain-like representations with as little as 600 hours of unlabelled speech – a quantity comparable to what infants can be exposed to during language acquisition. Second, its functional hierarchy aligns with the cortical hierarchy of speech processing. Third, different training regimes reveal a functional specialization akin to the cortex: Wav2Vec 2.0 learns sound-generic, speech-specific and language-specific representations similar to those of the prefrontal and temporal cortices. These elements, resulting from the largest neuroimaging benchmark to date, show how self-supervised learning can account for a rich organization of speech processing in the brain.
Participants: Alexandre Gramfort, Charlotte Caucheteux.
Main External Collaborators: Jean-Rémi King [CNRS/Meta AI], Christope Pallier [CNRS/CEA Neurospin].

7
Bilateral contracts and grants with industry
Participants: Philippe Ciuciu, Guillaume Daval-Frérot, Alexandre Gramfort, Charlotte Caucheteux, Thomas Moreau.
7.1
Bilateral contracts with industry
7.1.1
Siemens Healthineers & AI lab (Princeton, USA)
Since Fall 2019, Philippe Ciuciu has actively collaborated with the Siemens-Healthineers AI lab, led by Mariappan Nadar in the context of the joint supervision of Guillaume Daval-Frérot's CIFRE PhD thesis dedicated to Deep learning for off-resonance artifact correction in MR image reconstruction in the specific application of susceptibility weighted imaging at 3 Tesla. On top of the PhD funding, this contract has generated 45k€ for Mind and was managed by CEA/NeuroSpin. G. Daval-Frérot's PhD defense was held on December, 16 2022. As this first collaboration was successful, we engaged strategic discussions with the Siemens-Healthineers headquarters (Erlangen, Germany) during Spring 2022 to pursue this partnership and eventually set up a new one in 2023 with again a CIFRE PhD thesis starting this Spring. The PhD candidate, M. Ahmed Boughdiri, has been recently selected. The focus of this PhD thesis will be self-supervised 3D MR image reconstruction still in the deep learning setting.
7.1.2
Facebook AI Research (FAIR)
There is currently a CIFRE PhD between FAIR and Mind (Alexandre Gramfort) to investigate the differences between deep learning models and the brain, especially considering NLP machine learning models. As the collaboration is led by Alexandre Gramfort in the team, it is therefore financially managed by Inria.
7.1.3
Saint Gobain Research (SGR)
There is currently a consulting contract between SGR and Mind (Thomas Moreau) to provide an expertise in machine learning to process temporal data, numerical optimization and scientific computing. The expertise is provided one half-day per month, in SGR offices, and it consists in scientific discussion sessions on the ML projects leaded by SGR data scientists.
8
Partnerships and cooperations
Participants: Demian Wassermann, Bertrand Thirion, Philippe Ciuciu, Alexandre Gramfort.
8.1
International initiatives
8.1.1
Associate Teams in the framework of an Inria International Lab or in the framework of an Inria International Program
LargeSmallBrainNets
Title:

Characterizing Large and Small-scale Brain Networks in Typical Populations Using Novel Computational Methods for dMRI and fMRI-based Connectivity and Microstructure

Duration:

2019 ->

Coordinator:

Vinod Menon (menon@stanford.edu)

Partners:

Stanford University Stanford (États-Unis)

Inria contact:

Summary:

In the past two decades, brain imaging of neurotypical individuals and clinical populations has primarily focused on localization of function and structures in the brain, revealing activation in specific brain regions during performance of cognitive tasks through modalities such as functional MRI. In parallel, technologies to identify white matter structures have been developed using diffusion MRI. Lately, interest has shifted towards developing a deeper understanding of the brain's macroscopic and microscopic architectures and their influence on cognitive and affective information processing. Using for this resting state fMRI and diffusion MRI to build the functional and structural networks of the human brain.

The human brain is a complex patchwork of interconnected regions, and graph-theoretical approaches have become increasingly useful for understanding how functionally connected systems engender, and constrain, cognitive functions. The functional nodes of the human brain, i.e. cortical regions, and their structural inter-connectivity, collectively the brain's macrostructure or "connectome", are, however, poorly understood. Quantifying in vivo how these nodes' microstructure, specifically cellular composition or cytoarchitecture, influences the cognitive tasks in which these are involved is fundamental problem in understanding the connectome. Furthermore, the coupling between within and across-subject contributions to the connectome and cognitive differences hampers the identification and understanding of the link between brain structure and function, and human cognition.

Critically, there is a dearth of computational methods for reliably identifying functional nodes of the brain, their micro and macrostructure in vivo, and separating the population and subject-specific effects. Devising and validating methods for investigating the human connectome has therefore taken added significance.

The first major goal of this project is to develop and validate appropriate sophisticated computational and mathematical tools relate the brain's macrostructure with its function. Specifically, we will focus on being able to separate population and subject-specific contributions within these models using state-of-the-art human brain imaging techniques and open-source data from the Human Connectome Project (HCP) and the Adolescent Brain Cognitive Development study (ABCD). To this end, we will first develop and validate novel computational tools for (1) formulating and fitting large scale random effect models on graphs derived from functional and structural connectivity and (2) implement techniques enabling us to impose different regularization schemes based on sparsity and multicollinearity of the model parameters.

The second major goal of this project is characterizing the cytoarchitecture of the nodes, i.e. cortical regions, at the microscopic level and their relationship with the brain's hemodynamical function and cognition. For this, we will (1) identify cortical areas with specific cytoarchitecture in the human cortex and use them to develop diffusion MRI-based models, (2) validate these models with numerical simulations of the dMRI signal and animal models, and (3) establish the relationship between cytoarchitecture and hemodynamical function measured from fMRI and cognition. For this we will leverage multi-shell high-angular diffusion MRI from public databases such as HCP and ABCD.

Finally, we will use to use our newly developed computational tools to characterize normal structural and functional brain networks in neurotypical adults. Due to the complementarity of the cognitive science and imaging techniques expertise the synergy between the two laboratories of this associate team will allow us to reveal in unprecedented detail the structural and functional connectivity of the human brain and its relation to cognition.
8.1.2
Inria associate team not involved in an IIL or an international program
NeuroMind
Title:

Precision mapping of the Brain by Neuromod & Mind

Duration:

2022 ->

Coordinator:

Pierre Bellec (pierre.bellec@criugm.qc.ca)

Partners:

Université de Montréal Montréal (Canada)

Inria contact:

Summary:

Among the main advances of the last decade, the development of powerful AI systems for vision, language processing, as well as reinforcement learning, have led to sophisticated cognitive systems that can be compared to the human brain, and sometimes surpass human performance. Brain/AI system comparison is a great opportunity for AI and for neuroscience. One of the most urgent tasks for cognitive neuroscience is thus to put together datasets that probe the brain system and are comprehensive enough to allow a reliable comparison of brain activity to the representations generated by AI systems. To address this endeavor, Parietal and NeuroMod have launched ambitious data acquisitions initiative (individual Brain CHarting and Courtois Neuromod), that consist in collecting huge amounts of brain data in few participants. These unprecedented data collection efforts bring novel challenges for data analysis: handling TB-scale data, automation, and better integration of analysis pipeline. Software such as Nilearn and MNE increasingly face the challenge of scaling up to larger datasets. Addressing this challenge in the context of IBC and Courtois Neuromod is thus a unique opportunity.
8.2
International research visitors
8.2.1
Visits of international scientists
Other international visits to the team
Nicholas Tolley
Status

PhD

Institution of origin:

Brown University

Country:

USA

Dates:

January 2022 - July 2022

Context of the visit:

6 months visit

Mobility program/type of mobility:

Internship funded by a Chateaubriand fellowship
8.3
European initiatives
8.3.1
Horizon Europe
EBRAIN HEALTH
Title:

EBRAIN-HEALTH

Duration:

2023 -> 2026

Coordinator:

Petra Ritter (Charité, Berlin)

Partners:

CHARITE - UNIVERSITAETSMEDIZIN BERLIN
EBRAINS
FORSCHUNGSZENTRUM JULICH GMBH
STICHTING RADBOUD UNIVERSITEIT
UNIVERSIDAD POMPEU FABRA
OSLO UNIVERSITETSSYKEHUS HF
TP21 GMBH
FRAUNHOFER GESELLSCHAFT ZUR FORDERUNG DER ANGEWANDTEN FORSCHUNG EV
INDOC RESEARCH EUROPE GGMBH
UNIVERSITAT WIEN
UNIVERSIDAD COMPLUTENSE DE MADRID
EODYNE SYSTEMS SL
ATHINA-EREVNITIKO KENTRO KAINOTOMIAS STIS TECHNOLOGIES TIS PLIROFORIAS, TON EPIKOINONION KAI TIS GNOSIS
UNIVERSITETET I OSLO
STICHTING VUMC
UNIVERSITA DEGLI STUDI DI ROMA LA SAPIENZA
ALZHEIMER EUROPE
INSTITUT NATIONAL DE RECHERCHE EN INFORMATIQUE ET AUTOMATIQUE

Inria contact:

Summary:

The project aims to develop a decentralized, data protection-compliant research platform capable of simulating some of the brain's complex neurobiological phenomena. As part of the project, researchers will collate an array of different types of information, including data from PET and MRI scans, EEG tests, behavioral studies and lifestyle surveys, as well as clinical data from thousands of patients and healthy controls. These will be combined with biological information from knowledge databases and made available for research purposes. The resultant digital 'brain twins' will enable large numbers of researchers to conduct innovative research within a powerful digital infrastructure.

Thanks to its transparent analytical pipelines, the new research infrastructure will also help to promote reproducible research.

Furthermore, complex, personalized brain simulations which take into account large quantities of data may be able to provide a better understanding of the mechanisms underlying brain function and disorders. Virtual brain modeling may also improve diagnostics and disease prediction, in addition to enabling the optimization of treatment plans. The project consortium comprises 20 partners and operates in cooperation with EBRAINS AISBL, the coordinating entity of the EU-funded flagship 'Human Brain Project'.
8.4
National initiatives
ANR DARLING
Title:

DARLING: Distributed adaptation and learning over graph signals

Duration:

2020 ->

Coordinator:

Cédric Richard (cedric.richard@unice.fr),Professor 3IA Senior Chair in UCA

Partners:

Université Côte d'Azur Nice, France
CNRS, École Normale Supérieure, Lyon, France
Gipsa-lab, UMR 5216, CNRS, UGA, Grenoble, France
CentraleSupélec, University of Paris-Saclay, Gif-sur-yvette, France

Inria contact:

Summary:

The DARLING project will aim to propose new adaptive learning methods, distributed and collaborative on large dynamic graphs in order to extract structured information of the data flows generated and/or transiting at the nodes of these graphs. In order to obtain performance guarantees, these methods will be systematically accompanied by an in-depth study of random matrix theory. This powerful tool, never exploited so far in this context although perfectly suited for inference on random graphs, will thereby provide even avenues for improvement. Finally, in addition to their evaluation on public data sets, the methods will be compared with each other using two advanced imaging techniques in which two of the partners are involved: radio astronomy with the giant SKA instrument (Obs. Côte d'Azur) and MEG brain imaging (Inria MIND at NeuroSpin, CEA Saclay). Sheng Wang as a postdoc in MIND and Merlin Dumeur as a MIND PhD student in co-tutelle with Matias Palva from Aalto University, Finland are actually involved in the processing of MEG and S/EEG time series on graphs, notably to analyze scale-free (i.e. critical and bistability) phenomena across these graphs and extract potentially new biomarkers for characterizing the pathophysiology of epileptogenic zone (EZ) in drug resistant epilepsy.
ANR VLFMRI
Title:

VLFMRI: Very low field MRI for babies

Duration:

2021 ->

Coordinator:

Claude Fermon (CEA Saclay, DRF/IRAMIS/SPECT)

Partners:

CEA/SHFJ/BIOMAPS, Orsay, France
CEA/NeuroSpin, Gif-sur-Yvette, France
APHP Robert Debré hospital, Paris, France
APHP Bicêtre hospital, Kremlin-Bicêtre, France

Inria contact:

Summary:

VLFMRI aims at developing a very low-field Magnetic Resonance Imaging (MRI) system as an alternative to conventional high-field MRI for continuous imaging of premature newborns to detect hemorrhages or ischemia. This system is based on a combination of a new generation of magnetic sensors based on spin electronics, optimized MR acquisition sequences (based on the SPARKLING patent, Inria-CEA MIND team at NeuroSpin) and a open and compatible system with an incubator that will allow to achieve an image resolution of 1mm on a whole baby body in a short scan time. This project is a partnership of three academic partners and two hospital departments. The different stages of the project are the finalization of the hardware development and software system, preclinical validation on small animals and clinical validation. Kumari Pooja has been hired in January 2022 as research engineer in MIND to interact with the coordinator of this ANR project, Claude Fermon and design new accelerated acquisition methods for verly low field MRI. Preliminary encouraging results allow us to retrospectively accelerate MRI acquisition by a factor of 10 without degrading image quality at 2mm isotropic resolution.
KARAIB AI CHAIR
Title:

KARAIB: Knowledge And RepresentAtion Integration on the Brain

Duration:

2020 ->

Coordinator:

Bertrand Thirion

Partners:

INRIA MIND, Gif-sur-Yvette, France

Inria contact:

Summary:

Cognitive science describes mental operations, and functional brain imaging provides a unique window into the brain systems that support these operations. A growing body of neuroimaging research has provided significant insight into the relations between psychological functions and brain activity. However, the aggregation of cognitive neuroscience results to obtain a systematic mapping between structure and function faces the roadblock that cognitive concepts are ill-defined and may not map cleanly onto the computational architecture of the brain.

To tackle this challenge, we propose to leverage rapidly increasing data sources: text and brain locations described in neuroscientific publications, brain images and their annotations taken from public data repositories, and several reference datasets. Our aim here is to develop multi-modal machine learning techniques to bridge these data sources.

Aim 1 develops representation techniques for noisy data to couple brain data with descriptions of behavior or diseases, in order to extract semantic structure.
Aim 2 challenges these representations to provide explanations to the observed relationships, based on two frameworks: i) a statistical analysis framework; ii) integration into a domain-specific language.
Aim 3 outputs readily-usable products for neuroimaging: atlases and ontologies and focuses on implementation, with contributions to neuroimaging web-based data sharing tools.site.
BrAIN AI CHAIR
Title:

BrAIN: Bridging Artificial Intelligence and Neuroscience

Duration:

2020 ->

Coordinator:

Alexandre Gramfort

Partners:

INRIA MIND, Gif-sur-Yvette, France

Inria contact:

Summary:

The BrAIN project investigates learning tasks from multivariate EEG and MEG time series. In clinical or cognitive neuroscience, electromagnetic signals emitted by synchronously firing neurons are collected by electroencephalography (EEG) or magnetoencephalography (MEG). Such data, typically sampled at millisecond resolution, are routinely used for clinical applications such as anesthesia monitoring, sleep medicine, epilepsy or disorders of consciousness. Low cost EEG devices are also becoming commodities with hardware startups such as DREEM in France or InteraXon in Canada that have collected hundred of thousands of neural recordings. The field of neuroscience urgently needs algorithms that can learn from such large and poorly labeled datasets. The general objectives of BrAIN is to develop ML algorithms that can learn with weak or no supervision on neural time series. It requires contributions to self-supervised learning, domain adaptation and data augmentation techniques, exploiting the known underlying physical mechanisms that govern the data generating process of neurophysiological signals.

The BrAIN project is organized around four objectives:

Learn with no-supervision on noisy and complex multivariate signals
Learn end-to-end predictive systems from limited data exploiting physical constraints
Learn from data coming from many different source domains
Develop high-quality software tools that can reach clinical research
9
Dissemination
Participants: Demian Wassermann, Bertrand Thirion, Philippe Ciuciu, Alexandre Gramfort, Thomas Moreau.
9.1
Promoting scientific activities
9.1.1
Scientific events: organisation
Member of the organizing committees
9.1.2
Scientific events: selection
P. Ciuciu

Member (Representative of the IEEE Signal Processing Society) of the steering committee of the IEEE International Symposium on Biomedical Imaging. I participated in selecting the bids for 2022 (Kolkata, IN) 2023 (Cartagena de Indias , CO) and 2024 (Athens, GR).
Member of the conference program committees
P. Ciuciu

Area chair for the

BISA

track in EUSIPCO 2022 as Past-vice chair of this technical committee.

B. Thirion

Area chair for NeurIPS 2022.

A. Gramfort

Area chair for ICML 2022, NeurIPS 2022, ICLR 2022.
9.1.3
Journal
Member of the editorial boards
Reviewer - reviewing activities
P. Ciuciu

IEEE TMI (Bronze reviewer award in 2022), IEEE Signal Processing Magazine, Magnetic Resonance in Medicine, NeuroImage, MIA, SIAM Imaging Science

D. Wassermann

NeuroImage, Brain Structure and Function, Pattern Analysis and Machine Intelligence (IEEE PAMI), MIA,

T. Moreau

Transactions on Signal Processing, Signal Processing, ICML (outstanding reviewer, top 10%), NeurIPS.

B. Thirion

NeuroImage, Nature Human Behavior, MEdIA, IEEE Transactions on Medical Imaging, Brain Structure and Function, Human Brain Mapping, Nature Communications.

B. Thirion

NeuroImage, Journal of Neural Engineering, Data In Brief
9.1.4
Invited talks
P. Ciuciu

D. Wassermann

 

Johns Hopkins University, USA
Stanford University, USA

T. Moreau

B.Thirion

 

March 2022: SousSoucis Days, Institut Mathématique de Toulouse
May 2022: HBP WP1 conference, Paris
November 2022: ML for Life Science, Montpellier
December 2022: plenary talk at MAIN conference, Montreal

A.Gramfort

 

March 2022: Invited talk, UCL ML seminar, London
June 2022: Brain and Spine Institute (ICM) symposium "Computational and mathematical approaches for neuroscience", Paris, France
July 2022: invited talk for AI4SIP workshop at Institut Pascal (Orsay, France)
August 2022: Invited talk Biomag conference, Birmingham, UK
9.1.5
Scientific expertise
P. Ciuciu

: European expert reviewer for the European Innovation Council Accelerator actions (main track: AI and health).

A. Gramfort

: External reviewer for the European Research Council (ERC).
9.1.6
Research administration
P. Ciuciu

 

Member of the Board of Directors at NeuroSpin (CEA).
Member of the steering committee of the CEA cross-disciplinary research program on numerical simulation and AI.

B. Thirion

 

Délégué Scientifique of Inria Saclay Center
Member of ENS Paris-Saclay Scientific Council
Member of Inria Commission évaluation

A. Gramfort

 

Membre du comité des programmes de l'Institut de Henry Poincaré (IHP)
Membre du pôle B de l'école doctorale de l'Université Paris-Saclay
Responsable du Center for Data Science (CDS) de l'institut DataIA en charge des data challenges
Représentant Inria au sein du comité opérationnel du cendre d'IA Hi!Paris d'IP Paris
9.2
Teaching - Supervision - Juries
P. Ciuciu

 

Instructor at the 14th IEEE EMBS summer school on Biomedical Imaging (St Jacut de la Mer, FR) on

Computational MRI

.
Instructor at the AI4SIP summer school (Orsay, FR) on

Computational MRI

.
Lecturer at the M2 ATSI (CentraleSupelec, ENS Paris-Saclay): Medical imaging course
Lecturer at the Institut d'Optique Graduate School (3rd year, Signal & Images major).

D. Wassermann

 

Master MVA (École Polytechnique, École Normale Superiore, Centrale Supelec): Graphical Models
Master in Biomedical Engineering (Université Paris Descartes): Quantification in NeuroImaging

T. Moreau

 

Master Data Science (IPP): Datacamp.

B.Thirion

 

MVA Master (École Polytechnique, École Normale Superiore, Centrale Supelec): Brain Function
NeuroEngineering Master (UPSaclay): fMRI data analysis
Instructor at the AI4SIP summer school (Orsay, FR)
Instructor at MAIN 2022 conference Tutorial session

A.Gramfort

 

Master: Optimization for Data Science, 23h, Msc 2 Data Science Master Ecole Polytechnique, France
Master: DataCamp, 30h, Msc 2 Data Science Master Ecole Polytechnique, France
Master: Source Imaging with EEG and MEG, 4h, Msc 2 in Biomedical Engineering at Université de Paris Cité
Master: EEG and MEG data processing, 4h, Msc 2 in NeuroEngineering at UPSaclay, France
Doctoral School: Machine learning for biosignals, 3h, Summer School Hi!Paris, Palaiseau, France
Instructor at MAIN 2022 conference Tutorial session on machine learning for MEG/EEG
Instructor at the AI4SIP summer school (Orsay, FR)
9.2.1
Supervision
P. Ciuciu

 

Dr Z. Ramzi

(with J.-L. Starch, CEA), PhD 2019-2022

Dr G. Daval-Frérot

(with A. Vignaud, CEA), PhD 2019-2022
C. Giliyar Radhakrishna, PhD 2020-2023 (defense planned in April 2023)
M. Dumeur (with M. Palva, Aalto Univ), PhD in cotutelle (4y), 2020-2024
Z. Amor (with A. Vignaud, CEA) PhD 2019-2023
A. Waguet (with T. Druet, CEA) PhD 2019-2023
P.-A. Comby (with A. Vignaud, CEA), PhD 2021-2024
Maja Pantic (with A. Vignaud, CEA), PhD resigned in Dec 2022 for personal reasons after obtaining an UDOPIA scholarship in June 2022.
Serge Brosset, (with Z. Saghi, CEA) PhD 2022-2025
W. Omezzine, M1 INSA Toulouse, (June - Sep 2022)
Maja Pantic M2, Univ Paris-Saclay (Apr - Sep 2022)

D. Wassermann

 

L. Rouillard, PhD 2021-2023
M. Jallais, PhD 2019-2022
G. Zanitti, PhD 2020-2023
C. Fang (with J-R Li), PhD 2020-2023
R. Meudec (with B. Thirion), PhD 2021-2023
A. Le Bris, M2 Telecom ParisTech, 2022

T. Moreau

 

B. Malézieux, PhD 2020-2023 (with M. Kowalski)
C. Allain, PhD 2021-2024 (with A. Gramfort)
M. Dagréou, PhD 2021-2024 (with S. Vaiter and P. Ablin)
F. Michel, PhD 2022-2025 (with M. Kowalski)
E. Lai, 3A Ecole Polytechnique, 2022 (with A. Gramfort and J.-C. Pesquet)
M. Nargeot, L2 Université de Bordeaux, 2022

B. Thirion

 

Alexandre Pasquiou, PhD 2020-2023 (with C.Pallier)
Alexis Thual, PhD 2020-2023 (with S. Dehaene)
Ahmad Chamma, PhD 2021-2023 (with D.Engemann)
Raphael Meudec, PhD 2021-2024 (with D.Wassermann)
Thomas Chapalain, PhD 2021-2024 (with E.Eger)
Alexandre Balin, PhD 2021-2024 (with P.Neuvial)

A. Gramfort

 

Charlotte Caucheteux, PhD 2020-2023 (with J.R. King)
Omar Chehab, PhD 2020-2023 (with A. Hyvarinen)
Cédric Allain, PhD 2021-2024 (with T.Moreau)
Apolline Mellot, PhD 2021-2024 (with D.Engemann)
Julia Linhart, PhD 2021-2024 (with P.Rogrigues)
Theo Gnassounou, PhD 2022-2025 (with R.Flamary)
Ambroise Heurtebise, PhD 2022-2025 (with P.Ablin)
9.2.2
Juries
P. Ciuciu

: External reviewer of the PhD thesis defended by Thomas Sanchez (EPFL, Lausanne, CH) in April 2022.

D. Wassermann

: Examinator for the PhD thesis defended by J. Ringard at École Polytechnique.

T. Moreau

: Examinator for the PhD thesis defended by L. Dragoni at Université Côte d'Azure (Nice, France) in May 2022.

B. Thirion

External reviewer of the PhD thesis defended by Frederico Bertoni (Sorbonne Université), in Febuary 2022

A. Gramfort

External reviewer of the PhD thesis defended by Martin Grignard (Université de Liège, Belgique), in September 2022

A. Gramfort

External reviewer of the PhD thesis defended by Jean-Yves Franceschi (Sorbonne Université), in Febuary 2022

A. Gramfort

External reviewer of the PhD thesis defended by Ali Hashemi  (TU Berlin), in September 2022

A. Gramfort

External reviewer of the HdR defended by Levgen Redko (Université St Etienne), in July 2022

A. Gramfort

Examinator for the PhD thesis defended by Theo Desbordes (Sorbonne Université), in Dec 2022.

A. Gramfort

Examinator for the PhD thesis defended by Antoine Collas (Université Paris-Saclay), in Nov 2022.
9.3
Popularization
B.Thirion

Les Vendredi de Gif, March 2022

Où va l'intelligence artificielle ?

B.Thirion

L'université populaire d'Antony, November 2022,

Où va l'intelligence artificielle ?
9.3.1
Internal or external Inria responsibilities
D. Wassermann

COERLE Scientific representative for Inria Saclay Île-de-France; Representative at the Graduate School in Computer Science of Université Paris-Saclay for Inria Saclay Île-de-France.

T. Moreau

President of the Inria Saclay CUMI; Representative for Inria Saclay in the commission for the development of the national computational resources.

A. Gramfort

Membre de la comission d'évaluation technologique (CDT) du centre de Saclay

A. Gramfort

Representant de l'Inria Saclay dans le comité opérationnel de Hi!Paris
10
Scientific production
10.1
Major publications
1

article

Functional gradients in the human lateral prefrontal cortex revealed by a comprehensive coordinate-based meta-analysis

.

eLife

2022

2

article

Deep language algorithms predict semantic comprehension from brain activity

.

Scientific Reports

September 2022

3

inproceedings

A framework for bilevel optimization that enables stochastic and global variance reduction algorithms

.

Advances in Neural Information Processing Systems (NeurIPS)

New Orleans, United States

November 2022

4

article

Optimizing full 3D SPARKLING trajectories for high-resolution T2*-weighted Magnetic Resonance Imaging

.

IEEE Transactions on Medical Imaging

August 2022

5

inproceedings

Benchopt: Reproducible, efficient and collaborative optimization benchmarks

.

NeurIPS 2022 - 36th Conference on Neural Information Processing Systems

New Orleans, United States

November 2022

6

article

NC-PDNet: a Density-Compensated Unrolled Network for 2D and 3D non-Cartesian MRI Reconstruction

.

IEEE Transactions on Medical Imaging

January 2022

7

article

Data augmentation for learning predictive models on EEG: a systematic comparison

.

Journal of Neural Engineering

November 2022
10.2
Publications of the year
10.3
Cited publications
55

inproceedings

TensorFlow: A System for Large-Scale Machine Learning

.

12th USENIX Symposium on Operating Systems Design and Implementation OSDI

2016

,

265--283

56

article

Faster independent component analysis by preconditioning with Hessian approximations

.

IEEE Trans. Signal Process.

66

15

2018

,

4040-4049

57

inproceedings

Learning Step Sizes for Unfolded Sparse Coding

.

Advances in Neural Information Processing Systems (NeurIPS)

Vancouver, BC, Canada

2019

,

13100--13110

58

inproceedings

Super-Efficiency of Automatic Differentiation for Functions Defined as a Minimum

.

International Conference on Machine Learning (ICML)

July 2020

59

inproceedings

Validating Causal Inference Models via Influence Functions

.

Proceedings of the 36th International Conference on Machine Learning

97

Proceedings of Machine Learning Research

Long Beach, California, USA

PMLR

09--15 Jun 2019

,

191--201

URL: http://proceedings.mlr.press/v97/alaa19a.html

60

article

Expressive Languages for Querying the Semantic Web

.

ACM Transactions on Database Systems

43

3

November 2018

,

1--45

61

article

The State of Applied Econometrics - Causality and Policy Evaluation

.

ArXiv e-prints

July 2016

,

arXiv:1607.00699

62

inproceedings

Feature Grouping as a Stochastic Regularizer for High-Dimensional Structured Data

.

ICML

2019

,

385--394

63

article

Declarative Probabilistic Programming with Datalog

.

ACM Transactions on Database Systems

42

4

October 2017

,

1-35

64

article

Multimodal Machine Learning: A Survey and Taxonomy

.

IEEE Transactions on Pattern Analysis and Machine Intelligence

41

2

Feb 2019

,

423-443

65

article

Uncovering the structure of clinical EEG signals with self-supervised learning

.

Journal of Neural Engineering

2020

66

article

The Vadalog System: Datalog-Based Reasoning for Knowledge Graphs

.

Proceedings of the VLDB Endowment

11

9

May 2018

,

975-987

67

article

Representation learning: A review and new perspectives

.

Pattern Analysis and Machine Intelligence

35

2013

,

1798

68

article

Controlling the False Discovery Rate: A Practical and Powerful Approach to Multiple Testing

.

Journal of the Royal Statistical Society Series B (Methodological)

57

1

1995

,

289-300

URL: http://dx.doi.org/10.2307/2346101

69

inproceedings

Implicit Differentiation of Lasso-Type Models for Hyperparameter Optimization

.

International Conference on Machine Learning (ICML)

2002.08943

online

April 2020

,

3199--3210

70

article

Post hoc confidence bounds on false positives using reference families

.

Ann. Statist.

48

3

06 2020

,

1281--1303

URL: https://doi.org/10.1214/19-AOS1847

71

phdthesis

Machine learning based on Hawkes processes and stochastic optimization

.

Université Paris Saclay (COmUE)

CMAP, École Polytechnique

2019

72

article

On the generation of sampling schemes for magnetic resonance imaging

.

SIAM Journal on Imaging Sciences

9

4

2016

,

2039--2072

73

article

Panning for gold: 'model-X' knockoffs for high dimensional controlled variable selection

.

Journal of the Royal Statistical Society: Series B (Statistical Methodology)

80

3

2018

,

551-577

URL: https://rss.onlinelibrary.wiley.com/doi/abs/10.1111/rssb.12265

74

article

Spatio-temporal wavelet regularization for parallel MRI reconstruction: application to functional MRI

.

Magnetic Resonance Materials in Physics, Biology and Medicine

27

6

2014

,

509--529

75

article

Globally optimized 3D SPARKLING trajectories for high-resolution T2*-weighted Magnetic Resonance Imaging

.

2020

76

inproceedings

A Deep Learning Architecture to Detect Events in EEG Signals During Sleep

.

2018 IEEE 28th International Workshop on Machine Learning for Signal Processing (MLSP)

Sept 2018

,

1-6

77

article

A projection algorithm for gradient waveforms design in Magnetic Resonance Imaging

.

IEEE Transactions on Medical Imaging

35

9

2016

,

2026--2039

78

article

The Visual Word Form Area (VWFA) Is Part of Both Language and Attention Circuitry

.

Nature Communications

10

1

December 2019

,

5601

79

inproceedings

Analysis vs synthesis-based regularization for combined compressed sensing and parallel MRI reconstruction at 7 Tesla

.

2018 26th European Signal Processing Conference (EUSIPCO)

IEEE

2018

,

36--40

80

article

Multivariate semi-blind deconvolution of fMRI time series

.

revised for publication to NeuroImage

April 2021

81

inproceedings

Learning to Solve TV Regularised Problems with Unrolled Algorithms

.

Advances in Neural Information Processing Systems (NeurIPS)

online

2020

82

inproceedings

Statistical Inference with Ensemble of Clustered Desparsified Lasso

.

MICCAI

Grenade, Spain

2018

83

article

Prediction of brain age suggests accelerated atrophy after traumatic brain injury

.

Annals of neurology

77

4

2015

,

571--581

84

inproceedings

A unified architecture for natural language processing: Deep neural networks with multitask learning

.

ICML

2008

,

160

85

inproceedings

Randaugment: Practical automated data augmentation with a reduced search space

.

IEEE/CVF Conference on Computer Vision and Pattern Recognition Workshops (CVPRW)

Seattle, WA, USA

IEEE

June 2020

,

3008--3017

URL: https://ieeexplore.ieee.org/document/9150790/

86

unpublished

Beyond brain age: Empirically-derived proxy measures of mental health

.

October 2020

,

working paper or preprint

87

book

Theory of Max-Min and Its Application to Weapons Allocation Problems.

.

OCLC: 953666019

Berlin/Heidelberg

Springer Berlin Heidelberg

1967

88

inproceedings

Off-resonance correction non-Cartesian SWI using internal field map estimation

.

29th Proc. of the ISMRM annual meeting

virtual

May 2021

89

incollection

What does classifying more than 10,000 image categories tell us?

ECCV

2010

,

71

90

article

BERT: Pre-training of Deep Bidirectional Transformers for Language Understanding

.

CoRR

abs/1810.04805

2018

, URL: http://arxiv.org/abs/1810.04805

91

article

Brain topography beyond parcellations: local gradients of functional maps

.

NeuroImage

January 2021

,

117706

92

article

Prediction of individual brain maturity using fMRI

.

Science

329

5997

2010

,

1358--1361

93

inproceedings

Multivariate Convolutional Sparse Coding for Electromagnetic Brain Signals

.

Advances in Neural Information Processing Systems (NeurIPS)

Montreal, Canada

2018

,

3296--3306

94

inproceedings

Online MR image reconstruction for compressed sensing acquisition in T2* imaging

.

Wavelets and Sparsity XVIII

11138

International Society for Optics and Photonics

2019

,

1113819

95

article

Calibration-Less Multi-Coil Compressed Sensing Magnetic Resonance Image Reconstruction Based on OSCAR Regularization

.

Journal of Imaging

7

3

2021

,

58

96

inproceedings

Self-calibrating nonlinear reconstruction algorithms for variable density sampling and parallel reception MRI

.

2018 IEEE 10th Sensor Array and Multichannel Signal Processing Workshop (SAM)

IEEE

2018

,

415--419

97

article

Combining magnetoencephalography with magnetic resonance imaging enhances learning of surrogate-biomarkers

.

eLife

9

may 2020

,

e54055

URL: https://doi.org/10.7554/eLife.54055

98

article

Robust EEG-based cross-site and cross-protocol classification of states of consciousness

.

Brain

141

11

2018

,

3179--3192

99

article

PySAP: Python Sparse Data Analysis Package for Multidisciplinary Image Processing

.

Astronomy and Computing

32

2020

,

100402

100

article

Deep Equilibrium Architectures for Inverse Problems in Imaging

.

arXiv preprint arXiv:2102.07944

2021

101

article

Functional brain age prediction suggests accelerated aging in preclinical familial Alzheimer's disease, irrespective of fibrillar amyloid-beta pathology

.

bioRxiv

2020

102

inproceedings

Learning Fast Approximations of Sparse Coding

.

Proceedings of the 27th International Conference on Machine Learning

2010

103

article

Point spectra of some mutually exciting point processes

.

Journal of the Royal Statistical Society: Series B (Methodological)

33

3

1971

,

438--443

104

article

FReM -- scalable and stable decoding with fast regularized ensemble of models

.

NeuroImage

2017

,

1-16

105

inproceedings

Complex Coordinate-Based Meta-Analysis with Probabilistic Programming

.

Association for the Advancement of Artificial Intelligence

Online, France

February 2021

106

inproceedings

Cytoarchitecture Measurements in Brain Gray Matter using Likelihood-Free Inference

.

Rø

June 2021

107

inproceedings

Group Level MEG/EEG Source Imaging via Optimal Transport: Minimum Wasserstein Estimates

.

Information Processing in Medical Imaging

Cham

Springer International Publishing

2019

,

743--754

108

inproceedings

Wasserstein regularization for sparse multi-task regression

.

AISTATS

89

Proceedings of Machine Learning Research

PMLR

April 2019

,

1407--1416

URL: http://proceedings.mlr.press/v89/janati19a.html

109

inproceedings

Learning the Morphology of Brain Signals Using Alpha-Stable Convolutional Sparse Coding

.

Advances in Neural Information Processing Systems (NeurIPS)

Long Beach, CA, USA

2017

,

1099--1108

110

article

Confidence Intervals and Hypothesis Testing for High-Dimensional Regression

.

15

1

January 2014

,

2869–2909

111

unpublished

On the consistency of supervised learning with missing values

.

March 2019

,

working paper or preprint

112

article

Why has it taken so long for biological psychiatry to develop clinical tests and what to do about it?

Molecular Psychiatry

17

12

2012

,

1174--1179

113

article

Encoding and Decoding Framework to Uncover the Algorithms of Cognition

.

The Cognitive Neurosciences VI, MIT Press

in press

2020

114

article

Data augmentation for deep-learning-based electroencephalography

.

Journal of Neuroscience Methods

346

2020

,

108885

URL: https://www.sciencedirect.com/science/article/pii/S0165027020303083

115

article

SPARKLING: variable-density k-space filling curves for accelerated T2*-weighted MRI

.

Magnetic Resonance in Medicine

81

6

2019

,

3643--3661

116

article

3D variable-density SPARKLING trajectories for high-resolution T2*-weighted Magnetic Resonance imaging

.

NMR in Biomedicine

33

e4349

2020

,

1--12

117

inproceedings

Data-driven Data Augmentation for Motor Imagery Brain-Computer Interface

.

2021 International Conference on Information Networking (ICOIN)

ISSN: 1976-7684

January 2021

,

683--686

118

article

Predicting brain-age from multimodal imaging data captures cognitive impairment

.

NeuroImage

148

2017

,

179--188

119

misc

Fast and Powerful Conditional Randomization Testing via Distillation

.

2020

120

article

Signal Processing Approaches to Minimize or Suppress Calibration Time in Oscillatory Activity-Based Brain-Computer Interfaces

.

Proc. of the IEEE

103

6

2015

,

871-890

121

article

Causal Effect Inference with Deep Latent-Variable Models

.

arXiv e-prints

May 2017

,

arXiv:1705.08821

122

article

Online Learning for Matrix Factorization and Sparse Coding

.

Journal of Machine Learning Research (JMLR)

11

1

2010

,

19--60

123

inproceedings

Celer: a Fast Solver for the Lasso with Dual Extrapolation

.

Proceedings of the 35th International Conference on Machine Learning

80

2018

,

3321--3330

URL: https://arxiv.org/abs/1802.07481

124

article

Dual Extrapolation for Sparse GLMs

.

Journal of Machine Learning Research

21

234

2020

,

1-33

URL: http://jmlr.org/papers/v21/19-587.html

125

article

Microstructural Organization of Human Insula Is Linked to Its Macrofunctional Circuitry and Predicts Cognitive Control

.

eLife

9

June 2020

,

e53470

126

inproceedings

Learning Neural Representations of Human Cognition across Many fMRI Studies

.

NIPS

Long Beach, United States

December 2017

127

article

Stochastic Subsampling for Factorizing Huge Matrices

.

IEEE Transactions on Signal Processing

66

1

January 2018

,

113--128

128

inproceedings

Shuffle and learn: unsupervised learning using temporal order verification

.

ECCV

Springer

2016

,

527--544

129

article

DiCoDiLe: Distributed Convolutional Dictionary Learning

.

Transaction on Pattern Analysis and Machine Intelligence (TPAMI)

in press

2020

130

inproceedings

DICOD: Distributed Convolutional Sparse Coding

.

International Conference on Machine Learning (ICML)

Stockohlm, Sweden

PMLR (80)

2018

,

3626--3634

131

article

Results of the 2020 fastMRI challenge for machine learning mr image reconstruction

.

IEEE transactions on medical imaging

40

9

2021

,

2306--2317

132

article

Human Neocortical Neurosolver (HNN), a new software tool for interpreting the cellular and network origin of human MEG/EEG data

.

eLife

9

jan 2020

,

e51214

URL: https://doi.org/10.7554/eLife.51214

133

inproceedings

Aggregation of Multiple Knockoffs

.

ICML 2020 - 37th International Conference on Machine Learning

Proceedings of the ICML 37th International Conference on Machine Learning,

119

Vienne / Virtual, Austria

July 2020

134

inproceedings

ECKO: Ensemble of Clustered Knockoffs for robust multivariate inference on MRI data

.

IPMI

June 2019

135

article

Quasi-Oracle Estimation of Heterogeneous Treatment Effects

.

ArXiv e-prints

December 2017

,

arXiv:1712.04912

136

inproceedings

DeepDive: Web-scale Knowledge-base Construction using Statistical Learning and Inference.

.

VLDS

2012

,

25

137

inproceedings

Unsupervised learning of visual representations by solving jigsaw puzzles

.

ECCV

Springer

2016

,

69--84

138

article

Representation learning with contrastive predictive coding

.

arXiv e-prints

2018

139

misc

Lecture notes in Statistical analysis of neural data course: Chapter 2 -- Introduction to Point Processes

.

September 2019

140

article

Data Augmentation with Manifold Exploring Geometric Transformations for Increased Performance and Robustness

.

arXiv e-prints

January 2019

141

inproceedings

PyTorch: An Imperative Style, High-Performance Deep Learning Library

.

Advances in Neural Information Processing Systems (NeurIPS)

Vancouver, BC, Canada

2019

,

12

142

article

Active MR k-space Sampling with Reinforcement Learning

.

Lecture Notes in Computer Science (including subseries Lecture Notes in Artificial Intelligence and Lecture Notes in Bioinformatics)

12262 LNCS

2020

,

23--33

143

article

Subject-specific segregation of functional territories based on deep phenotyping

.

Human Brain Mapping

December 2020

144

article

Individual Brain Charting dataset extension, second release of high-resolution fMRI data for cognitive mapping

.

Scientific Data

7

1

October 2020

145

inproceedings

Density Compensated Unrolled Networks for Non-Cartesian MRI Reconstruction

.

ISBI 2021 - International Symposium on Biomedical Imaging

2021

, URL: http://arxiv.org/abs/2101.01570

146

conference

XPDNet for MRI Reconstruction: an application to the 2020 fastMRI challenge

.

ISMRM

2021

147

inproceedings

HNPE: Leveraging Global Parameters for Neural Posterior Estimation

.

Advances in Neural Information Processing Systems (NeurIPS)

December 2021

148

article

All-Resolutions Inference for brain imaging

.

Neuroimage

181

11 2018

,

786--796

149

article

Deep learning-based electroencephalography analysis: a systematic review

.

Journal of Neural Engineering

16

5

aug 2019

,

051001

URL: https://doi.org/10.1088/1741-2552/ab260c

150

article

Estimating causal effects of treatments in randomized and nonrandomized studies.

.

Journal of educational Psychology

66

5

1974

,

688

151

article

Manifold-regression to predict from MEG/EEG brain signals without source modeling

.

arXiv preprint arXiv:1906.02687

2019

152

article

Predictive regression modeling with MEG/EEG: from source power to signals and cognitive states

.

NeuroImage

222

2020

,

116893

153

article

The Virtual Brain: a simulator of primate brain network dynamics

.

Frontiers in Neuroinformatics

7

2013

,

10

URL: https://www.frontiersin.org/article/10.3389/fninf.2013.00010

154

article

Estimation of brain age delta from brain imaging

.

NeuroImage

2019

155

article

How old are you, really? Communicating chronic risk through 'effective age'of your body and organs

.

BMC medical informatics and decision making

16

1

2016

,

1--6

156

inproceedings

Probabilistic Databases for All

.

Proceedings of the 39th ACM SIGMOD-SIGACT-SIGAI Symposium on Principles of Database Systems

Portland OR USA

ACM

June 2020

,

19--31

157

article

CP-Logic: A Language of Causal Probabilistic Events and Its Relation to Logic Programming

.

Theory and Practice of Logic Programming

9

3

May 2009

,

245--308

158

article

The White Matter Query Language: A Novel Approach for Describing Human White Matter Anatomy.

.

Brain Structure and Function

January 2016

159

article

Reducing Uncertainty in Undersampled MRI Reconstruction with Active Acquisition

.

February 2019

, URL: http://arxiv.org/abs/1902.03051