2022
Activity report
Project-Team
SYCOMORES
In partnership with:
Université de Lille, CNRS
Team name:
Symbolic analysis and Component-based design for Modular Real-Time Embedded Systems
In collaboration with:
Centre de Recherche en Informatique, Signal et Automatique de Lille
Domain
Algorithmics, Programming, Software and Architecture
Theme
Embedded and Real-time Systems
Creation of the Project-Team: 2021 October 01
Keywords
A2.1.9.

Synchronous languages

A2.3.1.

Embedded systems

A2.3.3.

Real-time systems

A2.4.1.

Analysis

A2.4.3.

Proofs

A2.6.1.

Operating systems

A7.2.

Logic in Computer Science
1
Team members, visitors, external collaborators
Research Scientists
Patrick

Baillot

[

CNRS

,

Senior Researcher

]

Raphaël

Monat

[

Inria

,

Researcher

,

from Sep 2022

]

Vlad

Rusu

[

Inria

,

Researcher

,

HDR

]
Faculty Members
Giuseppe

Lipari

[

Team leader

,

UNIV LILLE

,

Professor

]

Clément

Ballabriga

[

UNIV LILLE

,

Associate Professor

]

Julien

Forget

[

UNIV LILLE

,

Associate Professor

]
Post-Doctoral Fellow
Leandro

Moreira Gomes

[

UNIV LILLE

,

from Jun 2022

]
PhD Students
Fabien

Bouquillon

[

UNIV LILLE

,

until Oct 2022

]

Nordine

Feddal

[

Inria

,

from Nov 2022

]

Frédéric

Fort

[

UNIV LILLE

,

until Oct 2022

]

Sandro

Grebant

[

UNIV LILLE

]

Ikram

Senoussaoui

[

UNIV LILLE

,

ATER

]
2
Overall objectives
The SYCOMORES project-team aims at developing a framework for the design and the analysis of embedded real-time systems based on symbolic analysis of parametric components.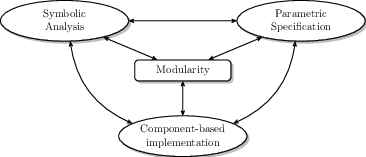 To reduce the complexity, we will use a modular approach to the design, development and analysis of ERTS. In particular, we will decline modularity along several directions (Figure 1):
a

component-based design and development

methodology; a ERTS system is decomposed in generic, configurable and reusable components that can be combined and instantiated in the final system;

parametric specification

of inputs, configurations and properties; a component is characterised by its interface that will be specified using parameters whose concrete values are unknown at design time;

symbolic analysis

of components; by using symbolic techniques, the properties of a component will be proved correct at design time even when parameters have unknown values.
Finally, we will propose composition operators to integrate a set of components into a larger component, or into a complete system. The operators will allow to (partially or totally) instantiate parameters and connect component interfaces guaranteeing their compatibility and preserving their properties.
To this end, we will investigate several challenging problems at three different levels of abstraction, as shown in Figure 2. At the application level, we will focus on multi-rate data-flow programming languages like Scade  20, Simulink  34, or in our case Prelude35, as they are widely used in safety-critical domains like avionics and automotive. We want to tackle the notions of component, parametric interfaces and contracts in the ERTS context. We will investigate modular code generation (compilation) of a synchronous component (as opposed to a synchronous program) with real-time constraints. In the long term, we would like to prove the semantic preservation of properties of the program during compilation by using interactive proof systems.
The compiler will produce the component implementation as a set of concurrent real-time tasks with their scheduling parameters. At this level, we will work on parametric and modular worst-case execution time (WCET) analysis of tasks' code, and symbolic schedulability analysis of the components' tasks. We will also work on analysis of the correctness of system integration, and safe dynamic replacement/upgrade of components.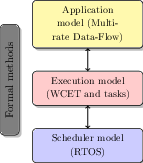 At the lowest level, we will work on the scheduler implementation in the Operating System. We will propose a hierarchical scheduling architecture, in order to provide temporal isolation to real-time components. We will formally prove the scheduler properties by using modular proof techniques in the Coq proof assistat 40, and we will provide a correct-by construction implementation of the scheduler by using code generation techniques from a Coq program specification.
As a cross-cutting activity, since safety will be a prime concern in our project, we will rely on formal methods throughout the project: synchronous programming languages, abstract interpretation, symbolic analyses and proof techniques. Our research objectives will be tightly coupled to ensure the safety of the final framework.
For instance, our tools and techniques will share proof facts (e.g. timing analysis is correct only if schedulability analysis and WCET analysis are both correct), models (e.g. the schedulability analysis, programming language and WCET analysis must share the same task model), and results (e.g. the WCET and schedulability results will impact the program design).
3
Research program
We detail the objectives by categorising them according to 3 major research axes. Within each axis, we distinguish Short Term (1-3 years) and Medium Term (2-4 years) objectives, and we describe how we will achieve them. We also detail how the objectives are related to one another. Finally, we present our Long Term (4+ years) objectives.
4
Application domains
The long term research we propose to pursue in this project will advance the current development practice for embedded real-time critical systems.
First, it will impact the design and development of critical software for domains like avionics, automotive, train, etc. It is well known that developing safety-critical software is a long and costly process, where each error could endanger human life. It has been estimated that the cost to certify 30K lines of DAL A code is around 2M $ if the code has been developed by experienced programmers, and it jumps to 8M$ if the code has been produced by non-experienced ones.
The avionic industry is slowly adopting formal methods to reduce the cost by reducing (or, in certain cases, eliminating altogether) testing and improve confidence in the methodology. Our integrated framework (L1) will greatly reduce the development cost of safety-critical software because it will automatise many of the steps in the design and development methodology. For example, the use of semantic preserving transformations (L2, L3) will enhance the confidence in the correctness of the generated code, reducing the need for extensive testing, thus further reducing cost.
Other critical domains, like automotive, have not yet fully adopted safety-critical standard methodologies like in the avionic domain, mainly for cost reasons. Our framework will lower the cost of developing safety critical software, thus improving the safety of critical software in a wider range of domains.
Finally, thanks to the research in (L4), it will be possible to update a software component on-line without performing a complete analysis of the system, while the system is operational. An example of futuristic application will be the possibility to update one software subsystem of an autonomous vehicle while the vehicle is running, without compromising its functionality.
5
Highlights of the year
In September 2022 Raphaël Monat has joined the team as Chargé de Recherche (Researcher). His research interests include abstract interpretation, language and compilers, formal methods. He will reinforce the Axis 2: Static Analysis of RT components.
Two students defended their PhD in October 2022:
Fréderic Fort defended his thesis

Programmation de systèmes temps réel adaptatifs

17; He was supervised by

Giuseppe

Lipari

and

Julien

Forget

.
Fabien Bouquillon defended his thesis

Améliorer la fiabilité des architectures multicœurs hétérogènes pour les systèmes de transport intelligents

16. He was supervised by

Giuseppe

Lipari

and

Smail

Niar

.
Two new PhD students joined the team in October 2022: Andrei Florea under the direction of Vlad Rusu and Julien Forget ; and Nordine Feddal under the direction of Giuseppe Lipari .
Leandro Moreira Gomes , a new post-doctoral fellow, joined our team in June 2022, to work with Patrick Baillot on the application of dynamic logic to differential privacy. His stay is funded by an I-SITE project of the University of Lille.
On the 10th of June 2022 Prof. Sanjoy Baruah of the University of Washington at Saint Louis (USA) visited our team to present his recent work on real-time scheduling. We discussed the possibility of future research collaborations.
On September 23rd 2022 Prof. Luis Soares Barbosa of the University of Minho (Portugal) visited our team and presented his work on dynamic logic. We exchanged ideas and discussed possible future collaborations.
In Fall 2022, Raphaël Monat participated to the Software Verification Competition (SV-Comp) by submitting the Mopsa static analyzer he is co-developing. Mopsa earned a bronze medal in the SoftwareSystems category. There were 19 competing tools in this category and the gold medal winner has been competing for 7 years. This is the first French participation to this competition.
6
New software and platforms
6.1
New software
6.1.1
otawa
Keywords:

Static analysis, WCET

Functional Description:

Otawa is an open source static analysis tool developed and maintained by the TRACES team at the University of Toulouse and co-developed by the team SYCOMORES at Inria lille Nord-Europe. Specifically, SYCOMORES has developed two plugins for OTAWA: Polymalys, for polyhedra-based analysis and loop bound estimation, and WSymb, a Control Flow Tree extractor and symbolic WCET evaluator.

URL:

Contact:

Clément Ballabriga

Partner:

Université de Toulouse
6.1.2
prelude
Keywords:

Synchorous language, Real time

Functional Description:

Prelude is a synchronous data-flow language with real-time constraints, designed by Julien Forget. Prelude programs are compiled into muli-thread C code. The language and its compiler are developed in collaboration with ONERA Toulouse. Prelude is currently being extended to support adaptive applications.

URL:

Contact:

Julien Forget
6.1.3
ptask
Keywords:

Real time, Library

Functional Description:

PTASK is a library for programming real-time systems in Linux. It serves as the target RTOS API in the SYCOMORES project. The PTASK library is authored by Giuseppe Lipari. It has been initially developed to support teaching real-time systems at the Scuola Sant'Anna. It has later been extended with additional capabilities and it is being used as target for design tools such as CPAL19 from RTaW20 and by other companies.

URL:

Contact:

Giuseppe Lipari
6.1.4
Catala
Keywords:

Domain specific, Programming language, Law

Functional Description:

Catala is a domain-specific programming language designed for deriving correct-by-construction implementations from legislative texts. Its specificity is that it allows direct translation from the text of the law using a literate programming style, that aims to foster interdisciplinary dialogue between lawyers and software developers. By enjoying a formal specification and a proof-oriented design, Catala also opens the way for formal verification of programs implementing legislative specifications.

Release Contributions:

Changelog:

- Performance improvements - Better error message formatting - New Markdown syntax - Better lexer factorization - ...

URL:

Publications:

Contact:

Denis Merigoux

Partner:

Université Panthéon-Sorbonne
6.1.5
dates-calc
Keywords:

Law, Programming language

Functional Description:

A date calculation library with a well-defined semantics

URL:

Contact:

Raphael Monat
6.1.6
Mopsa
Keywords:

Formal methods, Static analysis, Abstraction

Functional Description:

Mopsa is an open-source static analysis platform relying on abstract interpretation. It provides a novel way to combine abstract domains, in order to offer extensibility and cooperation between them, which is especially beneficial when relational numerical domains are used. It is able to analyze C, Python, and programs mixing these two languages. Mopsa was originally developed at LIP6, Sorbonne Université following an ERC Consolidator Grant award to Antoine Miné. It is now partially developed at Inria.

URL:

Contact:

Antoine Miné

Partner:

Sorbonne Université
8
Dissemination
8.1
Promoting scientific activities
8.1.1
Scientific events
Chair of conference program committees
Vlad Rusu was chair of the FROM 2022 conference (Working Formal Methods Symposium).
Patrick Baillot was co-chair of the LCC 2022 workshop (Logic and Computational Complexity).
Member of conference program committees
Patrick

Baillot

has been in the program committee of FoSSaCS 2023 (PC);

Julien

Forget

has been in the program committee of DATE 2022 (PC), RTNS 2022 (PC);

Giuseppe

Lipari

has been in the program committee of RTNS 2022 (PC), ISPDC 2022 (PC), Microservices 2022 (PC), EDiS 2022 (PC);

Raphaël

Monat

has been in the program committee of SAS 2022 (PC), SV-COMP 2023 (PC), as well as the artefact evaluation and external review committees of OOPSLA 2023 (AEC+ERC), ECOOP 2023 (AEC+ERC).
8.1.2
Journal
Member of the editorial boards
Giuseppe

Lipari

is member of the editorial board of the Journal of System Architecture (Online ISSN: 1873-6165), and of the Real-Time Systems Journal (Online ISSN: 1573-1383).
8.2
Supervision - Juries
8.2.1
Supervision
Leandro Moreira Gomes (postdoc) is supervised by Patrick Baillot. Fabien Bouquillon (PhD student until Oct. 2022) was supervised by Giuseppe Lipari. Frédéric Fort (PhD student until Oct. 2022) was supervised by Giuseppe Lipari and Julien Forget. Sandro Grebant (PhD student) is also supervised by Giuseppe Lipari and Julien Forget. Nordine Feddal (PhD student) and Ikram Senoussaoui (ATER) are supervised by Giuseppe Lipari. Andrei Florea (PhD student) is supervised by Julien Forget and Vlad Rusu.
8.2.2
Juries
Giuseppe

Lipari

has been president of the PhD thesis committee of Guillame Fieni, who defended on Decembre 15th 2022 at INRIA Lille.
9
Scientific production
9.1
Major publications
1

article

Relational abstract interpretation of arrays in assembly code

.

Formal Methods in System Design

October 2022

2

article

Reducing the fault vulnerability of hard real-time systems

.

Journal of Systems Architecture

133

December 2022

,

102758

3

inproceedings

A Formal Correctness Proof for an EDF Scheduler Implementation

.

Proc. 28th IEEE Real-Time and Embedded Technology and Applications Symposium

RTAS 2022: 28th IEEE Real-Time and Embedded Technology and Applications Symposium

Milan, Italy

May 2022
9.2
Publications of the year
9.3
Cited publications
20

misc

SCADE Suite

.

2018

21

article

Resource Reservations for General Purpose Applications

.

IEEE Trans. Ind. Informatics

5

1

2009

,

12--21

URL: https://doi.org/10.1109/TII.2009.2013633

22

inproceedings

Static Analysis Of Binary Code With Memory Indirections Using Polyhedra

.

International Conference on Verification, Model Checking, and Abstract Interpretation (VMCAI'19)

Lisbon, Portugal

1 2019

23

article

Symbolic WCET Computation

.

ACM Transactions on Embedded Computing Systems (TECS)

17

2

December 2017

,

1--26

24

inproceedings

Resource-Efficient Execution of Conditional Parallel Real-Time Tasks

.

Euro-Par 2018: Parallel Processing

Cham

Springer International Publishing

2018

,

218--231

25

article

The space of EDF deadlines: the exact region and a convex approximation

.

Real-Time Systems

41

1

2009

,

27--51

26

article

Sensitivity analysis for fixed-priority real-time systems

.

Real-Time Systems

39

1-3

2008

,

5--30

27

inproceedings

A formally verified compiler for Lustre

.

ACM SIGPLAN Notices

52

6

ACM

2017

,

586--601

28

inproceedings

Disjunctive relational abstract interpretation for interprocedural program analysis

.

International Conference on Verification, Model Checking, and Abstract Interpretation

Springer

2019

,

136--159

29

inproceedings

Predictable flight management system implementation on a multicore processor

.

Embedded Real Time Software (ERTS'14)

2014

30

inproceedings

Communication Centric Design in Complex Automotive Embedded Systems

.

29th Euromicro Conference on Real-Time Systems (ECRTS 2017)

Dubrovnik, Croatia

2017

31

misc

The CompCert C verified compiler

.

2018

32

inproceedings

Greedy reclamation of unused bandwidth in constant-bandwidth servers

.

12th Euromicro Conference on Real-Time Systems (ECRTS 2000), 19-21 June 2000, Stockholm, Sweden, Proceedings

IEEE Computer Society

2000

,

193--200

URL: https://doi.org/10.1109/EMRTS.2000.854007

33

inproceedings

Resource Partitioning among Real-Time Applications

.

Proc. 15th Euromicro Conf. Real-Time Systems

IEEE Computer Society

2003

,

151--158

34

misc

Simulink

.

2018

35

article

Multi-task implementation of multi-periodic synchronous programs

.

Discrete Event Dynamic Systems

21

3

2011

,

307-338

36

inproceedings

Automated generation of time-predictable executables on multi-core

.

RTNS 2018

October 2018

37

inproceedings

A predictable execution model for COTS-based embedded systems

.

Real-Time and Embedded Technology and Applications Symposium (RTAS)

IEEE

2011

38

inproceedings

A general approach for expressing infeasibility in implicit path enumeration technique

.

2014 International Conference on Embedded Software (EMSOFT)

IEEE

2014

,

1--9

39

article

Parallel Real-Time Scheduling of DAGs

.

IEEE Transactions on Parallel and Distributed Systems

25

12

12 2014

,

3242-3252

40

misc

The Coq proof assistant reference manual

.

2021

41

misc

The Pip protokernel

.

2018