2020
Activity report
Project-Team
DIVERSE
In partnership with:
CNRS, Institut national des sciences appliquées de Rennes, Université Rennes 1
Team name:
Diversity-centric Software Engineering
In collaboration with:
Institut de recherche en informatique et systèmes aléatoires (IRISA)
Domain
Networks, Systems and Services, Distributed Computing
Theme
Distributed programming and Software engineering
Creation of the Team: 2014 January 01, updated into Project-Team: 2014 July 01
Keywords
A1.2.1.

Dynamic reconfiguration

A1.3.1.

Web

A1.3.6.

Fog, Edge

A2.1.3.

Object-oriented programming

A2.1.10.

Domain-specific languages

A2.5.

Software engineering

A2.5.1.

Software Architecture & Design

A2.5.2.

Component-based Design

A2.5.3.

Empirical Software Engineering

A2.5.4.

Software Maintenance & Evolution

A2.5.5.

Software testing

A2.6.2.

Middleware

A2.6.4.

Ressource management

A4.4.

Security of equipment and software

A4.8.

Privacy-enhancing technologies
B3.1.

Sustainable development

B3.1.1.

Resource management

B6.1.

Software industry

B6.1.1.

Software engineering

B6.1.2.

Software evolution, maintenance

B6.4.

Internet of things

B6.5.

Information systems

B6.6.

Embedded systems

B8.1.2.

Sensor networks for smart buildings

B9.5.1.

Computer science

B9.10.

Privacy
1
Team members, visitors, external collaborators
Research Scientists
Djamel Eddine

Khelladi

[

CNRS

,

Researcher

]

Olivier

Zendra

[

Inria

,

Researcher

,

from Oct 2020

]
Faculty Members
Olivier

Barais

[

Team leader

,

Univ de Rennes I

,

Professor

,

HDR

]

Mathieu

Acher

[

Univ de Rennes I

,

Associate Professor

]

Arnaud

Blouin

[

INSA Rennes

,

Associate Professor

,

HDR

]

Johann

Bourcier

[

Univ de Rennes I

,

Associate Professor

,

HDR

]

Stéphanie

Challita

[

Univ de Rennes I

,

Associate Professor

,

from Sep 2020

]

Benoit

Combemale

[

Univ de Rennes I

,

Professor

,

HDR

]

Jean-Marc

Jezequel

[

Univ de Rennes I

,

Professor

,

HDR

]

Noel

Plouzeau

[

Univ de Rennes I

,

Associate Professor

]
Post-Doctoral Fellows
Juliana

Alves Pereira

[

Univ de Rennes I

,

until Feb 2020

]

Raounak

Benabidallah

[

Univ de Rennes I

,

from Sep 2020

]

Dorian

Leroy

[

Inria

,

from Mar 2020

]

Xhevahire

Ternava

[

Univ de Rennes I

,

from Oct 2020

]

Oscar Luis

Vera Perez

[

Univ de Rennes I

,

from Jan 2020

]

Nan

Zhang Messe

[

Univ de Rennes I

,

from Sep 2020

]
PhD Students
June

Benvegnu-Sallou

[

Univ de Rennes I

]

Anne

Bumiller

[

Orange

,

CIFRE

,

from Oct 2020

]

Emmanuel

Chebbi

[

Inria

]

Antoine

Cheron

[

Zengularity SAS

,

CIFRE

]

Fabien

Coulon

[

Obeo

,

CIFRE

]

Jean-Emile

Dartois

[

Institut de recherche technologique B-com

,

until Feb 2020

]

Cassius

De Oliveira Puodzius

[

Inria

,

from Oct 2020

]

Pierre

Jeanjean

[

Inria

]

Gwendal

Jouneaux

[

Univ de Rennes I

,

from Oct 2020

]

Quentin

Le Dilavrec

[

Univ de Rennes I

,

from Oct 2020

]

Dorian

Leroy

[

Université de Vienne - Autriche

,

until Jan 2020

]

Luc

Lesoil

[

Univ de Rennes I

]

Gauthier

Lyan

[

Keolis

,

CIFRE

]

Hugo

Martin

[

Univ de Rennes I

]

Lamine

Noureddine

[

Inria

,

from Oct 2020

]

Alif Akbar

Pranata

[

Inria

]

Alexandre

Rio

[

Univ de Rennes I

,

from Mar 2020 until Apr 2020

]
Technical Staff
Didier

Vojtisek

[

Inria

,

Engineer

]
Interns and Apprentices
Janice

Conquet

[

Univ de Rennes I

,

from Feb 2020 until Jul 2020

]

Philemon

Houdaille

[

Univ de Rennes I

,

from Jun 2020 until Aug 2020

]

Gwendal

Jouneaux

[

Inria

,

from Feb 2020 until Aug 2020

]

Quentin

Le Dilavrec

[

Inria

,

from Feb 2020 until Jul 2020

]

Corentin

Ollivier

[

Univ de Rennes I

,

from Jun 2020 until Sep 2020

]

Georges Aaron

Randrianaina

[

Univ de Rennes I

,

from Jun 2020 until Aug 2020

]
Visiting Scientists
Nelly

Bencomo

[

Aston University

,

from January 2020 until Jun 2020

]

Gunter

Mussbacher

[

Université de Montréal - Canada

,

from Mar 2020 until Jun 2020

]
2
Overall objectives
2.1
Overall objectives
DIVERSE's research agenda targets core values of software engineering. In this fundamental domain we focus and develop models, methodologies and theories to address major challenges raised by the emergence of several forms of diversity in the design, deployment and evolution of software-intensive systems. Software diversity has emerged as an essential phenomenon in all application domains born by our industrial partners. These application domains range from complex systems brought by systems of systems (addressed in collaboration with Thales, Safran, CEA and DGA) and Instrumentation and Control (addressed with EDF) to pervasive combinations of Internet of Things and Internet of Services (addressed with TellU and Orange) and tactical information systems (addressed in collaboration with civil security). Today these systems seem to be radically all different, but we envision a strong convergence of the scientific principles that underpin their construction and validation, bringing forwards sane and reliable methods for the design of flexible and open yet dependable systems. Flexibility and openness are both critical and challenging software layer properties that must deal with the following four dimensions of diversity: diversity of languages, used by the stakeholders involved in the construction of these systems; diversity of features, required by the different customers; diversity of runtime environments, in which software has to run and adapt; diversity of implementations, which are necessary for resilience by redundancy.
In this context, the central software engineering challenge consists in handling diversity from variability in requirements and design to heterogeneous and dynamic execution environments. In particular, this requires considering that the software system must adapt, in unpredictable yet valid ways, to changes in the requirements and environment. Conversely, explicitly handling diversity is a great opportunity to allow software to spontaneously explore alternative design solutions. Concretely, we want to provide software engineers with the following abilities:
to characterize an "envelope" of possible variations;
to compose envelopes (to discover new macro envelopes in an opportunistic manner);
to dynamically synthesize software inside a given envelop.
The major scientific objective that we must achieve to provide such mechanisms for software engineering is summarized below:
Scientific objective for DIVERSE: To automatically compose and synthesize software diversity from design to runtime to address unpredictable evolution of software-intensive systems
Software product lines and associated variability modeling formalisms represent an essential aspect of software diversity, which we already explored in the past, and this aspect stands as a major foundation of DIVERSE's research agenda. However, DIVERSE also exploits other foundations to handle new forms of diversity: type theory and models of computation for the composition of languages; distributed algorithms and pervasive computation to handle the diversity of execution platforms; functional and qualitative randomized transformations to synthesize diversity for robust systems.
3
Research program
3.1
Scientific background
3.2
Model-Driven Engineering
Model-Driven Engineering (MDE) aims at reducing the accidental complexity associated with developing complex software-intensive systems (e.g., use of abstractions of the problem space rather than abstractions of the solution space)  112. It provides DIVERSE with solid foundations to specify, analyze and reason about the different forms of diversity that occur through the development lifecycle. A primary source of accidental complexity is the wide gap between the concepts used by domain experts and the low-level abstractions provided by general-purpose programming languages  83. MDE approaches address this problem through modeling techniques that support separation of concerns and automated generation of major system artifacts from models (e.g., test cases, implementations, deployment and configuration scripts). In MDE, a model describes an aspect of a system and is typically created or derived for specific development purposes  66. Separation of concerns is supported through the use of different modeling languages, each providing constructs based on abstractions that are specific to an aspect of a system. MDE technologies also provide support for manipulating models, for example, support for querying, slicing, transforming, merging, and analyzing (including executing) models. Modeling languages are thus at the core of MDE, which participates in the development of a sound Software Language Engineering  1, including a unified typing theory that integrate models as first class entities  115.
Incorporating domain-specific concepts and high-quality development experience into MDE technologies can significantly improve developer productivity and system quality. Since the late nineties, this realization has led to work on MDE language workbenches that support the development of domain-specific modeling languages (DSMLs) and associated tools (e.g., model editors and code generators). A DSML provides a bridge between the field in which domain experts work and the implementation (programming) field. Domains in which DSMLs have been developed and used include, among others, automotive, avionics, and the emerging cyber-physical systems. A study performed by Hutchinson et al.  89 indicates that DSMLs can pave the way for wider industrial adoption of MDE.
More recently, the emergence of new classes of systems that are complex and operate in heterogeneous and rapidly changing environments raises new challenges for the software engineering community. These systems must be adaptable, flexible, reconfigurable and, increasingly, self-managing. Such characteristics make systems more prone to failure when running and thus development and study of appropriate mechanisms for continuous design and runtime validation and monitoring are needed. In the MDE community, research is focused primarily on using models at design, implementation, and deployment stages of development. This work has been highly productive, with several techniques now entering a commercialization phase. As software systems are becoming more and more dynamic, the use of model-driven techniques for validating and monitoring runtime behavior is extremely promising  98.
3.3
Variability modeling
While the basic vision underlying Software Product Lines (SPL) can probably be traced back to David Parnas' seminal article  105 on the Design and Development of Program Families, it is only quite recently that SPLs are emerging as a paradigm shift towards modeling and developing software system families rather than individual systems  102. SPL engineering embraces the ideas of mass customization and software reuse. It focuses on the means of efficiently producing and maintaining multiple related software products, exploiting what they have in common and managing what varies among them.
Several definitions of the software product line concept can be found in the research literature. Clements et al. define it as a set of software-intensive systems sharing a common, managed set of features that satisfy the specific needs of a particular market segment or mission and are developed from a common set of core assets in a prescribed way  103. Bosch provides a different definition 72: A SPL consists of a product line architecture and a set of reusable components designed for incorporation into the product line architecture. In addition, the PL consists of the software products developed using the mentioned reusable assets. In spite of the similarities, these definitions provide different perspectives of the concept: market-driven, as seen by Clements et al., and technology-oriented for Bosch.
SPL engineering is a process focusing on capturing the commonalities (assumptions true for each family member) and variability (assumptions about how individual family members differ) between several software products  78. Instead of describing a single software system, a SPL model describes a set of products in the same domain. This is accomplished by distinguishing between elements common to all SPL members, and those that may vary from one product to another. Reuse of core assets, which form the basis of the product line, is key to productivity and quality gains. These core assets extend beyond simple code reuse and may include the architecture, software components, domain models, requirements statements, documentation, test plans or test cases.
The SPL engineering process consists of two major steps:
Domain Engineering

, or

development for reuse

, focuses on core assets development.

Application Engineering

, or

development with reuse

, addresses the development of the final products using core assets and following customer requirements.
Central to both processes is the management of variability across the product line  85. In common language use, the term variability refers to the ability or the tendency to change. Variability management is thus seen as the key feature that distinguishes SPL engineering from other software development approaches  73. Variability management is thus growingly seen as the cornerstone of SPL development, covering the entire development life cycle, from requirements elicitation  117 to product derivation  122 to product testing  101, 100.
Halmans et al.  85 distinguish between essential and technical variability, especially at requirements level. Essential variability corresponds to the customer's viewpoint, defining what to implement, while technical variability relates to product family engineering, defining how to implement it. A classification based on the dimensions of variability is proposed by Pohl et al.  107: beyond variability in time (existence of different versions of an artifact that are valid at different times) and variability in space (existence of an artifact in different shapes at the same time) Pohl et al. claim that variability is important to different stakeholders and thus has different levels of visibility: external variability is visible to the customers while internal variability, that of domain artifacts, is hidden from them. Other classification proposals come from Meekel et al.  95 (feature, hardware platform, performances and attributes variability) or Bass et al.  64 who discusses about variability at the architectural level.
Central to the modeling of variability is the notion of feature, originally defined by Kang et al. as: a prominent or distinctive user-visible aspect, quality or characteristic of a software system or systems  91. Based on this notion of feature, they proposed to use a feature model to model the variability in a SPL. A feature model consists of a feature diagram and other associated information: constraints and dependency rules. Feature diagrams provide a graphical tree-like notation depicting the hierarchical organization of high level product functionalities represented as features. The root of the tree refers to the complete system and is progressively decomposed into more refined features (tree nodes). Relations between nodes (features) are materialized by decomposition edges and textual constraints. Variability can be expressed in several ways. Presence or absence of a feature from a product is modeled using mandatory or optional features. Features are graphically represented as rectangles while some graphical elements (e.g., unfilled circle) are used to describe the variability (e.g., a feature may be optional).
Features can be organized into feature groups. Boolean operators exclusive alternative (XOR), inclusive alternative (OR) or inclusive (AND) are used to select one, several or all the features from a feature group. Dependencies between features can be modeled using textual constraints: requires (presence of a feature requires the presence of another), mutex (presence of a feature automatically excludes another). Feature attributes can be also used for modeling quantitative (e.g., numerical) information. Constraints over attributes and features can be specified as well.
Modeling variability allows an organization to capture and select which version of which variant of any particular aspect is wanted in the system  73. To implement it cheaply, quickly and safely, redoing by hand the tedious weaving of every aspect is not an option: some form of automation is needed to leverage the modeling of variability  68. Model Driven Engineering (MDE) makes it possible to automate this weaving process  90. This requires that models are no longer informal, and that the weaving process is itself described as a program (which is as a matter of facts an executable meta-model  99) manipulating these models to produce for instance a detailed design that can ultimately be transformed to code, or to test suites  106, or other software artifacts.
3.4
Component-based software development
Component-based software development  116 aims at providing reliable software architectures with a low cost of design. Components are now used routinely in many domains of software system designs: distributed systems, user interaction, product lines, embedded systems, etc. With respect to more traditional software artifacts (e.g., object oriented architectures), modern component models have the following distinctive features  79: description of requirements on services required from the other components; indirect connections between components thanks to ports and connectors constructs  93; hierarchical definition of components (assemblies of components can define new component types); connectors supporting various communication semantics  76; quantitative properties on the services  71.
In recent years component-based architectures have evolved from static designs to dynamic, adaptive designs (e.g., SOFA  76, Palladio  69, Frascati  96). Processes for building a system using a statically designed architecture are made of the following sequential lifecycle stages: requirements, modeling, implementation, packaging, deployment, system launch, system execution, system shutdown and system removal. If for any reason after design time architectural changes are needed after system launch (e.g., because requirements changed, or the implementation platform has evolved, etc) then the design process must be reexecuted from scratch (unless the changes are limited to parameter adjustment in the components deployed).
Dynamic designs allow for on the fly redesign of a component based system. A process for dynamic adaptation is able to reapply the design phases while the system is up and running, without stopping it (this is different from a stop/redeploy/start process). Dynamic adaptation processes support chosen adaptation, when changes are planned and realized to maintain a good fit between the needs that the system must support and the way it supports them  92. Dynamic component-based designs rely on a component meta-model that supports complex life cycles for components, connectors, service specification, etc. Advanced dynamic designs can also take platform changes into account at runtime, without human intervention, by adapting themselves  77, 119. Platform changes and more generally environmental changes trigger imposed adaptation, when the system can no longer use its design to provide the services it must support. In order to support an eternal system  70, dynamic component based systems must separate architectural design and platform compatibility. This requires support for heterogeneity, since platform evolution can be partial.
The Models@runtime paradigm denotes a model-driven approach aiming at taming the complexity of dynamic software systems. It basically pushes the idea of reflection one step further by considering the reflection layer as a real model "something simpler, safer or cheaper than reality to avoid the complexity, danger and irreversibility of reality  110". In practice, component-based (and/or service-based) platforms offer reflection APIs that make it possible to introspect the system (to determine which components and bindings are currently in place in the system) and dynamic adaptation (by applying CRUD operations on these components and bindings). While some of these platforms offer rollback mechanisms to recover after an erroneous adaptation, the idea of Models@runtime is to prevent the system from actually enacting an erroneous adaptation. In other words, the "model at run-time" is a reflection model that can be uncoupled (for reasoning, validation, simulation purposes) and automatically resynchronized.
Heterogeneity is a key challenge for modern component based system. Until recently, component based techniques were designed to address a specific domain, such as embedded software for command and control, or distributed Web based service oriented architectures. The emergence of the Internet of Things paradigm calls for a unified approach in component based design techniques. By implementing an efficient separation of concern between platform independent architecture management and platform dependent implementations, Models@runtime is now established as a key technique to support dynamic component based designs. It provides DIVERSE with an essential foundation to explore an adaptation envelop at run-time.
Search Based Software Engineering  87 has been applied to various software engineering problems in order to support software developers in their daily work. The goal is to automatically explore a set of alternatives and assess their relevance with respect to the considered problem. These techniques have been applied to craft software architecture exhibiting high quality of services properties  84. Multi Objectives Search based techniques  81 deal with optimization problem containing several (possibly conflicting) dimensions to optimize. These techniques provide DIVERSE with the scientific foundations for reasoning and efficiently exploring an envelope of software configurations at run-time.
3.5
Validation and verification
Validation and verification (V&V) theories and techniques provide the means to assess the validity of a software system with respect to a specific correctness envelop. As such, they form an essential element of DIVERSE's scientific background. In particular, we focus on model-based V&V in order to leverage the different models that specify the envelop at different moments of the software development lifecycle.
Model-based testing consists in analyzing a formal model of a system (e.g., activity diagrams, which capture high-level requirements about the system, statecharts, which capture the expected behavior of a software module, or a feature model, which describes all possible variants of the system) in order to generate test cases that will be executed against the system. Model-based testing  118 mainly relies on model analysis, constraint solving  80 and search-based reasoning  94. DIVERSE leverages in particular the applications of model-based testing in the context of highly-configurable systems and 120 interactive systems  97 as well as recent advances based on diversity for test cases selection  88.
Nowadays, it is possible to simulate various kinds of models. Existing tools range from industrial tools such as Simulink, Rhapsody or Telelogic to academic approaches like Omega  104, or Xholon  2. All these simulation environments operate on homogeneous environment models. However, to handle diversity in software systems, we also leverage recent advances in heterogeneous simulation. Ptolemy  75 proposes a common abstract syntax, which represents the description of the model structure. These elements can be decorated using different directors that reflect the application of a specific model of computation on the model element. Metropolis  65 provides modeling elements amenable to semantically equivalent mathematical models. Metropolis offers a precise semantics flexible enough to support different models of computation. ModHel'X  86 studies the composition of multi-paradigm models relying on different models of computation.
Model-based testing and simulation are complemented by runtime fault-tolerance through the automatic generation of software variants that can run in parallel, to tackle the open nature of software-intensive systems. The foundations in this case are the seminal work about N-version programming   63, recovery blocks  108 and code randomization  67, which demonstrated the central role of diversity in software to ensure runtime resilience of complex systems. Such techniques rely on truly diverse software solutions in order to provide systems with the ability to react to events, which could not be predicted at design time and checked through testing or simulation.
3.6
Empirical software engineering
The rigorous, scientific evaluation of DIVERSE's contributions is an essential aspect of our research methodology. In addition to theoretical validation through formal analysis or complexity estimation, we also aim at applying state-of-the-art methodologies and principles of empirical software engineering. This approach encompasses a set of techniques for the sound validation contributions in the field of software engineering, ranging from statistically sound comparisons of techniques and large-scale data analysis to interviews and systematic literature reviews  113, 111. Such methods have been used for example to understand the impact of new software development paradigms  74. Experimental design and statistical tests represent another major aspect of empirical software engineering. Addressing large-scale software engineering problems often requires the application of heuristics, and it is important to understand their effects through sound statistical analyses  62.
3.7
Research axis
Figure 1 illustrates the four dimensions of software diversity, which form the core research axis of DIVERSE: the diversity of languages used by the stakeholders involved in the construction of these systems; the diversity of features required by the different customers; the diversity of runtime environments in which software has to run and adapt; the diversity of implementations that are necessary for resilience through redundancy. These four axes share and leverage the scientific and technological results developed in the area of model-driven engineering in the last decade. This means that all our research activities are founded on sound abstractions to reason about specific aspects of software systems, compose different perspectives and automatically generate parts of the system.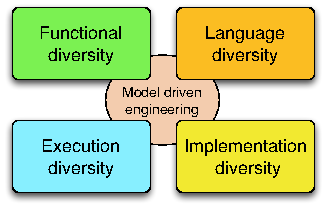 3.8
Software Language Engineering
The engineering of systems involves many different stakeholders, each with their own domain of expertise. Hence more and more organizations are adopting Domain Specific Modeling Languages (DSMLs) to allow domain experts to express solutions directly in terms of relevant domain concepts  112, 83. This new trend raises new challenges about designing DSMLs, evolving a set of DSMLs and coordinating the use of multiple DSLs for both DSL designers and DSL users.
Challenges
Reusability of software artifacts is a central notion that has been thoroughly studied and used by both academics and industrials since the early days of software construction. Essentially, designing reusable artifacts allows the construction of large systems from smaller parts that have been separately developed and validated, thus reducing the development costs by capitalizing on previous engineering efforts. However, it is still hardly possible for language designers to design typical language artifacts (e.g. language constructs, grammars, editors or compilers) in a reusable way. The current state of the practice usually prevents the reusability of language artifacts from one language to another, consequently hindering the emergence of real engineering techniques around software languages. Conversely, concepts and mechanisms that enable artifacts reusability abound in the software engineering community.
Variability in modeling languages occur in the definition of the abstract and concrete syntax as well as in the specification of the language's semantics. The major challenges met when addressing the need for variability are: (i) to set principles for modeling language units that support the modular specification of a modeling language; and (ii) to design mechanisms to assemble these units into a complete language, according to the set of authorized variation points for the modeling language family.
A new generation of complex software-intensive systems (for example smart health support, smart grid, building energy management, and intelligent transportation systems) gives new opportunities for leveraging modeling languages. The development of these systems requires expertise in diverse domains. Consequently, different types of stakeholders (e.g., scientists, engineers and end-users) must work in a coordinated manner on various aspects of the system across multiple development phases. DSMLs can be used to support the work of domain experts who focus on a specific system aspect, but they can also provide the means for coordinating work across teams specializing in different aspects and across development phases. The support and integration of DSMLs leads to what we call the globalization of modeling languages, i.e. the use of multiple languages for the coordinated development of diverse aspects of a system. One can make an analogy with world globalization in which relationships are established between sovereign countries to regulate interactions (e.g., travel and commerce related interactions) while preserving each country's independent existence.
Scientific objectives
We address reuse and variability challenges through the investigation of the time-honored concepts of substitutability, inheritance and components, evaluate their relevance for language designers and provide tools and methods for their inclusion in software language engineering. We will develop novel techniques for the modular construction of language extensions with support to model syntactical variability. From the semantics perspective, we investigate extension mechanisms for the specification of variability in operational semantics, focusing on static introduction and heterogeneous models of computation. The definition of variation points for the three aspects of the language definition provides the foundations for the novel concept Language Unit (LU) as well as suitable mechanisms to compose such units.
We explore the necessary breakthrough in software languages to support modeling and simulation of heterogeneous and open systems. This work relies on the specification of executable domain specific modeling languages (DSMLs) to formalize the various concerns of a software-intensive system, and of models of computation (MoCs) to explicitly model the concurrency, time and communication of such DSMLs. We develop a framework that integrates the necessary foundations and facilities for designing and implementing executable and concurrent domain-specific modeling languages. This framework also provides unique features to specify composition operators between (possibly heterogeneous) DSMLs. Such specifications are amenable to support the edition, execution, graphical animation and analysis of heterogeneous models. The objective is to provide both a significant improvement to MoCs and DSMLs design and implementation and to the simulation based validation and verification of complex systems.
We see an opportunity for the automatic diversification of programs' computation semantics, for example through the diversification of compilers or virtual machines. The main impact of this artificial diversity is to provide flexible computation and thus ease adaptation to different execution conditions. A combination of static and dynamic analysis could support the identification of what we call plastic computation zones in the code. We identify different categories of such zones: (i) areas in the code in which the order of computation can vary (e.g., the order in which a block of sequential statements is executed); (ii) areas that can be removed, keeping the essential functionality  114 (e.g., skip some loop iterations); (iii) areas that can replaced by alternative code (e.g., replace a try-catch by a return statement). Once we know which zones in the code can be randomized, it is necessary to modify the model of computation to leverage the computation plasticity. This consists in introducing variation points in the interpreter to reflect the diversity of models of computation. Then, the choice of a given variation is performed randomly at run time.
3.9
Variability Modeling and Engineering
The systematic modeling of variability in software systems has emerged as an effective approach to document and reason about software evolution and heterogeneity (cf. Section 3.3). Variability modeling characterizes an "envelope" of possible software variations. The industrial use of variability models and their relation to software artifact models require a complete engineering framework, including composition, decomposition, analysis, configuration and artifact derivation, refactoring, re-engineering, extraction, and testing. This framework can be used both to tame imposed diversity and to manage chosen diversity.
Challenges
A fundamental problem is that the number of variants can be exponential in the number of options (features). Already with 300 boolean configuration options, approximately configurations exist – more than the estimated count of atoms in the universe. Domains like automotive or operating systems have to manage more than 10000 options (e.g., Linux). Practitioners face the challenge of developing billions of variants. It is easy to forget a necessary constraint, leading to the synthesis of unsafe variants, or to under-approximate the capabilities of the software platform. Scalable modelling techniques are therefore crucial to specify and reason about a very large set of variants.
Model-driven development supports two approaches to deal with the increasing number of concerns in complex systems: multi-view modeling, i.e. when modeling each concern separately, and variability modeling. However, there is little support to combine both approaches consistently. Techniques to integrate both approaches will enable the construction of a consistent set of views and variation points in each view.
The design, construction and maintenance of software families have a major impact on software testing. Among the existing challenges, we can cite: the selection of test cases for a specific variant; the evolution of test suites with integration of new variants; the combinatorial explosion of the number of software configurations to be tested. Novel model-based techniques for test generation and test management in a software product line context are needed to overcome state-of-the-art limits we already observed in some projects.
Scientific objectives
We aim at developing scalable reasoning techniques to automatically analyze variability models and their interactions with other views on the software intensive system (requirements, architecture, design, code). These techniques provide two major advancements in the state of the art: (1) an extension of the semantics of variability models in order to enable the definition of attributes (e.g., cost, quality of service, effort) on features and to include these attributes in the reasoning; (2) an assessment of the consistent specification of variability models with respect to system views (since variability is orthogonal to system modeling, it is currently possible to specify the different models in ways that are semantically meaningless). The former aspect of analysis is tackled through constraint solving and finite-domain constraint programming, while the latter aspect is investigated through automatic search-based and learning-based techniques for the exploration of the space of interaction between variability and view models.
We aim at developing procedures to reverse engineer dependencies and features' sets from existing software artefacts – be it source code, configuration files, spreadsheets (e.g., product comparison matrices) or requirements. We expect to scale up (e.g., for extracting a very large number of variation points) and guarantee some properties (e.g., soundness of configuration semantics, understandability of ontological semantics). For instance, when building complex software-intensive systems, textual requirements are captured in very large quantities of documents. In this context, adequate models to formalize the organization of requirements documents and automated techniques to support impact analysis (in case of changes in the requirements) have to be developed.
3.10
Heterogeneous and dynamic software architectures
Flexible yet dependable systems have to cope with heterogeneous hardware execution platforms ranging from smart sensors to huge computation infrastructures and data centers. Evolution possibilities range from a mere change in the system configuration to a major architectural redesign, for instance to support addition of new features or a change in the platform architecture (e.g., new hardware is made available, a running system switches to low bandwidth wireless communication, a computation node battery is running low, etc). In this context, we need to devise formalisms to reason about the impact of an evolution and about the transition from one configuration to another. It must be noted that this axis focuses on the use of models to drive the evolution from design time to runtime. Models will be used to (i) systematically define predictable configurations and variation points through which the system will evolve; (ii) develop behaviors necessary to handle unforeseen evolution cases.
Challenges
The main challenge is to provide new homogeneous architectural modelling languages and efficient techniques that enable continuous software reconfiguration to react to changes. This work handles the challenges of handling the diversity of runtime infrastructures and managing the cooperation between different stakeholders. More specifically, the research developed in this axis targets the following dimensions of software diversity.
Platform architectural heterogeneity induces a first dimension of imposed diversity (type diversity). Platform reconfiguration driven by changing resources define another dimension of diversity (deployment diversity). To deal with these imposed diversity problems, we will rely on model based runtime support for adaptation, in the spirit of the dynamic distributed component framework developed by the Triskell team. Since the runtime environment composed of distributed, resource constrained hardware nodes cannot afford the overhead of traditional runtime adaptation techniques, we investigate the design of novel solutions relying on Models@runtime and on specialized tiny virtual machines to offer resource provisioning and dynamic reconfiguration.
Diversity can also be an asset to optimize software architecture. Architecture models must integrate multiple concerns in order to properly manage the deployment of software components over a physical platform. However, these concerns can contradict each other (e.g., accuracy and energy). In this context, we investigate automatic solutions to explore the set of possible architecture models and to establish valid trade-offs between all concerns in case of changes.
Scientific objectives
Automatic synthesis of optimal software architectures. Implementing a service over a distributed platform (e.g., a pervasive system or a cloud platform) consists in deploying multiple software components over distributed computation nodes. We aim at designing search-based solutions to (i) assist the software architect in establishing a good initial architecture (that balances between different factors such as cost of the nodes, latency, fault tolerance) and to automatically update the architecture when the environment or the system itself change. The choice of search-based techniques is motivated by the very large number of possible software deployment architectures that can be investigated and that all provide different trade-offs between qualitative factors. Another essential aspect that is supported by multi-objective search is to explore different architectural solutions that are not necessarily comparable. This is important when the qualitative factors are orthogonal to each other, such as security and usability for example.
Flexible software architecture for testing and data management. As the number of platforms on which software runs increases and different software versions coexist, the demand for testing environments also increases. For example, the number of testing environments to test a software patch or upgrade is the product of the number of execution environments the software supports and the number of coexisting versions of the software. Based on our first experiment on the synthesis of cloud environment using architectural models, our objective is to define a set of domain specific languages to catch the requirement and to design cloud environments for testing and data management of future internet systems from data centers to things. These languages will be interpreted to support dynamic synthesis and reconfiguration of a testing environment.
Runtime support for heterogeneous environments. Execution environments must provide a way to account or reserve resources for applications. However, current execution environments such as the Java Virtual Machine do not clearly define a notion of application: each framework has its own definition. For example, in OSGi, an application is a component, in JEE, an application is most of the time associated to a class loader, in the Multi-Tasking Virtual machine, an application is a process. The challenge consists in defining an execution environment that provides direct control over resources (CPU, Memory, Network I/O) independently from the definition of an application. We propose to define abstract resource containers to account and reserve resources on a distributed network of heterogeneous devices.
3.11
Diverse implementations for resilience
Open software-intensive systems have to evolve over their lifetime in response to changes in their environment. Yet, most verification techniques assume a closed environment or the ability to predict all changes. Dynamic changes and evolution cases thus represent a major challenge for these techniques that aim at assessing the correctness and robustness of the system. On the one hand, DIVERSE will adapt V&V techniques to handle diversity imposed by the requirements and the execution environment, on the other hand we leverage diversity to increase the robustness of software in face of unforeseen situations. More specifically, we address the following V&V challenges.
Challenges
One major challenge to build flexible and open yet dependable systems is that current software engineering techniques require architects to foresee all possible situations the system will have to face. However, openness and flexibility also mean unpredictability: unpredictable bugs, attacks, environmental evolution, etc. Current fault-tolerance  108 and security  82 techniques provide software systems with the capacity of detecting accidental and deliberate faults. However, existing solutions assume that the set of bugs or vulnerabilities in a system does not evolve. This assumption does not hold for open systems, thus it is essential to revisit fault-tolerance and security solutions to account for diverse and unpredictable faults.
Diversity is known to be a major asset for the robustness of large, open, and complex systems (e.g., economical or ecological systems). Following this observation, the software engineering literature provides a rich set of work that rely on implementation diversity in software systems in order to improve robustness to attacks or to changes in quality of service. These works range from N-version programming to obfuscation of data structures or control flow, to randomization of instruction sets. An essential and active challenge is to support the automatic synthesis and evolution of software diversity in open software-intensive systems. There is an opportunity to further enhance these techniques in order to cope with a wider diversity of faults, by multiplying the levels of diversity in the different software layers that are found in software-intensive systems (system, libraries, frameworks, application). This increased diversity must be based on artificial program transformations and code synthesis, which increase the chances of exploring novel solutions, better fitted at one point in time. The biological analogy also indicates that diversity should emerge as a side-effect of evolution, to prevent over-specialization towards one kind of diversity.
Scientific objectives
The main objective is to address one of the main limitations of N-version programming for fault-tolerant systems: the manual production and management of software diversity. Through automated injection of artificial diversity we aim at systematically increasing failure diversity and thus increasing the chances of early error detection at run-time. A fundamental assumption for this work is that software-intensive systems can be "good enough"  109, 121.
Proactive program diversification. We aim at establishing novel principles and techniques that favor the emergence of multiple forms of software diversity in software-intensive systems, in conjunction with the software adaptation mechanisms that leverage this diversity. The main expected outcome is a set of meta-design principles that maintain diversity in systems and the experimental demonstration of the effects of software diversity. Higher levels of diversity in the system provide a pool of software solutions that can eventually be used to adapt to situations unforeseen at design time (bugs, crash, attacks, etc.). Principles of automated software diversification rely on the automated synthesis of variants in a software product line, as well as finer-grained program synthesis combining unsound transformations and genetic programming to explore the space of mutational robustness.
Multi-tier software diversification. We name multi-tier diversification the fact of diversifying several application software components simultaneously. The novelty of our proposal, with respect to the software diversity state of the art, is to diversify the application-level code (for example, diversify the business logic of the application), focusing on the technical layers found in web applications. The diversification of application software code is expected to provide a diversity of failures and vulnerabilities in web server deployment. Web server deployment usually adopts a form of the Reactor architecture pattern, for scalability purposes: multiple copies of the server software stack, called request handlers, are deployed behind a load balancer. This architecture is very favorable for diversification, since by using the multiplicity of request handlers running in a web server we can simultaneously deploy multiple combinations of diverse software components. Then, if one handler is hacked or crashes the others should still be able to process client requests.
4
Application domains
Information technology affects all areas of society. The need to develop software systems is therefore present in a huge number of application domains. One of the goals of software engineering is to apply a systematic, disciplined, quantifiable approach to the development, operation, and maintenance of software whatever the application domain.
As a result, the team covers a wide range of application domain and never refrains from exploring a particular field of application. Our primary expertise is in complex, heterogeneous and distributed systems. While we historically collaborated with partners in the field of systems engineering, it should be noted that for several years now, we have investigated several new areas in depth:
the field of web applications, with the associated design principles and architectures, for applications ranging from cloud-native applications to the design of modern web front-ends.
the field of scientific computing in connection with the CEA DAM, Safran and scientists from other disciplines such as the ecologists of the University of Rennes 1. In this field where the writing of complex software is common, we explore how we could help scientists using software engineering approach in particular the use of SLE and approximate computing techniques.
the field of large software systems such as the kernel Linux or other open-source projects. In this field, we explore in particular the variability management, the support of co-evolution and the use of polyglot approaches.
5
Highlights of the year
5.1
Awards
Jean-Marc Jézéquel has been awarded the ACM/IEEE MODELS 2020 Career Award.
The paper "Sampling Effect on Performance Prediction of Configurable Systems: A Case Study" (Juliana Alves Pereira, Mathieu Acher, Hugo Martin and Jean-Marc Jézéquel ) received the best paper Award at ICPE 2020 - 11th ACM/SPEC International Conference on Performance Engineering, ACM, Apr 2020, Edmonton, Canada.
6
New software and platforms
8
Bilateral contracts and grants with industry
8.1
Bilateral contracts with industry
ADR Nokia
Coordinator: Inria
Dates: 2017-2021
Abstract: The goal of this project is to integrate a chaos engineering principles to IoT Services frameworks to improve the robustness of the software-defined network services using this approach and to explore the concept of equivalence for software-defined network services and propose an approach to constantly evolve the attack surface of the network services.
BCOM
Coordinator: UR1
Dates: 2018-2024
Abstract: The aim of the Falcon project is to investigate how to improve the resale of available resources in private clouds to third parties. In this context, the collaboration with DiverSE mainly aims at working on efficient techniques for the design of consumption models and resource consumption forecasting models. These models are then used as a knowledge base in a classical autonomous loop.
GLOSE
Partners: Inria/CNRS/Safran
Dates: 2017-2021
Abstract: The GLOSE project develops new techniques for heterogeneous modeling and simulation in the context of systems engineering. It aims to provide formal and operational tools and methods to formalize the behavioral semantics of the various modeling languages used at system-level. These semantics will be used to extract behavioral language interfaces supporting the definition of coordination patterns. These patterns, in turn, can systematically be used to drive the coordination of any model conforming to these languages. The project is structured according to the following tasks: concurrent xDSML engineering, coordination of discrete models, and coordination of discrete/continuous models. The project is funded in the context of the network DESIR, and supported by the GEMOC initiative.
GLOSE Demonstrator
Partners: Inria/Safran
Dates: 2019-2020
Abstract: Demonstrator illustrating the technologies involved in the WP5 off the GLOSE project. The use case chosen for the demonstrator is the high-level description of a remote control drone system, whose the main objective is to illustrate the design and simulation of the main functional chains, the possible interactivity with the model in order to raise the level of understanding over the models built, and possibly the exploration of the design space.
Debug4Science
Partners: Inria/CEA DAM
Dates: 2020-2022
Abstract: Debug4Science aims to propose a disciplined approach to develop domain-specific debugging facilities for Domain-Specific Languages within the context of scientific computing and numerical analysis. Debug4Science is a bilateral collaboration (2020-2022), between the CEA DAM/DIF and the DiverSE team at Inria.
Orange
Partners: UR1/Orange
Dates: 2020-2023
Abstract: Context aware adaptive authentification, Anne Bumiller's PhD Cifre project.
Obeo
Partners: Inria/Obéo
Dates: 2017-2020
Abstract: Web engineering for domain-specific modeling languages, Fabien Coulon's PhD Cifre project.
OKWind
Partners: UR1/OKWind
Dates: 2017-2020
Abstract: Models@runtime to improve self-consumption of renewable energies, Alexandre Rio's PhD Cifre project.
Keolis
Partners: UR1/Keolis
Dates: 2018-2021
Abstract: Urban mobility: machine learning for building simulators using large amounts of data, Gauthier LYAN's PhD Cifre project.
FaberNovel
Partners: UR1/FaberNovel
Dates: 2018-2021
Abstract: Abstractions for linked data and the programmable web, Antoine Cheron's PhD Cifre project.
9
Partnerships and cooperations
9.1
International initiatives
9.1.1
Inria International Labs
ALE
Title:

Agile Language Engineering

Duration:

2020 - 2022

Coordinator:

Benoit Combemale

Partners:

Inria (France)

, CWI (Netherlands)

Inria contact:

Benoit Combemale

Summary:

Software engineering faces new challenges with the advent of modern software-intensive systems such as complex critical embedded systems, cyber-physical systems and the Internet of things. Application domains range from robotics, transportation systems, defense to home automation, smart cities, and energy management, among others. Software is more and more pervasive, integrated into large and distributed systems, and dynamically adaptable in response to a complex and open environment. As a major consequence, the engineering of such systems involves multiple stakeholders, each with some form of domain-specific knowledge, and with the increased use of software as an integration layer. Hence more and more organizations are adopting Domain-Specific Languages (DSLs) to allow domain experts to express solutions directly in terms of relevant domain concepts. This new trend raises new challenges about designing DSLs, evolving a set of DSLs and coordinating the use of multiple DSLs for both DSL designers and DSL users. ALE will contribute to the field of Software Language Engineering, aiming to provide more agility to both language designers and language users. The main objective is twofold. First, we aim to help language designers to leverage previous DSL implementation efforts by reusing and combining existing language modules, while automating the deployment of distributed, elastic and collaborative modeling environments. Second, we aim to provide more flexibility to language users by ensuring interoperability between different DSLs, offering live feedback about how the model or program behaves while it is being edited (aka. live programming/modeling), and combining with interactive environments like Jupiter Notebook for literate programming.
9.2
International research visitors
9.2.1
Visits of international scientists
Nelly Bencomo, Aston University, UK
Gunter Mussbacher, McGill University, Canada
9.3
European initiatives
9.3.1
Collaborations with major European organizations
Vipo Project

. Vipo is an innovation project from EIT Digital. This year, we bring our expertise on native cloud architecture and adaptable architectures for this project.
9.4
National initiatives
9.4.1
ANR
VaryVary ANR JCJC
Coordinator: Mathieu Acher
DiverSE, Inria/IRISA Rennes
Dates: 2017-2021
Abstract: Most modern software systems (operating systems like Linux, Web browsers like Firefox or Chrome, video encoders like x264 or ffmpeg, servers, mobile applications, etc.) are subject to variation or come in many variants. Hundreds of configuration options, features, or plugins can be combined, each potentially with distinct functionality and effects on execution time, memory footprint, etc. Among configurations, some of them are chosen and do not compile, crash at run time, do not pass a test suite, or do not reach a certain performance quality (e.g., energy consumption, security). In this JCJC ANR project, we follow a thought-provocative and unexplored direction: We consider that the variability boundary of a software system can be specialized and should vary when needs be. The goal of this project is to provide theories, methods and techniques to make vary variability. Specifically, we consider machine learning and software engineering techniques for narrowing the space of possible configurations to a good approximation of those satisfying the needs of users. Based on an oracle (e.g., a runtime test) that tells us whether a given configuration meets the requirements (e.g., speed or memory footprint), we leverage machine learning to retrofit the acquired constraints into a variability that can be used to automatically specialize the configurable system. Based on a relative small number of configuration samples, we expect to reach high accuracy for many different kinds of oracles and subject systems. Our preliminary experiments suggest that varying variability can be practically useful and effective. However, much more work is needed to investigate sampling, testing, and learning techniques within a variety of cases and application scenarios. We plan to further collect large experimental data and apply our techniques on popular, open-source, configurable software (like Linux, Firefox, ffmpeg, VLC, Apache or JHipster) and generators for media content (like videos, models for 3D printing, or technical papers written in LaTeX).
9.4.2
DGA
LangComponent (CYBERDEFENSE)
Coordinator: DGA
Partners: DGA MI, INRIA
Dates: 2019-2022
Abstract: in the context of this project, DGA-MI and the INRIA team DiverSE explore the existing approaches to ease the development of formal specifications of domain-Specific Languages (DSLs) dedicated to paquet filtering, while guaranteeing expressiveness, precision and safety. In the long term, this work is part of the trend to provide to DGA-MI and its partners a tooling to design and develop formal DSLs which ease the use while ensuring a high level of reasoning.
10
Dissemination
10.1
Promoting scientific activities
10.1.1
Scientific events: organisation
General chair, scientific chair
We organize ICPE 2021. Johann Bourcier will serve as general chair.
Member of the organizing committees
Arnaud Blouin:
Stéphanie Challita:
Proceedings chair, ICSA 2021
Publicity co-chair, ECSA 2020
Djamel Khelladi:
Publicity co-chair, ICPE 2021
Chair of conference program committees
Mathieu Acher:
Program committee co-chair, VaMoS 2020
Workshop co-chair MODELS 2020
Organizer/co-chairs of REVE and MODEVAR workshops
Stéphanie Challita:
Co-organizer/program committee co-chair, FAACS workshop @ECSA 2020
Benoit Combemale:
PC co-chair for ICT4S 2020
Tools & Demos co-chair for MODELS'20
Djamel Khelladi:
Poster Track co-chair, MODELS 2020
Doctoral Track co-chair, ICSSP/ICGSE 2021
Member of the conference program committees
Arnaud Blouin:
ACM/SIGAPP Symposium on Applied Computing (SAC), software engineering track, 2020
ACM SIGCHI symposium on Engineering interactive computing systems (EICS 2020), 2020
Mathieu Acher:
SPLC 2020
VaMoS 2020
DocSymp@MODELS2020
ICSE SEIP 2020
Jean-Marc Jézéquel:
Stéphanie Challita:
ICSA 2021, ECR track
ICSA 2021, Artifacts Evaluation track
FormaliSE 2021
SAC 2021, SA-TTA track
MODELS 2020, Demo Track
Benoit Combemale:
ACM SRC for MODELS'20
MODELS'20 (program board)
ECMFA'20
FDL'20
CBI'20
QUATIC'20
MLE'20 workshop at MODELS'20
DevOps@MODELS'20 workshop at MODELS'20
CoMoDiTy'20 workshop at ER'20
PNSE'20 workshop
MoSC'20 workshop
Olivier Barais:
ICSR'20
COMPAS'2020
SecureMDE'2020 at MODELS'20
Djamel Khelladi:
MSR 2021
VSC at WETICE 2019, 2020, 2021
ME workshop at MODELS 2020
10.1.2
Journal
Member of the editorial boards
Jean-Marc Jézéquel:
Journal of Software and Systems Modeling: SoSyM (Associate Editor in Chief)
IEEE Computer (Associate Editor in Chief)
Journal of Systems and Software: JSS
Journal of Object Technology: JOT
Benoit Combemale:
Journal of Object Technology: JOT (Deputy Editors-in-Chief)
Journal of Software and Systems Modeling: SoSyM
Software Quality Journal (SQJ)
Journal of Computer Languages (COLA)
Journal on Science of Computer Programming (SCP, Advisory Board of the Software Section)
Reviewer - reviewing activities
Arnaud Blouin:
Journal Of System and Software
Stéphanie Challita:
Journal of Object Technology: JOT
IEEE Access
Olivier Barais:
Journal Of System and Software
Journal of Software and Systems Modeling: SoSyM
Djamel Khelladi:
Journal of Empirical Software Engineering: EMSE
Journal of Object Technology: JOT
Journal of Software and Systems Modeling: SoSyM
Software Quality Journal (SQJ)
10.1.3
Leadership within the scientific community
Arnaud Blouin:
Founding member and co-organiser of the French GDR-GPL research action on Software Engineering and Human-Computer Interaction (GL-IHM).
Jean-Marc Jézéquel:
Board member of Informatics Europe
Member of the Scientific Committee of the GDR GPL of CNRS
Member of the Advisory Board of the GEMOC Initiative: On the Globalization of Modeling Languages
Benoit Combemale:
Chair of the steering committee of the ACM SIGPLAN Intl. Conference on Software Language Engineering (SLE)
Founding member of the steerng committee of the Modeling Language Engineering and Execution (MLE) workshop series
Funding Member of the Advisory Board of the GEMOC Initiative: On the Globalization of Modeling Languages
Djamel Khelladi:
Co-organiser of the French GDR-GPL research action on Software Velocity - software engineering.
Olivier Zendra:
Scientific Coordinattor of EU H2020 TeamPlay project
Founder and member of the Steering Committee of the International Workshop on Implementation, Compilation, Optimization of OO Languages, Programs and Systems (ICOOOLPS)
Member of the EU HiPEAC CSA project Steering Committee
Member of the HiPEAC Vision Editorial Board
10.1.4
Scientific expertise
Olivier Barais:
Advisory board member for the H2020 ENACT european Project
Expert for the evaluation of the project provided by

Ministères des affaires étrangères
Olivier Zendra:
Scientific expert for CIR/JEI for

Ministère de l'enseignement supérieur, de la recherche et de l'innovation
10.1.5
Research administration
Jean-Marc Jézéquel:
Director of UMR6074 IRISA (850 persons)
Director of EIT Digital in Rennes
Coordinator of the Acaemic research of Pole d'Excellence Cyber
Olivier Barais:
Vice Dean of ISTIC (1800 students, 75 associate profs or profs)
Olivier Zendra:
Member of Inria Evaluation Committee.
10.2
Teaching - Supervision - Juries
10.2.1
Teaching
The DIVERSE team bears the bulk of the teaching on Software Engineering at the University of Rennes 1 and at INSA Rennes, for the first year of the Master of Computer Science (Project Management, Object-Oriented Analysis and Design with UML, Design Patterns, Component Architectures and Frameworks, Validation & Verification, Human-Computer Interaction) and for the second year of the MSc in software engineering (Model driven Engineering, Aspect-Oriented Software Development, Software Product Lines, Component Based Software Development, Validation & Verification, etc.).
Each of Jean-Marc Jézéquel, Noël Plouzeau, Olivier Barais, Benoit Combemale, Johann Bourcier, Arnaud Blouin, Stéphanie Challita and Mathieu Acher teaches about 250h in these domains for a grand total of about 2000 hours, including several courses at ENSTB, IMT, ENS Rennes and ENSAI Rennes engineering school.
Olivier Barais is deputy director of the electronics and computer science teaching department of the University of Rennes 1. Olivier Barais is the head of the Master in Computer Science at the University of Rennes 1. Johann Bourcier is the head of the Information Technology department and member of the management board at the ESIR engineering school in Rennes. Arnaud Blouin is in charge of industrial relationships for the computer science department at INSA Rennes and elected member of this CS department council.
The DIVERSE team also hosts several MSc and summer trainees every year.
10.2.2
Supervision
PhD defense in 2020: Jean-Émile Dartois,

Efficient resources management for hybrid cloud computing

, 2016, O. Barais, Jalil Boukhobza.
PhD defense in 2020: Tristan Ninet,

Formal verification of the Internet Key Exchange (IKEv2) security protocol

, 2016, O. Zendra.
PhD in progress: Alexandre Rio,

Demand Side Management A model driven approach to promote energy self-consumption

, 2016, O. Barais, Y. Morel
PhD in progress: Dorian Leroy,

A generic and generative white-box testing framework for model transformations

, 2017, B. Combemale.
PhD in progress: Fabien Coulon,

Web engineering for domain-specific modeling languages

, 2017, B. Combemale, S. Begaudeau.
PhD in progress: June Benvegnu-Sallou, Decision support for the assessment of risks associated with the operation of underground environments, 2018, J-R. De Dreuzy, B. Combemale, J. Bourcier.
PhD in progress: Pierre JeanJean,

Refining simulators by analyzing execution traces of complex systems

, 2018, O. Barais, B. Combemale.
PhD in progress: Alif Akbar-pranata,

Chaos Engineering for IoT and Network Services

, 2018, O. Barais, J. Bourcier.
PhD in progress: Antoine Cheron,

Abstractions for linked data and the programmable web

, 2018, O. Barais, J. Bourcier.
PhD in progress: Gauthier Lyan,

Urban mobility: machine learning for building simulators using large amounts of data

, 2018, J-M. Jééquel, D. Gross Amblard.
PhD in progress: Hugo Martin,

Learning variability

, 2018, M. Acher.
PhD in progress: Lamine Noureddine,

Developing New Techniques for Packing Detection and Unpacking to Stop Malware Propagation

, 2018, O. Zendra.
PhD in progress: Cassius De Oliveira Puodzius,

Machine learning for malware detection by aggregation of multiple threat feeds

, 2019, O. Zendra.
PhD in progress: Luc Lesoil,

Deep variability in large-scaled systems

, 2019, M. Acher. A. Blouin, JM Jézéquel.
PhD in progress: Emmanuel Chebbi,

Domain-Specific Language Reuse

, 2019, B. Combemale, O. Barais, G. Leguernic
PhD in progress: Mohamed Handaoui,

Scheduling Big Data applications in the cloud: the case of machine learning algorithms

, 2019, Jalil Boukhobza. Olivier Barais.
PhD in progress: Quentin Le Dilavrec,

Co-evolution between code, tests, and third-part libraries

, 2020, Arnaud Blouin, Jean-Marc Jézéquel, Djamel Eddine Khelladi.
PhD in progress: Gwendal Jouneaux,

Self-Adaptive Language

, 2020, B. Combemale, O. Barais, G. Mussbacher.
PhD in progress: Anne Bumiller,

Contextual Modeling of Adaptive Authentication Systems

, 2020, Olivier Barais, Benoit Combemale, Stéphanie Challita.
10.2.3
Juries
Olivier Barais
was in the examination committee of the following PhD and HDR thesis:
HDR: Sophie Ebersold, Univ Toulouse, (Mars 2021), (Reviewer)
PhD: Sami Lazreg Univ Nice (December 2020) (Reviewer)
Ajay Muroor, Univ Grenoble, (December 2020) (examiner)
Julien Delplanque Univ Lille (December 2020) (Reviewer)
Benoit Combemale
was in the examination committee of the following PhD thesis:
Valentin Besnard, ENSTA Bretagne (December 2020), (Reviewer)
Olivier Zendra
was in the examination committee of the following PhD thesis:
Anthony Ferrand, LIRMM / Université de Montpellier (September 2020), (Examiner)
11
Scientific production
11.1
Major publications
1

article

Teaching Software Product Lines: A Snapshot of Current Practices and Challenges

ACM Transactions of Computing Education

May 2017

2

article

The Multiple Facets of Software Diversity: Recent Developments in Year 2000 and Beyond

ACM Computing Surveys

48

1

2015

,

16:1--16:26

3

article

Breathing Ontological Knowledge Into Feature Model Synthesis: An Empirical Study

Empirical Software Engineering

21

4

2015

,

1794--1841

4

article

User Interface Design Smell: Automatic Detection and Refactoring of Blob Listeners

Information and Software Technology

102

May 2018

,

49-64

5

article

Leveraging metamorphic testing to automatically detect inconsistencies in code generator families

Software Testing, Verification and Reliability

December 2019

6

article

Omniscient Debugging for Executable DSLs

Journal of Systems and Software

137

March 2018

,

261-288

7

article

Globalizing Modeling Languages

IEEE Computer

June 2014

,

10-13

8

article

Why can't users choose their identity providers on the web?

Proceedings on Privacy Enhancing Technologies

2017

3

January 2017

,

72-86

9

article

Investigating Machine Learning Algorithms for Modeling SSD I/O Performance for Container-based Virtualization

IEEE transactions on cloud computing

14

2019

,

1-14

10

inproceedings

Feature Model Extraction from Large Collections of Informal Product Descriptions

Proc. of the Europ. Software Engineering Conf. and the ACM SIGSOFT Symp. on the Foundations of Software Engineering (ESEC/FSE)

September 2013

,

290-300

11

inproceedings

Melange: A Meta-language for Modular and Reusable Development of DSLs

Proc. of the Int. Conf. on Software Language Engineering (SLE)

October 2015

12

inproceedings

A Variability-Based Testing Approach for Synthesizing Video Sequences

Proc. of the Int. Symp. on Software Testing and Analysis (ISSTA)

July 2014

13

article

ScapeGoat: Spotting abnormal resource usage in component-based reconfigurable software systems

Journal of Systems and Software

2016

14

article

Test them all, is it worth it? Assessing configuration sampling on the JHipster Web development stack

Empirical Software Engineering

July 2018

,

1--44

15

article

Mashup of Meta-Languages and its Implementation in the Kermeta Language Workbench

Software and Systems Modeling

14

2

2015

,

905-920

16

inproceedings

On the Power of Abstraction: a Model-Driven Co-evolution Approach of Software Code

42nd International Conference on Software Engineering, New Ideas and Emerging Results

Séoul, South Korea

May 2020

17

inproceedings

Beauty and the Beast: Diverting modern web browsers to build unique browser fingerprints

Proc. of the Symp. on Security and Privacy (S&P)

May 2016

, URL: https://hal.inria.fr/hal-01285470

18

article

The Software Language Extension Problem

Software and Systems Modeling

2019

,

1-4

19

inproceedings

Automatic Microbenchmark Generation to Prevent Dead Code Elimination and Constant Folding

Proc. of the Int. Conf. on Automated Software Engineering (ASE)

September 2016

20

article

Learning-Contextual Variability Models

IEEE Software

34

6

November 2017

,

64-70

21

article

Empirical Assessment of Multimorphic Testing

IEEE Transactions on Software Engineering

July 2019

,

1-21

22

article

Empirical Assessment of Generating Adversarial Configurations for Software Product Lines

Empirical Software Engineering

December 2020

,

1-57

23

article

A Comprehensive Study of Pseudo-tested Methods

Empirical Software Engineering

2018

,

1-33
11.2
Publications of the year
11.3
Cited publications
62

inproceedings

A practical guide for using statistical tests to assess randomized algorithms in software engineering

ICSE

2011

,

1-10

63

article

The N-version approach to fault-tolerant software

Software Engineering, IEEE Transactions on

12

1985

,

1491--1501

64

article

Managing variability in software architectures

SIGSOFT Softw. Eng. Notes

26

3

May 2001

,

126--132

URL: http://doi.acm.org/10.1145/379377.375274

65

article

Metropolis: An integrated electronic system design environment

Computer

36

4

2003

,

45--52

66

inproceedings

Theme: an approach for aspect-oriented analysis and design

26th International Conference on Software Engineering (ICSE)

2004

,

158-167

67

article

Randomized instruction set emulation

ACM Transactions on Information and System Security (TISSEC)

8

1

2005

,

3--40

68

inproceedings

Generating Product-Lines of Product-Families

ASE '02: Automated software engineering

IEEE

2002

,

81--92

69

article

The Palladio component model for model-driven performance prediction

Journal of Systems and Software

82

1

January 2009

,

3--22

70

inproceedings

On the use of software models during software execution

MISE '09: Proceedings of the 2009 ICSE Workshop on Modeling in Software Engineering

IEEE Computer Society

May 2009

71

inproceedings

Contract Aware Components, 10 years after

WCSI

2010

,

1-11

72

book

Design and use of software architectures: adopting and evolving a product-line approach

New York, NY, USA

ACM Press/Addison-Wesley Publishing Co.

2000

73

inproceedings

Variability Issues in Software Product Lines

PFE '01: Revised Papers from the 4th International Workshop on Software Product-Family Engineering

London, UK

Springer-Verlag

2002

,

13--21

74

article

Empirical studies of object-oriented artifacts, methods, and processes: state of the art and future directions

Empirical Software Engineering

4

4

1999

,

387--404

75

article

Ptolemy: A framework for simulating and prototyping heterogeneous systems

Int. Journal of Computer Simulation

1994

76

inproceedings

Sofa 2.0: Balancing advanced features in a hierarchical component model

Software Engineering Research, Management and Applications, 2006. Fourth International Conference on

IEEE

2006

,

40--48

77

book

D.

Hutchison

T.

Kanade

J.

Kittler

J.

Kleinberg

F.

Mattern

J.

Mitchell

M.

Naor

O.

Nierstrasz

C.

Pandu Rangan

B.

Steffen

M.

Sudan

D.

Terzopoulos

D.

Tygar

M.

Vardi

G.

Weikum

B.

Cheng

R.

Lemos

H.

Giese

P.

Inverardi

J.

Magee

Software Engineering for Self-Adaptive Systems: A Research Roadmap

5525

Betty H. C. Cheng, Rogério de Lemos, Holger Giese, Paola Inverardi, and Jeff Magee

Berlin, Heidelberg

Springer Berlin Heidelberg

2009

78

article

Commonality and Variability in Software Engineering

IEEE Software

15

6

1998

,

37--45

79

article

A classification framework for software component models

Software Engineering, IEEE Transactions on

37

5

2011

,

593--615

80

article

Constraint-based automatic test data generation

Software Engineering, IEEE Transactions on

17

9

1991

,

900--910

81

article

A fast and elitist multiobjective genetic algorithm: NSGA-II

Evolutionary Computation, IEEE Transactions on

6

2

2002

,

182--197

82

inproceedings

Building diverse computer systems

Operating Systems, 1997., The Sixth Workshop on Hot Topics in

IEEE

1997

,

67--72

83

inproceedings

Model-driven Development of Complex Software: A Research Roadmap

Proceedings of the Future of Software Engineering Symposium (FOSE '07)

IEEE

2007

,

37--54

84

inproceedings

Search-based genetic optimization for deployment and reconfiguration of software in the cloud

Proceedings of the 2013 International Conference on Software Engineering

IEEE Press

2013

,

512--521

85

article

Communicating the Variability of a Software-Product Family to Customers

Software and System Modeling

2

1

2003

,

15-36

86

incollection

ModHel'X: A component-oriented approach to multi-formalism modeling

Models in Software Engineering

Springer

2008

,

247--258

87

article

Search-based software engineering

Information and Software Technology

43

14

2001

,

833--839

88

inproceedings

An enhanced test case selection approach for model-based testing: an industrial case study

SIGSOFT FSE

2010

,

267-276

89

inproceedings

Empirical assessment of MDE in industry

Proceedings of the 33rd International Conference on Software Engineering (ICSE '11)

ACM

2011

,

471--480

90

article

Model Driven Design and Aspect Weaving

Journal of Software and Systems Modeling (SoSyM)

7

2

may 2008

,

209--218

URL: http://www.irisa.fr/triskell/publis/2008/Jezequel08a.pdf

91

techreport

Feature-Oriented Domain Analysis (FODA) Feasibility Study

Carnegie-Mellon University Software Engineering Institute

November 1990

92

inproceedings

Self-Managed Systems: an Architectural Challenge

Future of Software Engineering

IEEE

2007

,

259--268

93

incollection

Exogenous connectors for software components

Component-Based Software Engineering

Springer

2005

,

90--106

94

article

Search-based software test data generation: a survey

Software Testing, Verification and Reliability

14

2

2004

,

105--156

95

inproceedings

Architecting for Domain Variability

ESPRIT ARES Workshop

1998

,

205-213

96

inproceedings

Reconfigurable run-time support for distributed service component architectures

the IEEE/ACM international conference

New York, New York, USA

ACM Press

2010

,

171

97

article

An event-flow model of GUI-based applications for testing

Software Testing, Verification and Reliability

17

3

2007

,

137--157

98

article

Models at Runtime to Support Dynamic Adaptation

IEEE Computer

October 2009

,

46-53

URL: http://www.irisa.fr/triskell/publis/2009/Morin09f.pdf

99

inproceedings

Weaving Executability into Object-Oriented Meta-Languages

Proc. of MODELS/UML'2005

LNCS

Jamaica

Springer

2005

100

inbook

System Testing of Product Families: from Requirements to Test Cases

Software Product Lines

Springer Verlag

2006

,

447--478

URL: http://www.irisa.fr/triskell/publis/2006/Nebut06b.pdf

101

inproceedings

Automated Requirements-based Generation of Test Cases for Product Families

Proc. of the 18th IEEE International Conference on Automated Software Engineering (ASE'03)

2003

, URL: http://www.irisa.fr/triskell/publis/2003/nebut03b.pdf

102

inproceedings

A Framework for Software Product Line Practice

Proceedings of the Workshop on Object-Oriented Technology

London, UK

Springer-Verlag

1999

,

365--366

103

article

SEI's Software Product Line Tenets

IEEE Softw.

19

4

2002

,

32--40

104

article

Validating timed UML models by simulation and verification

International Journal on Software Tools for Technology Transfer

8

2

2006

,

128--145

105

article

On the Design and Development of Program Families

IEEE Trans. Softw. Eng.

2

1

1976

,

1--9

106

article

Test Synthesis from UML Models of Distributed Software

IEEE Transactions on Software Engineering

33

4

April 2007

,

252--268

107

book

Software Product Line Engineering: Foundations, Principles and Techniques

Secaucus, NJ, USA

Springer-Verlag New York, Inc.

2005

108

article

System structure for software fault tolerance

Software Engineering, IEEE Transactions on

2

1975

,

220--232

109

inproceedings

Obtaining and reasoning about good enough software

Proceedings of Annual Design Automation Conference (DAC)

2012

,

930-935

110

inproceedings

The Nature of Modeling

in Artificial Intelligence, Simulation and Modeling

John Wiley & Sons

1989

,

75--92

111

article

Guidelines for conducting and reporting case study research in software engineering

Empirical Software Engineering

14

2

2009

,

131--164

112

article

Guest Editor's Introduction: Model-Driven Engineering

IEEE Computer

39

2

2006

,

25--31

113

book

Guide to advanced empirical software engineering

Springer

2008

114

inproceedings

Managing performance vs. accuracy trade-offs with loop perforation

Proc. of the Symp. on Foundations of software engineering

ESEC/FSE '11

New York, NY, USA

Szeged, Hungary

ACM

2011

,

124-134

115

article

On Model Typing

Journal of Software and Systems Modeling (SoSyM)

6

4

December 2007

,

401--414

URL: http://www.irisa.fr/triskell/publis/2007/Steel07a.pdf

116

book

Component software: beyond object-oriented programming

Addison-Wesley

2002

117

techreport

Modelling variability requirements in Software Product Lines: a comparative survey

FUNDP Namur

2003

118

book

Practical model-based testing: a tools approach

Morgan Kaufmann

2010

119

inproceedings

On interacting control loops in self-adaptive systems

SEAMS 2011

ACM

2011

,

202--207

120

article

Covering arrays for efficient fault characterization in complex configuration spaces

Software Engineering, IEEE Transactions on

32

1

2006

,

20--34

121

inproceedings

Randomized accuracy-aware program transformations for efficient approximate computations

Proc. of the Symp. on Principles of Programming Languages (POPL)

2012

,

441-454

122

inbook

Product Line Engineering with the UML: Deriving Products

Springer Verlag

2006

,

557-586