2020
Activity report
Project-Team
PLEIADE
In partnership with:
CNRS, INRAE
Team name:
Patterns of diversity and networks of function
In collaboration with:
Biodiversité, Gènes & Communautés (BioGeCo), Laboratoire Bordelais de Recherche en Informatique (LaBRI)
Domain
Digital Health, Biology and Earth
Theme
Computational Biology
Creation of the Team: 2015 January 01, updated into Project-Team: 2019 March 01
Keywords
A3.1.

Data

A3.2.

Knowledge

A3.3.2.

Data mining

A3.3.3.

Big data analysis

A3.4.

Machine learning and statistics

A6.1.

Methods in mathematical modeling

A6.2.

Scientific computing, Numerical Analysis & Optimization
B1.1.7.

Bioinformatics

B1.1.10.

Systems and synthetic biology

B3.

Environment and planet
1
Team members, visitors, external collaborators
Research Scientists
David

Sherman

[

Team leader

,

Inria

,

Senior Researcher

,

HDR

]

Pascal

Durrens

[

CNRS

,

Researcher

,

HDR

]

Alain

Franc

[

Institut national de recherche pour l'agriculture, l'alimentation et l'environnement

,

Senior Researcher

,

HDR

]

Clémence

Frioux

[

Inria

,

Researcher

]
PhD Students
Mohamed Anwar

Abouabdallah

[

Inria

]

Maxime

Lecomte

[

Institut national de recherche pour l'agriculture, l'alimentation et l'environnement

,

from Nov 2020

]
Technical Staff
Ariane

Badoual

[

Inria

,

Engineer

,

from Oct 2020

]

Philippe

Chaumeil

[

Institut national de recherche pour l'agriculture, l'alimentation et l'environnement

,

Engineer

]

Jean-Marc

Frigerio

[

Institut national de recherche pour l'agriculture, l'alimentation et l'environnement

,

Engineer

]

Franck

Salin

[

Institut national de recherche pour l'agriculture, l'alimentation et l'environnement

,

Engineer

]
Interns and Apprentices
Ariane

Badoual

[

Inria

,

from Feb 2020 until Jul 2020

]

Maxime

Lecomte

[

Institut national de recherche pour l'agriculture, l'alimentation et l'environnement

,

from Feb 2020 until Aug 2020

]
Administrative Assistants
Catherine

Cattaert Megrat

[

Inria

,

until Oct 2020

]

Roweida

Mansour El Handawi

[

Inria

,

from Oct 2020

]
External Collaborator
Simon

Labarthe

[

Institut national de recherche pour l'agriculture, l'alimentation et l'environnement

]
2
Overall objectives
Diversity, evolution, and inheritance form the heart of modern biological thought. Modeling the complexity of biological systems has been a challenge of theoretical biology for over a century 43 and flourished with the evolution of data for describing biological diversity, most recently with the transformative development of high-throughput sequencing. However, most concepts and tools in ecology and population genetics for capitalizing on this wealth of data are still not adapted to high throughput data production. A better connection between high-throughput data production and tool evolution is highly needed: computational biodiversity.
Paradoxically, diversity emphasizes differences between biological objects, while modeling aims at unifying them under a common framework. This means that there is a limit beyond which some components of diversity cannot be mastered by modeling. We need efficient methods for recognizing patterns in diversity, and linking them to patterns in function. It is important to realize that diversity in function is not the same as coupling observed diversity with function. Diversity informs both the study of traits, and the study of biological functions (Figure 1). The double challenge is to measure these links quickly and precisely with pattern recognition, and to explore the relations between diversity in traits and diversity in function through modeling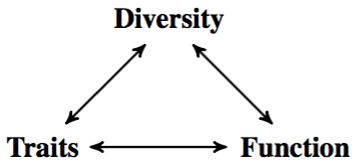 Pleiade links recognition of patterns, classes, and interactions with applications in biodiversity studies and biotechnology. We develop distance methods for NGS datasets at different levels of organization: between genomes, between individual organisms, and between communities; and develop high-performance pattern recognition and statistical learning techniques for analyzing the resulting point clouds. We refine inferential methods for building hierarchical models of networks of cellular functions, exploiting the mathematical relations that are revealed by large-scale comparison of related genomes and their models. We combine these methods into integrated e-Science solutions to place these tools directly in the hands of biologists.
Our methodology (Figure 2) is designed pragmatically to advance the state of the art in applications from biodiversity and biotechnology: molecular based systematics and community ecology, annotation and modeling for biotechnology.

4
Application domains
4.1
Genome and transcriptome annotation, to model function
Sequencing genomes and transcriptomes provides a picture of how a biological system can function, or does function under a given physiological condition. Simultaneous sequencing of a group of related organisms is now a routine procedure in biological laboratories for studying a behavior of interest, and provides a marvelous opportunity for building a comprehensive knowledge base of the relations between genomes1, 6. Key elements in mining these relations are: classifying the genes in related organisms and the reactions in their metabolic networks, recognizing the patterns that describe shared features, and highlighting specific differences.
Pleiade will develops applications in comparative genomics of related organisms, using new mathematical tools for representing compactly, at different scales of difference, comparisons between related genomes. New methods based on computational geometry refine these comparisons. Compact representations can be stored, exchanged, and combined. They will form the basis of new simultaneous genome annotation methods, linked directly to abductive inference methods for building functional models of the organisms and their communities.
Our ambition in biotechnology is to permit the design of synthetic or genetically selected organisms at an abstract level, and guide the modification or assembly of a new genome. Our effort is focused on two main applications: genetic engineering and synthetic biology of oil-producing organisms (biofuels in CAER, palm oils), and improving and selecting starter microorganisms used in winemaking (collaboration with the ISVV and the BioLaffort company).
4.1.1
Oil Palm lipid synthesis
The largest source of vegetable oil 1 is the fruit mesocarp of the oil palm Elaeis guineensis, a remarkable tissue that can accumulate up to 90% oil, the highest level observed in the plant kingdom. The market share of oil palm is expected to increase in order to meet increased demand for vegetable oil, predicted to double by 2030 27, be it as food or as a source of biofuels in Africa. A significant proportion of palm oil is produced on small estates that do not have access to efficient milling facilities, and run a great risk of spoilage through oil acidification. Improving palm oil quality through genetics and selection will result in economic gains 37 by addressing several targets such as improvement of oil yield, tuning of oil quality through the rate of unsaturated fatty acids or impairment of degradation processes. Furthermore, as genome biodiversity resides mostly in Africa, oil from African oil palms can vary greatly in fatty acid composition according to cultivar genetic differences and to weather conditions, and the precise mechanisms regulating this variability are not yet understood.
A growing body of molecular resources for studying oil palm fruit are making it possible to study and improve the quality and quantity of oil produced by oil palms. In particular, these oils can vary greatly in fatty acid composition, and while the precise mechanisms regulating this variability are not completely understood, establishing a link between oil palm genotype and phenotype appears increasingly feasible. Pleiade will work with the CNRS/UB UMR 5200 (LBM), a laboratory with an established reputation in studying fatty acid metabolism in E. guineensis, to improve understanding of the links between genetic diversity and oil production, and participate in developing applications.
4.1.2
Engineering pico-algae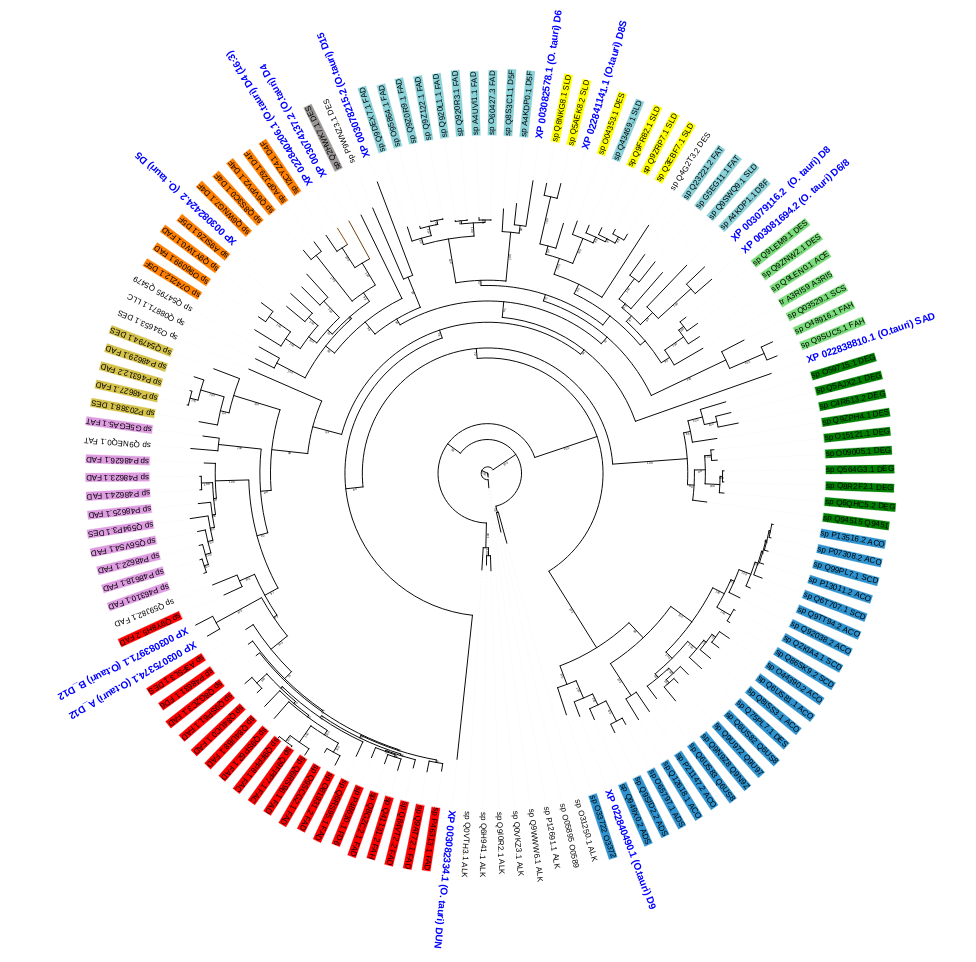 Docosahexaenoic acid (DHA) is an essential nutriment for human brain tissue and can only be obtained from marine or riverine fish that live on phytoplankton and zooplankton, since human neurons lack the delta desaturase required for de novo synthesis of DHA. 34 Unfortunately, fishing is become less and less a sustainable resource. Since phytoplankton and zooplankton are the ultimate source of DHA consumed, there is considerable interest in obtaining DHA directly rather than through the intermediary of fish. A very promising approach is through the bio-engineering of pico-algae.
In order to produce the long-chain polyunsaturated fatty acids (LC-PUFA) needed for human nutrition, it is necessary to precisely engineer the desaturases that produce them. Desaturases are enzymes responsible for the introduction of double bonds into fatty acids. Desaturases are specific in recognizing their substrates and in placing the double bond in the proper place. The desaturases that produce the LC-PUFA necessary for human nutrition are present only in some species.
Our goal is to design methods to predict the substrate and region specificities for desaturases in algal species, particularly Ostreococcus tauri, the smallest photosynthetic eukaryote that can be cultivated. Thirteen desaturases are known in O. tauri and can be placed in the phylogeny of the desaturase family (figure 5). The biochemical and structural characterization of these enzymes is as yet very incomplete. This work requires close collaboration between biologists and computer scientists.
4.2
Molecular based systematics and taxonomy
Defining and recognizing myriads of species in biosphere has taken phenomenal energy over the past centuries and remains a major goal of Natural History. It is an iconic paradigm in pattern recognition (clustering has coevolved with numerical taxonomy many decades ago). Developments in evolution and molecular biology, as well as in data analysis, have over the past decades enabled a profound revolution, where species can be delimited and recognized by data analysis of sequences. We aim at proposing new tools, in the framework of E-science, which make possible () better exploration of the diversity in a given clade, and () assignment of a place in these patterns for new, unknown organisms, using information provided by sets of sequences. This will require investment in data analysis, machine learning, and pattern recognition to deal with the volumes of data and their complexity.
One example of this project is about the diversity of trees in Amazonian forest, in collaboration with botanists in French Guiana. Protists (unicellular Eukaryots) are by far more diverse than plants, and far less known. Molecular exploration of Eukaryotes diversity is nowadays a standard in biodiversity studies. Data are available, through metagenomics, as an avalanche and make molecular diversity enter the domain of Big Data. Hence, an effort will be invested, in collaboration with other INRIA teams (GenScale, HiePACS) for porting to HPC algorithms of pattern recognition and machine learning, or distance geometry, for these tools to be available as well in metagenomics. This will be developed first on diatoms (unicellular algae) in collaboration with INRAE team at Thonon and University of Uppsala, on pathogens of tomato and grapewine, within an existing network, and on bacterial communities, in collaboration with University of Pau. For the latter, the studies will extend to correlations between molecular diversity and sets of traits and functions in the ecosystem.
4.3
Community ecology and population genetics
Community assembly models how species can assemble or diassemble to build stable or metastable communities. It has grown out of inventories of countable organisms. Using metagenomics one can produce molecular based inventories at rates never reached before. Most communities can be understood as pathways of carbon exchange, mostly in the form of sugar, between species. Even a plant cannot exist without carbon exchange with its rhizosphere. Two main routes for carbon exchange have been recognized: predation and parasitism. In predation, interactions–even if sometimes dramatic–may be loose and infrequent, whereas parasitism requires what Claude Combes has called intimate and sustainable interactions 28. About one decade ago, some works 39 have proposed a comprehensive framework to link the studies of biodiversity with community assembly. This is still incipient research, connecting community ecology and biogeography.
We aim at developping graph-based models of co-occurence between species from NGS inventories in metagenomics, i.e. recognition of patterns in community assembly, and as a further layer to study links, if any, between diversity at different scales and community assemblies, starting from current, but oversimplified theories, where species assemble from a regional pool either randomly, as in neutral models, or by environmental filtering, as in niche modeling. We propose to study community assembly as a multiscale process between nested pools, both in tree communities in Amazonia, and diatom communities in freshwaters. This will be a step towards community genomics, which adds an ecological flavour to metagenomics.
Convergence between the processes that shape genetic diversity and community diversity–drift, selection, mutation/speciation and migration–has been noted for decades and is now a paradigm, establishing a continuous scale between levels of diversity patterns, beyond classical approaches based on iconic levels like species and populations. We will aim at deciphering diversity pattern along these gradients, connecting population and community genetics. Therefore, some key points must be adressed on reliability of tools.
Next-generation sequencing technologies are now an essential tool in population and community genomics, either for making evolutionary inferences or for developing SNPs for population genotyping analyses. Two problems are highlighted in the literature related to the use of those technologies for population genomics: variable sequence coverage and higher sequencing error in comparison to the Sanger sequencing technology. Methods are developed to develop unbiased estimates of key parameters, especially integrating sequencing errors 36. An additional problem can be created when sequences are mapped on a reference sequence, either the sequenced species or an heterologous one, since paralogous genes are then considered to be the same physical position, creating a false signal of diversity 31. Several approaches were proposed to correct for paralogy, either by working directly on the sequences issued from mapped reads 31 or by filtering detected SNPs. Finally, an increasingly popular method (RADseq) is used to develop SNP markers, but it was shown that using RADseq data to estimate diversity directly biases estimates 20. Workflows to implement statistical methods that correct for diversity biases estimates now need an implementation for biologists.
5
Highlights of the year
5.1
Clémence Frioux
Clémence Frioux, Inria staff junior scientist with a doctorate in Computer Science and an undergraduate degree in Biology, joined Pleiade in 2020. With her arrival we have considerably widened the scope of our work. Clémence brings a particular interest in community-scale metabolic modeling (§3.3) and a methodological focus on optimization techniques employing Answer Set Programming.
5.2
ADT Gordon
This year marked the delivery of the ADT Gordon in collaboration with HiePACS, Tadaam, and Storm. In general terms ADT Gordon consolidated the Inria HPC stack and in particular for Pleiade implemented random projection methods for multi-dimensional scaling. The success of ADT Gordon also led to two new projects that started this year: ADT Diodon, which will develop SVD methods for very large dimensionality reduction problems, and a preparatory project for PRACE with Hawk, HLRS, Stuttgart.
5.3
Health Crisis
The year 2020 was marked by the Covid crisis and its impact on society. The scientific world was also greatly affected: Faculty members have seen their teaching load increase significantly; PhD students and post-docs have often had to deal with a worsening of their working conditions, as well as with reduced interactions with their supervisors and colleagues; and most scientific collaborations have been greatly affected, with many international activities cancelled or postponed sine die.
6
New software and platforms
7
New results
7.1
Characterization of Molecular Biodiversity
In 2020, Pleiade  continued the development and refinement of new methods for chacterizing molecular biodiversity. Two approaches are being pursued, each with a PhD student in their second year.
The central focus of Mohammed Anwar Abouabdallah's PhD 15 is building OTUs from a pairwise distance matrix using Stochastic Block Models (SBM). Building OTUs is traditionally seen as a form of unsupervised clustering. This work is done in collaboration with the MIAT INRAE research unit in Toulouse and HiePACS. It represents a connection between metabarcoding and statistical modeling, a topic which deserves investigation and is expanding (Figure 6 from 38).
A major goal of 

Pleiade

 is to develop a geometric view of biodiversity. The tool selected up to now is to associate a point cloud to a dataset (pairwise distances between sequences) and to study its shape. This approach has expanded and been developed in 2020 as a collaboration with HiePACS through the cosupervision of Romain Peressonni's PhD, which aims to provide new approaches and algorithms for computing distances between two point clouds.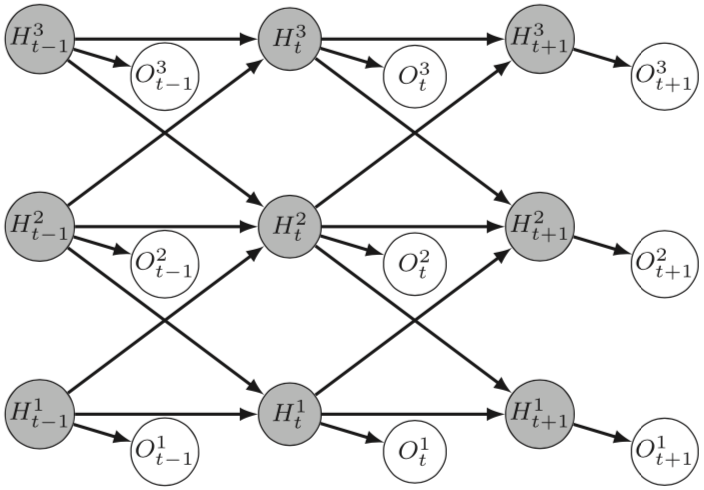 7.2
Dimension Reduction
Metabarcoding is a series of technical procedures to build molecular based inventories from large datasets of amplicons. The underlying information needs to be compacted without losing its information content before it can be further processed with domain-specific tools. This links metabarcoding tools to dimension reduction techniques, which is an important topic in Pleiade. This has been implemented through a participation in following research projects:
Contribution to and finalization of the

ADT Gordon

project in Inria BSO. The objective of this project (partners: Tadaam (coordinator), Storm, HiePACS, 

Pleiade

) is to integrate SVD as a tool available in Chameleon, starPU and new Madeleine. The contribution of

Pleiade

is to bring in metabarcoding as a use case, and random projection as a method for scaling Multidimensional Scaling (which requires an SVD) in collaboration with HiePACS with a template implemented in Diodon. A MDS on a 106 x 106 matrix has been succesfully run at the end of ADT Gordon, on Occigen, in 900 seconds including I/O. The final report has been issued by Tadaam in December 2020.
A consequence of this involvement is the submission in 2020 of a new ADT, called Diodon, for extending to a diversity of linear dimension reduction techniques what has been aquired in ADT Gordon for MDS, namely a significant progress in speed and memory management brought by random SVD, which can be integrated into a diversity of methods : PCA, CoA, etc.

Pleiade

is involved in the EU project EOSC-Pillar (§8.2.1), in a task for better connecting data to calculation, currently data in Inrae Dataverse system connected to tools running on a INRAE local server or on PlaFRIM, on a testbed on biodiversity assessment with metabarcoding. This task in done in collaboration with INRAE DipSO (Direction Science Ouverte) and the Inria HiePACS project-team.
7.3
Clavispora lusitaniae

genome assembly
New Clavispora lusitaniae strains have been isolated in patients by our LMFP partner (Laboratoire de Microbiologie Fondamentale et Pathogénicité, UMR-CNRS 5234) as well as Candida auris strains, this pathogen species being phygenetically very close to Clavispora lusitaniae. To the contrary of C. lusitaniae which is sensitive to antifungal drugs, C. auris is multi-drug resistant and a threat for the treatment of nosocomial diseases. In order to investigate on the determinism of resistance/sensitivity to antifungal drugs we need a reference genome sequence of Clavispora lusitania as complete as possible. High throughput Nanopore sequencing was performed on DNA extracted from 5 strains at Genotoul and assembled with Oxford Nanopore's MEDAKA tool. The assemblies turned to aberrant in size and structure. We tested another tool, CANU, and obtained assemblies compatible with what was expected from experimental measures. Unfortunately, error correction functions of CANU create mutations in the sequences, giving rise to non-functional genes, whatever the parameters used. We propose to override the problem by producing hybrid assemblies using other tools.
7.4
Genome Wide Association Study of oil production in palm tree
This work is a collaboration between Pleiade and the Vitapalm consortium funded by LEAP‑Agri, a joint Europe–Africa Research and Innovation initiative related to Food and Nutrition Security and Sustainable Agriculture. We tested and simulated several strategies for GWAS of oil production by the palm tree. We finally retained the reference panel / imputation panel strategy where the reference panel consists in 60 genomes sequenced at high coverage (15X) giving rise to a map of single nucleotide polymorphisms (SNP) which represent biodiversity within african palm trees ; other genomes (>300) will be sequenced at low coverage (0.5X) and will form the imputation panel where association between SNP and phenotype will be searched. Pleiade will be in charge of sequence treatment and SNP calling. Meanwhile other members of the Vitapalm consortium are making phenotypical measures on oil and vitamin compositions.
7.5
Multi-omic analysis of a cheese-derived bacterial community
Understanding and controlling the interactions within bacterial communities has applications in multiple industrial domains, among which the food processing industry. The TANGO project, conducted by the INRAE department STLO (Rennes) aimed at following a controlled bacterial community during the process of cheese production. The project also involved studying the impact of changes in production processes on organoleptic properties of the cheese. Multi-omic data was generated all along the experiment, enabling the monitoring of gene expression in bacteria, but also the metabolite production in the cheese. Pleiade was involved in the bioinformatic analysis of the project through the internship of Maxime Lecomte, in collaboration with Hélène Falentin (INRAE STLO Rennes) and Simon Labarthe (external collaborator of the team).
During his internship Maxime Lecomte contributed to building metabolic models for the members of the TANGO bacterial community, and performed the first simulations of the community metabolism over time.
The data generated by TANGO is a a great resource to study the evolution of a community over time. Such data now constitutes a basis for the PhD project of Maxime Lecomte. It aims at developping hybrid - logical and quantitative - modelling methods of the microbial metabolism in ecosystems. Calibrating such methods on a controlled and small scale ecosystem will be valuable for furture scaled up predictions.
7.6
Metabolic analyses of marine algae
Brown algae, especially the species Ectocarpus siliculosus, are important models for deciphering the complex interactions within marine holobionts, with the goal of studying their metabolism together with the metabolism of the bacteria that inhabit their direct environment. Because performing wet lab experiments on such systems is technocally challenging, there is need for bioinformatic predictive methods for assessing the putative roles and interdependences between species. In parallel, addressing the difficulties brought by the study of these organisms is also a means to enhance and calibrate the tools devlopped in the team. Hence a fruitful collaboration for the past years has been developed with scientists from the Roscoff Biological station.
In 2020, the genome of Ectocarpu subulatus was published 11, constituting a valuable resource for future studies that involve this stress-tolerant alga. In addition, we published a direct application of our methods for minimal community selection 10. In this work, we illustrate how predictions performed with MiSCoTo, a tool developped in the team, can meaningfully suggest metabolic dependencies between an alga and associated bacteria, and can help build controlled communities for laboratory cultures. In 2020, we also summarized in a review paper how the use of combinatorial optimisation problems such as the one solved in MiSCoTo can be applied to elucidate the physiology of brown algae 13.
7.7
Large-scale analyses of microbiomes diversity
With the decreasing cost of shotgun metagenomic experiments, the DNA sequences of more and more microbiotas become available, constituting an invaluable resource for deciphering their organisation. The growing resources of available metagenomes for a variety of ecosystems make it possible to study the distribution of bacteria and fungi environmental or host-associated microbiomes. We performed such work in 7 in which more than 13,000 metagenomes from 25 ecosystems were compiled. We demonstrated the differences in bacteria-to-fungi relative abundance ratio between environmental and host-associated microbiotas. We were able to distinguish habitats based on their composition in bacteria and fungi, highlighting differences between environmental habitats, external host and human influenced habitats, and anaerobic habitats like the gut.
In 14, we discussed the different possibilities for assessing the functions of an ecosystem starting from sequences. We evaluated the applicability and pitfalls of metabolic modelling in the context of metagenomes.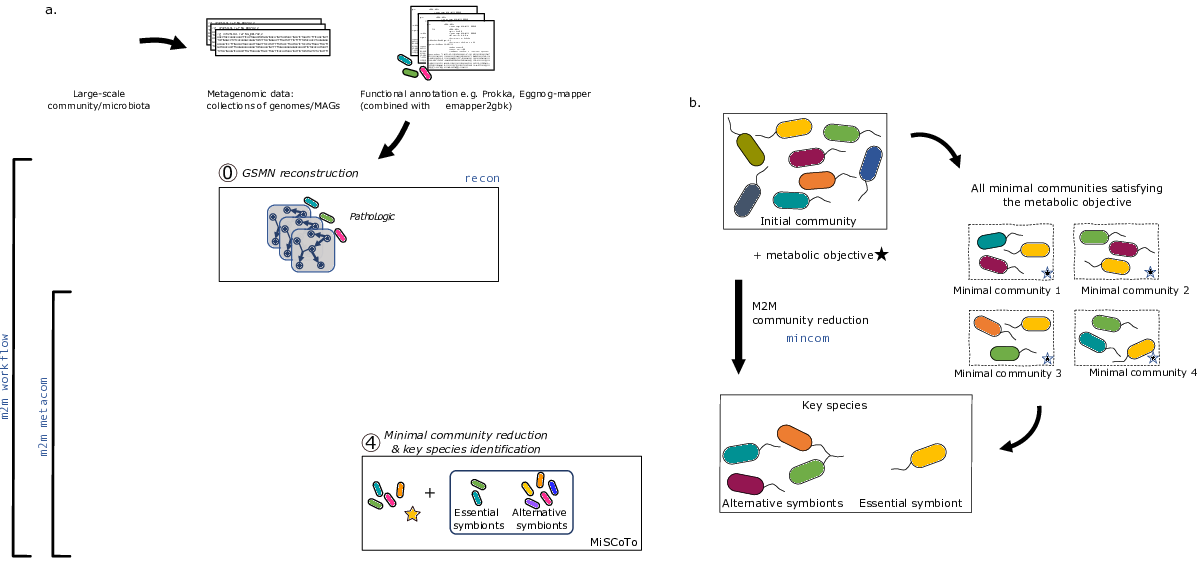 By assembling and binning the sequencing reads produced in metagenomics, it is possible to obtain metagenome-assembled genomes (MAGs) that can be assigned to taxonomic clades. These MAGs can be used to build predictions of the metabolism of the associated species, and in this way used as a proxy to understand the physiology of the underlying community. Metage2Metabo (M2M), a software system designed in Pleiade, aims at analysing the metabolic complementarity within a microbiota or a large collection of reference genomes, and to identify key species among them. Key species are members of the ecosystem that appear in some (alternative symbionts) or in all (essential symbionts) minimal communities associated to a function (see Figure 7 b.). M2M is a flexible pipeline that automatically performs metabolic network reconstruction from annotated genomes or MAGs, and analyses the resulting networks to capture the metabolic potential of associated species, both individually and as a community (see Figure 7 a.). We demonstrated the applicability of M2M using large-scale collections of genomes and MAGs, promoting the use of such a screening workflow to screen the metabolism of metagenomes 9. We presented M2M as a poster in the JOBIM conference (French conference gathering scientists of bioinformatics-related fields) in June 2020 18
In addition, we started the ADT MetagenoPic project, aiming at building a platform suitable for the analysis of raw metagenomic data, and bridging the resulting treated data to our existing methods for metabolic screening of communities (M2M).
8
Partnerships and cooperations
8.1
International initiatives
8.1.1
Participation in other international programs
Vitapalm – Food and nutrition security and sustainable agriculture in Africa
Pleiade participates in the Vitapalm program financed by LEAP-Agri2, the joint Europe Africa Research and Innovation (R&I) initiative related to Food and Nutrition Security and Sustainable Agriculture. Vitapalm uses genomics and selection to improve the nutritional quality and the stability of palm oil produced by Africa smallholdings for local consumption. Project partners are from Cameroon, France, Germany, and Ghana.
Simulation of metacommunities
In collaboration with the Pasteur Institute in Cayenne and the INRAE MIA Research Team in Toulouse, Pleiade is developing a stochastic model for simulation of metacommunities, in the framework of patch occupancy models. The objective is a better understanding of zoonose propagation, namely rabies through bat hosts in connection with disturbances of pristine forests in French Guiana, which have an impact on the exposure of human populations to wildlife that act as reservoirs of zoonoses.
CEBA – Center for the study of biodiversity in Amazonia
The Laboratoire of excellence CEBA promotes innovation in research on tropical biodiversity. It brings together a network of internationally-recognized French research teams, contributes to university education, and encourages scientific collaboration with South American countries. Pleiade participates in three current international projects funded by CEBA:
MicroBIOMES: Microbial Biodiversities

. 2017-19.

Neutrophyl: Inferring the drivers of Neotropical diversification

. 2017-19.

Phyloguianas: Biogeography and pace of diversification in the Guiana Shield

. 2015-present
Pleiade is involved with BioGeCo as partner of Institut Pasteur de Guyane at Cayenne for developing the domain of so-called Ecoviromics for some zoonoses in French Guiana. The spine of this collaboration is co-supervizing of a PhD student at IPG in cayenne, in bioinformatics and statistical ecology to decipher the respective roles of host phylogeny and environmetal variables in the virome of different hosts (bats, rodents, birds).
8.2
European initiatives
8.2.1
FP7 & H2020 Projects
PRACE 6th Implementation Phase Project
PRACE, the Partnership for Advanced Computing, is the permanent pan-European High Performance Computing service. High-performance Systems at Tier-0 are deployed by Germany, France, Italy, Spain and Switzerland, providing researchers with more than 17 billion core hours of compute time. PRACE-6IP assists the development of PRACE 2; strengthens the internationally recognised PRACE brand; provides advanced training; defines strategies and best practices for Exascale computing, works on forward-looking software solutions; coordinates and enhances the operation of the multi-tier HPC systems and services; and supports users in exploiting massively parallel systems and novel architectures.
EOSC-Pillar
Coordination and Harmonisation of National and Thematic Initiatives to support EOSC. This is a follow up of our former participation in EOSC-Pilot. In collaboration with HiePACS, Pleiade is involved in task 7.4, for bringing use cases in metabarcoding as testbeds for circulation of codes between different infrastructures, including PlaFRIM.
8.2.2
Collaborations in European programs, except FP7 and H2020
COST Action DNAqua.net
Pleiade is responsible for the WG "Data Analysis and storage" in this action. As such, in 2019 we organized with CNR Verbana (Italy) two European wide workshops: one in Lyon in February 2019, and one in Limassol (Cyprus) in October 2019. As a follow up of these workshops, Pleiade and BioGeCo became responsible for taking in charge data analysis of OTU picking in two European wide projects:
a benchmark for different tools for OTU picking, with datasets from different European teams,
a comparison between different organisms (metabarcoding inventories) for assessing the quality of the water of Danube river, in collaboration with raparian countries.
8.2.3
Collaborations with major European organizations
8.3
National initiatives
8.3.1
Agence Française pour la Biodiversité
The AFB is a public law agency of the French Ministry of Ecology that supports public policy in the domains of knowledge, preservation, management, and restoration of biodiversity in terrestrial, aquatic, and marine environments. Pleiade is a partner in two AFB projects developed with the former ONEMA: one funded by ONEMA, the second by labex COTE, where BioGeCo/Pleiade is responsible for data analysis, with implementaton of the tools recently developed for scaling MDS. Calculations have been made on CURTA at MCIA and PlaFRIM at INRIA.
8.4
Regional initiatives
Malabar
This is a project funded by labex COTE (University of Bordeaux) as a collaboration between EPOC (Talence), IFREMER (Arcachon), and ETI (chair of the Labex). The guideline of the project is to build models in statistical ecology on a series of molecular based invetories (300 samples) from occurence matrices of OTUs in samples, with environmental variables. The samples have been collected in 2018-2019, the sequences produced by BioGeCo in 2019, and data analysis will begin in 2020.
High-performance computing and metabarcoding
Pleiade is member of two projects, one funded by the Région Nouvelle Aquitaine and one funded as Inria ADT Gordon, connecting Chameleon, StartPU and NewMadeleine, where the use case of metabarcoding (questions, data sets) hase been selected to link these layers together. This will permit us to address unsupervised clustering of one million reads next year. These projects are in collaboration with the HiePACS, Tadaam, and Storm project-teams.
COTE – Continental to Coastal Ecosystems
The Labex cluster of excellence COTE (Continental To coastal Ecosystems: evolution, adaptability and governance) develops tools to understand and predict ecosystem responses to human-induced changes as well as methods of adaptative management and governance to ensure their sustainability. The LabEx includes nine laboratories of the University of Bordeaux and major national research institutes involved in research on terrestrial and aquatic ecosystems (INRAE, CNRS, and IFREMER).
9
Dissemination
9.1
Promoting scientific activities
9.1.1
Scientific events: organisation
Alain Franc of Pleiade is deeply involved in the organisation and leadership of COST programme DNAqua.net final General A1ssembly which takes the form of a (virtual) conference gathering about 1300 attendees with 250 submitted abstracts. Pleiade is involved as part of the core grop (Management Committee), Scentific Committee and co-head of working group on Data Analysis and storage.
Member of the editorial boards
Alain Franc is member of the editorial board of BMC Evolutionary Biology.
Pascal Durrens is a member of the editorial board of the journal ISRN Computational Biology.
Reviewer - reviewing activities
Clémence Frioux reviewed articles for the following journals: Bioinformatics, BioSystems, BMC Bioinformatics and Scientific Reports.
9.1.2
Invited talks
Gap-filling metabolism in systems biology and microbial systems ecology - Clémence Frioux - BioNum Seminar - LaBRI Bordeaux - February 2020
9.1.3
Scientific expertise
David Sherman is a member of the Scientific Advisory Board of Enlightware GmbH, Zürich.
9.1.4
Research administration
Alain Franc has been appointed "chargé de mission calcul" at INRAE by the INRAE Delegate for Digital Transition. As such, his mission is to propose animations and solutions for the development of scientific computing at INRAE, whatever the Research Department.
David Sherman is president of the Commission for Technology Development (CDT) of the Inria Bordeaux Sud-Ouest research center. The CDT has two roles. First, it evaluates funding requests for Technology Development and Technology Transfer projects, which typically involve hiring technical staff. Second, the CDT is responsible for validating and overseeing contract engineers hired by Inria project-teams.
David Sherman is a member of the steering committee of the Region Nouvelle Aquitaine's regional research network "Biodiversity and Ecosystemic Services" (BIOSENA). BIOSENA unites academic and socio-professional actors who share the goal of contributing to knowledge and preservation of biodiversity, as wel as the improvement of services to ecosystems through research, knowledge dissemination, promoting scientific culture and transferring skills through research actions. BIOSENA implements the recommendations of Ecobiose.
9.2
Teaching - Supervision - Juries
9.2.1
Teaching
Clémence Frioux
Master – ENSTBB Bordeaux INP - Bioinformatics
Master – Master Bioinformatique Université de Bordeaux - Projet de Programmation
9.2.2
Supervision
Internship Ariane Badoual (Master 2 Bioinformatique et Génomique Université de Rennes 1) - January to July 2020 - supervised by Clémence Frioux
Internship Maxime Lecomte (Master 2 Bioinformatique Université de Bordeaux) - February to August 2020 - cosupervised by Clémence Frioux and Simon Labarthe
PhD Maxime Lecomte - from November 2020 - cosupervised by Hélène Falentin, David Sherman and Clémence Frioux
9.2.3
Doctoral Advisory Committees
David Sherman was a member of the doctoral advisory committees of:
Andony Arrieula
Charlotte Herzog
9.3
Popularization
Unusually, Pleiade did not organize popularization activities during the 2020 calendar year, because of the Covis-19 crisis.
10
Scientific production
10.1
Major publications
1

article

A Gondwanan imprint on global diversity and domestication of wine and cider yeast Saccharomyces uvarum.

Nature Communications

5

2014

,

4044

2

article

Modeling acclimatization by hybrid systems: Condition changes alter biological system behavior models

BioSystems

121

June 2014

,

43-53

3

article

Metage2Metabo, microbiota-scale metabolic complementarity for the identification of key species

eLife

9

December 2020

4

incollection

Why We Need Sustainable Networks Bridging Countries, Disciplines, Cultures and Generations for Aquatic Biomonitoring 2.0: A Perspective Derived From the DNAqua-Net COST Action

Next Generation Biomonitoring: Part 1

58

Elsevier

2018

,

63-99

5

article

Exact or approximate inference in graphical models: why the choice is dictated by the treewidth, and how variable elimination can be exploited

Australian and New Zealand Journal of Statistics

61

2

to appear

June 2019

,

89-133

6

article

Genolevures: protein families and synteny among complete hemiascomycetous yeast proteomes and genomes.

Nucleic Acids Research

37

2009

,

D550-D554
10.2
Publications of the year
10.3
Cited publications
19

article

SIGPLAN Notices

Generating Embedded Software from Hierarchical Hybrid Models

38

7

2003

,

171--82

20

article

RADseq underestimates diversity and introduces genealogical biases due to nonrandom haplotype sampling

Mol. Ecol.

22

11

2013

,

3179--90

21

article

Reusing and composing models of cell fate regulation of human bone precursor cells

BioSystems

108

1-3

April 2012

,

63-72

22

article

Implementing biological hybrid systems: Allowing composition and avoiding stiffness

Applied Mathematics and Computation

223

August 2013

,

167--79

23

inproceedings

Reconciling competing models: a case study of wine fermentation kinetics

Algebraic and Numeric Biology 2010

6479

Research Institute for Symbolic Computation, Johannes Kepler University of Linz

Hagenberg, Austria

Springer

July 2010

,

68--83

24

article

The Euclidean Distance Matrix Completion Problem

SIAM J. Matrix Anal. App.

16

2

1995

,

646-654

25

techreport

A geometric view of Biodiversity: scaling to metagenomics

RR-9144

https://arxiv.org/abs/1803.02272

INRIA ; INRA

January 2018

,

1-16

26

article

Exact Matrix Completion via Convex Optimization

Found. Comput. Math.

9

2009

,

717-772

27

article

Replacing fossil oil with fresh oil - with what and for what?

Eur J Lipid Sci Technol

113

7

2011

,

812-831

28

book

Parasitism: The Ecology and Evolution of Intimate Interactions

University of Chicago Press

2001

29

article

Structural analysis of expanding metabolic networks.

Genome informatics. International Conference on Genome Informatics

15

1

2004

,

35--45

30

article

Scalable and exhaustive screening of metabolic functions carried out by microbial consortia

Bioinformatics

34

17

2018

,

i934--i943

31

article

Reference-free population genomics from next-generation transcriptome data and the vertebrate-invertebrate gap

PLoS Genetic

9

4

e1003457

2013

32

article

Clingo = ASP + Control: Preliminary Report

CoRR

abs/1405.3694

2014

33

inproceedings

Advances in gringo Series 3

LPNMR

6645

Lecture Notes in Computer Science

Springer

2011

,

345---351

34

article

Docosahexaenoic acid: one molecule diverse functions

Crit Rev Biotechnol.

37

5

Aug 2017

,

579-597

URL: http://dx.doi.org/10.1080/07388551.2016.1207153

35

article

Euclidean Distance Geometry and Applications

SIAM review

56(1)

2014

,

3-69

36

article

Estimation of Nucleotide Diversity, Disequilibrium Coefficients, and Mutation Rates from High-Coverage Genome-Sequencing Projects

Mol. Biol. Evol.

25

11

2008

,

2409--19

37

article

Improving palm oil quality through identification and mapping of the lipase gene causing oil deterioration

Nat Commun

4

2013

,

2160

URL: http://dx.doi.org/10.1038/ncomms3160

38

article

Exact or approximate inference in graphical models: why the choice is dictated by the treewidth, and how variable elimination can be exploited

Australian and New Zealand Journal of Statistics

61

2

June 2019

,

89-133

39

article

A comprehensive framework for global patterns in biodiversity

Ecology Letters

7

1

2004

,

1--15

URL: http://dx.doi.org/10.1046/j.1461-0248.2003.00554.x

40

article

R-Syst::diatom: an open-access and curated barcode database for diatoms and freshwater monitoring

Database - The journal of Biological Databases and Curation

2016

February 2016

41

article

A unifying review of linear Gaussian Models

Neural Computation

11

2

1999

,

305--45

42

article

Think globally, fit locally: unsupervised learning of low dimensional manifolds

Journal of Machine Learning Research

4

2003

,

119--55

43

book

On Growth and Form

Cambridge University Press

1917

44

book

Geometric structure of high-dimensional data and dimensionality reduction

Springer & Higher Education Press

2012