2021
Activity report
Project-Team
PLEIADE
In partnership with:
CNRS, INRAE
Team name:
Patterns of diversity and networks of function
In collaboration with:
Laboratoire Bordelais de Recherche en Informatique (LaBRI), Biodiversité, Gènes & Communautés (BioGeCo)
Domain
Digital Health, Biology and Earth
Theme
Computational Biology
Creation of the Project-Team: 2019 March 01
Keywords
A3.1.

Data

A3.2.

Knowledge

A3.3.2.

Data mining

A3.3.3.

Big data analysis

A3.4.

Machine learning and statistics

A6.1.

Methods in mathematical modeling

A6.2.

Scientific computing, Numerical Analysis & Optimization

A8.2.

Optimization

A9.8.

Reasoning
B1.1.7.

Bioinformatics

B1.1.10.

Systems and synthetic biology

B3.

Environment and planet
1
Team members, visitors, external collaborators
Research Scientists
David

Sherman

[

Team leader

,

Inria

,

Senior Researcher

,

HDR

]

Pascal

Durrens

[

CNRS

,

Researcher

,

HDR

]

Alain

Franc

[

Institut national de recherche pour l'agriculture, l'alimentation et l'environnement

,

Senior Researcher

,

until Apr 2021

,

HDR

]

Clémence

Frioux

[

Inria

,

Researcher

]

Simon

Labarthe

[

Institut national de recherche pour l'agriculture, l'alimentation et l'environnement

,

Researcher

]
Post-Doctoral Fellows
Guillaume

Ravel

[

Institut national de recherche pour l'agriculture, l'alimentation et l'environnement

,

until Oct 2021

]

Pablo

Ugalde Salas

[

Inria

,

from Nov 2021

]
PhD Students
Mohamed Anwar

Abouabdallah

[

Inria

]

Maxime

Lecomte

[

Institut national de recherche pour l'agriculture, l'alimentation et l'environnement

]
Technical Staff
Ariane

Badoual

[

Inria

,

Engineer

]

Philippe

Chaumeil

[

Institut national de recherche pour l'agriculture, l'alimentation et l'environnement

,

Engineer

,

until Apr 2021

]

Jean-Marc

Frigerio

[

Institut national de recherche pour l'agriculture, l'alimentation et l'environnement

,

Engineer

]

Franck

Salin

[

Institut national de recherche pour l'agriculture, l'alimentation et l'environnement

,

Engineer

]
Interns and Apprentices
Johan

Baric-Monzat

[

Inria

,

Jan 2021

]

Mathieu

Bolteau

[

Inria

,

from Feb 2021 until Aug 2021

]

Samuel

Dutron

[

Inria

,

Jan 2021

]
Administrative Assistants
Catherine

Cattaert Megrat

[

Inria

,

from Aug 2021

]

Roweida

Mansour El Handawi

[

Inria

,

until Sep 2021

]
External Collaborator
Alain

Franc

[

Institut national de recherche pour l'agriculture, l'alimentation et l'environnement

,

from May 2021

,

HDR

]
2
Overall objectives
Diversity, evolution, and inheritance form the heart of modern biological thought. Modeling the complexity of biological systems has been a challenge of theoretical biology for over a century 57 and flourished with the evolution of data for describing biological diversity, most recently with the transformative development of high-throughput sequencing. However, most concepts and tools in ecology and population genetics for capitalizing on this wealth of data are still not adapted to high throughput data production. A better connection between high-throughput data production and tool evolution is highly needed: computational biodiversity.
Paradoxically, diversity emphasizes differences between biological objects, while modeling aims at unifying them under a common framework. This means that there is a limit beyond which some components of diversity cannot be mastered by modeling. We need efficient methods for recognizing patterns in diversity, and linking them to patterns in function. It is important to realize that diversity in function is not the same as coupling observed diversity with function. Diversity informs both the study of traits, and the study of biological functions (Figure 1). The double challenge is to measure these links quickly and precisely with pattern recognition, and to explore the relations between diversity in traits and diversity in function through modeling.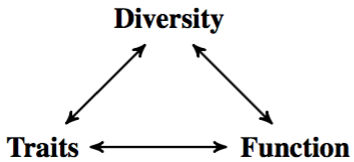 Pleiade links recognition of patterns, classes, and interactions with applications in biodiversity studies and biotechnology. We develop distance methods for NGS datasets at different levels of organization: between genomes, between individual organisms, and between communities; and develop high-performance pattern recognition and statistical learning techniques for analyzing the resulting point clouds. We refine inferential methods for building hierarchical models of networks of cellular functions, exploiting the mathematical relations that are revealed by large-scale comparison of related genomes and their models. NGS analysis outputs are further used to inform multi-scale models of population dynamics, with a special focus on microbes communities. These models need in turn new methodological improvements (machine learning, inference, PDE simplification) to fully integrate multi-omics data. We combine these methods into integrated e-Science solutions to place these tools directly in the hands of biologists.
Our methodology (Figure 2) is designed pragmatically to advance the state of the art in applications from biodiversity and biotechnology: molecular based systematics and community ecology, annotation and modeling for biotechnology.

4
Application domains
4.1
Genome and transcriptome annotation, to model function
Sequencing genomes and transcriptomes provides a picture of how a biological system can function, or does function under a given physiological condition. Simultaneous sequencing of a group of related organisms is now a routine procedure in biological laboratories for studying a behavior of interest, and provides a marvelous opportunity for building a comprehensive knowledge base of the relations between genomes1, 11. Key elements in mining these relations are: classifying the genes in related organisms and the reactions in their metabolic networks, recognizing the patterns that describe shared features, and highlighting specific differences.
Pleiade develops applications in comparative genomics of related organisms, using new mathematical tools for representing compactly, at different scales of difference, comparisons between related genomes. New methods based on computational geometry refine these comparisons. Compact representations can be stored, exchanged, and combined. They will form the basis of new simultaneous genome annotation methods, linked directly to abductive inference methods for building functional models of the organisms and their communities.
Our ambition in biotechnology is to permit the design of synthetic or genetically selected organisms at an abstract level, and guide the modification or assembly of a new genome. Our effort is focused on two main applications: genetic engineering and synthetic biology of oil-producing organisms (biofuels in CAER, palm oils), and improving and selecting starter microorganisms used in winemaking (collaboration with the ISVV and the BioLaffort company).
4.1.1
Oil Palm lipid synthesis
The largest source of vegetable oil 1 is the fruit mesocarp of the oil palm Elaeis guineensis, a remarkable tissue that can accumulate up to 90% oil, the highest level observed in the plant kingdom. The market share of oil palm is expected to increase in order to meet increased demand for vegetable oil, predicted to double by 2030 41, be it as food or as a source of biofuels in Africa. A significant proportion of palm oil is produced on small estates that do not have access to efficient milling facilities, and run a great risk of spoilage through oil acidification. Improving palm oil quality through genetics and selection will result in economic gains 51 by addressing several targets such as improvement of oil yield, tuning of oil quality through the rate of unsaturated fatty acids or impairment of degradation processes. Furthermore, as genome biodiversity resides mostly in Africa, oil from African oil palms can vary greatly in fatty acid composition according to cultivar genetic differences and to weather conditions, and the precise mechanisms regulating this variability are not yet understood.
A growing body of molecular resources for studying oil palm fruit are making it possible to study and improve the quality and quantity of oil produced by oil palms. In particular, these oils can vary greatly in fatty acid composition, and while the precise mechanisms regulating this variability are not completely understood, establishing a link between oil palm genotype and phenotype appears increasingly feasible. Pleiade will work with the CNRS/UB UMR 5200 (LBM), a laboratory with an established reputation in studying fatty acid metabolism in E. guineensis, to improve understanding of the links between genetic diversity and oil production, and participate in developing applications.
4.2
Molecular based systematics and taxonomy
Defining and recognizing the myriads of species occuring in the biosphere has been the focus of phenomenal energy over the past centuries and remains a major goal of Natural History. It is an iconic paradigm in pattern recognition (clustering has coevolved with numerical taxonomy many decades ago). Developments in evolution and molecular biology, as well as in data analysis, have over the past decades enabled a profound revolution, where species can be delimited and recognized by data analysis of sequences. We aim at proposing new tools, in the framework of E-science, which make possible () better exploration of the diversity in a given clade, and () assignment of a place in these patterns for new, unknown organisms, using information provided by sets of sequences. This will require investment in data analysis, machine learning, and pattern recognition to deal with the volumes of data and their complexity.
One example of this project is about the diversity of trees in Amazonian forest, in collaboration with botanists in French Guiana. Protists (unicellular Eukaryots) are by far more diverse than plants, and far less known. Molecular exploration of Eukaryotes diversity is nowadays a standard in biodiversity studies. Data are available, through metagenomics, as an avalanche and make molecular diversity enter the domain of Big Data. Hence, an effort will be invested, in collaboration with other INRIA teams (GenScale, HiePACS) for porting to HPC algorithms of pattern recognition and machine learning, or distance geometry, for these tools to be available as well in metagenomics. This will be developed first on diatoms (unicellular algae) in collaboration with INRAE team at Thonon and University of Uppsala, on pathogens of tomato and grapewine, within an existing network, and on bacterial communities, in collaboration with University of Pau. For the latter, the studies will extend to correlations between molecular diversity and sets of traits and functions in the ecosystem.
4.3
Community ecology and population genetics
Community assembly models how species can assemble or diassemble to build stable or metastable communities. It has grown out of inventories of countable organisms. Using metagenomics one can produce molecular based inventories at rates never reached before. Most communities can be understood as pathways of carbon exchange, mostly in the form of sugar, between species. Even a plant cannot exist without carbon exchange with its rhizosphere. Two main routes for carbon exchange have been recognized: predation and parasitism. In predation, interactions–even if sometimes dramatic–may be loose and infrequent, whereas parasitism requires what Claude Combes has called intimate and sustainable interactions 42. About one decade ago, some works 53 have proposed a comprehensive framework to link the studies of biodiversity with community assembly. This is still incipient research, connecting community ecology and biogeography.
We aim at developping graph-based models of co-occurence between species from NGS inventories in metagenomics, i.e. recognition of patterns in community assembly, and as a further layer to study links, if any, between diversity at different scales and community assemblies, starting from current, but oversimplified theories, where species assemble from a regional pool either randomly, as in neutral models, or by environmental filtering, as in niche modeling. We propose to study community assembly as a multiscale process between nested pools, both in tree communities in Amazonia, and diatom communities in freshwaters. This will be a step towards community genomics, which adds an ecological flavour to metagenomics.
Convergence between the processes that shape genetic diversity and community diversity–drift, selection, mutation/speciation and migration–has been noted for decades and is now a paradigm, establishing a continuous scale between levels of diversity patterns, beyond classical approaches based on iconic levels like species and populations. We will aim at deciphering diversity pattern along these gradients, connecting population and community genetics. Therefore, some key points must be adressed on reliability of tools.
Next-generation sequencing technologies are now an essential tool in population and community genomics, either for making evolutionary inferences or for developing SNPs for population genotyping analyses. Two problems are highlighted in the literature related to the use of those technologies for population genomics: variable sequence coverage and higher sequencing error in comparison to the Sanger sequencing technology. Methods are developed to develop unbiased estimates of key parameters, especially integrating sequencing errors 50. An additional problem can be created when sequences are mapped on a reference sequence, either the sequenced species or an heterologous one, since paralogous genes are then considered to be the same physical position, creating a false signal of diversity 46. Several approaches were proposed to correct for paralogy, either by working directly on the sequences issued from mapped reads 46 or by filtering detected SNPs. Finally, an increasingly popular method (RADseq) is used to develop SNP markers, but it was shown that using RADseq data to estimate diversity directly biases estimates 34. Workflows to implement statistical methods that correct for diversity biases estimates now need an implementation for biologists.
5
Social and environmental responsibility
5.1
Footprint of research activities
Pleiade uses high-performance computing resources as an integral part of its research program.
6
Highlights of the year
Alain Franc authored a book on Tensor Ranks 26, released as an Inria Research Report and on ArXiv.
Pleiade members contributed to a large meta-analysis of more than 5,000 metagenomic samples associated to the human faecal microbiome in 13. Temporal, geographical and family associations of persistently occurring species suggest explanations of their behavior with respect to human hosts.
Pleiade members curated and optimized metabolic models of bacterial communities contributing to organoleptic qualities of cheese. A model of the microbial community dynamics was developed and compared to metabolomics data, revealing the qualitative and quantitative impact of community association compared to individual culture 23.
7
New software and platforms
7.1
New software
7.1.1
Metage2Metabo
Keywords:

Metabolic networks, Microbiota, Metagenomics, Workflow

Scientific Description:

Flexible pipeline for the metabolic screening of large scale microbial communities described by reference genomes or metagenome-assembled genomes. The pipeline comprises several main steps. (1) Automatic and parallel reconstruction of metabolic networks. (2) Computation of individual metabolic potentials (3) Computation of collective metabolic potential (4) Calculation of the cooperation potential described as the set of metabolites producible by species only in a cooperative context (5) Computation of minimal-sized communities sastifying a metabolic objective (6) Extraction of key species (essential and alternative symbionts) associated to a metabolic function

Functional Description:

Metabolic networks are graphs which nodes are compounds and edges are biochemical reactions. To study the metabolic capabilities of microbiota, Metage2Metabo uses multiprocessing to reconstruct metabolic networks at large-scale. The individual and collective metabolic capabilities (number of compounds producible) are computed and compared. From these comparisons, a set of compounds only producible by the community is created. These newly producible compounds are used to find minimal communities that can produce them. From these communities, the keytstone species in the production of these compounds are identified.

News of the Year:

(1) Improvements of the pipeline and its continuous integration (2) Release of version 1.5.0 (3) Development of m2m-analysis subpipeline

URL:

Publication:

Contact:

Clemence Frioux

Participants:

Clemence Frioux, Arnaud Belcour, Anne Siegel
7.1.2
MiSCoTo
Name:

Microbiota Screening and COmmunity Selection with TOpology

Keywords:

Metabolic networks, ASP - Answer Set Programming, Logic programming

Scientific Description:

MiSCoTo solves combinatorial problems using Answer Set Programming. It aims at minimizing either the number of selected species or both the number of selected species and the cost of the interaction between them, characterized by the number of metabolic exchanges. In the first case, the level of modeling is called lumped or mixed-bag, in the latter, it is compartmentalized.

Functional Description:

Metabolic networks are composed of biochemical reactions and gather the expected metabolic capabilities of species. For organisms that live in interaction altogether (microbiotas), complementarity between these networks can be exploited to predict cooperation events. This software takes as inputs metabolic networks for various species (host, symbionts of the microbiota), components of the growth medium and a metabolic objective (metabolites to be produced), and aims at selecting a minimal set of symbionts to ensure the metabolic objective can be achieved. The software can use two types of modelings: a simplified one and another that takes into account the cost of metabolic exchanges and aims at minimizing it.

Release Contributions:

Memory usage optimization. Fix issues with input file formats.

News of the Year:

(1) Release of version 3.1.1 (2) New functionality: miscoto-focus determines the metabolic potential of symbionts of interest in the community

URL:

Publication:

Contact:

Clemence Frioux

Participants:

Clemence Frioux, Anne Siegel, Enora Fremy, Camille Trottier, Arnaud Belcour
7.1.3
MeneTools
Name:

Metabolic networks Topological tools

Keywords:

Metabolic networks, Graph, Topology, Bioinformatics, Systems Biology, ASP - Answer Set Programming

Scientific Description:

MeneTools are a set of tools for the exploration of the producibility potential in a metabolic network using the network expansion algorithm. The MeneTools can: - assess whether targets are producible starting from nutrients (Menecheck) - get all compounds that are producible starting from nutrients (Menescope) - get all reactions that are activable from nutrients (Meneacti) - get production paths of specific compounds (Menepath) - obtain compounds that if added to the nutrients, would ensure the producibility of targets (Menecof) - identify metabolic deadends, i.e. metabolites that act as reactants of reactions but never as products, or metabolites that act as products of reactions but never as reactants. This is a purely structural analysis. All MeneTools using modelling follow the producibility in metabolic networks as defined by the network expansion algorithm.

Functional Description:

MeneTools consists in four topological tool to analyze metabolic models in a graph-based perspective. Menecheck verifies the producibility of target compounds from available substrates (growth medium) of the metabolic network. Menescope gives the whole range of accessible compounds in the metabolic network starting from substrates. Menepath give the production paths of given compounds in the model. Menecof proposes compounds that need to be produced or added as substrate for ensuring the producibility of targets.

News of the Year:

(1) Release of version 3.2.0 (2) New functionality: mene-seed identifies external compounds from the topology of the network

URL:

Publications:

Contact:

Clemence Frioux

Participants:

Clemence Frioux, Anne Siegel, Arnaud Belcour
7.1.4
Fluto
Keywords:

ASP - Answer Set Programming, Answer Set Programming, Metabolic networks, Flux Balance Analysis, Linear programming

Scientific Description:

Fluto performs metabolic network completion with respect to topological and linear reaction rate constraints based on the stoichiometry of metabolic reactions.

Functional Description:

Fluto relies on Answer Set Programming (ASP) and a hybrid modelling that associates to ASP a Linear Programming (LP) constraint propagator. Models satisfying the qualitative constraints of network expansion are tested for satisfiability of flux constraints with the LP propagator. Resulting answer sets permit the completion of a metabolic network that ensures the metabolic reaction of interest is activated according to both formalisms.

News of the Year:

Reorganisation of the code. Implementation of continuous integration. Addition of the Sagot & Acuna formalism in the software.

URL:

Publications:

Contact:

Clemence Frioux

Participant:

Sven Thiele

Partners:

Max Planck Institute Magdeburg, University of Potsdam
7.1.5
Emapper2GBK
Keywords:

Bioinformatics, Metabolic networks, Functional annotation

Functional Description:

Starting from FASTA and Eggnog-mapper annotation files, Emapper2GBK builds a GBK file that is suitable for metabolic network reconstruction with Pathway Tools, and adds the GO terms and EC numbers annotations in the GenBank file.

URL:

Publication:

Contact:

Clemence Frioux

Participants:

Clemence Frioux, Arnaud Belcour, Anne Siegel
7.1.6
Biodiversiton
Name:

Biodiversiton

Keywords:

Biodiversity, Comparative metagenomics, Clustering, Dimensionality reduction, Masses of data

Functional Description:

Biodiversiton is a suite of tools for biodiversity composed by Rsyst, pairwise_dis, diagno_syst, and yapotu. The global project provides tutorials, datasets, and a readme for the whole suite.

URL:

Authors:

Alain Franc, Jean-Marc Frigerio, Franck Salin

Contact:

Alain Franc
7.1.7
Rsyst
Name:

Rsyst

Keywords:

Biodiversity, Metagenomics, Clustering, Dimensionality reduction, Masses of data

Functional Description:

Contains the R-Syst databases, in sqlite format, as well as python programs for querying them through a python interface for the most common queries.

URL:

Authors:

Jean-Marc Frigerio, Franck Salin, Alain Franc

Contact:

Alain Franc

Partner:

INRAE
7.1.8
pydiodon
Name:

Pydiodon

Keywords:

Dimensionality reduction, Data analysis

Functional Description:

Most dimension reduction methods inherited from Multivariate Data Analysis, and currently implemented as elements in statistical learning for handling very large datasets (meaning the dimension of spaces is the number of features), rely on a chain of pretreatments, a core with a SVD for low rank approximation of a given matrix, and a post-treatment for interpreting results. The costly part in computations is the SVD, which is in cubic complexity. Diodon is a list of functions and drivers which implement (i) pre-treatments, SVD and post-treatments on a large diversity of methods, (ii) random projection methods for running the SVD which permits to bypass the time limit in computing the SVD, and (iii) an implementation in C++ of the SVD with random projection at prescribed rank or precision, connected to MDS.

Pydiodon is a deliverable of the ADT Diodon (see https://gitlab.inria.fr/diodon) which will provide an API in python (pydiodon) and C++ (cppdiodon), the former developed by Pleiade with the SED, the latter developped by the SED with Hiepacs (connections with FMR).

News of the Year:

In 2020, ADT Diodon has started with a fresh version of diodon as a starting point: new project in inria gitlab, renamed

URL:

Contact:

Alain Franc

Participants:

Alain Franc, Jean-Marc Frigerio, Franck Salin, Florent Pruvost

Partner:

INRAE
7.1.9
Yapotu
Name:

Yet Another Pipeline for OTU building

Keywords:

Metagenomics, Biodiversity, Dimensionality reduction, Masses of data

Functional Description:

The main functionalities are as follows: 1) building OTUs from a fasta file (swarm, vsearch, ..) or a distannce file (yapotu) for an environmenal sample 2) building a fasta file and a distance file per OTU 3) checking the consistency of the OTUs by displaying them as a graph (see OTU as a graph below) 4) displaying the shape of an OTU or of a set of OTUs by Multidimensional Scaling 5) implementing Hierachical Aggregative Clustering of an OTU or a set of OTUs with various aggregation methods

News of the Year:

Ugraded from an older version, fusion with declic now deprecated, new functionalities for working with massive data sets

URL:

Authors:

Alain Franc, Jean-Marc Frigerio, Franck Salin

Contact:

Alain Franc

Partner:

INRAE
7.2
New platforms
Participants: David Sherman, Ariane Badoual.
As a founding principle, Pleiade supports reproducible scientific analyses and promotes a declarative approach using reusable software modules, rigorous documentation of data provenance, and systematic recording of workflows. The latter is a challenge when interactive interfaces are used, but can be addressed, to cite two examples, in Galaxy by extracting workflows, and in other systems by using Jupyter notebooks. Part of Pleiade's mission is to automate the deployment of environments that support these goals, for non-technical end users.
Pleiade maintains specific computing resources to support our work and that of our collaborators. There are four main use cases:
Fast deployment of

containerized user environments

, combining biological data and databases, software modules specified by version, a CWL executor, and interactive tools including web front ends, notebooks, or Galaxy. A user environment will provide at least one specific HTTPS endpoint, created dynamically. A single researcher may deploy several different environments in the course of one day.
Support for

development and testing of workflows

, as above but configured for team members who are developing software modules or interfaces, and who must often deploy several different environments simultaneously.
Dynamically allocated

containerized compute tasks

, including both individual analysis steps in workflows and GitLab runner containers used for continuous integration. These tasks arrive in bursts that often cannot be planned in advance.
Long-running

stream preprocessing

, a low-priority background task that watches external databases for changes, chooses pertinent data, precomputes representations and ingests them into local data bases.
We support community best practices for reproducible computing in bioinformatics, using biocontainers generated by bioconda, in CWL or Galaxy workflows. For internal use we provide TES endpoints and host JupyterHub environments.
Pleiade's environment is built on OKD 4, the community distribution of Kubernetes developed alongside of RedHat Openshift. OKD4 in particular uses the CRI-O runtime, not Docker, and containers run unprivileged. Software-defined storage and S3 endpoints are provided by Ceph.
9
Bilateral contracts and grants with industry
9.1

Bilateral contracts with industry

Participants: Clémence Frioux, Éloïse Guillem.

An Inria tech contract was conducted with the biotech Ysopia Bioscience between June and November 2021. This collaboration was carried out by Éloïse Guillem, engineer of the SED department, and Clémence Frioux.
10
Partnerships and cooperations
10.1
International initiatives
10.1.1

Inria associate team not involved in an IIL or an international program

Participants: Clémence Frioux, Maxime Lecomte.

Pleiade is a member of the SymBioDiversity associated team with the Mathomics department of Universidad de Chile in Santiago de Chile. This Inria associayed team is led by the Inria Dyliss project team.
10.2
National initiatives
Participants: Alain Franc, Jean-Marc Frigério.
10.2.1
Agence Française pour la Biodiversité
The AFB is a public law agency of the French Ministry of Ecology that supports public policy in the domains of knowledge, preservation, management, and restoration of biodiversity in terrestrial, aquatic, and marine environments. Pleiade is a partner in two AFB projects developed with the former ONEMA: one funded by ONEMA, the second by labex COTE, where BioGeCo/Pleiade is responsible for data analysis, with implementaton of the tools recently developed for scaling MDS. Calculations have been made on CURTA at MCIA and PlaFRIM at INRIA.
11
Dissemination
Participants: Clémence Frioux, David Sherman.
Member of the organizing committees
Clémence Frioux - CMSB 2021. Computational Methods in Systems Biology. September 22-24th, Bordeaux, France.
Member of the conference program committees
Clémence Frioux - CMSB 2021. Computational Methods in Systems Biology. September 22-24th, Bordeaux, France.
Reviewer
Clémence Frioux - CMSB 2021. Computational Methods in Systems Biology. September 22-24th, Bordeaux, France.
Reviewer - reviewing activities
11.0.3
Leadership within the scientific community
David Sherman is on the steering committee of Biosena, a regional research network of the New Aquitaine region dedicated to Biodiversity and Ecosystemic Services. Biosena associates actors from the academic and socio-economic sectors, with the goal of contributing to the understanding and preservation of biodiversity and to the improvement of ecosystemic services. Biosena contributes to this goal through research, knowledge dissemination, outreach, and skill transfer in the form of Research Action, in keeping with the recommendations of Ecobiose.
David Sherman is member of the board (membre du Conseil d'administration) and secretary of the Mobsya Association, Lausanne. Mobsya develops and commercializes the Thymio educational robot, geared towards K-12.
David Sherman is member of the board (membre du Conseil d'Administration) and lead advisor for software of the Poppy Station Association. Poppy Station develops open-hardware open-source humanoid robots for research and education.
11.1
Teaching - Supervision - Juries
11.1.1
Teaching
Clémence Frioux
Master – ENSTBB Bordeaux INP - Bioinformatics
Master – Master Bioinformatique Université de Bordeaux - Projet de Programmation
Licence – Université de Bordeaux - Python programming
11.1.2
Supervision
Clémence Frioux - Internship of Mathieu Bolteau, Master 2 Bioinformatique, Université de Bordeaux (6 months)
11.2
Popularization
11.2.1
Interventions
Clémence Frioux - Chiche! at Lycée Jean Renou (La Réole), March 2021. Presenting research in computer science to high school student to promote the digital sciences section while deconstructing gender stereotypes. 3 classes.
Clémence Frioux - Fête de la Science "Circuit Bordelais 'Hors les Murs' 2021". October 2021. Presenting research in computer science to high school student to promote the digital sciences section while deconstructing gender stereotypes. 4 classes.
12
Scientific production
12.1
Major publications
1

article

A Gondwanan imprint on global diversity and domestication of wine and cider yeast Saccharomyces uvarum.

.

Nature Communications

5

2014

,

4044

2

article

Modeling acclimatization by hybrid systems: Condition changes alter biological system behavior models

.

BioSystems

121

June 2014

,

43-53

3

article

Metagenomic assessment of the global distribution of bacteria and fungi

.

Environmental Microbiology

November 2020

4

article

Metage2Metabo, microbiota-scale metabolic complementarity for the identification of key species

.

eLife

9

December 2020

5

article

Metabolic Complementarity Between a Brown Alga and Associated Cultivable Bacteria Provide Indications of Beneficial Interactions

.

Frontiers in Marine Science

7

February 2020

,

1-11

6

article

The genome of Ectocarpus subulatus – A highly stress-tolerant brown alga

.

Marine Genomics

52

January 2020

,

100740

7

article

Using automated reasoning to explore the metabolism of unconventional organisms: a first step to explore host–microbial interactions

.

Biochemical Society Transactions

48

3

May 2020

,

901-913

8

article

From bag-of-genes to bag-of-genomes: metabolic modelling of communities in the era of metagenome-assembled genomes

.

Computational and Structural Biotechnology Journal

June 2020

9

incollection

Why We Need Sustainable Networks Bridging Countries, Disciplines, Cultures and Generations for Aquatic Biomonitoring 2.0: A Perspective Derived From the DNAqua-Net COST Action

.

Next Generation Biomonitoring: Part 1

58

Elsevier

2018

,

63-99

10

article

Exact or approximate inference in graphical models: why the choice is dictated by the treewidth, and how variable elimination can be exploited

.

Australian and New Zealand Journal of Statistics

61

2

to appear

June 2019

,

89-133

11

article

Genolevures: protein families and synteny among complete hemiascomycetous yeast proteomes and genomes.

.

Nucleic Acids Research

37

2009

,

D550-D554
12.2
Publications of the year
12.3
Cited publications
33

article

SIGPLAN Notices

.

Generating Embedded Software from Hierarchical Hybrid Models

38

7

2003

,

171--82

34

article

RADseq underestimates diversity and introduces genealogical biases due to nonrandom haplotype sampling

.

Mol. Ecol.

22

11

2013

,

3179--90

35

article

Reusing and composing models of cell fate regulation of human bone precursor cells

.

BioSystems

108

1-3

April 2012

,

63-72

36

article

Implementing biological hybrid systems: Allowing composition and avoiding stiffness

.

Applied Mathematics and Computation

223

August 2013

,

167--79

37

inproceedings

Reconciling competing models: a case study of wine fermentation kinetics

.

Algebraic and Numeric Biology 2010

6479

Research Institute for Symbolic Computation, Johannes Kepler University of Linz

Hagenberg, Austria

Springer

July 2010

,

68--83

38

article

The Euclidean Distance Matrix Completion Problem

.

SIAM J. Matrix Anal. App.

16

2

1995

,

646-654

39

techreport

A geometric view of Biodiversity: scaling to metagenomics

.

RR-9144

https://arxiv.org/abs/1803.02272

INRIA ; INRA

January 2018

,

1-16

40

article

Exact Matrix Completion via Convex Optimization

.

Found. Comput. Math.

9

2009

,

717-772

41

article

Replacing fossil oil with fresh oil - with what and for what?

Eur J Lipid Sci Technol

113

7

2011

,

812-831

42

book

Parasitism: The Ecology and Evolution of Intimate Interactions

.

University of Chicago Press

2001

43

article

Structural analysis of expanding metabolic networks.

.

Genome informatics. International Conference on Genome Informatics

15

1

2004

,

35--45

44

article

Nonlinear mapping and distance geometry

.

Optimization Letters

14

2

May 2019

,

453-467

45

article

Scalable and exhaustive screening of metabolic functions carried out by microbial consortia

.

Bioinformatics

34

17

2018

,

i934--i943

46

article

Reference-free population genomics from next-generation transcriptome data and the vertebrate-invertebrate gap

.

PLoS Genetic

9

4

e1003457

2013

47

article

Clingo = ASP + Control: Preliminary Report

.

CoRR

abs/1405.3694

2014

48

inproceedings

Advances in gringo Series 3

.

LPNMR

6645

Lecture Notes in Computer Science

Springer

2011

,

345---351

49

article

Euclidean Distance Geometry and Applications

.

SIAM review

56(1)

2014

,

3-69

50

article

Estimation of Nucleotide Diversity, Disequilibrium Coefficients, and Mutation Rates from High-Coverage Genome-Sequencing Projects

.

Mol. Biol. Evol.

25

11

2008

,

2409--19

51

article

Improving palm oil quality through identification and mapping of the lipase gene causing oil deterioration

.

Nat Commun

4

2013

,

2160

URL: http://dx.doi.org/10.1038/ncomms3160

52

article

Exact or approximate inference in graphical models: why the choice is dictated by the treewidth, and how variable elimination can be exploited

.

Australian and New Zealand Journal of Statistics

61

2

June 2019

,

89-133

53

article

A comprehensive framework for global patterns in biodiversity

.

Ecology Letters

7

1

2004

,

1--15

URL: http://dx.doi.org/10.1046/j.1461-0248.2003.00554.x

54

article

R-Syst::diatom: an open-access and curated barcode database for diatoms and freshwater monitoring

.

Database - The journal of Biological Databases and Curation

2016

February 2016

55

article

A unifying review of linear Gaussian Models

.

Neural Computation

11

2

1999

,

305--45

56

article

Think globally, fit locally: unsupervised learning of low dimensional manifolds

.

Journal of Machine Learning Research

4

2003

,

119--55

57

book

On Growth and Form

.

Cambridge University Press

1917

58

book

Geometric structure of high-dimensional data and dimensionality reduction

.

Springer & Higher Education Press

2012