2022
Activity report
Project-Team
ILDA
In partnership with:
CNRS, Université Paris-Saclay
Team name:
Interacting with Large Data
In collaboration with:
Laboratoire Interdisciplinaire des Sciences du Numérique
Domain
Perception, Cognition and Interaction
Theme
Interaction and visualization
Creation of the Project-Team: 2016 December 01
Keywords
A3.1.7.

Open data

A3.1.10.

Heterogeneous data

A3.1.11.

Structured data

A3.2.4.

Semantic Web

A3.2.5.

Ontologies

A3.2.6.

Linked data

A5.1.

Human-Computer Interaction

A5.1.1.

Engineering of interactive systems

A5.1.2.

Evaluation of interactive systems

A5.1.5.

Body-based interfaces

A5.1.6.

Tangible interfaces

A5.1.9.

User and perceptual studies

A5.2.

Data visualization

A5.5.4.

Animation

A5.6.1.

Virtual reality

A5.6.2.

Augmented reality
B3.1.

Sustainable development

B3.3.

Geosciences

B3.5.

Agronomy

B5.9.

Industrial maintenance

B9.2.

Art

B9.5.3.

Physics

B9.5.6.

Data science

B9.6.7.

Geography

B9.7.2.

Open data

B9.11.

Risk management
1
Team members, visitors, external collaborators
Research Scientists
Emmanuel

Pietriga

[

Team leader

,

INRIA

,

Senior Researcher

,

HDR

]

Caroline

Appert

[

CNRS

,

Senior Researcher

,

HDR

]

Olivier

Chapuis

[

CNRS

,

Researcher

]

Vanessa

Pena Araya

[

INRIA

,

Researcher

]
Faculty Member
Anastasia

Bezerianos

[

UNIV PARIS SACLAY

,

Professor

,

HDR

]
PhD Students
Théo

Bouganim

[

Inria

,

from Oct 2022

,

Co-advised with Ioana Manolescu, EPC Cedar

]

Vincent

Cavez

[

INRIA

]

Mehdi

Chakhchoukh

[

UNIV PARIS SACLAY

]

Gaëlle

Clavelin

[

Telecom ParisTech

,

from Dec 2022

,

co-advised with Eric Lecolinet, Telecom ParisTech

]

Emmanuel

Courtoux

[

UNIV PARIS SACLAY

]

Camille

Dupré

[

BERGER-LEVRAULT

,

CIFRE

,

from Sep 2022

]

Raphaël

James

[

UNIV PARIS SACLAY

,

ATER

]
Technical Staff
Ludovic

David

[

Inria

,

Engineer

,

from Dec 2022

]

Rim

Hajri

[

Inria

,

Engineer

,

until Aug 2022

]

Dylan

Lebout

[

Inria

,

Engineer

,

until Oct 2022

]
Interns and Apprentices
Julien

Berry

[

Université Paris-Saclay

,

Intern

,

from Jun 2022 until Aug 2022

]

Sophie

Chen

[

Université Paris-Saclay

,

Intern

,

from Mar 2022 until Aug 2022

,

SED engineer

]

Camille

Dupré

[

UNIV PARIS SACLAY

,

from Mar 2022 until Aug 2022

]

Johann

Equilbec

[

Université Paris-Saclay

,

Intern

,

from Mar 2022 until Aug 2022

]

Xiang

Wei

[

LISN

,

from Mar 2022 until Aug 2022

]
2
Overall objectives
In an increasing number of domains, computer users are faced with large datasets, that are often interlinked and organized according to elaborate structures thanks to new data models such as those that are arising with the development of, e.g., the Web of Data. Rather than seeing the inherent complexity of those data models as a hindrance, we aim at leveraging it to design new interactive systems that can better assist users in their data understanding and processing tasks.
These "Data-centric Interactive Systems" aim at providing users with the right information at the right time, presenting it in the most meaningful manner, and letting users efficiently manipulate, edit and share these data with others. This entails minimizing the effort required to retrieve and relate data from relevant sources; displaying data using visual presentation techniques that match the data's characteristics and the users' tasks; and providing users with means of interacting with the data that effectively support their train of thought.
Our approach is based on the idea of bringing the fields of Web data management 23 and Human-computer interaction 43, 66 closer together, based on the strong belief that they have the potential to cross-fertilize one another. User interface design is essential to the management and understanding of large, heterogeneous and interlinked datasets. Interlinked datasets enriched with even a small amount of semantics have the potential to help create interfaces that let users analyze and manipulate data in a more efficient manner by providing them with, e.g., more relevant query results and giving them efficient means to navigate and relate those results. Our ultimate, long-term goal is to design interactive systems that make it as straightforward to manipulate large webs of data as spreadsheets do for tabular data.
4
Application domains
4.1
Mission-critical Systems
Mission-critical contexts of use include emergency response & management, and critical infrastructure operations, such as public transportation systems, communications and power distribution networks, or the operations of large scientific instruments such as particle accelerators and astronomical observatories. Central to these contexts of work is the notion of situation awareness 36, i.e., how workers perceive and understand elements of the environment with respect to time and space, such as maps and geolocated data feeds from the field, and how they form mental models that help them predict future states of those elements. One of the main challenges is how to best assist subject-matter experts in constructing correct mental models and making informed decisions, often under time pressure. This can be achieved by providing them with, or helping them efficiently identify and correlate, relevant and timely information extracted from large amounts of raw data, taking into account the often cooperative nature of their work and the need for task coordination. With this application area, our goal is to investigate novel ways of interacting with computing systems that improve collaborative data analysis capabilities and decision support assistance in a mission-critical, often time-constrained, work context.
Relevant publications by team members this year: 19.
4.2
Exploratory Analysis of Scientific Data
Many scientific disciplines are increasingly data-driven, including astronomy, molecular biology, particle physics, or neuroanatomy. While making the right decision under time pressure is often less of critical issue when analyzing scientific data, at least not on the same temporal scale as truly time-critical systems, scientists are still faced with large-to-huge amounts of data. No matter their origin (experiments, remote observations, large-scale simulations), these data are difficult to understand and analyze in depth because of their sheer size and complexity. Challenges include how to help scientists freely-yet-efficiently explore their data, keep a trace of the multiple data processing paths they considered to verify their hypotheses and make it easy to backtrack, and how to relate observations made on different parts of the data and insights gained at different moments during the exploration process. With this application area, our goal is to investigate how data-centric interactive systems can improve collaborative scientific data exploration, where users' goals are more open-ended, and where roles, collaboration and coordination patterns 40 differ from those observed in mission-critical contexts of work.
5
Highlights of the year
Caroline Appert served as Technical Program Chair for ACM CHI 2022, the ACM SIGCHI flagship international conference on Human-Computer Interaction. CHI 2022
Renewal of our collaboration with the DESY national research center in Germany about the design and development of user interfaces for the Cherenkov Telescope Array control room. CTA Observatory (Ludovic David, Dylan Lebout, Emmanuel Pietriga)
Beginning of ANR PRC project Interplay (Caroline Appert, Olivier Chapuis)
5.1
Awards
Best paper runner-up/honorable mention award:
Investigating the Use of AR Glasses for Content Annotation on Mobile Devices

at ACM ISS 2022 15. (Francesco Di Gioia, Eugénie Brasier, Emmanuel Pietriga, Caroline Appert)
6
New software and platforms
6.1
New software
6.1.1
HyperStoryLines
Keywords:

Data visualization, Hypergraphs

Scientific Description:

HyperStorylines is a technique that generalizes Storylines to visualize the evolution of relationships involving multiple types of entities such as, for example, people, locations, and companies. Datasets which describe such multi-entity relationships are often modeled as hypergraphs, that can be difficult to visualize, especially when these relationships evolve over time. HyperStorylines builds upon Storylines, enabling the aggregation and nesting of these dynamic, multi-entity relationships.

Functional Description:

A visualization tool to represent relationships among different types of entities, forming a hypergraph, and that evolve over time.

URL:

Publication:

Contact:

Vanessa Pena Araya

Participants:

Vanessa Pena Araya, Anastasia Bezerianos, Emmanuel Pietriga, Rim Hajri, Laurent Amsaleg
6.1.2
wildmap
Name:

Wall-sized Interaction with Large Map Data

Keyword:

Geo-visualization

Functional Description:

A library to enable the interactive visualization of map data on ultra-high-resolution wall-sized displays using Web-based technologies.

URL:

Contact:

Emmanuel Pietriga

Participants:

Emmanuel Pietriga, Olivier Gladin
6.1.3
WallTokens
Keyword:

Tangible interface

Scientific Description:

angibles can enrich interaction with digital surfaces. Among others, they support eyes-free control or enhance awareness of others' actions. Tangibles have been studied in combination with horizontal surfaces such as tabletops, but not with vertical surfaces such as wall displays. The obvious obstacle is gravity as tangibles cannot be laid on the surface without falling. We present WallTokens, which are easy-to-fabricate tangibles to interact with a vertical surface. A WallToken is a plastic token whose footprint is recognized on a tactile surface. It is equipped with a push-handle that controls a suction cup. This makes it easy for users to switch between sliding or attaching it to the wall. This project is a step towards enabling tangible interaction in a wall display context.

Functional Description:

Tools and Software to use the WallTokens. WallTokens are easy-to-fabricate tangibles to interact with a vertical surface. A WallToken is a plastic token whose footprint is recognized on a tactile surface. It is equipped with a push-handle that controls a suction cup. This makes it easy for users to switch between sliding or attaching it to the wall. https://walltokens.lisn.upsaclay.fr/

URL:

Publication:

Contact:

Olivier Chapuis

Participants:

Emmanuel Courtoux, Olivier Chapuis, Caroline Appert
6.2
New platforms
Participants: Caroline Appert, Anastasia Bezerianos, Olivier Chapuis, Vanessa Peña-Araya, Emmanuel Pietriga, Emmanuel Courtoux, Camille Dupré, Raphaël James, Olivier Gladin, Julien Berry, Sophie Chen.
Both the WILD-512K and WILDER platforms are now part of funded project ANR EquipEx+ Continuum (ANR-21-ESRE-0030). Figure 1 illustrates usage of the wildmap software library (see Section 6.1.2) to develop a visualization of worldwide marine traffic using AIS data.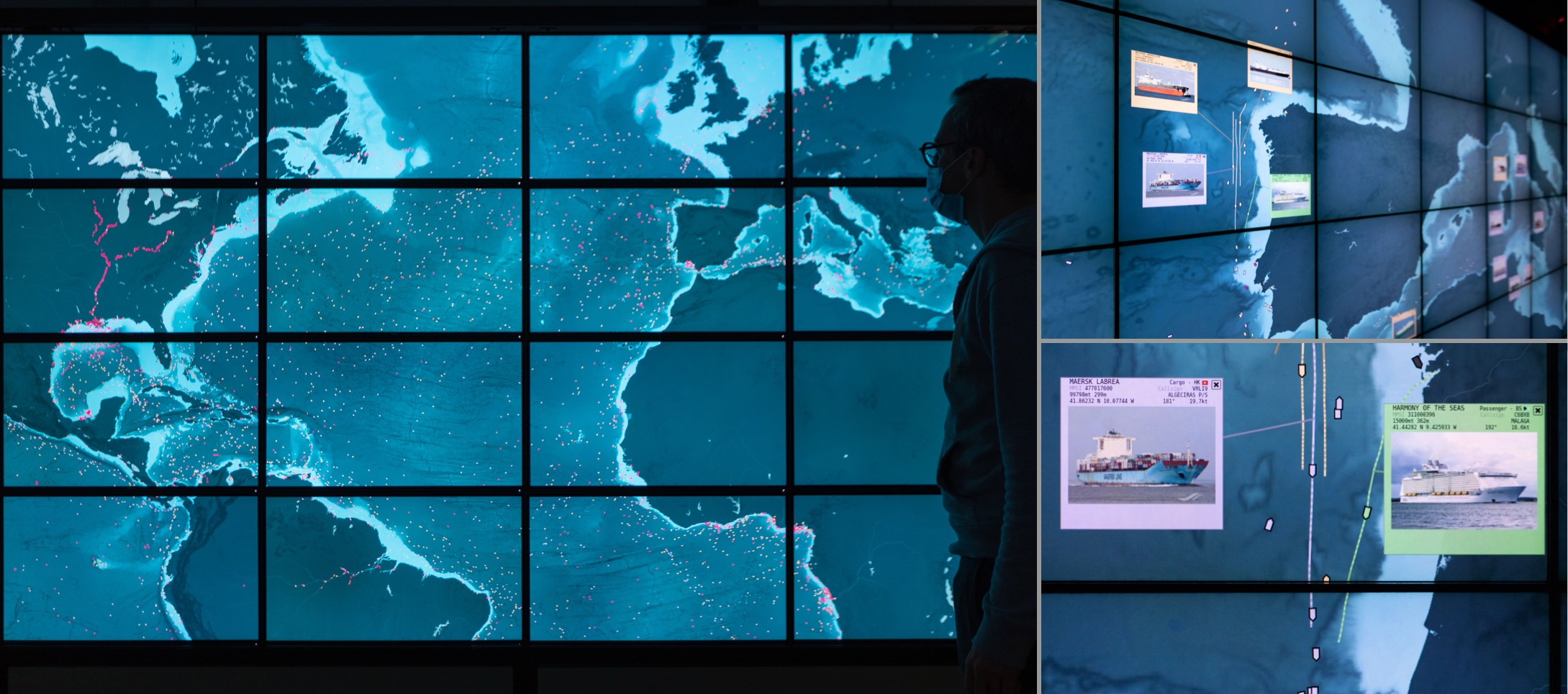 7
New results
Participants: Caroline Appert, Anastasia Bezerianos, Olivier Chapuis, Vanessa Peña-Araya, Emmanuel Pietriga, Mehdi Chakhchoukh.
7.1
Interacting with Novel Forms of Displays
Augmented Reality (AR), as a novel form of display, is becoming one of the main centers of attention in the team. Technology is indeed maturing fast, to the point that we can expect wearable devices (eyewear) with a reasonable form factor and performance in a few years, given recent advances and the effort dedicated to research and development in the industry.
Early work in the team 1 investigated different input techniques for indirect pointing in AR. We then studied how AR could improve interaction with handheld devices  33, where AR is not only used to offload widgets from the phone to the air around it, but to give users more control on input precision as well. This year, with AnnotAR 15 we have investigated a similar hardware combination but for different purposes: content annotation in mobile situations.
The concept is illustrated in Figure 2. This is motivated by the fact that mobile devices such as smartphones and tablets have limited display size and input capabilities that make a variety of tasks challenging. Coupling the mobile device with Augmented Reality eyewear such as smartglasses can help address some of these challenges. In the specific context of digital content annotation tasks, this combination has the potential to enhance the user experience on two fronts. First, annotations can be offloaded into the air around the mobile device, freeing precious screen real-estate, as we had done in  33. Second, as smartglasses often come equipped with a variety of sensors including a camera, users can annotate documents with pictures or videos of their environment, captured on the spot, hands-free, and from the wearer's perspective. AnnotAR is a prototype that we use as a research probe to assess the viability of this approach to digital content annotation. We used AnnotAR to gather users' preliminary feedback in a laboratory setting, and to showcase how it could support real-world use cases. This work won a best paper honorable mention at ACM ISS 2022.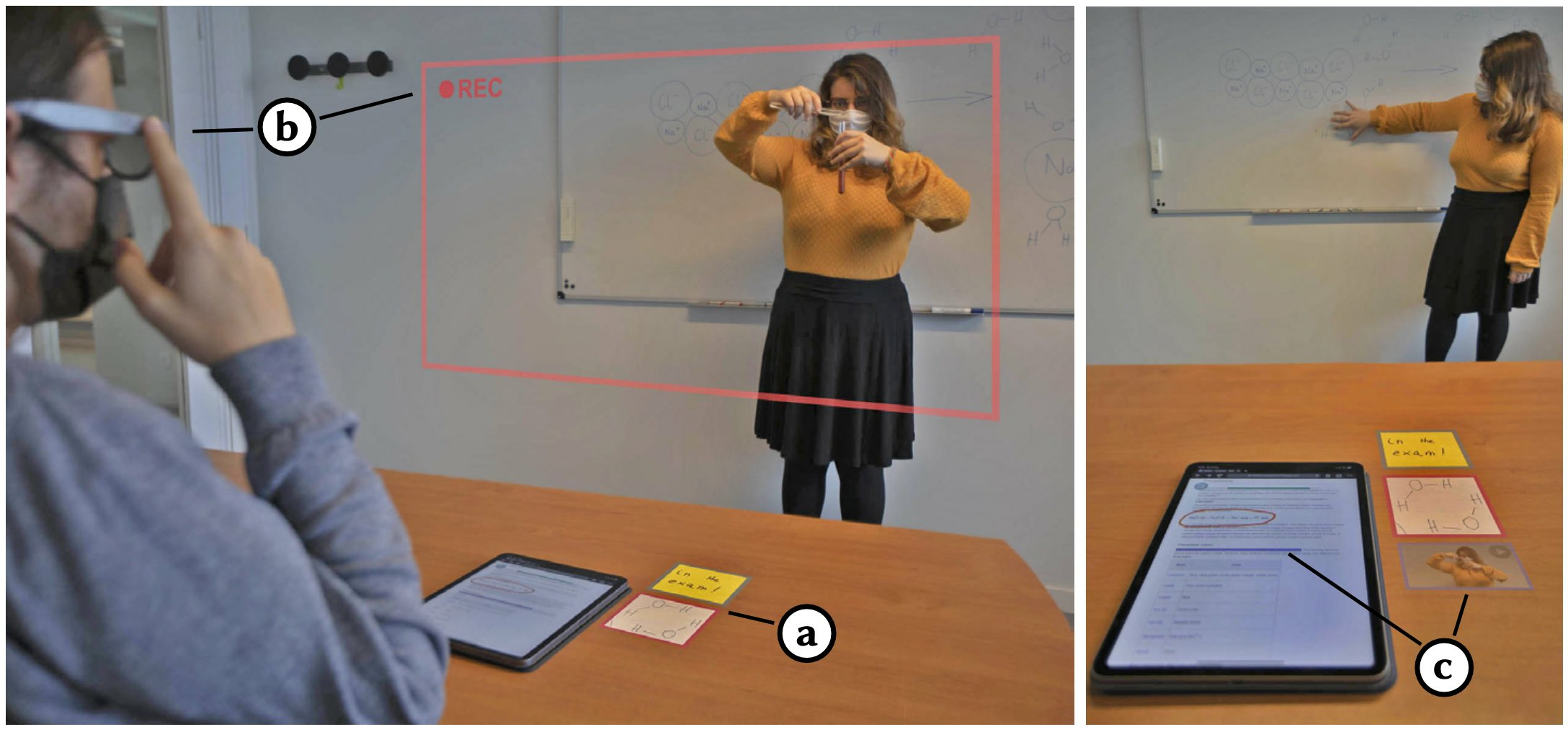 Taking a step back, we also looked at situations where Augmented Reality might interfere with people's perception of the real world and how we might alleviate this problem 21. Anticipating a future in which people frequently have virtual content displayed in their field of view to augment reality, we reflected upon situations where this virtual content interferes with users' perception of the physical world, with consequences ranging from mere annoyance to serious injuries. We argued for the need to give users agency over virtual augmentations, discussing the concept of de-augmenting augmented reality by selectively removing virtual content from the field of view. As illustrated in Figure 3, de-augmenting lets users target what actually interferes with their perception of the environment while keeping what is of interest. We contributed a framework that captures the different facets of de-augmentation. We also discussed what it entails in terms of technical realization and interaction design, and described three scenarios to illustrate what the user experience could be in a sample of domestic and professional situations.

7.2
Interactive Visual Exploration of Complex Data
Another strong topic in the team is the design, development and empirical evaluation of visualization techniques for the understanding of spatio-temporal, multivariate data 754. As part of this line of research, we investigated visualization techniques for data modeled as hypergraphs, with a strong temporal aspect and lesser emphasis on the geo-spatial aspect with HyperStoryLines  6, a technique that generalizes Storylines to visualize the evolution of relationships involving multiple types of entities such as, for example, people, locations, and companies. Storyline visualizations are a powerful way to compactly visualize how the relationships between people evolve over time. Real-world relationships often also involve space, for example the cities that two political rivals visited together or alone over the years. By default, Storyline visualizations only show implicitly geospatial co-occurrence between people (drawn as lines), by bringing their lines together. Even the few designs that do explicitly show geographic locations only do so in abstract ways (e.g., annotations) and do not communicate geospatial information, such as the direction or extent of their political campaigns.
This year we introduced Geo-Storylines 16, a collection of visualisation designs that integrate geospatial context into Storyline visualizations, using different strategies for compositing time and space (Figure 4). Our contribution is twofold. First, we present the results of a sketching workshop with 11 participants, that we used to derive a design space for integrating maps into Storylines. Second, by analyzing the strengths and weaknesses of the potential designs of the design space in terms of legibility and ability to scale to multiple relationships, we extract the three most promising: Time Glyphs, Coordinated Views, and Map Glyphs. We compare these three techniques first in a controlled study with 18 participants, under five different geospatial tasks and two maps of different complexity. We additionally collected informal feedback about their usefulness from domain experts in data journalism. Our results indicate that, as expected, detailed performance depends on the task. Nevertheless, Coordinated Views remain a highly effective and preferred technique across the board.

Continuing our collaboration with colleagues from INRAe and following up on work in which we demonstrated how analytic provenance can be exploited to re-construct user trust in a guided Visual Analytics (VA) system  32, we designed a trade-off analysis system, motivated by the needs of experts in domains such as agronomy or manufacturing, who need to consider trade-offs when making decisions that involve several, often competing, objectives. Such analysis is complex and may be conducted over long periods of time, making it hard to revisit. We considered the use of analytic provenance mechanisms to aid experts recall and keep track of trade-off analysis. VisProm, our web-based system, incorporates in-visualization provenance views, designed to help experts keep track of trade-offs and their objectives. We used VisProm as a technology probe to understand user needs and explore the potential role of provenance in this context. Through observation sessions with three groups of experts analyzing their own data, we made several contributions. First we identified eight high-level tasks that experts engaged in during trade-off analysis, such as locating and characterizing interest zones in the trade-off space, and showed how these tasks can be supported by provenance visualization. Second, we refined findings from previous work on provenance purposes such as recall and reproduce, by identifying specific objects of these purposes related to trade-off analysis, such as interest zones, and exploration structure (e.g., exploration of alternatives and branches). Third, we discussed insights on how the identified provenance objects and our designs support these trade-off analysis tasks, both when revisiting past analysis and while actively exploring. And finally, we identified new opportunities for provenance-driven trade-off analysis, for example related to monitoring the coverage of the trade-off space, and tracking alternative trade-off scenarios.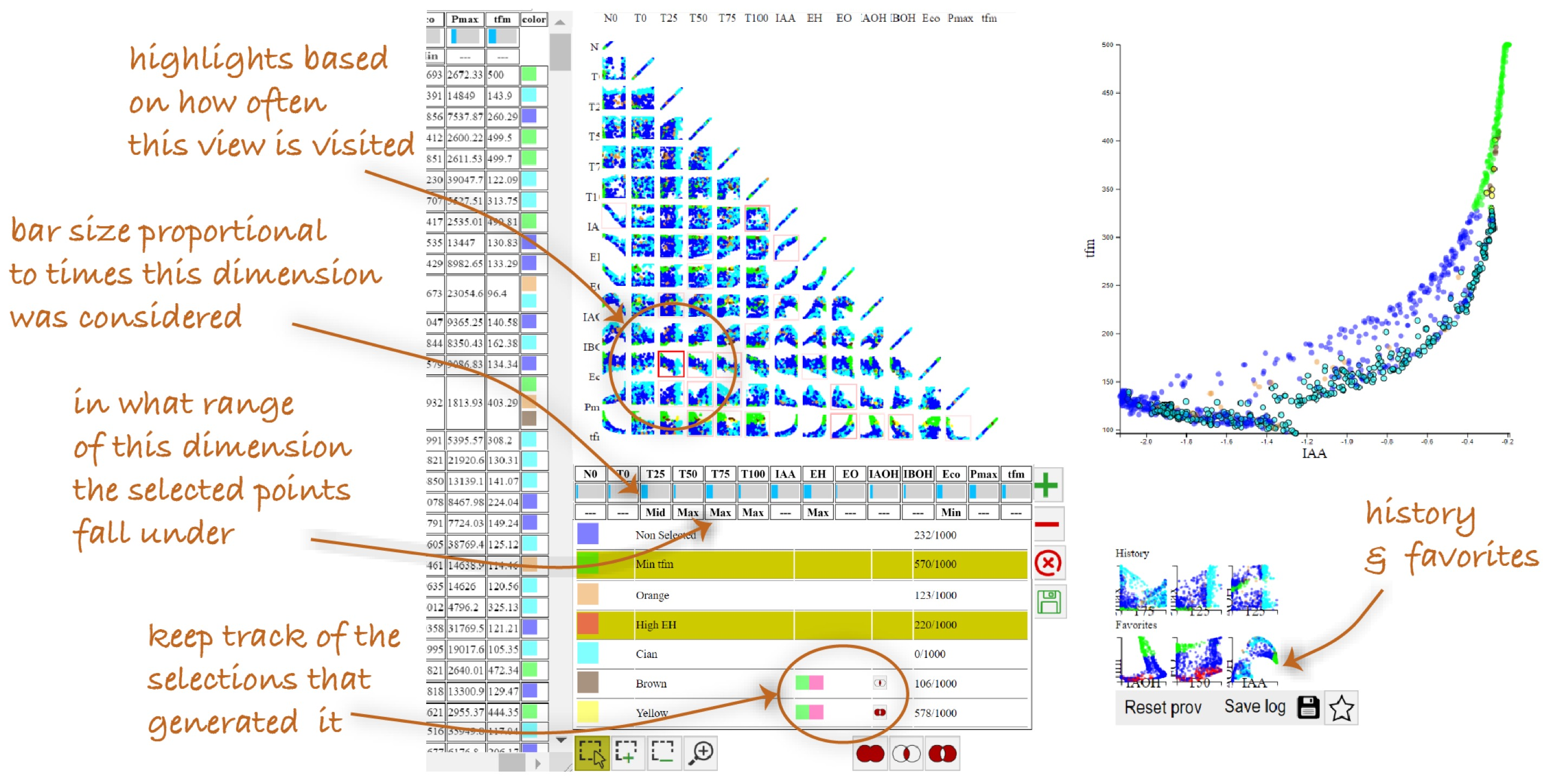 We collaborated with Aviz team members (Inria Saclay) on two topics. We worked on visualization in motion 14, meaning visual data representations that are used in contexts that exhibit relative motion between a viewer and an entire visualization. Sports analytics, video games, wearable devices, or data physicalizations are example contexts that involve different types of relative motion between a viewer and a visualization. We helped define a research agenda on the topic and conduct two experiments to understand how well viewers can read data from moving visualizations.
We also continued the collaboration about visualizations on very small displays such as smartwatches and fitness bands 17. We presented the findings of four studies related to the visualization of sleep data on such displays. Beyond reporting on the studies' findings, we reflected on our crowdsourced study methodology for testing the effectiveness of visualizations for wearables. Research questions at the intersection of both topics – visualization in motion and visualization on very small wearable displays – were also discussed in  18.
Finally, our collaboration with the University of Paris Descartes on the topic of time-series data visualization and search, which was the topic of Anna Gogolou, a former PhD student team member  38, 39, led to a new publication about a new probabilistic learning-based method that provides quality guarantees for progressive Nearest Neighbor (NN) query answering 12. The method can be applied with the two most popular distance measures, namely, Euclidean and Dynamic Time Warping (DTW). It provides both initial and progressive estimates of the final answer, as well suitable stopping criteria for the progressive queries. It can also be used in order to develop a progressive algorithm for data series classification (based on a k-NN classifier).
8
Bilateral contracts and grants with industry
Participants: Caroline Appert, Camille Dupré, Emmanuel Pietriga.
8.1
Bilateral contracts with industry
Berger-Levrault: ANRT/CIFRE PhD (Camille Dupré), 3 years, November 2022-October 2025 on the topic of

Interactive content manipulation in Mixed Reality for maintenance applications

.
9
Partnerships and cooperations
9.1
European initiatives
9.1.1
Other european programs/initiatives
Participants: Dylan Lebout, Ludovic David, Emmanuel Pietriga.
Deutsches Elektronen-Synchrotron (DESY): Scientific collaboration on the design and implementation of user interfaces for array operations monitoring and control for the Cherenkov Telescope Array (CTA) project, currently being built in the Canary Islands (Spain) and in the Atacama desert (Chile). Original contract for 5 years, starting May 2018, now extended until October 2026. www.cta-observatory.org
9.2
National initiatives
9.2.1
EquipEx+ Continuum (ANR)
Participants: Caroline Appert, Anastasia Bezerianos, Olivier Chapuis, Emmanuel Pietriga, Vanessa Peña-Araya, Emmanuel Courtoux, Camille Dupré, Raphaël James, Julien Berry, Sophie Chen.
ILDA participates to EquipEx+ project Continuum, a collaborative research infrastructure of 30 platforms located throughout France to advance interdisciplinary research based on interaction between computer science and the human and social sciences. Funded by the French National Research Agency (ANR) from 2021 to 2029. 19 academic institutions and 3 research organizations.
9.2.2
ANR Interplay
Participants: Caroline Appert, Olivier Chapuis.
Novel display technologies such as wall-sized displays, very large tabletops, and headsets for Virtual Reality or Augmented Reality make it possible to redesign workspaces for more flexibility and efficiency. The goal of the project is to study rich display environments from a human computer interaction perspective in order to inform the design of innovative workspaces for crisis management and data analysis. To reach this goal we will: (i) study the output capacities of these displays for distributing information across displays efficiently; (ii) use physical artefacts for facilitating navigation and interaction across displays; and (iii) use embodied gestures for portable and expert interactions across displays. Our studies will be informed by a real crisis management environment, and the results of the project will help redesign this environment. Coordinator: Olivier Chapuis. Funding: 629k€.
Partners:
CEA Tech en Occitanie, Commissariat à l'Energie Atomique et aux Energies Alternatives.
Institut de Recherche en Informatique de Toulouse (IRIT), Université de Toulouse.
Laboratoire Traitement et Communication de l'Information, Télécom Paris & Institut Polytechnique de Paris.
10
Dissemination
Participants: Caroline Appert, Anastasia Bezerianos, Olivier Chapuis, Vanessa Peña-Araya, Emmanuel Pietriga, Vincent Cavez, Mehdi Chakhchoukh, Raphaël James.
10.1
Promoting scientific activities
10.1.1
Scientific events: organisation
General chair, scientific chair
ACM CHI 2022, 40th ACM SIGCHI Conference on Human Factors in Computing Systems: Caroline Appert (TPC - Technical Program Chair)
Member of the organizing committees
ACM CHI Steering Committee (2019-...), ACM SIGCHI Conference on Human Factors in Computing Systems: Caroline Appert
IEEE VIS Executive Committee (2021-...), Visualization Conference: Anastasia Bezerianos
IEEE VIS Ombud (2022-...): Anastasia Bezerianos
ACM CHI 2022, 40th ACM SIGCHI Conference on Human Factors in Computing Systems: Vanessa Peña-Araya, Emmanuel Pietriga (data chairs)
LISN PhD Days (Université Paris Saclay): Vincent Cavez
10.1.2
Scientific events: selection
Chair of conference program committees
IEEE VIS 2022, Visualization Conference: Anastasia Bezerianos (Area Paper Chair)
Member of the conference program committees
IEEE VIS 2022, Visualization Conference: Emmanuel Pietriga (AC - Associate Chair)
IEEE VIS 2022, Visualization Conference (short papers): Vanessa Peña-Araya (AC - Associate Chair)
ACM MobileHCI 2022, Conference on Mobile Human-Computer Interaction: Olivier Chapuis (AC - Associate Chair)
IHM 2023, Conférence Francophone sur l'Interaction Humain Machine: Anastasia Bezerianos (AC - Associate Chair)
Reviewer
ACM CHI 2023, reviewer: Olivier Chapuis, Vanessa Peña-Araya, Caroline Appert
ACM SIGGRAPH 2022, reviewer: Olivier Chapuis
ACM UIST 2022, Symposium on User Interface Software and Technology: Olivier Chapuis
IEEE VIS 2022, reviewer: Vanessa Peña-Araya
IEEE VR 2022, Conference on Virtual Reality and 3D User Interfaces: Olivier Chapuis
ACM ISS 2022, International Conference on Interactive Surfaces and Spaces: Olivier Chapuis
IEEE PacificVis 2023, reviewer: Vanessa Peña-Araya
IHM 2023, reviewer: Vanessa Peña-Araya, Emmanuel Pietriga
10.1.3
Journal
Member of the editorial boards
ACM ToCHI, Transactions on Computer-Human Interaction: Caroline Appert (associate editor)
Reviewer - reviewing activities
ACM ToCHI, Transactions on Computer-Human Interaction: Olivier Chapuis
IEEE TVCG, Transactions on Visualization and Computer graphics: Anastasia Bezerianos, Vanessa Peña-Araya
10.1.4
Invited talks
Keynote Speaker at ACM EICS '22, the 14th SIGCHI Symposium on Engineering Interactive Computing Systems: Emmanuel Pietriga
Invited panelist at ACM SUI '22, the 10th ACM symposium on Spatial User Interaction: Caroline Appert
Speaker at Journée Sciences Navales, École Navale, Février 2022, Brest, France, about AIS data visualization on ultra-high-resolution wall displays: Emmanuel Pietriga
Invited talk at GdR Traitement Automatique des Langues on Visual Text Analytics in Data Journalism: Anastasia Bezerianos
10.1.5
Leadership within the scientific community
Conseil Scientifique d'Institut (CNRS/INS2I): Caroline Appert
10.1.6
Scientific expertise
Hiring committee MdC section 27, Telecom Paris Tech (external jury member): Anastasia Bezerianos
ANR AAPG2022 (reviewer): Caroline Appert, Olivier Chapuis
10.1.7
Research administration
Responsable du Département

Interaction avec l'Humain

(IaH) du LISN (UMR9015): Olivier Chapuis
Member of Conseil de l'École Doctorale STIC Paris Saclay: Caroline Appert
Member of pôle B de l'École Doctorale STIC Paris Saclay: Caroline Appert
Member of Conseil de Laboratoire (LISN): Caroline Appert
Responsable Mobilité Internationale, Comp. Sci. department, Université Paris-Saclay: Anastasia Bezerianos
Member of Commissions Consultatives de Spécialistes d'Université (CCUPS) at Université Paris Saclay: Anastasia Bezerianos, Emmanuel Pietriga
Co-head of the Polytech Département IIM: Informatique et Ingénierie Mathématique: Anastasia Bezerianos
10.2
Teaching - Supervision - Juries
Ingénieur (X-3A)/Master (M1/M2): Emmanuel Pietriga, Data Visualization (INF552), 36h, École Polytechnique / Institut Polytechnique de Paris
Master (M1/M2): Anastasia Bezerianos, Mixed Reality and Tangible Interaction, 12h, Univ. Paris Saclay
Master (M1/M2): Anastasia Bezerianos, Interactive Information Visualization, 10.5h, Univ. Paris Saclay
Master (M1): Anastasia Bezerianos, Design Project (M1 HCI/HCID), 21h, Univ. Paris Saclay.
Master (M1): Anastasia Bezerianos, WinterSchool, 6h, Univ. Paris-Saclay.
Ingénieur 4e année (Polytech - ET4): Anastasia Bezerianos, Projet, 36h, Polytech, Univ. Paris-Saclay.
Ingénieur 3e année apprentissage (Polytech - APP3): Anastasia Bezerianos, Programmation Web, 36h, Polytech, Univ. Paris-Saclay.
License (L3/IUT): Anastasia Bezerianos, Programmation Android IUT, 31h, Université Paris Saclay
Master (M2): Emmanuel Pietriga, Data Visualization, 24h, Université Paris Dauphine
Master (M2): Vanessa Peña Araya, Winter School, 8h, Univ. Paris Saclay
Master (M1/M2): Vanessa Peña Araya, Web Development with Node.js, 10.5h, Univ. Paris Saclay
Master (M2): Vanessa Peña Araya, Career Seminar, 12h, Univ. Paris Saclay
License (L1/IUT): Vanessa Peña Araya, Dev. d'apps avec IHM, 32h, Univ. Paris Saclay
Master (M2): Mehdi Chakhchoukh, Winter school, 11h, Univ. Paris Saclay
Ingénieur (Et3): Mehdi Chakhchoukh, Interaction Humain-Machine, 12h, Polytech Paris-Saclay
License (L3): Mehdi Chakhchoukh, Programmation d'Interfaces Interactives Avancées, 24h, Univ. Paris Saclay
Master (M1): Mehdi Chakhchoukh, Programming of Interactive Systems, 21h, Univ. Paris Saclay
License (L2): Mehdi Chakhchoukh, Introduction à l'Interaction Humain-Machine, 12h, Université Paris Saclay
License (L1): Raphaël James, Algorithmique et Structures de données, 28h, Université Paris Saclay
Master (M1/M2): Caroline Appert, Experimental Design and Analysis, 21h, Université Paris Saclay
10.2.1
Supervision
PhD in progress: Raphaël James, Environnements de réalité physique et augmentée utilisés dans l'analyse visuelle collaborative, since October 2018, Advisors: Anastasia Bezerianos, Olivier Chapuis
PhD in progress: Emmanuel Courtoux, Tangible Collaborative Interaction for Wall-sized Displays, since October 2019, Advisors: Olivier Chapuis, Caroline Appert
PhD in progress : Mehdi Chakhchoukh, CHORALE: Collaborative Human-Model Interaction to Support Multi-Criteria Decision Making in Agronomy, since October 2020, Advisors: Anastasia Bezerianos, Nadia Boukhelifa
PhD in progress : Lijie Yao, Situated/embedded visualizations in motion and mobile visualizations, since October 2020, Advisors: Petra Isenberg (EPC Aviz), Anastasia Bezerianos
PhD in progress : Vincent Cavez, Post-WIMP Data Wrangling, since October 2021, Advisors: Emmanuel Pietriga, Caroline Appert
PhD in progress : Theo Bouganim, Interactive Exploration of Semi-structured Document Collections and Databases, since October 2022, Advisors: Ioana Manolescu (EPC Cedar), Emmanuel Pietriga
PhD in progress : Camille Dupré, Interactive content manipulation in Mixed Reality, since November 2022, Advisors: Caroline Appert, Emmanuel Pietriga
PhD in progress : Gaëlle Clavelin, Interaction gestuelle dans les environnements d'affichage multi-dispositifs, since December 2022, Advisors: Eric Lecolinet (Telecom ParisTech), Olivier Chapuis, Jan Gugenheimer (Telecom ParisTech)
M2 internship: Sophie Chen, Browsing the Web with an AR-enhanced Phone, 6 months. Advisors: Caroline Appert, Emmanuel Pietriga
M2 internship: Camille Dupré, AR-enhanced Remote Interaction with Wall-sized Displays, 6 months. Advisors: Caroline Appert, Olivier Chapuis
M2 internship: Johann Elquilbec, Scalable Storylines Visualizations for Hypergraphs Exploration, 6 months. Advisors: Anastasia Bezerianos, Vanessa Peña-Araya
M2 internship: Xiang Wei, Visualization of Uncertainty in Multidimensional Data with Spatial Distribution, 6 months. Advisors: Anastasia Bezerianos, Vanessa Peña-Araya
TER M2: Camille Dupré, DixitVR: Understanding Collaborative Virtual Reality Using a Story Telling Task. Advisors: Olivier Chapuis
TER M1: Jacobo Ruiz. Evaluating Trust in Interactive Machine Learning Systems.
L3 internship: Julien Berry, Navigation Synchrone en réalité virtuelle, 3 months. Advisors: Olivier Chapuis
10.2.2
Juries
PhD: Balita Rakotonarivo, Institut Supérieur de l'Aéronautique et de l'Espace: Emmanuel Pietriga (rapporteur)
PhD: Gaëlle Candel, ENS: Anastasia Bezerianos (examinatrice)
PhD: Elizabeth Walton, Université Paris-Saclay: Caroline Appert (présidente)
PhD: Adnane Guettaf, Université Polytechnique Hauts-de-France: Caroline Appert (rapporteure)
10.2.3
Education
Activity supervisor,

Rendez-vous des jeunes mathématiciennes et informaticiennes 2022

: Emmanuel Courtoux
Activity supervisor,

Fête de la science 2022

: Emmanuel Courtoux
10.2.4
Interventions
Invited talk,

Interacting with Maps

, HCI Winter School, Paris Saclay: Caroline Appert, Emmanuel Pietriga
Speaker at

Olympiades de Mathématiques de l'académie de Créteil

: Emmanuel Courtoux
11
Scientific production
11.1
Major publications
1

inproceedings

ARPads: Mid-air Indirect Input for Augmented Reality

.

ISMAR 2020 - IEEE International Symposium on Mixed and Augmented Reality

ISMAR '20

Porto de Galinhas, Brazil

IEEE

November 2020

,

13 pages

2

article

Understanding How In-Visualization Provenance Can Support Trade-off Analysis

.

IEEE Transactions on Visualization and Computer Graphics

May 2022

3

inproceedings

WallTokens: Surface Tangibles for Vertical Displays

.

Proceedings of the international conference on Human factors in computing systems

CHI 2021 - International conference on Human factors in computing systems

CHI '21

Yokoama / Virtual, Japan

ACM

May 2021

,

13 pages

4

article

S-Paths: Set-based visual exploration of linked data driven by semantic paths

.

Open Journal Of Semantic Web

September 2020

,

1-18

5

article

Animation Plans for Before-and-After Satellite Images

.

IEEE Transactions on Visualization and Computer Graphics

24

January 2018

6

article

HyperStorylines: Interactively untangling dynamic hypergraphs

.

Information Visualization

September 2021

,

1-21

7

article

A Comparison of Visualizations for Identifying Correlation over Space and Time

.

IEEE Transactions on Visualization and Computer Graphics

October 2019

8

article

Expressive Authoring of Node-Link Diagrams with Graphies

.

IEEE Transactions on Visualization and Computer Graphics

27

4

April 2021

,

2329-2340

9

inproceedings

SpaceInk: Making Space for In-Context Annotations

.

UIST 2019 - 32nd ACM User Interface Software and Technology

Nouvelle-Orleans, United States

October 2019

10

inproceedings

Designing Coherent Gesture Sets for Multi-scale Navigation on Tabletops

.

Proceedings of the 36th international conference on Human factors in computing systems

CHI '18

Montreal, Canada

ACM

April 2018

,

142:1-142:12
11.2
Publications of the year
11.3
Cited publications
22

book

Data on the Web: From Relations to Semistructured Data and XML

.

Morgan Kaufmann

1999

23

inproceedings

The ERC Webdam on Foundations of Web Data Management

.

Proc. of the 21st International Conference Companion on World Wide Web

WWW '12 Companion

ACM

2012

,

211--214

URL: 10.1145/2187980.2188011

24

inproceedings

Looking behind bezels: french windows for wall displays

.

Proceedings of the International Working Conference on Advanced Visual Interfaces

AVI '12

Capri Island, Italy

ACM

2012

,

124--131

URL: http://doi.acm.org/10.1145/2254556.2254581

25

inproceedings

RouteLens: Easy Route Following for Map Applications

.

Proceedings of the International Working Conference on Advanced Visual Interfaces

AVI '14

ACM

2014

,

125--128

26

inproceedings

High-precision magnification lenses

.

Proceedings of the 28th international conference on Human factors in computing systems

CHI '10

Atlanta, Georgia, USA

ACM

2010

,

273--282

27

inproceedings

OrthoZoom Scroller: 1D Multi-scale Navigation

.

Proceedings of the SIGCHI Conference on Human Factors in Computing Systems

CHI '06

New York, NY, USA

Montréal, Québec, Canada

ACM

2006

,

21--30

URL: http://doi.acm.org/10.1145/1124772.1124776

28

article

Multisurface Interaction in the WILD Room

.

IEEE Computer

45

4

2012

,

48-56

29

inproceedings

The coordinative functions of flight strips: air traffic control work revisited

.

Proceedings of the international ACM SIGGROUP conference on Supporting group work

GROUP '99

Phoenix, Arizona, United States

ACM

1999

,

101--110

URL: http://doi.acm.org/10.1145/320297.320308

30

book

Semiology of Graphics

.

University of Wisconsin Press

1983

31

inproceedings

Extending the Vocabulary of Touch Events with ThumbRock

.

Proceedings of Graphics Interface

GI '13

Regina, Saskatchewan, Canada

CIPS

2013

,

221-228

32

inproceedings

A Case Study of Using Analytic Provenance to Reconstruct User Trust in a Guided Visual Analytics System

.

2021 IEEE Workshop on TRust and EXpertise in Visual Analytics (TREX)

New Orleans, United States

IEEE

October 2021

,

45-51

33

inproceedings

AR-enhanced Widgets for Smartphone-centric Interaction

.

MobileHCI '21 - 23rd International Conference on Mobile Human-Computer Interaction

ACM

Toulouse, France

September 2021

34

inproceedings

Smarties: An Input System for Wall Display Development

.

CHI '14

Toronto, Canada

ACM

April 2014

,

2763-2772

35

inproceedings

Understanding File Access Mechanisms for Embedded Ubicomp Collaboration Interfaces

.

Proceedings of the 11th International Conference on Ubiquitous Computing

UbiComp '09

New York, NY, USA

Orlando, Florida, USA

ACM

2009

,

135--144

URL: http://doi.acm.org/10.1145/1620545.1620567

36

book

M. R.

M. R.

Endsley

D. G.

D. G.

Jones

Designing for Situation Awareness: an Approach to User-Centered Design

.

370 pages

CRC Press, Taylor & Francis

2012

37

inproceedings

Multi-user, Multi-display Interaction with a Single-user, Single-display Geospatial Application

.

Proceedings of the 19th Annual ACM Symposium on User Interface Software and Technology

UIST '06

Montreux, Switzerland

ACM

2006

,

273--276

URL: http://doi.acm.org/10.1145/1166253.1166296

38

inproceedings

Data Series Progressive Similarity Search with Probabilistic Quality Guarantees

.

ACM SIGMOD International Conference on Management of Data

Portland, United States

June 2020

,

1857-1873

39

article

Comparing Similarity Perception in Time Series Visualizations

.

IEEE Transactions on Visualization and Computer Graphics

25

1

October 2018

,

523 - 533

40

article

Computer-Supported Cooperative Work: History and Focus

.

IEEE Computer

27

5

May 1994

,

19--26

URL: http://dx.doi.org/10.1109/2.291294

41

book

Linked Data: Evolving the Web into a Global Data Space

.

Morgan & Claypool

2011

42

inproceedings

Tangible Bits: Towards Seamless Interfaces Between People, Bits and Atoms

.

Proceedings of the ACM SIGCHI Conference on Human Factors in Computing Systems

CHI '97

Atlanta, Georgia, USA

ACM

1997

,

234--241

URL: http://doi.acm.org/10.1145/258549.258715

43

book

Human-Computer Interaction Handbook: Fundamentals, Evolving Technologies, and Emerging Applications, 3rd Edition

.

CRC Press

2012

44

inproceedings

Effects of Display Size and Navigation Type on a Classification Task

.

Proceedings of the 32nd international conference on Human factors in computing systems

CHI '14

Toronto, CA

ACM

2014

,

4147-4156

45

inproceedings

Shared Interaction on a Wall-Sized Display in a Data Manipulation Task

.

Proceedings of the 34th international conference on Human factors in computing systems

CHI '16

SigCHI and ACM

San Jose, United States

May 2016

,

1-12

46

article

MapMosaic: Dynamic Layer Compositing for Interactive Geovisualization

.

International Journal of Geographical Information Science

31

9

May 2017

,

1818 - 1845

47

article

Is paper safer? The role of paper flight strips in air traffic control

.

ACM Trans. Comput.-Hum. Interact.

6

4

December 1999

,

311--340

URL: http://doi.acm.org/10.1145/331490.331491

48

inproceedings

TouchTokens: Guiding Touch Patterns with Passive Tokens

.

Proceedings of the 2016 CHI Conference on Human Factors in Computing Systems

CHI '16

San Jose, CA, United States

ACM

May 2016

,

4189-4202

49

book

Visualization Analysis and Design

.

CRC Press

2014

50

inproceedings

High-precision pointing on large wall displays using small handheld devices

.

Proceedings of the SIGCHI Conference on Human Factors in Computing Systems

CHI '13

Paris, France

ACM

2013

,

831--840

URL: http://doi.acm.org/10.1145/2470654.2470773

51

article

Mid-air Pointing on Ultra-Walls

.

ACM Transactions on Computer-Human Interaction

22

5

August 2015

,

21:1--21:62

52

inproceedings

Multi-Touch Gestures for Discrete and Continuous Control

.

International Working Conference on Advanced Visual Interfaces (AVI)

Como, Italy

May 2014

,

8

53

inproceedings

Prospective Motor Control on Tabletops: Planning Grasp for Multitouch Interaction

.

Proceedings of the 32nd international conference on Human factors in computing systems

CHI '14

Toronto, CA

ACM

2014

,

2893-2902

54

inproceedings

A Comparison of Geographical Propagation Visualizations

.

CHI '20 - 38th SIGCHI conference on Human Factors in computing systems

Honolulu, United States

April 2020

,

223:1--223:14

55

inproceedings

A Toolkit for Addressing HCI Issues in Visual Language Environments

.

IEEE Symposium on Visual Languages and Human-Centric Computing (VL/HCC)

IEEE Computer Society

2005

,

145-152

56

inproceedings

Pointing and beyond: an operationalization and preliminary evaluation of multi-scale searching

.

CHI '07: Proceedings of the SIGCHI conference on Human factors in computing systems

San Jose, California, USA

ACM Press

2007

,

1215--1224

57

inproceedings

Sigma lenses: focus-context transitions combining space, time and translucence

.

CHI '08: Proceeding of the twenty-sixth annual CHI conference on Human factors in computing systems

Florence, Italy

ACM

2008

,

1343--1352

58

article

Representation-Independent In-Place Magnification with Sigma Lenses

.

IEEE Transactions on Visualization and Computer Graphics (TVCG)

16

03

2010

,

455-467

59

inproceedings

Browsing Linked Data Catalogs with LODAtlas

.

ISWC 2018 - 17th International Semantic Web Conference

Monterey, United States

Springer

October 2018

,

137-153

60

inproceedings

Rapid development of user interfaces on cluster-driven wall displays with jBricks

.

Proceedings of the 3rd ACM SIGCHI symposium on Engineering interactive computing systems

EICS '11

Pisa, Italy

ACM

2011

,

185--190

URL: http://doi.acm.org/10.1145/1996461.1996518

61

inproceedings

Drilling into complex 3D models with gimlenses

.

Proceedings of the 19th ACM Symposium on Virtual Reality Software and Technology

VRST '13

Singapore

ACM

2013

,

223--230

URL: http://doi.acm.org/10.1145/2503713.2503714

62

inproceedings

JellyLens: Content-Aware Adaptive Lenses

.

UIST - 25th Symposium on User Interface Software and Technology - 2012

Proceedings of the 25th Symposium on User Interface Software and Technology

ACM

Cambridge, MA, United States

ACM

October 2012

,

261-270

63

inproceedings

ActiveInk: (Th)Inking with Data

.

CHI 2019 - The ACM CHI Conference on Human Factors in Computing Systems

CHI 2019 - Proceedings of the 2019 CHI Conference on Human Factors in Computing Systems

Glasgow, United Kingdom

ACM

May 2019

64

article

The Semantic Web Revisited

.

IEEE Intelligent Systems

21

3

2006

,

96-101

URL: 10.1109/MIS.2006.62

65

article

Tangible User Interfaces: Past, Present, and Future Directions

.

Found. Trends Hum.-Comput. Interact.

3

1–2

January 2010

,

1--137

URL: http://dx.doi.org/10.1561/1100000026

66

book

Designing the User Interface, 4th Edition

.

Pearson Addison Wesley

2005

67

inproceedings

Controlling widgets with one power-up button

.

Proceedings of the 26th annual ACM symposium on User interface software and technology

UIST '13

St. Andrews, Scotland, United Kingdom

ACM

2013

,

71--74

URL: http://doi.acm.org/10.1145/2501988.2502025

68

inproceedings

Side pressure for bidirectional navigation on small devices

.

Proceedings of the 15th international conference on Human-computer interaction with mobile devices and services

MobileHCI '13

Munich, Germany

ACM

2013

,

11--20

URL: http://doi.acm.org/10.1145/2493190.2493199

69

article

ScaleMaster 2.0: a ScaleMaster extension to monitor automatic multi-scales generalizations

.

Cartography and Geographic Information Science

40

3

2013

,

192--200

URL: http://dx.doi.org/10.1080/15230406.2013.809233

70

inproceedings

Social Welfare to Assess the Global Legibility of a Generalized Map

.

International Conference on Geographic Information

Springer

2012

,

198--211

URL: http://dx.doi.org/10.1007/978-3-642-33024-7_15

71

inproceedings

Coordination of Tilt and Touch in One- and Two-Handed Use

.

Proceedings of the 32nd international conference on Human factors in computing systems

CHI '14

Toronto, CA

ACM

2014

,

2001-2004

72

inproceedings

SketchSliders: Sketching Widgets for Visual Exploration on Wall Displays

.

Proceedings of the 33rd Annual ACM Conference on Human Factors in Computing Systems

ACM

Seoul, South Korea

April 2015

,

3255-3264

73

book

Information visualization: perception for design

.

Elsevier

2012

74

article

Foundational Issues in Touch-Screen Stroke Gesture Design - An Integrative Review

.

Foundations and Trends in Human-Computer Interaction

5

2

December 2012

,

97-205