2022
Activity report
Project-Team
LIFEWARE
Team name:
Computational systems biology and optimization
Domain
Digital Health, Biology and Earth
Theme
Computational Biology
Creation of the Project-Team: 2015 April 01
Keywords
A2.1.1.

Semantics of programming languages

A2.1.5.

Constraint programming

A2.1.10.

Domain-specific languages

A2.2.1.

Static analysis

A2.3.2.

Cyber-physical systems

A2.4.

Formal method for verification, reliability, certification

A2.4.1.

Analysis

A2.4.2.

Model-checking

A2.4.3.

Proofs

A3.4.2.

Unsupervised learning

A3.4.4.

Optimization and learning

A6.1.1.

Continuous Modeling (PDE, ODE)

A6.1.2.

Stochastic Modeling

A6.1.3.

Discrete Modeling (multi-agent, people centered)

A6.1.4.

Multiscale modeling

A6.2.4.

Statistical methods

A6.2.6.

Optimization

A6.3.1.

Inverse problems

A6.3.4.

Model reduction

A7.2.

Logic in Computer Science

A8.1.

Discrete mathematics, combinatorics

A8.2.

Optimization

A8.7.

Graph theory

A9.7.

AI algorithmics
B1.

Life sciences

B1.1.2.

Molecular and cellular biology

B1.1.7.

Bioinformatics

B1.1.8.

Mathematical biology

B1.1.10.

Systems and synthetic biology

B2.2.3.

Cancer

B2.2.6.

Neurodegenerative diseases

B2.4.1.

Pharmaco kinetics and dynamics

B9.

Society and Knowledge
1
Team members, visitors, external collaborators
Research Scientists
François

Fages

[

Team leader

,

INRIA

,

Senior Researcher

,

HDR

]

Aurélien

Naldi

[

INRIA

,

Starting Research Position

,

until Sep 2022

]

Sylvain

Soliman

[

INRIA

,

Researcher

,

HDR

]
Faculty Members
Anna

Niarakis

[

UNIV EVRY

,

Associate Professor

,

HDR

]

Denis

Thieffry

[

ENS PARIS

,

HDR

]
PhD Students
Sahar

Aghakhani

[

UNIV EVRY

]

Marine

Collery

[

IBM

]

Jeremy

Grignard

[

Servier

,

CIFRE

,

until Sep 2022

]

Julien

Martinelli

[

INSERM

,

until Mar 2022

]

Eléa

Thibault-Greugny

[

Johnson&Johnson

,

CIFRE

,

until Oct 2022

]
Technical Staff
Mathieu

Hemery

[

INRIA

,

Engineer

]
Interns and Apprentices
Julien

Bienvenu

[

INRIA, Ecole Polytechnique

,

Intern

,

from Apr 2022 until Aug 2022

]
2
Overall objectives
This project aims at developing formal methods for understanding the cell machinery and establishing computational paradigms in cell biology. It is based on the vision of
                     cells as machines,
                     chemical reaction networks as programs,
and on the use of concepts from computer science to master the complexity of cell biochemical processes 23.
We contribute to the development of a computational theory of chemical reaction networks (CRNs), by addressing fundamental research issues in computer science on the concepts of analog computation and analog computational complexity in biochemistry, and on the interplay between structure and dynamics in CRNs.
Since 2002, we develop a software platform, called the Biochemical Abstract Machine (BIOCHAM), for modeling, analyzing and now synthesizing CRNs, with some unique algorithmic contributions. The reaction rule-based language of BIOCHAM allows us to reason about CRNs at different levels of abstraction in the hierarchy of their stochastic, differential, Boolean and hybrid semantics. Various static analysis methods, most of them based on constraint solving or graph theory, provide useful information before going to simulations and dynamical analyses, for which quantitative temporal logic is used to formalize cell behaviors with imprecise data, and to constrain model building.
A tight integration between dry lab and wet lab efforts is also essential for the success of the project. This is achieved through collaborations with biologists and experimentalists, including partners from the pharmaceutical industry, on concrete biological and biomedical questions.
Because of the importance of constraint solving and optimization techniques in our approach, and the need of rapid prototyping for our software developments, we keep some research and teaching activity in relational programming (i.e. logic programming, constraint programming, interval arithmetic) as a general paradigm for computing with partial information systems, and solving practical instances of NP-hard problems.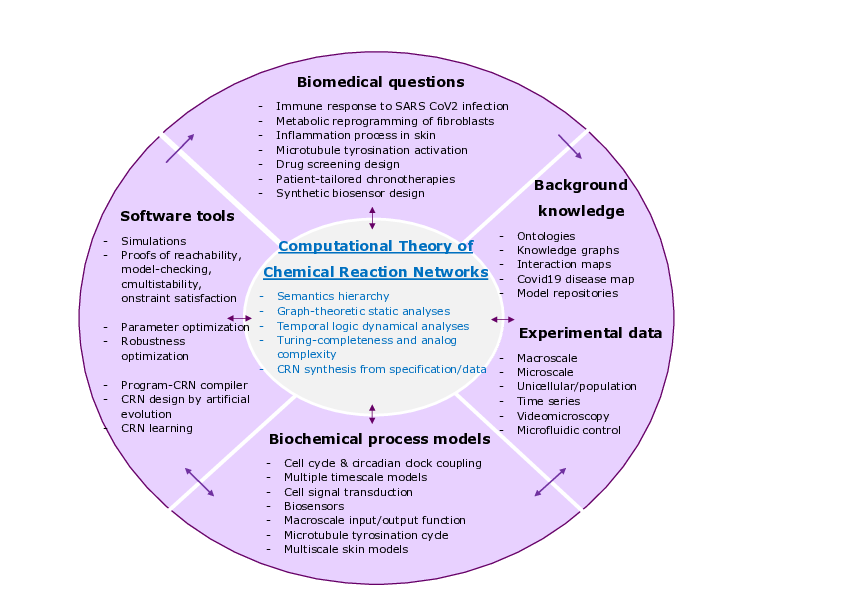 3
Research program
3.1
Chemical Reaction Network (CRN) Theory
Originally, Feinberg's mathematical theory of Chemical Reaction Networks (CRN) and Thomas's influence networks, were created to provide sufficient and/or necessary structural conditions for the existence of multiple steady states and oscillations in complex gene networks. Those conditions can be verified by static analyzers without knowing kinetic parameter values, nor making any simulation. In this first approach, most of our work consists in considering the hypergraph structure of a CRN (Petri net invariants, species-reaction labelled hypergraph, influence graph, reductions by subgraph epimorphisms) and analysing their interplay with the dynamics of CRNs in their different interpretations (Boolean, CTMC, ODE, time scale separations) which can be related in the framework of abstract interpretation1. For example, our study of the influence graphs of reaction systems 6 lead recently to sufficient graphical conditions ensuring rate-independence of CRN 3, or some time ago to the non-trivial generalization to reaction systems of Thomas' conditions of multi-stationarity and Soulé's proof given for influence systems, with much greater efficiency by several orders of magnitude for testing them when compared to current symbolic computation methods 1.
However, we aim at development a computational theory of CRNs and biochemical programming. Our original method to infer CRNs from ODEs 4 showed the generality of CRNs, and lead us to prove the Turing-completeness of continuous CRNs over a finite set of molecular species, showing that any computable function over the real numbers (i.e. computable in arbitrary precision by a Turing machine) can be computed by a CRN over a finite set of molecular species 5. (Best paper award CMSB 2017, Prix La Recherche 2019). This result closed the last open problem on the computation power of CRNs in their different semantics and has opened a whole research avenue on CRN design by compilation of mathematical functions. This is illustrated by a series of publications since that date, again this year 20 (best paper award CMSB 2022), and innovative applications in synthetic biology 2.
3.2
Logical Paradigm for Systems Biology
Our group was among the first ones in 2002 to apply model-checking methods to systems biology in order to reason on large molecular interaction networks, such as Kohn's map of the mammalian cell cycle (800 reactions over 500 molecules) 2. The logical paradigm for systems biology that we have subsequently developed for quantitative models can be summarized by the following identifications :
biological model = transition system , initial state
dynamical behavior specification = temporal logic formula
model validation = model-checking
model reduction = sub-model-checking, s.t. 
model prediction = formula enumeration, s.t. 
static experiment design = symbolic model-checking, 
model synthesis = constraint solving
model inference = constraint solving
In particular, the definition of a continuous satisfaction degree for first-order temporal logic formulae with constraints over the reals, was the key to generalize this approach to quantitative models, opening up the field of model-checking to model optimization 34
This line of research continues with the development of temporal logic constraint patterns with efficient solvers, and their use for model building, in partnership with biologists to answer concrete questions in the biomedical domain5610, 9 and the pharmaceutical industry 13, 18, 21.
3.3
Constraint Solving and Optimization
Constraint solving and optimization algorithms are important in our research. On the one hand, static analyses of CRNs often involve solving hard combinatorial optimization problems, for which we have shown that constraint logic programming techniques are particularly successful, often beating dedicated algorithms on real-size instances from model repositories by orders of magnitude 77.
On the other hand, parameter search problems involve solving hard continuous optimization problems, for which evolutionary algorithms, and especially the covariance matrix evolution strategy (CMA-ES) (EPI RANDOPT) have shown to provide best results in our context. Constraint-based models and efficient constraint solvers are thus instrumental in our approach for building quantitative models, gaining model-based insights, revisiting biological hypotheses, and contributing to biological knowledge.
4
Application domains
4.1
Preamble
Our collaborative work on biological applications is expected to serve as a basis for groundbreaking advances in cell functioning understanding, cell monitoring and control, and novel therapy design and optimization. Our collaborations with biologists are focused on concrete biological questions, and on the building of mechanistic models of biological systems to answer them. Furthermore, one important application of our research is the development and distribution of a modeling software for computational systems biology and synthetic biology.
4.2
Modeling software for systems and synthetic biology at the cellular level
Since 2002, we develop an open-source software environment for modeling and analyzing biochemical reaction systems. This software, called the Biochemical Abstract Machine (BIOCHAM), is compatible with SBML for importing and exporting models from repositories such as BioModels. It can perform a variety of static analyses, specify behaviors in Boolean or quantitative temporal logics, search parameter values satisfying temporal constraints, and make various simulations. While the primary reason of this development effort is to be able to implement our ideas and experiment them quickly on a large scale, using rapid prototyping techniques based on constraint logic programming, BIOCHAM is distributed and used by other groups worldwide, for building CRN models, for comparing CRN analysis/synthesis techniques, and for teaching computational systems biology. A Jupyter BIOCHAM kernel has been developed to use BIOCHAM on our web server without any installation which is heavily used for teaching. We plan to continue developing BIOCHAM for these different purposes with the recruitment of a research engineer to improve the software quality and animation of the community of users.
Since 2018, the CaSQ software complements this effort by providing an interface to import large interaction maps written in SBML using the CellDesigner tool and translate them into Boolean influence models with various tools compatible with the SBML-qual standard.
Since 2020, we participate in the CoLoMoTo notebook platform, which provides an integrated collection of software tools for the analysis of qualitative models, including CaSQ. This platform encourages the reproducibility of analysis by combining Docker images (reproducible software environment) and Jupyter notebooks (reproducible and shareable workflows).
These two last efforts play a central role in the global Covid-19 Disease Maps project, see Section 8.6.
4.3
Biomedical applications
We plan to continue to tackle challenging concrete biomedical questions with academic and industrial partners in an opportunist way, according to both the scope of the question on the international scene, and the relevance of our theoretical approaches to the question.
As mentioned above, our long-standing collaboration with F. Molina's CNRS-ALCEN lab on the design, optimization and industrialization of biochemical diagnosis vesicles 2 continues on a design methodology of robust CRNs including analog functions (submitted project ANR BIOPSYN).
Our successful collaboration with Servier on knowledge graphs and CRN model parameterizations using quantitative temporal logic for drug screening 13 is planned to continue with a second CIFRE thesis with Servier on CRN model learning from experimental data.
Our similarly successful collaboration with Johnson& Johnson Santé Beauté France on multi-scale modeling of the epidermis and multifactorial aspects of atopic dermatitis 18, 21 has revealed complex metastability behaviors in our population dynamics models and further emerging properties when combined with a multi-agent model at the tissue level. That research continues with O. Radulescu in Montpellier on the tropical algebraic analysis of metastability in our model.
We also keep ready to continue our long-standing collaborations on chronotherapies as specialists of coupled models of the cell cycle and the circadian clock 26, 10 and their systemic regulators8.
Last but not least, our group became very active in cooperative efforts at the European scale to design large molecular interaction maps for diseases such as Covid-19 8 or rheumatoid arthritis 19 and derive from them Boolean dynamical models using the CaSQ software as well as developing hybrid models 12.
5
Social and environmental responsibility
5.1
Footprint of research activities
In synthetic biology, our approach based on analog computation target enzymatic reactions with proteins in artificial vesicles. They are thus DNA-free and RNA-free, solving thus major safety issue be them for biomdecial applications or the environment.
5.2
Impact of research results
Our multidisciplinary research rooted in fundamental computer science aims at contributing to biology and medicine by going quite far in the applications with partners from academia and industry, in particular pharma industry.
5.3
Carbon footprint
Our team actively selected train journeys for the participation in conferences and seminars whenever possible.
7
New software and platforms
7.1
New software
7.1.1
BIOCHAM
Name:

The Biochemical Abstract Machine

Keywords:

Bioinformatics, Systems Biology, Computational biology

Functional Description:

The Biochemical Abstract Machine (BIOCHAM) is a software environment for modeling, analyzing and synthesizing biochemical reaction networks (CRNs) with respect to a formal specification of the observed or desired behavior of a biochemical system. BIOCHAM is compatible with the Systems Biology Markup Language (SBML) and contains some unique features about formal specifications in quantitative temporal logic, sensitivity and robustness analyses and parameter search in high dimension w.r.t. behavioral specifications, static analyses, and synthesis of CRNs.

Release Contributions:

– compilation pipeline of elementary mathematical functions in at most bi-molecular reaction networks over a finite set of abstract molecular species – improved heuristic quadratization algorithm to generate at most bi-molecular reactions – notebooks of Master classes in Bioinfomratics of molecular interaction networks – multiple improvements of the commands and documentation

URL:

Contact:

François Fages

Participants:

François Fages, Mathieu Hemery, Sylvain Soliman
7.1.2
CaSQ
Name:

CellDesigner as SBML-Qual

Keywords:

SBML, Logical Framework, Knowledge representation

Functional Description:

CaSQ is a tool that can convert a molecular interaction map built with CellDesigner, or any similar SBML-capable tool, to an executable Boolean model. CaSQ is developed in Python (download and install instructions can be found on the Python package index) and uses as source the xml file of CellDesigner, in order to infer preliminary Boolean rules based solely on network topology and semantic annotations (e.g., certain arcs are noted as catalysis, inhibition, etc.). The aim is to convert a Process Description representation, i.e., a reaction model, into a full logical model. The resulting structure is closer to an Activity Flow diagram, though not in a strict SBGN-PD to SBGN-AF notion. Moreover logical rules that make the model executable are also obtained. CaSQ was used on maps of the Rheumatoïd Arthritis, of the MAP-Kinase cascade, etc. and is now being used by the Covid-19 DiseaseMaps consortium to automatically obtain logical models from maps [2].

CaSQ has recently been added to the CoLoMoTo Docker image and can be used in such a notebook.

URL:

Publications:

Contact:

Sylvain Soliman

Participants:

Sylvain Soliman, Anna Niarakis, Aurélien Naldi

Partner:

Université d'Evry-Val d'Essonne
7.1.3
CoLoMoTo Notebook
Keywords:

Systems Biology, Computational biology

Functional Description:

Dynamical models are widely used to summarize our understanding of biological networks, to challenge its consistency, and to guide the generation of realistic hypothesis before experimental validation. Qualitative models in particular enable the study of the dynamical properties that do not depend on kinetic parameters, which can be difficult to obtain. This platform integrates a wide collection of complementary software tools, along with interoperability features and a consistent Programming interface based on the popular Python language.

The platform is distributed as a Docker image, ensuring the reproducibility of the software environment. The use of Jupyter Notebooks provides a good balance between ease of use and flexibility. These notebooks can be further used to share precise analysis workflows, ensuring the dissemination of fully reproducible research work using this platform.

URL:

Publication:

Contact:

Aurélien Naldi

Participants:

Sylvain Soliman, Aurélien Naldi, Denis Thieffry

Partners:

LaBRI, Institut Curie, ENS Paris, LRI - Laboratoire de Recherche en Informatique
9
Bilateral contracts and grants with industry
9.1
Bilateral contracts with industry
9.1.1
Institut de Recherches Servier
Participants: François Fages, Jeremy Grignard, Mathieu Hemery, Julien Martinelli, Sylvain Soliman.
Cifre PhD thesis of Jeremy Grignard with Servier 25.
9.1.2
Johnson&Johnson Santé Beauté France
Participants: François Fages, Elea Greugny, Mathieu Hemery, Sylvain Soliman.
Cifre PhD thesis of Eléa Thibault-Greugny with Johnson&Johnson Santé Beauté France 24.
9.1.3
IBM research, France
Participants: Marine Collery, François Fages, Sylvain Soliman.
On-going PhD thesis of Marine Collery at IBM France on rule learning from sequential data.
10
Partnerships and cooperations
10.1
International initiatives
10.1.1
Participation in other International Programs
ANR-DFG SYMBIONT
Participants: François Fages, Mathieu Hemery, Sylvain Soliman.
ANR-DFG

Symbiont

(2018-2022) on "Symbolic Methods for Biological Systems", coordinated by T. Sturm (CNRS, LORIA, Nancy, France) and A. Weber (Univ. Bonn, Germany) with F. Fages (Inria), F. Boulier (U. Lille), O. Radulescu (U. Montpellier), A. Schuppert (RWTH Aachen), S. Walcher (RWTH Aachen), W. Seiler (U. Kassel);
10.2
European initiatives
Participants: Sahar Aghakhani, Aurélien Naldi, Anna Niaraki, Sylvain Soliman.
10.3
National initiatives
10.3.1
ANR Projects
Participants: François Fages, Mathieu Hemery, Sylvain Soliman.
ANR

ifference

on "Complexity theory with discrete ODEs", coordinated by Olivier Bournez, Ecole Polytechnique, with F. Fages (Inria), F. Chyzak (Inria), A. Durand Univ. Paris-Diderot, F. Madelaine P. Valarché Univ. Créteil, N20 Jerôme Durand-Lose, Orléans - Moulay Barkatou Thomas Cluzeau, Limoges - Mathieu Sablik, Toulouse
11
Dissemination
11.1
Promoting scientific activities
Participants: François Fages, Mathieu Hemery, Aurélien Naldi, Anna Niaraki, Sylvain Soliman.
11.1.1
Scientific events: organisation
Anna Niarakis was a co-organizer of
Member of the conference program committees
François Fages was PC member of Anna Niarakis was a member of the programme committee of JOBIM 2022
Sylvain Soliman was PC member of BIOSTEC BIOINFORMATICS 2022
11.1.2
Journal
Member of the editorial boards
François Fages is member of the Editorial Board of the Computer Science area of the Royal Society Open Science journal, since 2014.
Anna Niarakis is member of the Editorial Board of Scientific Reports Nature Publishing and Immunoinformatics, Elsevier.
Reviewer - reviewing activities
She wrote reviews for Molecular Medicine, Plos Computational Biology, Immunoinformatics, Frontiers in Applied Mathematics and Statistics, Nucleic Acid Research and Cancers.
François Fages wrote reviews for JACM, Natural Computing, PLOS computational biology.
Mathieu Hemery wrote reviews for Physical Review E (2 reviews), Physical Review R (2 reviews), RSOS (1 review) and Natural Computing (1 review).
Sylvain Soliman wrote reviews for JOMB and PLoS Computational Biology
11.1.3
Invited talks
• Anna Niarakis, Highlight talk, JOBIM 2022, Rennes, Inference of an Integrative, Executable Network for Rheumatoid Arthritis Combining Data-Driven Machine Learning Approaches and a State-of-the-Art Mechanistic Disease Map, 5-8 July 2022 .
• GT BIOSS yearly meeting, "From mechanisms to systems to digital twins. Αddressing critical barriers in systems modelling", November 17th 2022, Nantes .
• ECMT Heidelberg Mini Symposium Digital twins in medicine: where we are, where we are heading, and what is needed "Development of a virtual Rheumatoid Arthritis synovial fibroblast for large-scale dynamic analysis and efficient drug-target identification", 19-23 September, Heidelberg .
Sylvain Soliman, GT BIOSS yearly meeting, "Logical model inference with CaSQ", November 17th 2022, Nantes.
11.1.4
Leadership within the scientific community
François Fages is member of the Steering Committee of the conference series Computational Methods for Systems Biology (CMSB) since 2008.
Anna Niarakis is:
Member of the Scientific Advisory Board of REACTOME
Co-leader of the Covid 19 Disease map project
Co-leader of the Consortium Disease Maps
Coordinator of SysMod (Systems Modelling)
Member of the Conseil de perfectionnement Mention Bioinformatique Université Paris-Saclay
President of the jury for the Licence Double Diplome Sciences de La Vie - Informatique Université Paris Saclay
11.1.5
Scientific expertise
François Fages was member of the jury for the recruitment of an Associate Professor in Computer Science at the Univ. Evry Val d'Essonne.
Anna Niarakis evaluated for Parcoursup Licence Double Diplome Paris Saclay SDV-Informatique
11.1.6
Research administration
François Fages is member of
"Bureau du Comité des équipes-projets du centre Inria Saclay"
"Bureau du département Informatique Données et Intelligence Artificielle (IDIA) de l'Institut Polytechnique de Paris"
Ecole Doctorale ED IPP 626 ED, Institut Polytechnique de Paris, since its creation in 2019
Aurelien Naldi and Anna Niarakis are members of CoLoMoTo (Consortium for Logical Models and Tools).
Anna Niarakis is member of the French Bioinformatics Society.
Sylvain Soliman is member of the "Commission Scientifique" of Inria Saclay .
11.2
Teaching - Supervision - Juries
Participants: François Fages, Mathieu Hemery, Aurélien Naldi, Anna Niarakis, Sylvain Soliman.
11.2.1
Teaching
International advanced course: Anna Niarakis, Ben Hall (co-organizers), Sahar Aghakhani (helper), Sylvain Soliman (trainer) Computational Systems Biology for Complex Human Disease, MRC University of Cambridge, Wellcome Trust course WGC Advanced Course, 04-09 December 2022, Hinxton, Cambridge UK.
International advanced course: Anna Niarakis (speaker) Logical modelling of (inter) cellular networks for biotechnology and personalised medicine, August 15-26 2022, NTNU, Trondheim, Norway.
Master 2: François Fages (coordinator 24h and teacher 12h), Jérôme Feret (12h)

C2-19 - Biochemical Programming

, Master Parisien de Recherche en Informatique (MPRI), Paris.
Cycle ingénieur Ecole Polytechnique, Master 1: François Fages (coordinator, 18h lectures, 14h TD), Mathieu Hemery (6h TD) INF555 - Constraint-based Modeling and Algorithms for Decision Making ProblemsMaster Artificial Intelligence, Master Science and Technology, Ecole Polytechnique.
Bachelor 3: François Fages (co-coordinator, 12h lectures), Mathieu Hemery (12h TD), CSE 307 - Relational Programming, Ecole Polytechnique.
Anna Niarakis is the pedagogical responsible for the Double Bachelor in Life Sciences and Informatics at Paris Saclay University.
11.2.2
Supervision
PhD in progress: Sahar Aghakhani, "Fibroblasts as therapeutic targets in rheumatoid arthritis (RA) and cancer. Computational modeling of the metabolic reprogramming (glycolytic switch) in RA synovial fibroblasts (RASFs) and cancer associated fibroblasts (CAFs)" , ED Paris-Saclay, since Sep. 2020, Anna Niarakis and Sylvain Soliman (50%)
PhD in progress : Marine Collery, "Apprentissage de règles à partir de données dépendantes du temps appliqué à la détection de fraudes", ED IPP, Ecole Polytechnique, since Sept. 2020, P. Bonnard, F. Fages (1/3) and R. Kuiters, IBM research France
PhD E. Thibault-Greugny: 'Computational modeling approaches to multifactorial aspects of atopic dermatitis'. Institut Polytechnique de Paris, 4th Oct. 2022. F. Fages (1/3), J. Bensaci, G. Stamatas, Johnson&Johnson Santé Beauté France
PhD J. Grignard: 'Computational methods to improve the early drug discovery'. Institut Polytechnique de Paris, 17th June 2022., ED IPP, Ecole Polytechnique, F. Fages (50%) and T. Dorval, Servier.
PhD J. Martinelli: 'On learning mechanistic models from time series data with applications to personalised chronotherapies'. Institut Polytechnique de Paris, 18th Feb. 2022., ED IPP, Ecole Polytechnique, F. Fages (50%) and A. Ballesta, INSERM.
Anna Niarakis was a mentor for the 2022 iGem Evry -Paris Saclay team (gold medal).
François Fages, Jeremy Grignard and Sylvain Soliman supervised 5 students from Ecole Polytechnique on a long term Projet Scientifique Collectif (PSC) on "Apprentissage automatique de réseaux d'interactions en pharmacologie" with Servier.
François Fages and Mathieu Hemery supervised 6 students from Ecole Polytechnique on a PSC on "Compiling Mathematical Functions in Biochemical Reaction Networks".
11.2.3
Juries
François Fages participated in the juries of:
HDR Nadjib Lazaar, Université de Montpellier,

Rapporteur

, 18 novembre 2022;
PhD Paul Dufossé, Ecole Polytechnique,

Président

, 22 décembre 2022.
PhD Déborah Boyenval, Univ. Côte d'Azur,

Rapporteur&Président

, 15 décembre 2022.
PhD Thibault L'Yvonnet, Univ. Côte d'Azur, 28 mars 2022.
PhD Jérémy Pardo, Univ. Evry Val d'Essonne, 3 février 2022.
Aurélien Naldi participated in the jury of:
PhD Maximilien Cosme, Univ. Montpellier, 28 mars 2022.
Anna Niarakis participated in the thesis commitee of:
PhD Monraz Gomez Luis Cristobal, Institut Curie, CDV - Complexité du vivant n°515, 24 March 2022
11.3
Popularization
11.3.1
Articles and contents
Our book chaper 23 is intended to provide a gentle introduction to a completely new topic: analog biochemical programming, making for the first time of programming a natural science...
11.3.2
Education
Mathieu Hemery took part to the Inria stand for the "Fête de la Science" on the campus of the École polytechnique. And do two presentations for the "semaine des math" in the Collège Moreau at Monthléry (91) presenting simple theorems for secondary school students and one presentation in the Lycée Marie Laurencin at Mennecy (91) for the Chiche programme in which scientific talk of their work and daily activity to high school students.
12
Scientific production
12.1
Major publications
1

article

Graphical Requirements for Multistationarity in Reaction Networks and their Verification in BioModels

.

Journal of Theoretical Biology

459

December 2018

,

79--89

2

article

Computer‐aided biochemical programming of synthetic microreactors as diagnostic devices

.

Molecular Systems Biology

14

4

April 2018

3

inproceedings

Graphical Conditions for Rate Independence in Chemical Reaction Networks

.

Proceedings CMSB 2020: The 18th International Conference on Computational Methods in Systems Biology

CMSB 2020 - 18th International Conference on Computational Methods in Systems Biology

Konstanz / Online, Germany

September 2020

4

article

Inferring reaction systems from ordinary differential equations

.

Theoretical Computer Science

599

September 2015

,

64--78

5

inproceedings

Strong Turing Completeness of Continuous Chemical Reaction Networks and Compilation of Mixed Analog-Digital Programs

.

CMSB 2017 - 15th International Conference on Computational Methods in Systems Biology

Lecture Notes in Computer Science

Proceedings of the fiveteen international conference on Computational Methods in Systems Biology, CMSB 2017

10545

Darmstadt, Germany

September 2017

,

108-127

6

article

Influence Networks compared with Reaction Networks: Semantics, Expressivity and Attractors

.

IEEE/ACM Transactions on Computational Biology and Bioinformatics

PP

99

2018

,

1-14

7

article

On Enumerating Minimal Siphons in Petri nets using CLP and SAT solvers: Theoretical and Practical Complexity

.

Constraints

21

2

April 2016

,

251--276

8

article

COVID19 Disease Map, a computational knowledge repository of virus-host interaction mechanisms

.

Molecular Systems Biology

17

10

October 2021

,

e10387

9

article

Logical model specification aided by model- checking techniques: application to the mammalian cell cycle regulation

.

Bioinformatics

32

17

2016

,

i772-i780

10

article

Model-based investigation of the circadian clock and cell cycle coupling in mouse embryonic fibroblasts: Prediction of RevErb-α up-regulation during mitosis

.

BioSystems

149

November 2016

,

59--69
12.2
Publications of the year